The National Archives holds the will of William Pinsent of Ashburton, baker. It is dated 1655.
Ref PROB 11/246/61, National Archives https://discovery.nationalarchives.gov.uk/details/r/D798533 - accessed 22-08-2019
A transcript of trades and professions from the Universal British Directory of Trade, Commerce and Manufacture, Vol 2, late 1700s, lists the following bakers:
William Giles
Thomas Hamlyn

Ann Knott

Priscilla Mudge
Robert Pitts, who is a baker and confectioner

John Symons

An old established bake-house was to let in North Street in September 1854. The oven had just been rebuilt, and the premises had 'every convenience'. Charles Williams had been the recent occupier.
Western Times 2 September 1854, p1 col1

Charles Williams and his wife Susan were in North Street in the 1851 census, together with 4 sons and a son-in-law*. Charles described himself as a baker and tin and copper miner.
*15 years old, so probably what we would call step-son?

1851 census HO107, piece no. 1871, folio 323, p21

In 1855 everyone was suffering from the high cost of bread and other foodstuffs. 'This is one of the evils of war'. Bakers lowered the cost of a four pound loaf by a halfpenny.
Western Times 1 December 1855, p7 col4

The Court for Relief of Insolvent debtors John Westaway, North Street, out of business - in the gaol of Devon. In another edition named as Baker, grocer and woolcomber.
London Gazette Issue 22317 18 October 1859, p3787
London Gazette Issue 22321 1 November 1859, p3949

Deed of conveyance of estate and effects Debtor, James Westaway, Grocer and baker
London Gazette Issue 22721 27 March 1863, p1787
Jane Westaway, East Street, Grocer, baker, flour dealer, declared bankrupt
London Gazette Issue 22739 26 May 1863, p2772
Robert Aplin, North Street, Baker and grocer, declared bankrupt.
London Gazette Issue 22981 published on the 16 June 1865, p3077
Maria Lamason describes herself as a baker and confectioner in the 1871 census. Her daughter, Elizabeth Holman Lamason, says she is a baker's assistant. Two other children of Maria are in the household in East Street.
Aged 76, Maria is still a baker in 1881, by this time living in North Street.

1871 census RG10, piece no. 2080, folio 68, p10
1881 census RG11, piece no. 2161, folio 29, p13

Mary Baker, living in East Street, was a baker and confectioner in the 1871 census. Her grandson Henry Albert Norris, also a baker, was in the same household.

1871 census RG10, piece no 2080, folio 67, p7
In the 1871 census Elizabeth Perkins was an innkeeper and baker at the Golden Fleece in St Lawrence Lane. Richard Crocker, a servant aged 25, was also a baker.
1871 census RG10, piece no 2080, folio 74, p22

In 1872 Richard Crocker, a baker, was up before the magistrates. He had built a bonfire at the Bullring on November 5th, and was fined 2s and 8s costs. 'He said he was sorry for it'.
Exeter and Plymouth Gazette, 20 November 1872, p4 col2

22nd December 1882 Mortgage of Thomas Pearse, baker of Ashburton, to Robert Francis of Newton Abbot, gent.
Ref. 2378/5/9 Held by the North Devon Record Office
http://discovery.nationalarchives.gov.uk

***
John and Emma Barnes
John Barnes married Emma Toby Martyn in the Newton Abbot registration district in the September quarter of 1878.
https://www.freebmd.org.uk
In 1891 John Barnes, who had been born in Ashburton, was a baker and confectioner in Cockington. With him in the household was his wife Emma, his daughter Mary H., and six people classified as servants: two bakers, one assistant baker, one domestic servant and two errand boys.
1891 census RG12, piece no. 1706, folio 127 p12
In 1901 John and Emma T Barnes, together with their daughter Mary H., were living in Bishopsteignton. John, 45, had been born in Ashburton, and was a baker and confectioner.
1901 census RG13, piece no. 2051, folio 8 p8
Mary Helena Barnes married Wilfred Henry Waye Gibbs in Ashburton in 1909. Mary's father was John Barnes, a baker and confectioner.
Parish records
John Barnes was in West Street by the time of the 1911 census, with his wife Emma Toby Barnes assisting in the business. Ernest John Barnes Hooper, a nephew of John and also a baker and confectioner, was with the couple.

1911 census RG14, piece no. 12726

John Barnes was fined 10s inclusive in October 1918 for selling bread less than 12 hours old.*
* The Bread Order was introduced during WWI, making it illegal to sell bread until it was 12 hours old. 'According to The Times, the government realised that stale bread was "more nutritious" and would be consumed 5% less than fresh bread.'
http://www.nationalarchives.gov.uk/first-world-war/home-front-stories/the-fresh-bread-ban/

Western Times 25 October 1918, p10 col4

At a meeting of the Newton Abbot Board of Guardians in January 1924, it was proposed that wireless apparatus be installed in the workhouse for the old and infirm. The initial cost would be no more than £40*, which Mr Barnes (Ashburton)** declared was 'monstrous'. After a long discussion, the Board decided that the House Committee should consider the suggestion, and perhaps look to raise the money by private subscriptions.
Exeter and Plymouth Gazette, 24 January 1924, p8 col3
*In Mr Barnes' defence, £40 would be the equivalent of over £2000 in 2018.
https://www.thisismoney.co.uk/money/bills/article-1633409/Historic-inflation-calculator-value-money-changed-1900.html

** The Western Times says 'Mr W Barnes'. Western Times 25 January 1924, p7 col1

Mrs E T Barnes died in November 1927, aged 71. She had been a member of various local organizations, including the Parochial Church Council and the Ashburton branch of the Women's Unionist Association. She was also involved with Barnado's Homes.

Western Times 18 November 1927, p10 col3

When John Barnes's funeral was held in 1928 representatives of various associations and official bodies were present: Ashburton Urban District Council, Newton Abbot Board of Guardians, Freemasons, members of the Constitutional Club and churchwardens. The police were also represented, as Mr Barnes had been a special constable.

Western Times 6 July 1928, p10 col3

Barnes Cafe and Tea Gardens was advertising in the Western Morning News in 1936. Established in 1870, it could accommodate 300, providing breakfasts, lunches and teas. Its telephone number was 30.
Western Morning News 17 June 1936, p3 col6

Barnes Ltd. wanted a bakery roundsman in March 1941. It was in a 'safe area'.

Western Morning News 3 March 1941, p4 col1

In 1942 Barnes Bakers were advertising for a male or female baker, and also male and female light van drivers.
Western Morning News 30 November 1942, p1 col5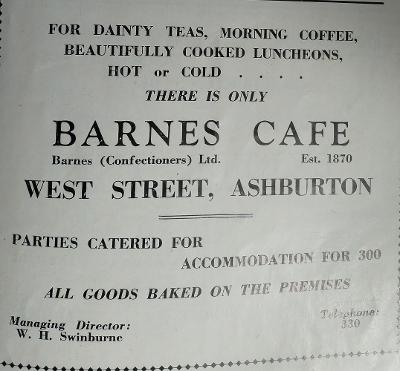 Above right: Advertisement for Barnes Cafe, late 1940s to 1950s

Ashburton Official Guide, The Come-To-Devon Association, undated but after 1947
William Maunder, of Mapleton, Ashburton, died in May 1910, aged 93. He had retired some years previously from running a successful bakery and confectionery business, but had stayed in good health until a few days before his death. He took great pride in his garden, and was 'an ardent Liberal', only failing to vote once, through illness.
Western Times 28 May 1910, p2 col3
***

In 1923 Rendell and Sawdye offered No 33 North Street for sale. Occupied by Mrs Binmore, it comprised a house, shop and bakery.
Western Morning News 7 July 1923 p8 col5
When George Henry Andrews died in January 1939 he was described as one of the oldest tradesmen in the town. Aged 75, he had been a baker and confectioner up until three years before he died.
Western Morning News 30 January 1939 p3 col3
Charles W Harding was a baker and confectioner in the 1939 register; he was also a private in the St John Ambulance. Charles was living with his wife Frances G at 5 Ladwell Square.
1939 register, available from https://www.findmypast.co.uk

1939 The death was announced of John Henry Day, who had been a baker and confectioner at 9, East Street, for the previous four years. He had taken over the business from the late G. H. Andrews.
Western Times 6 October 1939 p8 col1
Amongst businesses advertising in a booklet produced by the Golden Lion Hotel, undated, but probably 1940s or 50s was:
H J Parnell, High class baker and confectioner. East Street. Phone 365.
In 1949 the Devon Federation Master Bakers Association held their first exhibition for 10 years, in Exeter. Ernest Owen, of East Street, Ashburton, was extremely successful, winning a cup, five firsts, two seconds and a third prize for bread. He also won two firsts and one third for confectionery. Some of his other entries in the confectionery section were very highly commended.
Western Morning News, 22 March 1949, p2 col7

1950s. 'Among the shops was Owen's the bakers, at the bottom of East Street, and Barnes, also bakers, were situated opposite the church'.
From Rachel Wood. Many thanks to Rachel for this.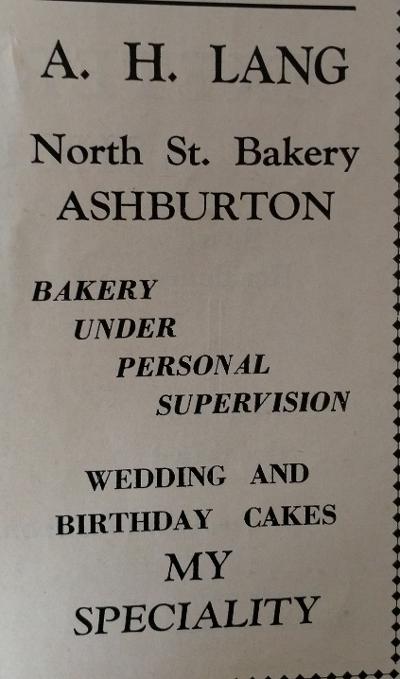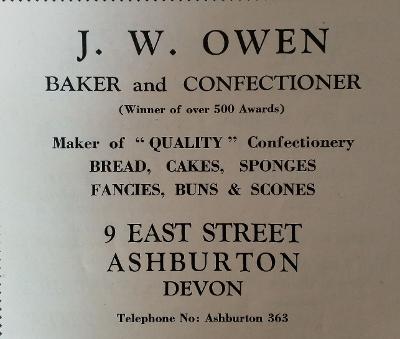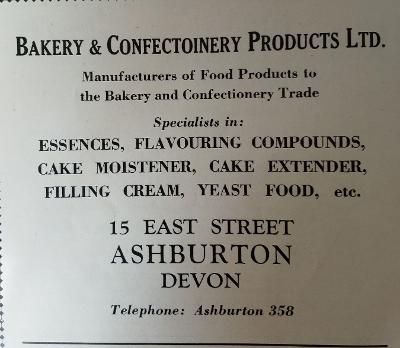 Above: Two bakers and a bakery products business, advertising in the late 1940s or early 1950s. A later guide, below, shows that Ernest Owen was the proprietor of Bakery and Confectionery Products Ltd.
Ashburton Official Guide, The Come-To-Devon Association, undated but after 1947
Amongst businesses advertising in the Official Guide of Ashburton was:
A H Lang, baker, 33 North St
Bakery & Confectionery Products Ltd., Ernest Owen, 9 and 57 East St
Ashburton Urban District Council, undated, but between 1952 and 1960
At the Co-op bakery in the 1950s there was a huge bowl with a paddle in it for making the bread. The baker put a large sieve on top of the bowl, and hauled a sack of flour over to it - the sieve caught the weevils. The flour sacks were hessian, so flour was always escaping onto the floor.
The baker used to put down a board with some sort of black, sticky substance on it, to catch the rats. he then hit them over the head and threw them into the river.

For some reason the baker used to cut the cheeses - I'm guessing that they were about 14" in diameter and a foot high. He used to cut them with a long cheese wire.

From an Ashburton resident, to whom many thanks
See also Bread and Ale, under Gathering Together