John Matthews, builder, was administrator to the estate of Elizabeth Mitchell, spinster, in April 1838
Western Times 14 April 1838, p1 col4
Mr John Matthews, builder, was appointed Registrar for Marriages in Ashburton in 1838.
Western Times 17 November 1838 p2 col2

George Morcombe, a builder from Ashburton, died in July 1839, leaving a widow and 8 children. He was 42.
The Exeter Flying Post said that he had 6 children, and that he was a mason and plasterer.
Western Times 27 July 1839 p2 col6
Exeter Flying Post 1 August 1839, p2 col5

Robert Eddy, a painter and glazier, died in October 1839. He was 46.
Elizabeth, widow of the late Robert Eddy, painter etc., died in March 1847. She was 51.
Western Times 19 October 1839, p3 col1
Western Times 20 March 1847, p5 col1
Higher Brownswell, a freehold estate, was up for sale in June 1815. Those wishing to view the land and premises were to contact Robert Foot of Ashburton, carpenter.
Exeter Flying Post 22 June 1815, p1 col2

When John Foot married Mary May in April 1805, Robert Foot junr. was one of the witnesses.
Parish records

John Foot, a carpenter, was living in West Street at the time of the 1841 census. Aged approximately 60, his wife Mary was with him, together with two sons and a daughter. One of the sons, John, was also a carpenter, and the other, George, was a wheelwright.
1841 census HO107, piece no. 253, folio 22, p39
John Foot, a builder, died on 30th May, 1846. A notice of his death was put in the Western Times, which said that he was 'at an advanced age.'

Western Times 6 June 1846, p5 col1
He was buried - John Foote in the register - on June 3rd. He was 65.

Parish register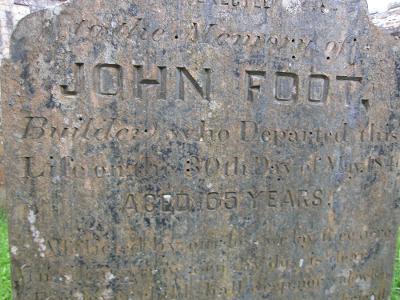 Above:
Memorial to John Foot in Ashburton churchyard.
William, the eldest son of John and Mary, baptised in August 1805, was also a carpenter (and journeyman).

In the 1841 census he and his wife Maryann are living two doors away from John and Mary Foot above.

In the 1851 census he was living in Browses Buildings with his wife Mary and six children. One of his sons, also named William and aged 22, was a carpenter journeyman, and Henry, another son was a wheelwright.
1841 census HO107, piece no. 253, folio 22, p39
1851 census HO 107, piece no 1871, folio 281, p45
William and Mary had at least 6 sons, of whom five survived to adulthood. It looks as though all of the sons left Ashburton, with George, who was a wheelwright at Two Bridges, Tavistock in 1881, the only one who stayed in Devon.

1881 census RG11, piece no 2217, folio 49, p11
Henry Foot, living at 41, Downs Crescent, Hackney, in 1871, was a 36 year old builder, born in Ashburton.
34 year old James Foot, also in Hackney in 1871, was a carpenter born in Devon.

William M [May] Foot was a 50 year old carpenter living in Lambeth in 1881. He said that he was born in Ashburton.
John Foot, living in Hackney in 1891 was also a carpenter, born in Devon.

1871 census RG10, piece no 288, folio 65, p22

1871 census RG10, piece no 315, folio 23, p40

1881 census RG11, piece no 672, folio 78, p73

1891 census RG12, piece no 180, folio 140, p20
William of West Street died in January 1867. A notice in the Western Times said that he was the eldest son of the late Mr John Foot, builder, aged 61.
Western Times 18 January 1867, p5 col4

***
John May Foot, another son of John and Mary, was baptised in 1818.
Parish records
In 1851 he was a 32 year old bachelor living in West Street, a carpenter by trade.

With him in the household is his unmarried sister Maria, his niece Mary Ann*, his brother-in-law James Holman, a plasterer, and his unmarried 70 year old aunt, Martha.
1851 census HO107, piece no 1871, folio 313, p1

*Mary Ann Ellis Foot was baptised in May 1850, the daughter of Maria

It seems likely that Martha was the Martha who was baptised in August 1779, the daughter of Robert Foot and his wife Eleanor. Amongst other children, Robert and Eleanor had a son Robert, baptised in 1772, and a son John baptised in September 1782.

If the John who married Mary May in 1805 (above) was the son of Robert and Eleanor, the Robert Foot junr., who was a witness was probably John's brother.

Parish records

John May Foot married Jane Leathebridge Butland, a widow, in February 1871.
Parish records

John Foot, a 67 year old carpenter of Heavyhead Lane, committed suicide in May 1884. He was found in his workshop, which was in an orchard at the back of his house, by his daughter-in-law, Mrs Downton.

The Totnes Weekly Times was able to add that John had been suffering from dropsy since the previous autumn, which prevented him working for much of the time. 'As he was always a very industrious man this is believed to have preyed upon his mind'. He 'had only escaped the notice of his friends about fifteen minutes.'

Western Morning News 23 May 1884, p8 col4

Totnes Weekly Times 24 May 1884, p3 col3

In February 1842 the wife of Mr John Saunders, a painter and glazier, gave birth to a daughter.
Western Times 19 February 1842, p2 col6
Philip Wootton of Bristol died in April 1843. He was the only son of the late William Wootton, a builder of Ashburton.
Presumably this is the same Philip Wootton, builder, who was involved in letting an extensive house in East Street in 1810.
He may also have been the Mr Wootton, builder, to whom those interested in viewing Bellford Mills had to apply in 1806.
Sherborne Mercury 29 April 1843 p4 col4
Exeter Flying Post 18 October 1810, p4 col5
Exeter Flying Post, 24 July 1806, p2, col3
Mary Foal, aged 23, died in April 1844. She was the only daughter of the late W Foal, builder.
Taunton Courier and Western Advertiser, 24 April 1844, p7 col4
In August 1850 at Ashburton Mr Thomas Norris, tailor, married Mary Ireland Baker, the eldest daughter of C Baker, a builder.
Exeter Flying Post 8 August 1850, p8 col6
John Ireland, a builder, died in April 1847, aged 67. An 'old and respected tradesman' he had served as both bailiff and portreeve.
Exeter and Plymouth Gazette 17 April 1847, p5 col5
43 year old William Ireland, a master house builder, was living with his wife Mary in Bowling Green in 1851. Seven children were with them on census night, including Richard, 19, a wheelwright's apprentice, and Thomas, 16, who was an apprentice carpenter.
1851 census HO107, piece no 1871, folio 278, p39
In 1852 William Ireland, an Ashburton builder, set off for America with his family, via Bristol and Liverpool. A large number of Irish passengers were aboard the ship, the Emma Fields, and a 'raging fever' broke out before they reached New York. Mr Ireland was one of those who died, leaving a widow and a large family.
Western Times 15 January 1853, p7 col4

1885 T Easterbrook, builder, was selling a 'handsome bay gelding' in May. It was suitable for a lady to ride.
Western Morning News 7 May 1885 p2 col6

In 1884 Mr Thuell, an Ashburton builder, supervised the renovation of the Baptist chapel in Fore Street, Moretonhampstead.
Exeter Flying Post 10 September 1884 p7 col5


In 1890 tenders were published in The Builder for alterations and additions to Wood Place House and stables for Mr H M Firth.

Knight and Lear, Ashburton, had tendered £489 17s
Arscott and Wakeham, Buckfastleigh, had tendered £475
J H Foaden, Ashburton, tendered £407 and was successful.
Mr C G S Acock, Ashburton, was the architect.

The Builder, vol 58, 1890, p35, col2
Charles Weeks, builder and contractor, of 29 Stoke Newington Road, N., and formerly of Ashburton, Devon, had his discharge from bankruptcy suspended for 2 years in 1890.
Timber and Woodworking Machinery, Vol 11, London, May 17th, 1890, p246
In the 1891 census William Lear, 47, was a builder (carpenter) living St Lawrence Lane, with his wife Elizabeth A., his widowed mother and 7 children.

In the 1901 census he said he was an employer, and may well have been the 'Lear' part of Knight and Lear above.

1891 census RG12, piece no. 1698, folio 58, p24

1901 census RG13, piece no. 2053, folio 5, p2

John Knight may have been the 'Knight' of Knight and Lear. Living in East Street, he was a 55 year old stone mason in 1891.
1891 census RG12, piece no. 1698, folio 23, p7
In 1892 the newly renoved Ashburton Congregational Chapel was reopened. J H Pomroy had undertaken the building work at an approximate cost of £450
Western Morning News 18 November 1892 p5 col4
When Emily Stewart died in London in 1893, aged 61, she was said to be the daughter of the late Mr Thomas Hext, a builder from North Street, Ashburton.
Totnes Weekly Times 30 September 1893 p5 col6
The Wesleyan Chapel was renovated in 1896, with Mr Lear, builder of Ashburton, undertaking the work. It cost £300 to bring the chapel 'into line with modern ideas of what a place of worship should be.' Mr H Boon did the decorative work.
Western Times 2 October 1896 p8 col6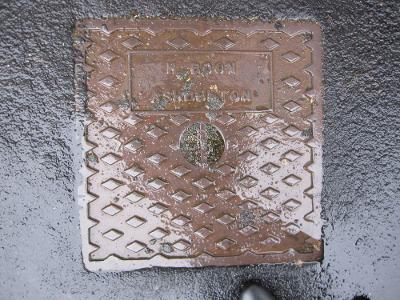 23 year old Horace Boon was a plumber and painter in the 1891 census. Married to Sophia and living in North Street, he had been born in Ivybridge.
By 1901 he was an ironmonger.
Horace and Sophia were on the electoral register until 1927, by which time they were living at Bowling Green.

1891 census RG 12, piece no. 1698. folio 26, p15
1901 census RG13, piece no. 2053, folio 39, p9
England and Wales Electoral Registers, 1920-32, available through https://search.findmypast.co.uk

Above: Drain cover, H Boon, Ashburton. This one is in East Street
My own photograph 2018
'Stevens and Foaden were the chief builders. Stevens work lay largely in Staverton Parish, where for years he held the contracts with the Ecclesiastical Commissioners who owned nearly all the parish.'
Memories of Ashburton in Late Victorian Days, Professor John Satterly, Report and Transactions of the Devonshire Association, vol 84, 1952, p36
Henry Stevens
20 masons were needed in 1873, and could expect 'liberal wages' if they were good workmen. Applicants were to contact Stevens, contractor, Ashburton.
Western Morning News 18 September 1873 p2 col1

In 1876 Henry Stevens married Gertrude Alice Creach at Cradley*. Both bride and groom were from Ashburton.
Western Times 3 November 1876 p5 col4
*In the Stourbridge registration district
https://www.freebmd.org.uk



Henry Stevens of Ashburton was a member of the Grand Jury at the Devon Quarter Sessions in July 1878
Exeter Flying Post 10 July 1878 p3 col6

In the 1881 census Henry Stevens, aged 54, is living in Lawrence Lane with two daughters. A building contractor, he was born in Holwell, Dorset; his daughters Sara and Emma were both born in Alderney.
Ten years later Henry Stevens is living at Hazeldene, Chuley Road, with his wife Gertruda A. A railway contractor, born in Holwell, Dorset, he is now only 56 (and his wife 47).
1881 census RG11, piece no 2161, folio 71, p18
1891 census RG12, piece no 1698, folio 58, p23

Emma Stevens, youngest daughter of Henry Stevens, married Henry Luscombe Creagh in 1882. Her father, a building contractor, had lived in the town about 10 or 12 years, and was one of the largest employers. The wedding breakfast was held at Hazeldene, the bride's residence.
Western Times 17 November 1882 p5 col5

1883 Richard Whiddon, aged 16, was amongst several Ashburton men and boys working for Henry Stevens near Hayle, Cornwall, constructing a viaduct across the Angarrack Valley. Richard, the eldest son of John Whiddon, slipped and fell 50 feet, sustaining fatal injuries including a broken neck. The Whiddon family had at one time been associated with the Globe Inn.
Western Times 25 October 1883, p4 col1



In August 1886 Mr Henry Stevens joined his employees on their annual wayzgoose.* Two vehicles from the London Hotel took the men through Totnes, Harbertonford and Halwell, ending at Slapton Sands. They enjoyed a 'sumptuous dinner' at the Torcross Hotel, and had boating and a trip to Start Lighthouse before tea. They returned to Ashburton at about 11 o'clock.
Totnes Weekly Times, 14 August 1886, p6 col3
*Wayzgoose - An annual summer entertainment, originally connected to the printing trade. It often consisted of a dinner and a trip into the country.
http://blog.oxforddictionaries.com

H Stevens supplied the oak coffin for the funeral of Mr John Berry in 1889.
Western Times 2 April 1889 p8 col3

The Masons decided to erect a Masonic Hall in 1889. Bro. Henry Stevens had donated the site, near the railway station.
Totnes Weekly Times 12 October 1889 p5 col5

1892 Henry Stevens claimed - and won - £34 9s 10d from Cornelius Bawden, purser of the Wheal Agar Mine in Cornwall. He proved in the Vice-Warden's Court that he had done £1136 0s 3d worth of work, but had only received £1101 10s 5 and a half pence.
Royal Cornwell Gazette 25 February 1892

Technical workshops were built as an extension to Ashburton Grammar School in 1892. It was intended to teach chemistry, engineering, blacksmithing, carpentry and joinery. The chemistry section had benches supplied with gas, water and bunsen burners; and the engineering section contained a smith's forge. Henry Stevens was the contractor.

The following year saw the completion of the Capital and Counties Bank, on the site of the old Duke's Head Inn. The red stone used to face the walls came from Bishopsteignton, and ornamental features on the doors and windows were of Monk's parkstone, from Bath Stone Firms Ltd. Messrs Woolliscroft and Sons of Hanley supplied the tiles for the roof.
A private entranceway led to living accommodation, including a dining and drawing room, five bedrooms and a bathroom. Electric bells were fitted, together with speaking tubes connecting the floors. There was a dinner lift near the kitchen, and hot and cold water throughout.
Henry Stevens had been the contractor; he had also built the recently constructed Devon and Cornwall Bank.
Totnes Weekly Times 17 December 1892, p6 col2
East and South Devon Advertiser 12 August 1893 p8 col6


1894 Ejectment orders were issued at the Ashburton Petty Sessions against Susan Parnell and John Harvey of Heavyhead Lane, on behalf of Henry Stevens. Mr Stevens said he 'did not wish to be harsh', but there had been complaints from neighbours.
Totnes Weekly Times 28 July 1894 p3 col1

A fire behind the Globe Hotel affected property belonging to H Stevens in 1894, (which might have included) a Co-operative Society stable, and stores of coal, wood, grain, flour etc. belonging to John Beard. The damage was extensive, and the cause was being rigorously investigated.
Totnes Weekly Times 3 November 1894 p2 col4

The Cornubian and Redruth Times announced in March 1895 that Mr Henry Stevens of Ashburton, who had built the Redruth and other viaducts, had died a few days previously.
Cornubian and Redruth Times, 15 March 1895 p4 col5

Gertrude Alice Stevens died in May 1900 at Kingsbridge. She was the widow of the late Henry Stevens of Hazeldene, Ashburton.
She was 58
Totnes Weekly Times 12 May 1900 p5 col6
https://www.freebmd.org.uk

*******

The Foadens
See Individual Families for more on the Foaden family

Baptised in May 1837, John Hannibal Foaden was the son of Thomas and Susanna. When another son was born in 1841, the newspaper announcement (with Susannah named) said that Mr T Foaden was a builder.

https://familysearch.org
Western Times 23 January 1841 p2 col2
The 1851 census shows Thomas Jnr. his wife, Susanna, and family living in West St. One of his children is Mary Ann. Thomas appears to be a mason and slater (?)
1851 census HO1871, folio 314, p3


Thomas Foaden advertised in 1851 that he was 'contractor for the tolls' for Ashburton market. Rooms could be rented for lectures, bazaars, auctions etc.

Western Times 4 October 1851 p1 col4

Mr Thomas Foaden, builder, died on April 5th 1854, aged 38. He left a widow and four children.
Western Times 15 April 1854 p5 col2

Susanna is shown as a widow in 1861. On the census of that year she is living in West Street with her brother Thomas Pearse, a master butcher.

http://www.freecen.org.uk/

1867 John Hannabal Foaden married Elizabeth Husson in the September quarter of 1867.
http://www.freebmd.org.uk/

He became a builder like his father. In 1871 James Hamlyn, woollen manufacturer, was having a new house built to the west of Buckfastleigh. Mr J H Foaden's tender for the work was accepted.
Western Times 3 March 1871 p8 col1

In May 1874 John Foaden, an Ashburton builder, was fined 40s including costs (the full penalty) for boarding a train whilst it was in motion. He had jumped off the platform at Totnes, run across the line and tried to board 'an Ashburton carriage.' He fell, but got up and on the second attempt got through the window of the carriage the guard was riding in. He had pleaded guilty.

Exeter and Plymouth Gazette 15 May 1874 p7 col5

After the death of Edward Husson of the Globe Inn, Mr Foaden, brother-in-law to the executor, Mr E Husson, became the landlord.
Exeter and Plymouth Gazette 18 August 1876 p7 col5
1877 John Foaden, builder and landlord of the Globe Inn, successfully defended an action to recover money in a dispute with an auctioneer over some pictures.
Western Times 21 August 1877 p5 col5
1878 W L Jones and Sons, wine and spirit merchants, opened new bonded stores on Exeter Quay. The plans were by C E Ware, and the building was erected by Mr J H Foaden of Ashburton.
Exeter and Plymouth Gazette 13 September 1878 p5 col5
Later that year Mr. Foaden, builder of Ashburton, was involved in a serious accident. He and his sister-in-law, Frances Husson, were driving in a dog-cart near Highweek when a boy's hoop rolled under the horse's legs and caused it to bolt onto the pavement. Both Mr Foaden and Miss Husson were thrown out of the cart, and Miss Husson remained in a critical condition.
North Devon Journal 5 December 1878 p7 col1
By 1881 the Foadens were living at Sparnham House, West Street. On January 4th Mrs. Foaden gave birth to a daughter.

Western Times 7 January 1881 p5 col3

In 1883 Mr. Foaden of Ashburton was the contractor constructing the boarding and sheds on the twenty acre site at Bideford chosen for the Devon County Agricultural Show.
North Devon Journal 5 April 1883 p5 col2

In 1885 John H Foaden was the contractor for the new market and public buildings in Brixham. The price was about £2500, and the work was expected to be completed within 12 months. John Endacott was to be the foreman.
The Builder, Oct 3 1885, p480
The 1891 census shows 53 year old John H Foaden living in West Street with his wife Elizabeth and 6 children: Kate, George P(earse), Florence A(lice), Jessie A(melia), Amy J (Winifred?) and John H(enry). John Snr. is a builder and contractor.
http://www.freecen.org.uk
http://www.freebmd.org.uk
John H Foaden died in 1924, aged 87. When the Newton Abbot Board of Guardians met in May, they unanimously decided to send a letter of condolence - John Foaden had been a Guardian for about 38 years.
http://www.freebmd.org.uk
Exeter and Plymouth Gazette 29 May 1924 p3 col4

*******
On the 1891 census George Beavis, and one of his sons, William G., were both carpenters, living at Dolbear. George and all of his children had been born in Bickington, but his wife, Caroline, was from Ashburton.
1891 census RG12, piece no. 1698, folio 11, p1
George Beavis, of West Street, was buried in September 1914, aged 77
Parish records
The funeral of William George Beavis, of 1, Avenue Terrace, took place in November 1938. A carpenter by trade, he worked on the Welstor Estate, owned by Mr W Whitley. A keen musician, he had joined the Liberal Band in 1889, transferring soon afterwards to the Military Band: more recently he had joined the Ashburton and District Band, and had been practising only the week before.
Western Times 11 November 1938, p3 col4
William Pengilly of West Street, builder, was amongst those qualified to serve as a juror in 1901.
See People and Properties 1900s

*******
Henry John Almond's grandfather, Nicholas (Kingstone) Almond, was born in Blackawton, Devon, but at some stage moved to Kent, where his children were born. These children included son Thomas.

1851 census HO107, piece no. 1586, folio 254, p39
In 1881 Henry Almond, the son of a builder, together with his two brothers, was working in Enfield, Middlesex, for his father Thomas. Thomas Almond employed 12 men and 8 boys.
Henry (this time named as Henry John) was still with his father in Enfield in 1891, aged 27 and single.
1881 census RG11, piece no 1394, folio 50, p37
1891 census RG12, piece no 1088, folio 4, p1
Henry John Almond married Emily Caroline Kent in the Edmonton registration district in the December quarter of 1892.
Their daughter Honor Edith was born the following year, also in the Edmonton district, but when Henry Cecil Almond was born in 1896 his birth was registered in West Ham.

https://www.freebmd.org.uk

By 1897 H J Almond, contractor, was in Ashburton, where he had two steam derrick cranes for sale or hire. The first was a 3 ton combined hand and steam crane by Forrest and Co., and the second a two ton crane by Butters Bros.

South Wales Daily News, 17 December 1897, p2, col3

In May the next year he was selling (cheap) a stone waggon that would carry 3 tons. He was also selling a circular saw bench that would take a 36 inch saw. The bench, which had driving and loose pulleys, brass bearings and in and out gear, was £18, including 3 saws.

Exeter and Plymouth Gazette 6 May 1898, p2, col7
The same month Almond, contractor, Ashburton, was seeking to employ a painter.

Exeter and Plymouth Gazette, 13 May 1898, p4, col2

Ugborough School needed to erect a new classroom for infants in June 1898. Mr H J Almond's tender was £155, Mr A C Johns (Ugborough) was £105, and Messrs. F Watts and Son, (Ugborough) was £95. The £95 tender was accepted.

Totnes Weekly Times 4 June 1898, p8 col4

February 1900. Walter Tiddy was hit in the abdomen when the fastening of a driving belt flew apart and he was taken to Ashburton Hospital. He was employed by Mr H J Almond.
Western Times 16 February 1900, p6 col2

1900. Mr Henry Almond, of Ashburton, had recently retiled the aisles of Landscove church.
Totnes Weekly Times, 14 July 1900, p8 col2
Henry John Almond, a builder and contractor living at Hazeldene, was amongst those qualified to serve as jurors in 1901.

In the census of that year 37 year old Henry is listed as a builder, born in Enfield, Middlesex. With him are his wife Emily C, daughter Honor E and son Henry C.
The birth of Herbert John Almond was registered in the Newton Abbot registration district in the September quarter of 1901.

1901 census RG13, piece no 2053, folio 7, p6
https://www.freebmd.org.uk

In 1902 at the Golden Lion there was a sale of 300 oak and other trees from Waye, Alston, Pitley, and Dolbeare. Amongst the principal buyers was Almond of Ashburton and Hatch, also of Ashburton.

East and South Devon Advertiser, 8 March 1902, p5 col7

George H Darke, an employee of H J Almond and Co., was buried in February 1903. The coffin was carried on a timber waggon, drawn by the team of horses that Mr Darke used to use.

Western Times 25 February 1903, p2 col5

1903. H J Almond and Co., following the instructions of the Chapel Committee, repainted and decorated the Congregation Chapel 'with a very tasteful blend of colours.'
Western Times 22 May 1903, p13 col1
In February 1904, when H J Almond and Co. were demolishing an old house in West Street, two men, Campion and Tiddy, fell through the floor from the top storey to the basement. Tiddy was badly hurt in the head, but was making progress; Campion was uninjured.
Totnes Weekly Times 6 February 1904, p2 col1

In August 1905 it was reported at the Urban District Council that H J Almond and Co.'s tender had been accepted for taking off a dangerous corner at the gasworks.
Western Morning News 7 August 1905, p8 col5

By April 1906 H J Almond and Co., Ashburton, was in liquidation. Anybody having a claim against the company had to send full details to Totnes solicitors T C and G F Kellock.
Western Morning News 17 April 1906, p1 col7

May 1906. F J Badcock had recently acquired the business of H J Almond and Co., and Messrs. Sawdye and Son were holding an auction at the yard near the Railway Station. Items for sale included an 8hp portable engine, vertical, circular and band saws, turning lathes and cranes, and about 10,000ft of oak, ash, elm and beech planks.

Exeter and Plymouth Gazette 29 May 1906, p1 col2

The Almond family were living in Herne Bay, Kent at the time of the 1911 census. Henry was now a house agent.
Herbert John, the youngest son, had been born in Ashburton.

1911 census RG14, piece no. 4352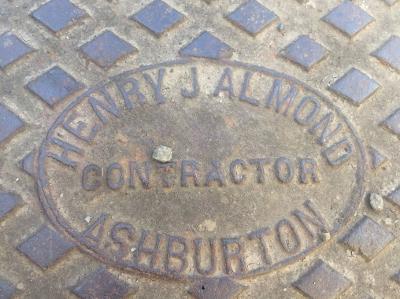 Above: Drain cover with the details Henry J Almond, Contractor, Ashburton. The cover and complete drain system is at Oxenham Farm, Sigford, known at one time as Sigford Farm.
Very many thanks to Oliver Bosence for both the photo and the information about Oxenham Farm.

In the 1861 census Frederick Soper, a 36 year old master carpenter, was living in East Street with his wife Margaret and their six children. His seventeen year old son Frederick W was also a carpenter; his other son was Richard J, aged one.

1861 census RG09, piece no. 1405, folio 31, p12

Messrs. Sawdye and Son were selling a quantity of timber in December 1873. It comprised 117 oak, 64 elm and 81 ash trees from the Alston and Lower Waye estates. To view the trees, prospective purchasers were to contact Mr F Soper, carpenter, of Ashburton.

Western Times 28 November 1873, p1 col3

In 1907 Richard Soper was one of those whose tenders were accepted for the supply of coffins to the Newton Board of Guardians.

East and South Devon Advertiser, 21 December 1907, p10 col7

Richard J Soper, a joiner and undertaker, died after a short illness in February 1912. He was 'about 54 years of age'.
He was the captain of the Volunteer Fire Brigade, and members of the brigade were the bearers at his funeral. The principal mourners were his brothers-in-law, Messrs J F Eales and J T Lamason.

Western Times 19 February, p3 col2

Western Daily Mercury 23 February 1912, p8 col2

*******
In 1909 a fire in an outbuilding attached to Hazeldene House threatened to spread to the house itself and Mr Badcock's large timber yard.
Western Times 18 September 1909 p2 col5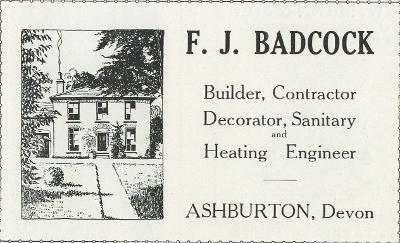 1918. Fire caused £1500 to £2000 worth of damage to the premises of Mr F J Badcock, a builder and timber merchant, near the railway station.
Western Times 31 May 1918 p3 col3

Douglas Berry fell from a pair of steps in 1925, dislodging a stone which severely injured his leg. An apprentice to Mr F J Badcock, he was taken to the local hospital for treatment.
Western Times 25 September 1925 p7 col4
Above: Advertisement for F J Badcock from a Golden Lion promotional booklet, undated but probably late 1920s.
From my own collection

1927 F J Badcock, builder, bought the Old Brewery for £150
Western Times 30 September 1927 p9 col2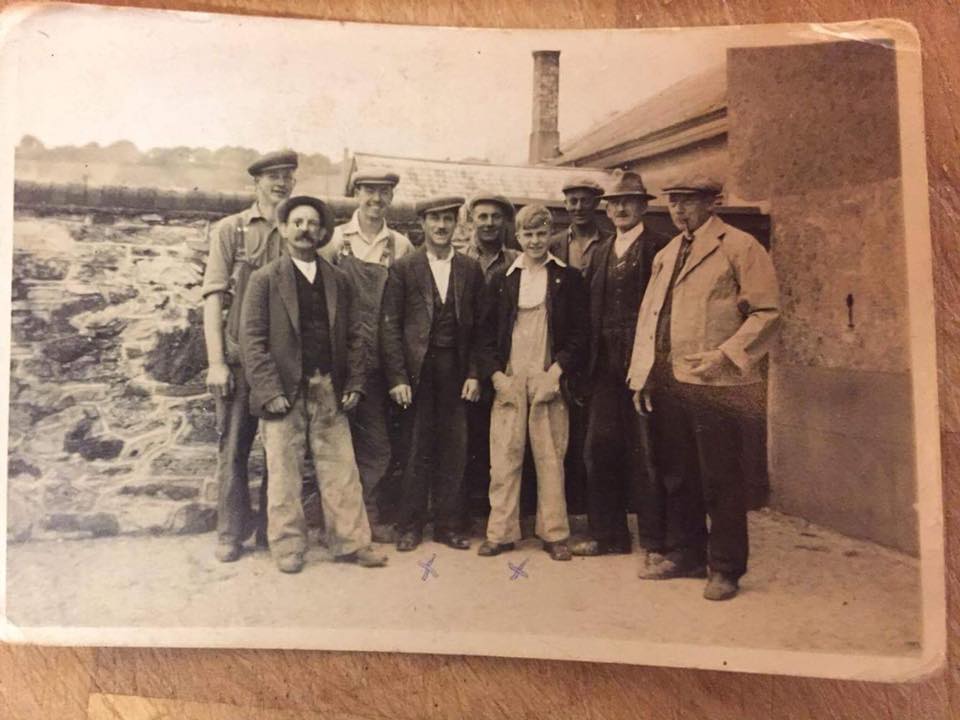 Above:
Workmen from Badcock's, working on the primary school in 1935. The men marked are the father and grandfather of George Stone.
Very many thanks to George Stone for this photograph
*******
'Eales, builder, Ashburton' was selling a newly built small villa in Ashburton in 1931. It had 3 bedrooms and 2 reception rooms, hot and cold water, gas and electricity. Standing in its own grounds, the asking price was £850.
Western Morning News 20 April 1931 p2 col5

1931 'Eales, builder, Ashburton' wanted bricklayers on the Ipplepen Housing Site
Western Morning News 27 April 1931 p2 col1

*******

In 1936 'Langler, builder, Ashburton' was letting Roselands, close to the station and bus route. The house had 6 bedrooms, bath and 'indoor sanitation', electricity and gas.
Western Morning News 6 January 1936 p2 col1

*******


William Lear, formerly a builder and undertaker at Ashburton, died in February 1940. He was 96.
Western Morning News 13 February 1940, p1 col1

*******
Mr F Langler was retiring in 1943, and Rendells were selling 26 Station Road* on his behalf, together with the goodwill of an established builder's business. The property consisted of a 10 roomed house, a builder's yard and stores.
Western Morning News 6 March 1943, p5 col2
*Now known as St Lawrence Lane

*******




Henry S Christopher, a carpenter born in 1912, was living at 4 Jubilee Road, Newton Abbot, in 1939. With him was his wife Muriel M.

Meanwhile Sidney J Webber, a mason born in 1910, was living at 2, Rentor View Cottages, Newton Abbot, with his wife Rita E.
1939 register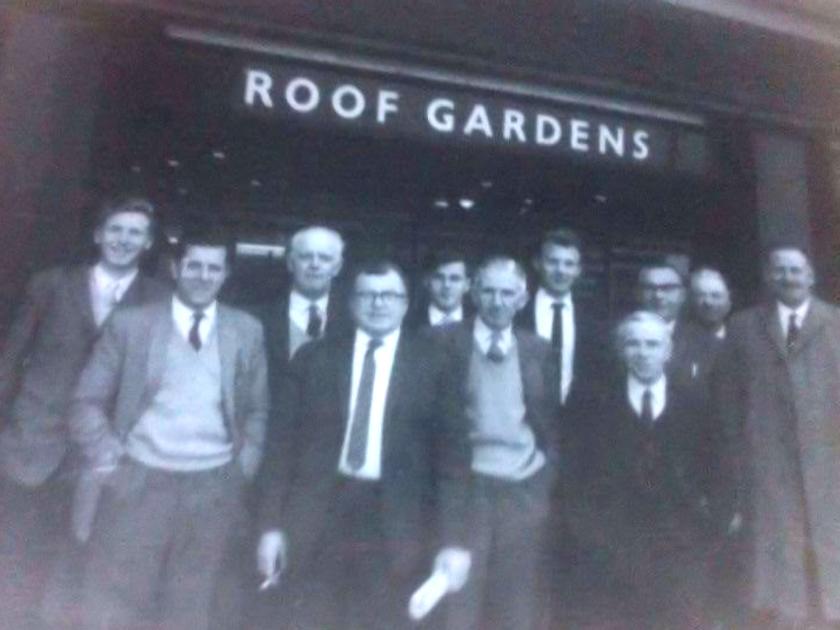 Above and below: Webber and Christophers outings, probably 1950s
Many thanks to George Stone for these photographs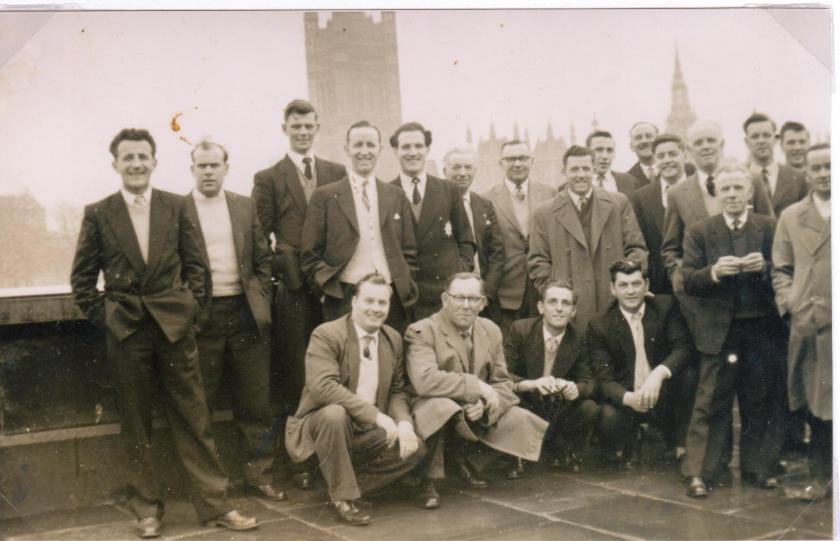 Above: Webber and Christophers' annual outing, 1960s
Left to right, front row: Ed Yeatman, George Milton, Bob Cornish, Terry Baker, Jimmy Gale (standing, rolling a cigarette), Freddy Cunion
Back row: Paddy Harding, Les Townsend, Bob Gale, Joe Endacott, Bill Yolland, Les Underhill, Henry Christophers, Jack Woodgate, Ray Barr (?), Jim Morrish, Dave Coles, Jim Webber, Ray Webber, Robin Manual (?)
From my own collection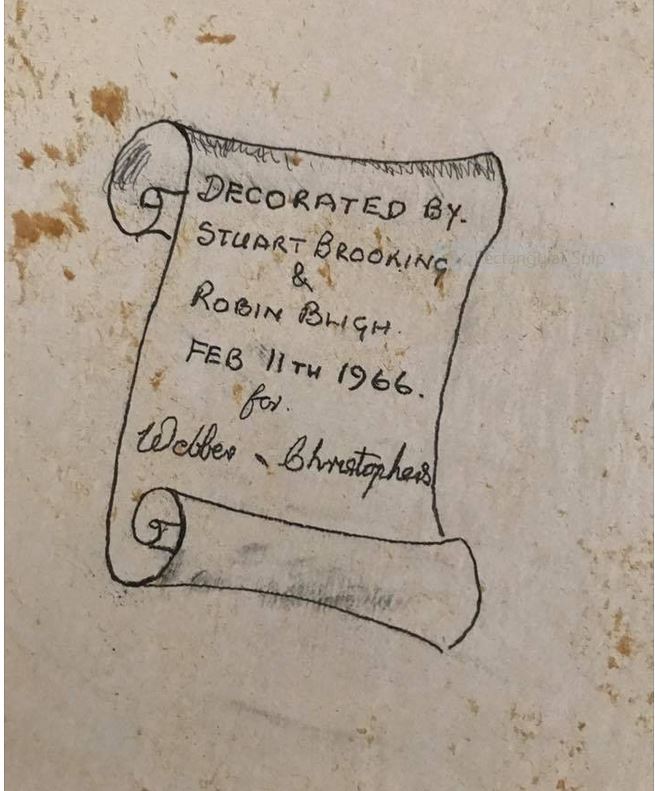 Left: When Cliff Ellis removed some wallpaper at 2, Avenue Terrace he found this scroll drawn on the wall.
Many thanks to Cliff for this.


'We had a two-wheeled handcart for moving equipment around the town. Ladders, steps, paint, dustsheets - everything was tied to it. I used to be very embarrassed when I was allocated the task; it was in use until the 1970s.

In those days the owners only had to give two hours notice that they were laying off staff. I can remember them coming at 3 o'clock on a Friday afternoon to tell people that their employment was terminated. It happened circa 1963, but they had to keep me on because I was an apprentice.'
Robin Bligh

Right: Doors leading to the former Webber and Christophers' yard, at the bottom of St Lawrence Lane.
My own photograph 2017
Below: Deed of apprenticeship for Webber and Christophers
From my own collection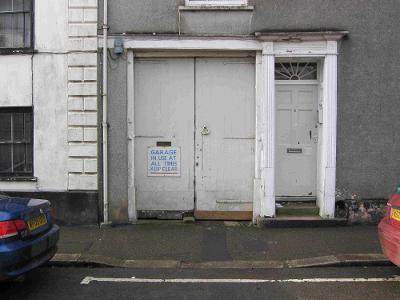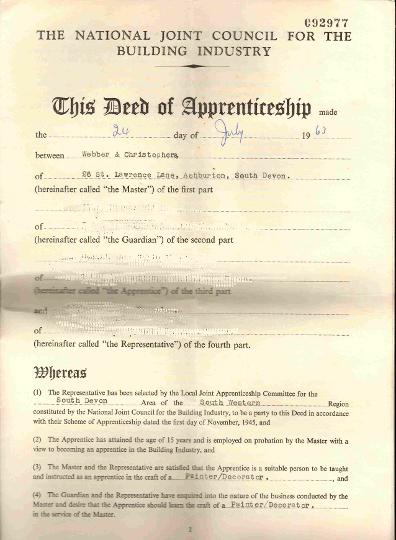 Paddy Harding once had to gold leaf the hands and numerals on the clock on St Andrew's Church. He was lowered down on a Bosun's chair, which was basically a plank suspended by ropes. Gold leaf was an expensive product that came in books interleaved with tissue paper. It was tricky to use: you had to size the object with gold size, rub a brush on your hair to create static electricity, and then pick up a leaf of gold with the brush.


Positioning it on the object whilst the size was not too wet (it which case it would come through the gold and dull it) or too dry (so that it wouldn't stick) you then let it dry, before burnishing.
Paddy went to pick up a gold leaf, the wind blew the whole book out of his hands, and sheets of it blew all over the churchyard.
From a work colleague of Paddy's.
Right:
Chisels and hand drill, which belonged to Ivor Gill, who worked for Webber and Christophers. When Ivor retired (1970s or 80s) he gave them to Robin Bligh, who in turn used them until he retired.
Many thanks to Robin