In 1843 a Mr Coles, 'Surgeon-dentist' based at Plymouth, could be consulted at Ashburton on the first Tuesday of every month from 11 until 4.
By 1870 Mr D M Ching, also a surgeon dentist, was offering a similar service. Also based at Plymouth, he could be consulted on the third Saturday in each month, at Mr Giles, East Street. Artificial teeth cost from 5s each - a complete set was £3 3s.
Exeter and Plymouth Gazette 3 June 1843 p2 col6
Totnes Weekly Times, 30 July 1870, p1col1
*******

Daniel Olgivie Evans registered as a dentist on November 5th 1878.
UK Dentists Registers 1915, available through https://www.ancestry.co.uk
Mr D Olgivie Evans, dentist, gave a lecture on 'Teeth' to the Mutual Improvement Association in March 1887. He illustrated his talk with drawings and specimens.
Totnes Weekly Times 12 March 1887, p5 col4
In the 1911 census Daniel Ogilvie Evans, his wife Annie and son Wilfred were living in West Street at no. 7 where they ran the family business of druggist and dentist: they also sold wines and spirits. In addition, Wilfred dealt in photography.
http://www.freebmd.org.uk
1911 census RG14, Piece 12725, Schedule no. 108
*******

Right: Glass sign for E R Moss, Dispensing Chemist. 'Teeth carefully extracted'.
With very many thanks to David A Smith, who is himself an ornamental glass artist.

See his website at https://davidadriansmith.com/
Although not a registered dentist (as far as I am aware) E R Moss would apparently extract teeth. He worked in Ashburton at the beginning of the 1900s.
See Apothecaries and Pharmacists, under Banks and Businesses, for more on Ernest Moss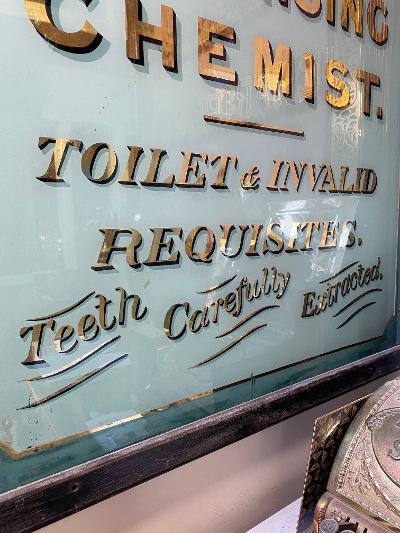 Douglas Arthur Wynburn Trustcott was registered as a dentist in August 1922, under the Dentists Act of 1921. In the 1940 register he was at Croydon House, East Street.
The Dentists Register 1940, p 293
See factsheet produced by the British Dental Assocation https://bda.org/museum/enquiries/PublishingImages/-and-research/was-your-ancestor-a-dentist-factsheet.pdf - accessed 6-04-2021
Douglas A W Truscott was a dentist at 78 East Street in Kelly's Directory of Devon, 1930

Kelly's Directory of Devon, 1930 p1044

Douglas A W Truscott was a registered dentist on the 1939 register. He and Rose G Truscott were at 78 East Street Ashburton.
1939 Register