Boxing
Boxing seems to have been a sport that although technically illegal, increasingly became tolerated in society. This was largely due to the introduction of improvements such as Broughton's rules in 1743, and the Marquess of Queensbury's rules in 1867.
However, the Western Times was still able to report in 1885 that a prize fight in Dousland on the Princetown Railway had been kept secret from the police.
Western Times 18 August 1885 p7 col1
http://www.boxingschool.co.uk/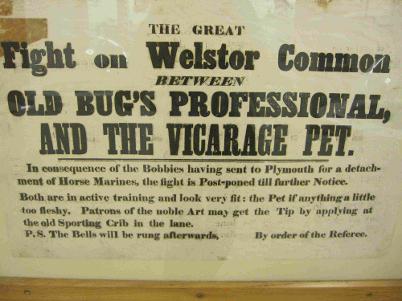 Above: Notice of the postponement of a boxing match ('the noble art') on Welstor Common because the police had sent for reinforcements.
'The Great Fight on Welstor Common between Old Bug's Professional, and the Vicarage Pet.
In consequence of the Bobbies having sent to Plymouth for a detachment of Horse Marines, the fight is Postponed until further notice.
Both are in active training and look very fit, the Pet if anything a little too fleshy. Patrons of the noble Art may get the Tip by applying at the old Sporting Crib in the lane.
P.S. The Bells will be rung afterwards. By order of the referee.'
Date unknown
Photo courtesy Ashburton Museum
Football
April Petty Sessions, 1870. Thomas Eggbear and Thomas Paul were each ordered to pay 5s 6d for playing at football in West Street the previous month.
Exeter and Plymouth Gazette 29 April 1870 p7 col5
1887 Edwin Tucker Jnr was elected captain of a club to play under rugby rules. A club playing under association rules was in existence, but hardly ever played.
Western Times 18 October 1887 p3 col5
Ashburton B played Haytor Vale at the Ashburton club ground. Ashburton scored one try; Haytor Vale failed to score.
Exeter and Plymouth Gazette 19 February 1894 p4 col4
1894. G Pitts, son of butcher G Pitts, broke his leg in two places when he was kicked during a football match.
P.C. Mortimer took him to the Cottage Hospital.
Exeter and Plymouth Gazette 24 March 1894 p4 col3
Ashburton lost to Newton Rovers in a 'spirited game.' Whiddon was the new captain of Ashburton.
Western Times 19 November 1895 p6 col6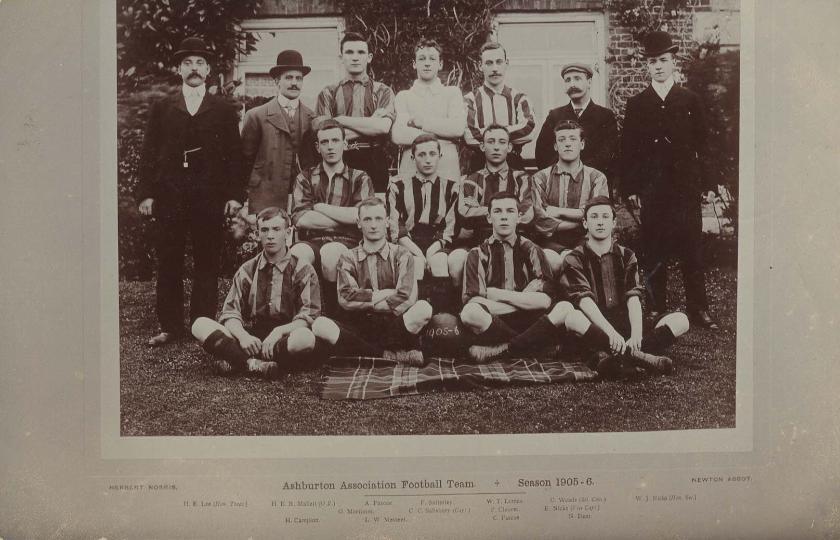 Above: Ashburton Association Football Team, 1905-06 season.
Back row, left to right: Herbert Norris, H E Lee (Hon Treas?), H E R Mallett (O. R.), A Pascoe, F Satterly, W T Lomax, C Woods (S?l Com), W J Nicks (Hon Sec)
Middle row, left to right: G Mortimer, C C Salisbury (Capt), F Cleaver, E Nicks (Vice Capt)
Front row, left to right: H Campion, I W Messent, C Pascoe, N Dent

From my own collection

As part of the Torquay Division Junior League Ashburton played Bovey St Johns at association football. The use of hands meant that Ashburton was awarded a penalty, but Salisbury missed the shot. The result was Bovey 5, Ashburton 2
Western Times 22 January 1906 p3 col6
In 1921 Mr H Arnold was president of the club, with G Purchase as the Hon Sec.. J A Mann and R Stacey became the new joint hon. secretaries, B Balkwill was the hon. treasurer, D Cowls the captain and J Foot the vice-captain.
Western Times 22 July 1921 p10 col1
1922 Ashburton AFC held its annual meeting at the Golden Lion Hotel. The deficit of 4s 11d in the balance sheet 'was considered satisfactory'.
Western Times 15 July 1922 p3 col5
Ashburton Association Football Club, Wltr Thos Clements, sec, 8 Dolbeare Rd
Kelly's Directory of Devonshire 1935 p34
Members of the football club were amongst a large congregation at the funeral of Herbert A Blyth in 1926. He had met with an accident in a football match the previous season, which had resulted in his leg being amputated.
He was eighteen.
Western Times 6 August 1926, p10 col1


Right: Richard Arscott crowning Maureen Gregory the Football Queen (written on reverse of photograph).
Date unknown.
Many thanks to Richard and Frances Berry for this photograph.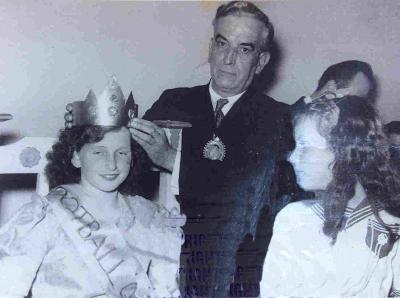 Cricket
'The manly game...'
Exeter and Plymouth Gazette 2 April 1853 p4 col2
1846 Mr R Tucker, attorney, had his front teeth displaced when he was hit in the mouth by a cricket ball.
Exeter and Plymouth Gazette 18 July 1846, p3 col4
1852 Ashburton Cricket Club played its closing match of the season, the teams being natives of Devonshire versus other parts of the world.
Western Times 16 October 1852 p7 col5

Ashburton played Totnes in August July 1864, using a field lent by Mr Lay, of Hele. 'Mr Honeywill displayed great hitting power in both innings; and Mr Kitson...bowled remarkably well.'
Western Daily Mercury 1 August 1864, p3 col5

1878 A match was played between a team of married players and a team of single men from the club. The single men won by two wickets.
Western Times 14 September 1878 p3 col4

1880 The Cricket Club acquired a field at Higher Headborough Farm.
Western Times 25 May 1880 p6 col2

Ashburton Institute played a smokers versus non-smokers game in 1886. The non-smokers won by a narrow margin.
Western Times 11 August 1886 p4 col2

In July 1890 two teams of ladies played a match at Ashburton. Miss D Tucker led one team, whilst Miss J Adair led a team from Ashburton High School Cricket Club. An 'extremely interesting match' resulted in victory for the High School.
Totnes Weekly Times 26 July 1890, p7 col3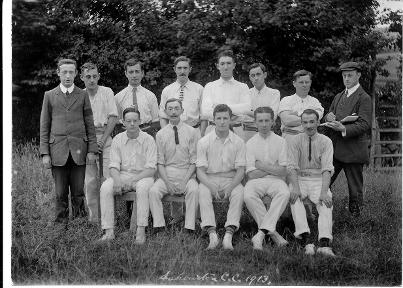 The club closed through lack of players in 1910 but in 1913 a meeting was held at the Golden Lion, with the aim of restarting it.
Western Times 10 June 1913 p2 col1
In 1922 E(dward) M(aurice) Dowson was living at Hele. The Western Times described him as 'the brilliant Harrow, Cambridge and Surrey cricketer'.
He was President of the cricket club in 1929.
He died, aged 53, at Hele in 1933

Western Times 12 May 1922 p8 col7
Western Times 8 March 1929 p9 col4

Western Morning News 27 July 1933 p4 col1

1935 Ashburton Cricket Club, A Davies, sec, North St
Kelly's Directory of Devonshire 1935 p34
Before the Ashburton/Buckfastleigh match in July 1950, players and spectators stood in memory of Mr C S Caws, who had been captain of Ashburton Cricket Club.
The death of Anthony S D Caws, aged 45, was registered in the Newton Abbot registration district in the September Quarter of 1950

Western Morning News 31 July 1950, p8 col6

www.freebmd.org.uk

1899 A town cricket club was launched, using a field in Balland Lane.
President and captain - Maj R C Tucker
Hon treasurer and secretary - the Rev Penwarne-Wellings
Committee - J Clymo, J Berry, E Sawdye, J F Baker, J D Reddaway, F Edgecombe.
Western Times 23 May 1899 p6 col7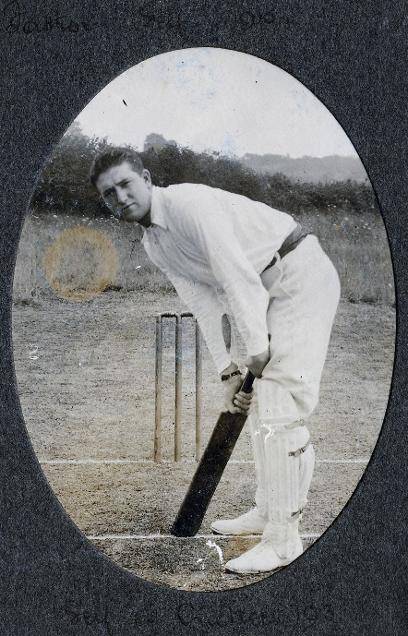 Above left: Ashburton Cricket Club 1913. Brian Bernard Baker is the tallest player, centre back.
Above: Brian Bernard Baker

Many thanks to Lerida Arnold for the photographs and information.
Wrestling
'Sir, As I am partial to all manner of verminry, and having too much idleness upon hand, which, like grocery, must be disposed of or be eaten by the flies, I rode to Ashburton one day last month to behold a Wrestling Match there held.....
A large ring was formed by post, rail and rope; at one end of which there was a booth for the benefit of the committee, and of those gemmen who would pay half-a-crown for admittance. When the preliminaries were settled, Mr Moxey, the best of all possible criers; entered the ring, and having sounded his tintinnabulum thrice, he thus spake with a loud and clear voice:- "Gentlemen! Listen whilst I read the articles - Gentlemen! These are the rules for this wrestling:- A man must throw two men fair back falls, or throw one man and hold out two others ten minutes each, to become a stander. All sham players to be turned out of the ring, and not allowed to enter it again. All disputes to be decided by the sticklers or triers. Twenty-four standers will be made. Prize, for the best man, 8 sovereigns; for the second best, 4 sovereigns; third best, 3 sovereigns; for the fourth, 1 sovereign; and five shilllings for every stander.
Mr Moxey then put away the criership from him; and became one of the best of all sticklers or triers, and being joined by two others, they called for two hats. At the word, hats came pitching into the ring like rooks upon a corn field. Two were selected; their owners appeared, and having padded their legs, pulled off their coats, waistcoats, and shirts, and put on the faustian jacket and strong shoes of war, the struggle commenced. But before I throw my man a fair back fall, I must just explain that a trier, or stickler as he is most commonly called, is an umpire, and there are always three men of science, generally old wrestlers, chosen, who decide on the fall, and their decision is final....
In the second double play, James Frost let down John Jackman, a first rate player, rather too easily. Alas! In that fall there was an attempt at dealing; but the sticklers were not to be done; and the committee-gentlemen happened to carry some sharp brains under their white hats, and the white wands, which denoted their authority, likewise showed their purity of intention and election; they would have fair play, and no smuggling.....
The sport ended after three days continuance, and better play the amateur never saw. There were more back falls given during the darkness of night than midst the glare of day....I cannot say how these midnight wrestlers played.....
I am much amused with the characters met with at these revels. I listen to the tough old leathern-faced Moorman....a man slow of words, sipping his quart of cider, rather too full of wind, yet dralwing forth tales of other days - "How in his time men did not wear padding - how he had seed (seen) men's shoes full of blood from kicks - how he had followed the plough, after playing hard for a pair of leather breeches, or a gold-laced hat - the next morning with his legs shaking like jelly bags - there was no selling in his days; faith it was not worth while - the best man was the best man." '
The Sporting Magazine, vol 68, London, 1826, p320
1827 Wrestling in London was making the news, but the Exeter and Plymouth Gazette noted that there were top quality local events. In Ashburton contestants included:
James Cann, Jordan, The Webbers, Huxtable, Bolt and Frost.
Exeter and Plymouth Gazette 23 June 1827 p3 col3
A wrestling match took place at Hut Field, Brent, in May 1846. Roger Leaman, the 'celebrated wrestler of Ashburton', had his leg broken whilst playing a navvie, called Stone.
Western Times 2 May 1846, p6 col1

1849 A wrestling match was advertised in Ashburton, with a prize of 25 sovereigns. Abraham Cann was to be in attendance.
Western Times 7 July 1849 p7 col5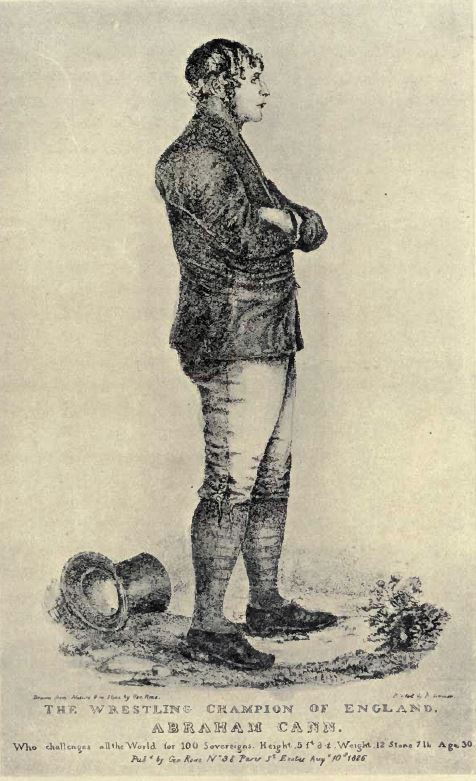 Left:
Abraham Cann
Devonshire Characters and Strange Events, S Baring-Gould, London 1908, p518
1850
Abraham Cann, Devon Wrestling Champion, arrived in Ashburton to adjudicate in a disputed wrestling match. According to Edward Foot, writing to the Western Times in 1879, he stayed 3 days, being 'almost worshipped' by the inhabitants.
Western Times 9 February 1850 p5 col4Western Times 2 October 1879 p3 col2

For more on this visit, see the Historical visitors' book under the section Gathering together.
In August of the same year, a correspondent to the Western Times said that at a recent match in Ashburton between Cornwall and Devon, Cornwall had won five of the six prizes. This was in spite of the Devonian contestants using savage kicking, whilst wearing loaded shoes
and padded shins.
Western Times 31 August 1850 p8 col1
Golf
In February 1910 a meeting was called at the Town Hall to discuss establishing a golf club in Ashburton. Mr Parnell Tucker had offered an area of land on Welstor Common at a nominal rent, and he also proposed erecting a club house, which could also be rented. The cost of laying out the course was estimated at £150, with half of that amount already promised. Several ladies had promised to subscribe to the project.

The Portreeve, Mr J T Baker, chaired the meeting, with Messrs C E Robinson, F H Rogers, R B Berry, J Mortimer and R W Firth being present. A resolution to form the 'Ashburton Golf Club' was passed, and Mr Firth was appointed Hon. Secretary.

Western Times 18 February 1910, p10 col5
The annual subscription was £1 1s
H Cox, The Golfing Annual, vol 23, 1910, p142
The 1911 census shows Alfred Henry Jones Hobley as a boarder in John K Hamlyn's household at Welstor Farm. He was a professional golfer.

1911 census RG14, piece no. 12726

In September 1911 an inquest was held at Welstor Farm on 22 year old A H Jones-Hobley. He had been out rabbiting with J K Hamlyn when his gun exploded as he pulled it out of a hedge. Mr Jones-Hobley was the professional of Ashburton Golf Club.

Western Morning News 19 September 1911, p3 col8
According to the website Golf's Missing Links the club lasted until the mid 1920s
http://www.golfsmissinglinks.co.uk/index.php/england/south-west/devon/979-dev-ashburton-golf-club-devon

Bowls

In June 1914 a meeting was called at the Market Hall to discuss the formation of a bowls club. A committee was negotiating a ground: the field known as Maiden Bridge in Dolbeare Road near the top of East Street, owned by Mr Hoskings, could be rented for £8 per annum. The Portreeve, Mr Geo. P Foaden, presided.

Ashburton lost to the home team, Teignmouth, in July 1928.
In the team were: T Pascoe, G Green, T Islip, C Badcock, S Parnell, W J Hicks, J A Mann, W Mugford, A Nicholls, H Cann, E J Satterly and J Foot.
Exeter and Plymouth Gazette, 23 July 1928, p7 col2
Ashburton Bowling Green was about to be opened in April 1929. Mrs Graham Hays, the president's wife, was to throw the first wood.
Western Times 19 April 1929, p13 col3
In 1949 the British Legion opened a new headquarters, situated on the site which had formerly been the Ashburton Bowling Green.
Western Times 1 April 1949, p8 col3

A new bowling green was made on the vicarage lawn in June 1949, with the permission of the Rev G A B Jones.
Exeter and Plymouth Gazette 17 June 1949, p6 col3
Ashburton Archery Club (Devon).
Prize meeting September 2nd.
Prize list. Lady members. Highest gross score Miss E Worthy, reduced to 118 by loss of outer circle (shell card-case), 132;
Second gross score, Miss Tucker (gold locket, presented by Gen Malcolm), 118;
Highest gross score at 50 yards, Mrs Hole (scent bottle, presented by Mr Harding, Ashburton) 50;
Greatest number of blues Miss Worthy (ormolu card basket), 8.

Gentlemen members. Highest gross score, Mr C Caunter, reduced to 168 by loss of outer ring (book slide) 182;
Second gross score, Mr J C Reiby (book, presented by the lady paramount, Lady Malcolm), 156;
Greatest number of hits, Mr E Kitson (twine barrel), 23.
Visitors. Highest gross score for ladies, Miss Tremlett (workbox), 184;
Highest gross score for gentlemen, Mr Palairet (inkstand), 128.
Prize for the best gold, open to all the field, Miss E Kitson, member (watchstand);
Wooden spoon, open to all the field, Mr S Bryett, visitor, 24.
Ed. J Sharp, The Archer's Register for 1864, London, 1864, p60