A travelling dairy arrived in Ashburton in 1894, to give a series of demonstrations. The local Technical Education Committee, of which J Mortimer was Hon. Secretary, had arranged for some boys from the agricultural arm of the grammar school to do a course in butter making; it was hoped that dairymaids would also join a course in due time.

The travelling dairy consisted of 12 churns, separators and other appliances.
Totnes Weekly Times 3 February 1894, p3 col2
The Eagle Dairy
Mabel C Binmore, eldest daughter of Mr and Mrs Binmore of the Dairy, East Street, married Sergt E F Pidgeon in December 1915.
Western Times 10 December 1915, p13 col1
T W Brailey, from Bovey Tracey, married Olive Binmore in 1929. Olive was the youngest daughter of Mrs H Binmore of the Eagle Dairy, and the late Mr H Binmore.
Western Times 24 May 1929, p15 col5

In 1933 'Milk Hand' won £100 on the Irish Sweep*. The ticket belonged to Mr Richard White of the Eagle Dairy, East Street.
Western Times 2 June 1933, p14 col1

*The Irish Hospitals' Sweepstake was a lottery authorised by the Irish government with the aim of benefitting Irish hospitals. The stubs of tickets sold were returned to Ireland to be drawn from a barrel and matched with the name of a horse running in a major Irish or British race. Begun in 1930, it was replaced by a state lottery in 1987.

Although the aim may have originally been laudable, the scheme was was an opportunity for dubious and illegal activity on a huge scale.
According to the Irish Independent, less than one tenth of the money went to hospitals, and is 'one of the country's greatest scandals'

https://www.britannica.com/topic/Irish-Sweepstakes

Article 7 December 2003, https://www.independent.ie/opinion/analysis/irish-sweepstake-scandal-remains-a-lesson-to-us-all-26237690.html - accessed 17-02-2020

65, 67 and 67a East Street were to be auctioned by Rendells in August 1939.

65 and 67a were private dwellings, but no. 67 was an 8-roomed dwelling and dairy shop, currently occupied by Mr. R White. His tenancy was due to expire on Lady Day 1940. The property had a garden, outbuildings and a large yard with a shippen for 12 cows.
The advertisement said that 'A lucrative Dairy Business has been carried on at no. 67 for a great number of years', and the goodwill and fittings could be purchased from the tenant.

Western Morning News 22 July 1939, p4 col6
A six months old South Devon bull was amongst the animals to be sold at the Autumn Cattle Show in 1942. It was owned by H A Luscombe, Eagle Dairy.

Western Morning News 3 October 1942, p5 col5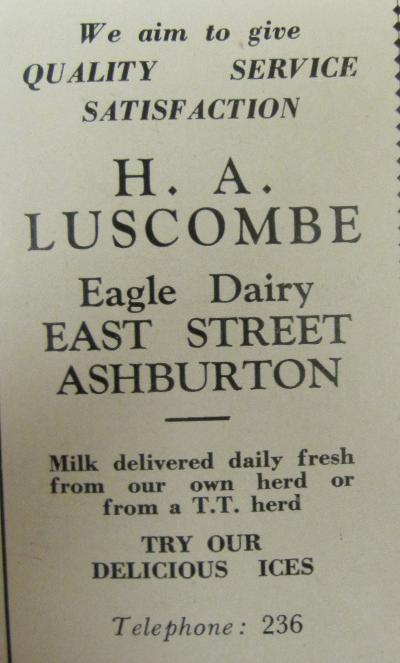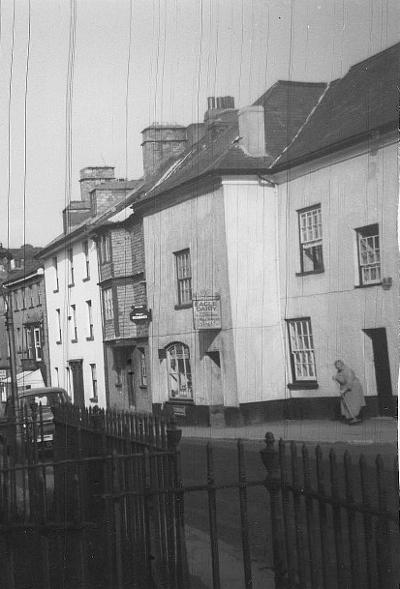 Above: An advertisement for H A Luscombe, Eagle Dairy

Ashburton Official Guide, The Come-To-Devon Association, undated but after 1947
Among the businesses advertising in the Official Guide to Ashburton in the 1950s was Eagle Dairy: 'Milk, cream, general grocers, tobacco etc. '
Ashburton Urban District Council, Official Guide to Ashburton, undated but between 1952 and 1960
Left: Eagle Dairy, 1950s

Many thanks to Lerida Arnold for this image

1907. A young bullock had to be destroyed after it fell over a high bank in the Terrace Fields. It belonged to Messrs Nott and Son of the Devonshire Dairy, East Street.

Western Times 23 July 1907, p2 col5

*******
The North Street Dairy
62 year old Robert Satterly was a dairyman, living at the North Street Dairy, in the 1911 census. Evaline Colling, a servant living in the household, assisted in the business.
1911 census, RG14, piece no. 12726

James Hamlyn, Dairy, North Street, was looking for a man to help with milking and general farm work in 1914. It seems likely that this is the same dairy.

Western Times 5 November 1914, p2 col1

John Bonstow, aged 76, died at The Dairy, Ashburton, in December 1923. The funeral was to be held at Stoke Gabriel church.
Western Morning News 27 December 1923, p1 col2
In 1930 John Bonstow [jnr.], Hannah and Ronald were on the electoral register in North Street, Ashburton.
Electoral registers 1920-32, available through www.findmypast.co.uk
John Bonstow of 11 North Street gave evidence at an inquest in 1936. 84 year old Mrs Catherine Hamlyn had fallen out of a window at No. 13 in the early hours of January 6. A verdict of 'Death by misadventure' was recorded.
Western Morning News 24 January 1936, p4 col6
In May of 1936 business premises occupied as a dairy in North Street were up for sale. The property comprised a shop and dwelling-house and a yard off Kingsbridge Lane. The yard had cow shippens for 18, a calves' house, cart shed and garden. Mr J Bonstow was the tenant.
Western Morning News 16 May 1936, p4 col7

J Bonstow was advertising for a milk float or covered wagon suitable for a 15 hands high cob.
Western Morning News 1 July 1936, p1 col6

In 1939 John Bonstow was a farmer and dairyman living at No. 11 North Street; Ronald, in the same household, was a dairy and farmer poultry keeper. John was the chief officer of the local fire brigade, and Ronald was a special constable.

Next door, at No. 13, James Hamlyn was a butcher and farmer.

1939 register
Bonstow, Central Dairy, Ashburton, was advertising for a person to help generally with the business and house in 1944.
Western Morning News 10 July 1944, p1 col5

A dance was to be held at the Golden Lion in June 1946. One of the people supplying tickets was R Bonstow, 13 North Street.

Western Morning News 1 June 1946, p1 col3

In August 1946 a 'capable person' was sought to help in the Bonstow household and shop. The telephone number was 308.
Western Morning News 16 August 1946, p4 col6

Hannah Bonstow, the wife of John, died in February 1947.
Western Morning News, 15 February 1947, p1 col1


'As a child in the 1950s I was always hanging around Pop [John] Bonstow's. He used to give me sixpence for doing (probably unnecessary) chores, such as helping to get the cows in. The dog, Meg (?), did most of the work without being asked, but I would go up and open the gate.
The shippen was next to the old pannier market, roughly where now you turn into the parking bays of the carpark.'
Thanks to Robin Bligh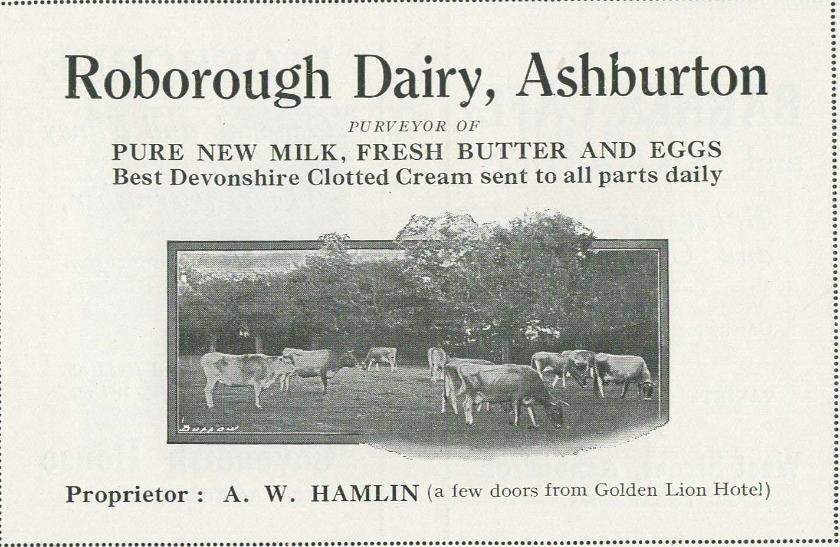 The business above was advertising in a Golden Lion promotional booklet
The booklet is undated but probably comes from the late 1920s: information within it says that Buckfast Abbey was not yet completed, but had been dedicated for worship in 1922.
The town was not yet bypassed - the bypass was proposed in 1930.
H W Chard, a watchmaker, also advertised in the booklet. He was on the electoral register for Honiton in 1922, but by 1923 was in Ashburton. He was still in Ashburton in 1929, but by 1931 had returned to Honiton.

Electoral registers 1832-1932, available through https://www.findmypast.co.uk
The 1920s and 30s. 'On the opposite side by Kingsbridge Lane was Bonstow's Dairy selling butter, eggs and cream. A large bowl of clotted cream held pride of place in the window. Customers took a bowl or glass dish; this was weighed and then the required amount of the delectable product was carefully measured. A piece of greaseproof paper was placed over the top. All the produce was from local farmers, customers always wanted to know the source of their goods'.
With many thanks to Hazel Bray
Sly's, the 'Cream by Post' firm, were advertising in the Western Morning News in May 1933. Offering Bed and Breakfast and tourist accommodation, their address was West End Dairy, Ashburton.
Western Morning News 24 May 1933, p4 col5
Sly's Dairy and Café, 17 West Street, was advertising in a 1930s Guide to Ashburton
Ashburton Urban District Council, Guide to Ashburton, undated but between 1930 and 35

Stanbury, Dairy, Ashburton, was advertising for an assistant or help for the dairy business. A farmer's daughter was preferred, and a 'middle-aged person or widow might suit'.

Western Times 8 September 1933, p4 col1

In March 1936 Robert Wilfred Daw, of Kingsbridge Dairy, married Nellie Amelia Beer, whose parents lived near Birmingham. The groom was the eldest son of Mr and Mrs Robert Daw, and his brother, James Bicknell Daw, was best man.

Members of the Borough Badmington Club made an arch of badmington rackets for the couple to pass under when they left the church.
Western Times 6 March 1936, p12 col3