You can search the website from the Home Page
Musicians, Poets and Artists


Samuel Chapple
Samuel Chapple (Chaple on Familysearch), was born, and apparently christened, on 20th February 1775 at Crediton, the son of John and Martha.

He married Sarah (probably Matthews) and the couple had at least eight children, some of whom did not survive infancy: John (bpt. 1810); William Matthews (bpt 1812); James Matthews (bpt 1814); Sarah (bpt 1816); Samuel (bpt 1818); Henry (bpt 1820); George (bpt. 1823) and Jane Parhan (bpt 1825).

He died aged 58 in 1833 at Ashburton, and was buried on October 3rd.
https://familysearch.org
Ashburton Burials 1813-1837, Devon Family History Society 1997
On the centenary of his death the Western Morning News published an item about him, which stated that he had been the parish church organist at Ashburton for most of his life. Born in Crediton in 1775, he had been blind since the age of 10 after an attack of smallpox. His aptitude for music led the ratepayers of Crediton to support his musical education, and he was articled to another former Crediton resident, Mr Eames of Exeter. Mr Eames was himself blind, as his own teacher had been.
Samuel was appointed organist at Ashburton in 1795, before his articles were finished, and became known for riding around the district on horseback, with a boy as a guide. A teacher of music - he was both a pianist and a violinist - he also published 30 anthems, songs and piano pieces, which brought him fame and, the newspaper speculated, wealth.
The Devon and Cornwall Reference Library at Plymouth had, said the article, one of Chapple's works.*

Western Morning News 20 September 1933 p4 col5
* 2015 - Devon Heritage Centre has Six anthems dedicated to the choir of Ashburton Church by Samuel Chapple, ref 2141A/PZ/1
There is also, in a collection awaiting reclassification, an original music manuscript attributed to Samuel. Its cover is missing, but appears to be choral music written in two part and four part.
Ref 2141A Acc: D2017/209 https://devon-cat.swheritage.org.uk/records/2141A - accessed 01-07-2023

The account of Samuel's life given by John S Sainsbury differs slightly. He says that Samuel became blind at 15 months old. According to the dictionary, Samuel's works were: Three sonatas for the pianoforte, with an accompaniment for the violin; Six songs, dedicated to Miss Amelia Templer; Five songs and a glee, the words written by A G C Tucker Esq.; Six anthems in score; A second set of anthems in score; a third set of six anthems and twelve psalm tunes. He also wrote an anthem for the coronation of George IV, sung in Ashburton Church on coronation day*.
A Dictionary of Musicians from the Earliest Ages to the Present Time, Sainsbury and Co., Vol 1, 2nd ed., 1827.

*Crediton based West Gallery Quire were to sing the anthem at Crediton Parish Church on May 8th, 2023, to celebrate the coronation of King Charles III. A copy of the original published anthem, 'The King shall rejoice in thy strength, O Lord', was discovered in 2021.
https://www.creditoncourier.co.uk/news/entertainment/west-gallery-quire-brings-1821-coronation-anthem-back-to-crediton-606096 - accessed 01-07-2023

1819 The overseers ordered that Mr Chapple be paid £5 5s for instructing Rob Jewell in musick.

Overseers Application Books, quoted on https://www.familysearch.org/en/wiki/England_Overseers_of_the_Poor_and_Board_of_Guardians_-_International_Institute - accessed 24-06-2023

*******

J P Davis
J P Davis was born in Ashburton circa 1800.* He spent two years studying in Rome from 1824, and in 1825 received an award of £50 from the British Institution. One of his paintings, 'The Talbot Family Receiving the Benediction of the Pope', earned him the nickname of Pope Davis. Other works included: Canova Crowned by the Genius of Sculpture; Trasteverina Pandora; and an Infant Bacchus. A work famous at the time, The Maniac, which was the inspiration for a poem of the same name by Miss L.E. Landon, he later destroyed.
In 1858 he wrote a piece entitled:The Royal Academy and the National Gallery: What is the state of these institutions? He died about 1862.
Art in Devonshire, with the biographies of Artists born in that county, by George Pycroft, Exeter and London 1883 p40ff

*Various sources say John Philip Davis - eg Christie's, which sold a self-portrait in 2011. It gave a birth year of 1784. So far I have not found a baptism in Ashburton or a death record in England.
http://www.christies.com/lotfinder/paintings/john-philip-davis-rba-portrait-of-5410886-details.aspx - Accessed 03-07-2015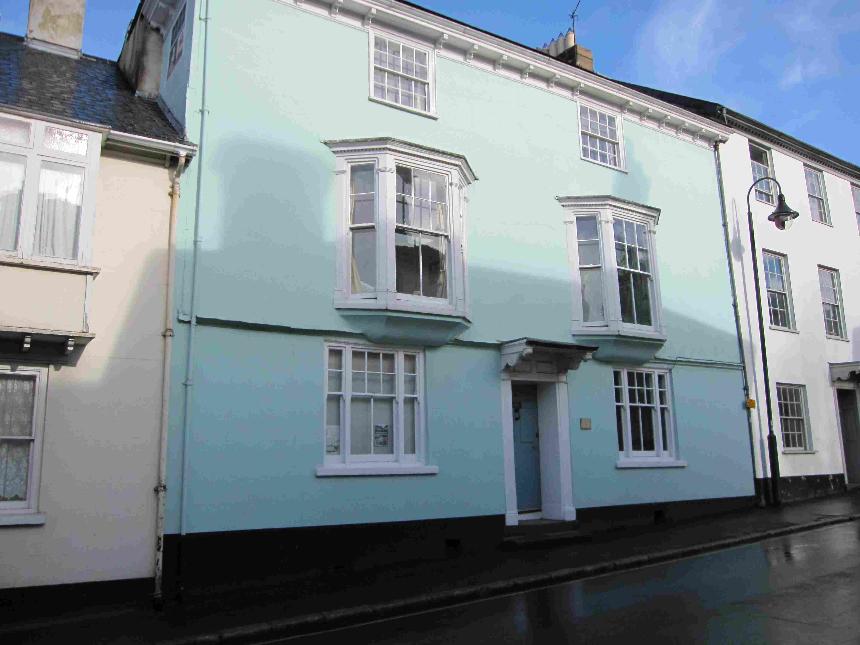 Above:
The Old Library, 49 East Street. John Peter Foot was here in 1901
My own photograph 2015
Peter, the son of Peter and Elizabeth Foot, was baptized at Ashburton in April 1790. Peter and Elizabeth had married the previous year.

Parish records
Age of Peter Jnr confirmed by 1861 census, below

Another child of the couple was James, baptised in 1793, who died in 1794
Parish records

Bachelor Peter Foot married spinster Mary Saunders at Ashburton in July 1816

Parish records

The couple had various children baptised in Ashburton between 1817 and 1830. They include John Peter Foot baptised in May 1817, Edward Edwin Foote baptised 30th January 1828 and Frederick, baptised 24th June 1830.
In 1837 Peter Foot was deputy registrar.
Western Times 10 June 1837 p1 col3


In the 1841 census Peter and Mary were in East Street, aged approximately 50 and 45. Peter was a cordwainer.
In the same household were John, a shoemaker,
Henry, a tailor, and Mary, a dressmaker, all aged approximately 20. Edward was 13, and Frederick 11.
1841 census HO107, piece no. 253, folio 9, p11
In 1846 Peter, a boot-maker and musician, was appointed clerk to the parish church. In December of that year a Peter Foot was choirmaster at the church.
https://familysearch.orgExeter and Plymouth Gazette 5 September 1846 p3 col5
Exeter Flying Post 31 December 1846 p3 col2
Frederick Foot sketched the old market hall just before its demolition.

See Markets and Fairs, under Gathering Together.
Right: A 'Likeness Master Jack Anstey' drawn by Frederick Foot, Ashburton, October 1852.
He is wearing a dress because until about 1920 this was usual for boys until they were 'breeched', sometime between 4 and 8 years old. They would then wear breeches or trousers.

https://www.vam.ac.uk/moc/collections/boys-dress/
I cannot find a connection between Jack Anstey and Ashburton.

From a private collection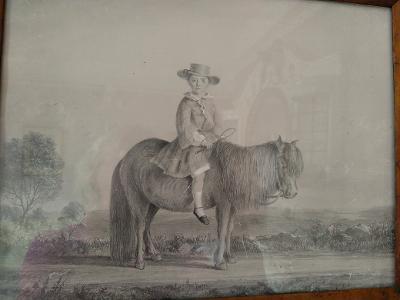 In 1853 bookseller Mr. S. Mann published some steel engravings. One of them, showing Dart Bridge, was by the 'youthful' artist Mr. F. Foot.
Western Times 9 July 1853 p7 col6

Mary, wife of Peter Foot died on October 11th 1859, aged 66
Exeter and Plymouth Gazette 15 October 1859 p5 col5

The 1861 census for Ashburton shows the Foot family living in East Street. 71 year old Peter, parish clerk, is 'head of household', and he is living with his son John P Foot and John's wife (appropriately, John is a boot and shoemaker). Also in the household is another son, 30 year old, Frederick, who is described as an artist (landscape painter).
In June Frederick had sent some paintings to an exhibition in Truro, having previously exhibited at the Royal Academy in London. Several of his paintings had achieved high prices. 'His studio at Ashburton will well repay a visit.'
http://www.freecen.org.uk
Exeter and Plymouth Gazette 7 June 1861 p6 col6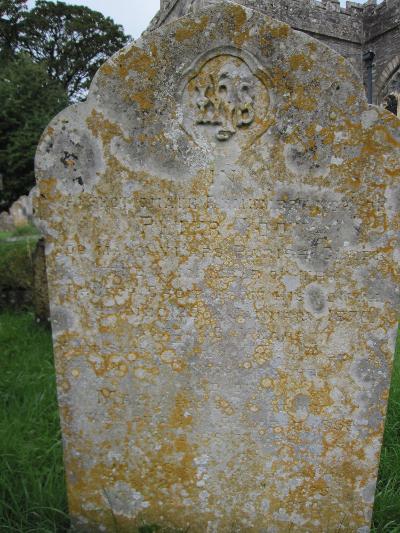 When Peter Foot died in January 1876 he had been the parish clerk for nearly 30 years
Western Times 4 February 1876 p8 col1
His memorial in the churchyard reads: 'In affectionate remembrance of Peter Foot for many years parish clerk and a member of the church choir from his youth who died 29th January 1876 aged 86'.
Mary, his 'beloved wife', is also on the memorial - she died in December 1859 aged 66 - as is their son James, who died in 1870.
Left: Memorial to Peter Foot, Ashburton churchyard.
My own photograph 2019
In 1881 Frederick is a boarder at Grove Cottage, Lustleigh, Devon. He is still there in 1891
1881 census RG11 Piece number 2160 Folio 97 p7
1891 census RG12 Piece 1697, Folio 94 p1


Frederick's brother, John Peter Foot, died on April 30th 1901, at The Library, East Street, Ashburton. He was 85. 'A noted campanologist', he had rung the bells at Queen Victoria's accession and her funeral, and at the induction of five vicars of Ashburton.

Western Times 3 May 1901 p5 col8, also p6 col1
*******
Below: Memorial to Frederick Foot in Ashburton graveyard. 'In loving memory of Frederick Foot artist the youngest son of Peter Foot. Died at Lustleigh February 4th 1908 aged 77.'
My own photograph 2015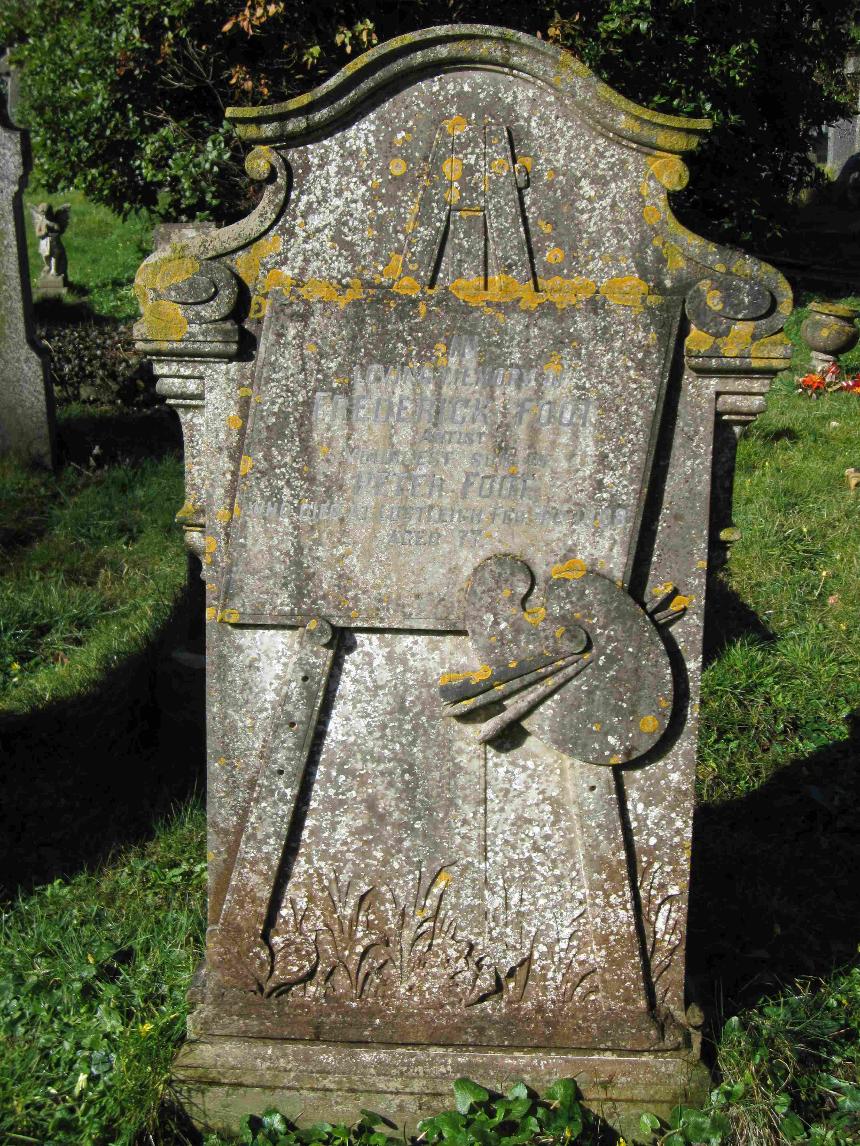 Edwin Edward Foot, Frederick's older brother, was born on January 5th 1828. The date and time - half past eight on a Saturday morning - were recorded in a bible which was given as evidence of his age in 1858 when he joined the Civil Service.
Before this change of career he had been a master painter - the 1851 census shows him living in East Street with his wife Elizabeth and six month old son, Edward. By 1861 they are living in Queen Street, Mile End Old Town, London, and Edward's occupation is messenger, customs*.

www.findmypast.co.uk

1851 census HO107, piece no. 1871, folio 265, p12
1861 census RG09, piece no. 293, folio 117, p18
*Findmypast has this transcribed as 'manager'.
'Mr Edward Edwin Foot... was born at Ashburton, Devonshire... where his father, the late Mr Peter Foot, carried on the business of a boot and shoe maker, hatter etc., and enjoyed a considerable reputation as a musical composer, vocalist, and instrumentalist. There were five sons and a daughter, all of whom, with the exception of the youngest brother, Frederick, a well-known landscape painter, inherited their father's musical gift - more especially Edward...who at the age of twelve had attained some notoriety as a classical flautist, being a private pupil of the late Henry Caunter esq., of the same town, who was also a very clever portrait painter. The boy however, seems to have had but a very indifferent amount of school education at the Free School, simply acquiring reading, writing and arithmetic;...possessing rather an inventive genius, he, in the year 1854, designed and submitted to the War Office the drawing of a breech-loading man-of-war's gun, which received the careful attention by the authorities...but without success. Later on, during the Crimean campaign, he submitted to the Inspector-General of Fortifications plans and specifications of a military hut of his invention, executing the drawings to scale himself, for which he was awarded the sum of £50. Again, in 1865, he forwarded to the Postmaster-General his design of a postal exchange stamp, which although unsuccessful, no doubt had something to do with the origin of the present postal order.
In the year 1855 Mr Foot went to Australia, returning in 1857.'

West Country Poets, W H Kearley Wright, London 1896, p175ff

Catherine W Reilly describes Edward as 'an inventive man'. But what he is chiefly remembered for, and the reason for his inclusion in her book, was his poetry.

Mid-Victorian Poetry, 1860-1879, An Annotated Biobibliography, Catherine W Reilly, Mansell Publishing Ltd., 2000, p167

In 1867 Edward published The Original Poems of Edward Edwin Foot, of Her Majesty's Customs, London. There are 3 footnotes on the first page of the preface, one of them stating that he is native of Ashburton, Devonshire.
Copious footnotes are a characteristic of all Edward's poems; The Stuffed Owl (see below) credits him with naming the footnote. The website Futility Closet describes him as a 'poet with the mind of an attorney'.
The Sex Column and other Misprints, David Langford, Cosmos Books, 2005, p238
http://www.futilitycloset.com

'Mr Foot's poems are numerous, and the majority of them are lengthy...'

West Country Poets, W H Kearley Wright, London 1896, p176
His poems turn up in one or two anthologies, such as The Stuffed Owl, by D B Wyndham Lewis and Charles Lee, published 1930. The subtitle of The Stuffed Owl is 'An Anthology of Bad Verse', but Edward is in good company - poems by Wordworth, Tennyson, Keats and Byron also appear in the book.

Extract from Lovers' Leap, which Edward describes (in a footnote) as 'Situated in a very picturesque spot on the banks of the river Dart... a perpendicular rugged precipice, immediately contiguous to a carriage road. Its summit is about seventy feet above the river, and where, at the foot of the rock, the stilly waters flow; distance from Ashburton about three miles, and about half a mile from the foot of "Raven Rock" which is seen on "Lovers' Leap" with great advantage' :
'Tis said two lovers (and it may be true),
For lack of reason, or of grace,
Lept from this rugged precipice,
Down to the peaceful main below,
Whose silvery waters ever flow,
(I'm more than glad it was not I or you)
...[several verses follow]
Now as the waters 'gan again to smooth,
A thousand little bubbles leap
From up the bottom of the deep;
Say, what are these? Oh, globes of air,
The breathings of the dying pair,
All telling mournfully the solemn truth.
Enough, enough: turn to a calmer day.
Here, once, on issuing from the wood,
The gentle Albert* stay'd and view'd.
The grandeur of the sight drew forth
A plaudit of most precious worth
(For never did he more pass by that way).
*The late lamented Prince Consort, accompanied by the late Colonel Phipps, and two other gentlemen in attendance on His Royal Highness, made a tour from Dartmouth, via Totnes, to Ashburton and thence to Tavistock (on route for Plymouth by this circuit), proceeding by way of the river Dart, in the carriage drive which passes over "Lovers' Leap" on the 20th July 1852; Her Majesty Queen Victoria proceeding, in the meanwhile, in her yacht to Plymouth.'
The Original Poems of Edward Edwin Foot, of Her Majesty's Customs, London, London 1867, p36ff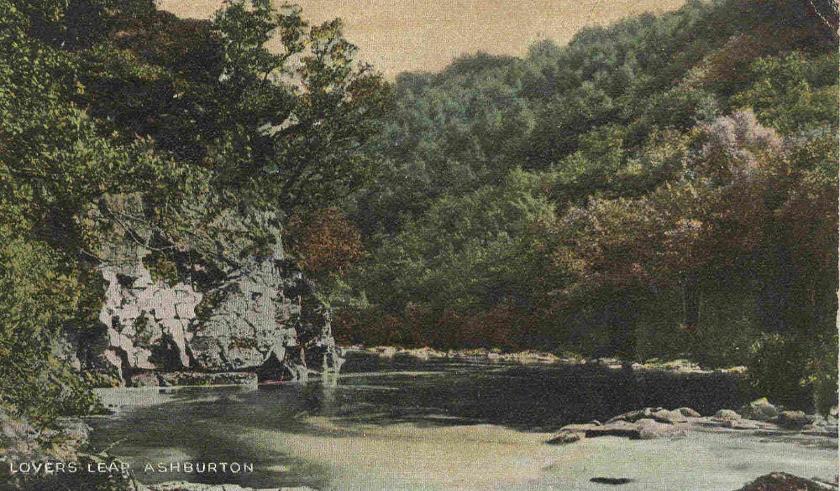 Above: Lovers' Leap, Ashburton, the subject of Edward's poem
From my own collection


By 1891 Edward and Elizabeth were back in Ashburton, living in North Street. In the census he describes himself as a retired civil servant. He died, aged 70, in 1898.

1891 census RG12, piece no. 1698, folio 40, p18

http://www.freebmd.org.uk


*******
Richard Ellis Wilkinson
Richard Ellis Wilkinson was baptised in Harrow in September 1854, the son of Thomas and Mary Ann. His father was a schoolmaster.
Transcipt of Middlesex parish records
By the time of the 1871 census Richard's profession was 'artist painting.'
1871 census RG10, piece no. 1324, folio 94, p11
When Richard married Martha Mary Rowland at Thurlestone, Devon, in 1880, he described both himself and his father as a 'gentleman'.
Thurlestone parish records
A year later the couple were living with Thomas's father, still in Harrow. Richard's wife, Martha, had been born in Holne.
1881 census RG11, piece no. 1357, folio 8, p9
Richard Ellis Wilkinson, of 1, Valencia Villa, Atherley Road, Shanklin, Isle of Wight,
died on 27th June 1891.
Martha Mary Wilkinson, was the sole executrix to his will, and was of 17, Grosvenor Place, Bath when probate was granted.
England and Wales Government Probate Death Index 1858 - 2019
According to British and Irish Paintings in Public Collections, R Ellis Wilkinson worked, between 1874 and 1890, in Harrow, Middlesex; Ashburton, Devon; and St Ives, Cornwall.
This is the only reference to an Ashburton connection that I have found.
Christopher Wright, Catherine May Gordon, Mary Peskett Smith,
British and Irish Paintings in Public Collections, An Index of British and Irish Oil Paintings by Artists born before 1870, New Haven and London,
2006, p825
*******
William Mann, the Blind Poet
'To me the world's a darksome waste...'
A 'self taught muse......'
Exeter Flying Post 27 March 1845 p4 col1
It seems certain that William was the son of Silvester Mann, born in March 1784 and baptised nearly a year later in February 1785
Parish records

In 1809 the overseers ordered that a 'tryal' was made to get Sil. Mann's son into the Bristol Asylum for the Indigent Blind.
Overseers Application Books, quoted on https://www.familysearch.org/en/wiki/England_Overseers_of_the_Poor_and_Board_of_Guardians_-_International_Institute - accessed 24-06-2023

William Mann and his wife Mary are living in Heavyhead Lane at the time of the 1841 census. William is a basketmaker.

1841 census HO107, piece no 253, folio 22, p36

In 1846 William Mann had been blind for nearly 40 years
His son, S Mann, was agent for the Western Times in Ashburton
Western Times 21 June 1845 p4 cols1,2
Western Times 8 August 1846 p8 col2
Western Times 20 March 1847 p2 col2
Jenkin Thomas of Plymouth printed his 'Poems' in 1846, at which time Mr Mann was living 'nearly opposite' the Baptist Chapel.*
Exeter Flying Post 20 August 1846 p4 col1
*The only Baptist Chapel I know of was in Heavyhead Lane (now Woodland Road).

By 1851 William is in East Street (next door to the Foot family), a basketmaker but also an 'almsperson'. It is noted on the census that he is blind.
1851 census HO107, piece no 1871, folio 289, p6

On the 1861 census 77 year old William is living with his son John, John's wife and their 8 children in North Street. William is a basketmaker, and in the remarks column it says 'Disability, blind.'

http://www.freecen.org.uk
21 October 1862 Mr William Mann, 'The Blind Poet' died aged 79
Exeter Flying Post 29 October 1862 p5 col3


*******
Sidney Endacott
Sydney Endacott's birth was registered in the Newton Abbot registration district in the September quarter of 1873.
In 1881 John Endacott, a 41 year old joiner, is living in Lawrence Lane with his wife Mary and six sons. The eldest son, John, also a joiner, is 16. The three younger sons, including Sidney, were all born in Ashburton.
http://www.freebmd.org.uk
1881 census RG11, piece no. 2161, folio 79, p34

Sidney attended Ashburton Grammar School. At the prize giving day in 1885 the Blundell's scholarship of £6 for the first year and £8 for the second was awarded to Sydney Endacott.
Exeter Flying Post 30 December 1885 p7 col4

John and Mary are still living in Lawrence Lane with four sons in 1891. 50 year old John is a joiner and carpenter, and Mary, also 50, is a refreshment house keeper. The two eldest sons remaining in the household are also carpenters - Sidney, aged 17, is one of them.
John's obituary in 1924 says that he left five sons, three of whom were in America. Sidney had died by this time.
http://www.freecen.org.uk/
Western Times 25 January 1924 p8 col6

In 1987 a property in Lawrence, Douglas County, Kansas, USA, was listed on the National register of historic places inventory. Called 'The Castle', it is located on 1307 Massachusetts Street. A three storey Romanesque building, it has 15 rooms and 2 entrances, and was built for John N. Roberts, a manufacturer and veteran of the Civil War. The document states: 'Sidney Endacott, who later gained fame as an artist and sculptor in his native England, was visiting relatives in Lawrence* while the house was under construction.** Roberts heard about the seventeen year old's artistic abilities and engaged him to make ornamental wood carvings in the interior of his new home. Endacott spent three months carving mantels, fireplaces, newel posts and other woodwork. At the time of his death during World War 1 he was regarded as one of the best sculptors and water color artists in England.'
*His elder brothers William and Frank. Many thanks to Helen Bristol for this information.
**1893-94.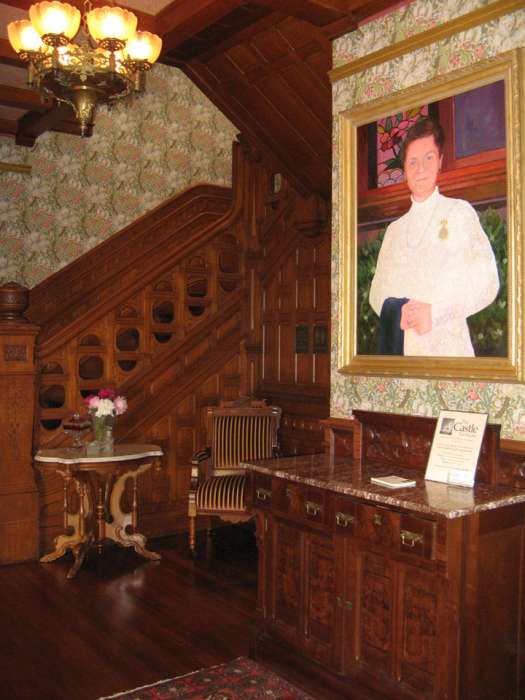 Above and below: The Castle, now The Castle Tea Room, 1307 Massachusetts Street, Lawrence, Kansas, USA.
Many thanks to Lindsay from the Castle Tea Room for permission to use the photos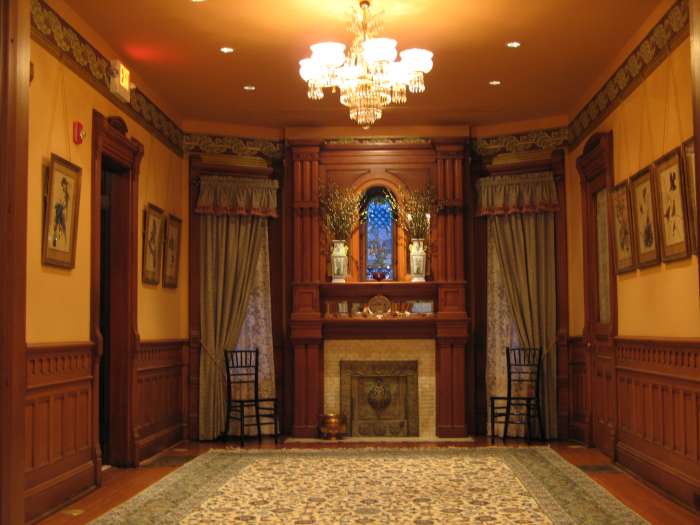 1896 saw the refurbishment of the Wesleyan Chapel in Ashburton. Mr. Lear was the builder, working from plans prepared by Mr. S. Endacott. It seems likely that this was Sidney.
Western Times 2 October 1896 p8 col6
He had certainly returned to England by 1901, and was boarding in Exeter. On the census he describes himself as a sculptor, wood and stone.
1901 census RG 13, piece 2044, folio 14, p20
Two years later he married Bertha Lily Haydon in the December quarter of 1903 in the Exeter registration district, and their son, Sidney Bernard (known as Bernard) was born in 1910. In 1911 the family are living at 19, Danes Road, Exeter, and Sidney is a painter and artist. He says his son is a 'few months' old.
http://www.freebmd.org.uk
1911 census RG14, piece 12669, schedule no. 221
In 1912 Worth's Gallery, in the Cathedral Close, Exeter, was holding its usual spring exhibition. Mainly showing scenes from the south west, S. Endacott was one of the principal exhibitors, and he had produced a special series of 18 views of Clovelly in Devon. The titles included Temple Bar, The Red Lion, The New Inn, Fish Street, Look-out Cottage, and Clovelly from the Hobby Drive. A number of the paintings, which were to be reprinted as postcards, had already been sold.
Exeter and Plymouth Gazette 12 April 1912 p4 cols1,2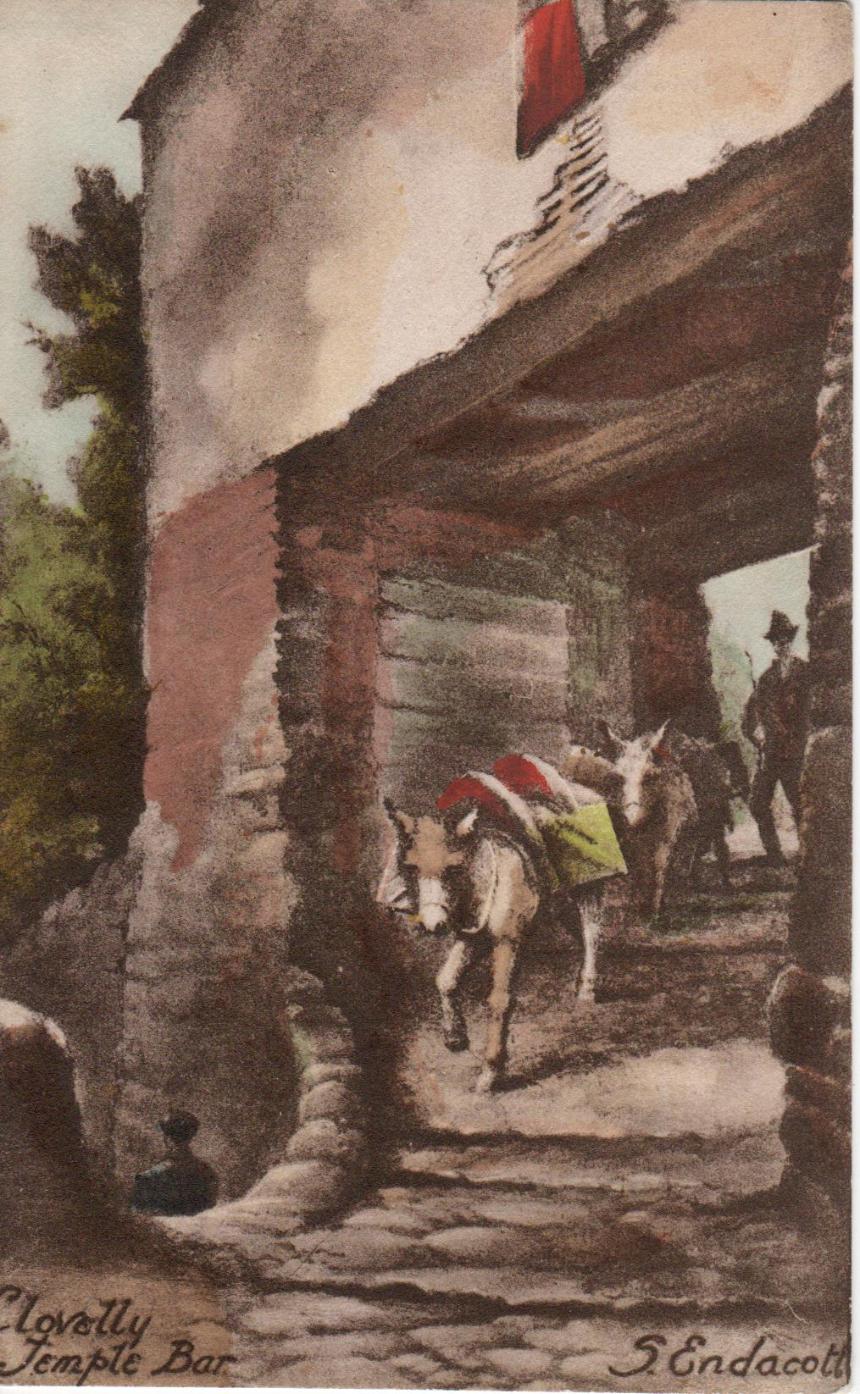 Above: Temple Bar, Clovelly, a postcard from an original painting by Sidney Endacott.
From my own collection.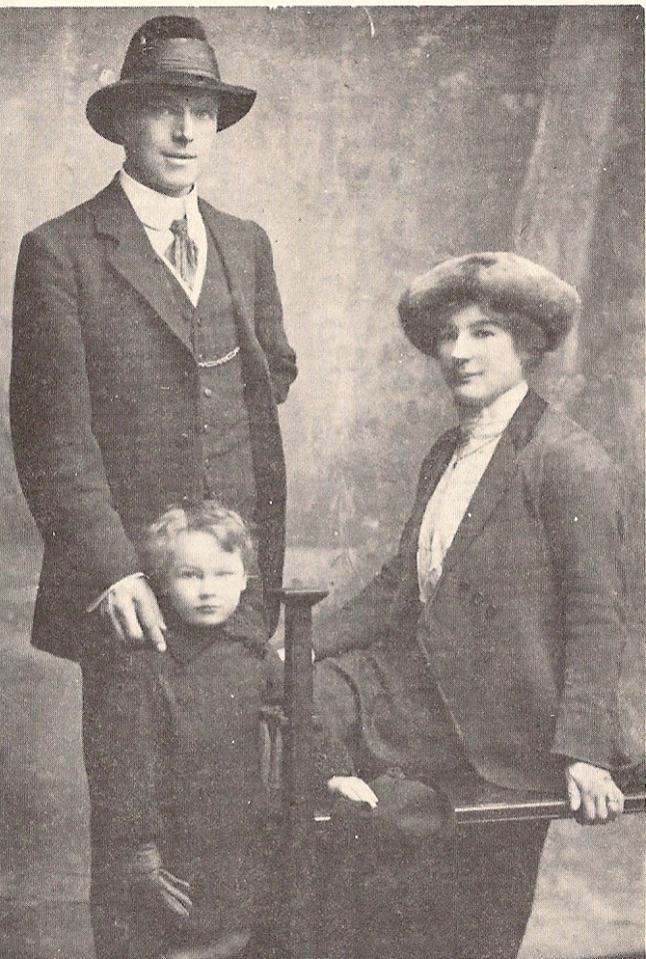 Above: Sidney, Bertha and Bernard.
Many thanks to Julia Ballard and Helen Bristol for this photograph


Sidney was not physically strong, and suffered from osteomyelitis after sustaining injuries in a childhood accident. To 'do his bit' during WW1 he illustrated manuals for army lorries, showing how the parts could be taken apart and fitted together.
Many thanks to descendant Julia Ballard for this information.

Sidney died on November 3rd 1918, at Dane's Road, Exeter, leaving a wife and son. Described as a well-known artist, he had been a wood-carver earlier in his life, but for the last ten years had concentrated on watercolours. He had painted 'hundreds' of Devon landscapes, and his work had been a 'prominent feature' of Worth's Gallery.
Two of his brothers were engineers at Thorneycroft's, and his parents were now living in West Street, Ashburton.
Western Times 8 November 1918 p8 col4


The artistic talent carried on through the generations. A conveyancing document held by the Devon Heritage Centre names Sidney Bernard Endacott, stained glass artist. He repaired some of the stained glass in Exeter Cathedral after WW2.
Devon Heritage Centre, Nov. 1952, ref. 5200C-5/147/6
Many thanks to descendant Julia Ballard for the information about Exeter Cathedral.


Adrienne Lawson Chaplin
Adrienne Lawson Chaplin was living in Ashburton at the time of the 1939 register. This is the only connection to the town that I have found so far.
In June 1908 there was an exhibition at Alexandra House of arts and crafts by present and past students. It included 'Miss Shepard' by Adrienne Chaplin; a work described by the Morning Post as 'Sound and tasteful'.
Morning Post 30 June 1908, p7 col2
33 year old Adrienne Lawson Chaplin was in Hambledon, Surrey, at the time of the 1911 census. A painter artist, she was a relative (wife's sister crossed out) in the household of Ernest Howard Shepard; Ernest and his wife Florence Eleanor were also painter artists*.
1911 census RG14, piece no 3170, schedule 73
*E H Shepard was the illustrator and co-creator of Winnie the Pooh, See Exploring Surrey's Past https://www.exploringsurreyspast.org.uk/themes/people/artists/eh-shepard-1879-1976/ - accessed 09-08-2022
The Stroud School of Art held an exhibition in 1889 of works drawn and painted by both day and evening students. Adrienne Chaplin exhibited a sepia painting, a chalk drawing and heads painted in water colour.
Stroud Journal 5 April 1889, p5 col5
In 1937 Prince Edward and Princess Alexandra, the children of the Duke and Duchess of Kent, were presented with a model of one of the wards of the Royal National Hospital for Rheumatic Diseases. The 'Dolls' Ward' had beds with patients, each bed having a locker and a bowl of fruit. A doctor wearing his stethscope stood by one of the patients. The model was lit by electricity, including all the lamps, and had opening windows. The street scene beyond the windows was painted by Miss Adrienne Chaplin, who was a patient at the hospital.
Bath Chronicle and Weekly Gazette, 18 December 1937, p25 col2
By 1939 she was at Lurgecombe Bungalow, Ashburton, and was an artist and art teacher, born in January 1878.
She had been a VAD during the 1914-18 war.
1939 register
When she died in 1953 she was buried at Wargrave, Berkshire.
Berkshire Family History Society transciptions
********
Richard Hext


Richard Hext's birth was probably registered in the December quarter of 1895, in the Newton Abbot registration district; he was baptised on January 12th, 1896, the son of George Hext, a labourer, and Ellen.
Parish records


In 1901 he is living with his parents at Great Bridge, and his father is a handyman on a farm.
http://www.freebmd.org.uk1901 census RG13, Piece 2053, Folio 30, p25
In 1904 the Western Times reported that a boy in the Council School wrote with his toes, 'his hands being quite useless to him.' Presumably this was Richard.
Western Times 13 May 1904 p10 col1
By the time of the 1911 census he is at Brookhill, 28 and 30 Highweek Road, Newton Abbot (
but see below
), where Louisa Emily Foote is head, occupation foster mother. *
Kelly's Directory shows that by 1914 children in the Newton Abbot district under the care of the Guardians were in what was called Scattered Accommodation: foster mother Mrs. L. Foote was in charge of the boys' accommodation called Greenaway Homes in Highweek Road, but the Central Home, Brook Hill, in Highweek Street was still a home for both boys and girls.
1911 census RG14, Piece 12740, Schedule No.139
Kelly's Directory of Devon and Cornwall 1914, part 1, p437

*From Derek Jarman:
'My grandfather Charles Joseph Plumb, born in Torquay, was a year younger than Richard but also was in the Workhouse by the time he was only a few years old and this was where his mother died. He like Richard was cared for at Brookhill and at Greenaway by Mrs. Foote. They were presumably there at the same time given their ages. [NB They are both on the 1911 census referenced above]. The other interest is that my grandfather later married Mrs Foote and she is my grandmother.
My grandparents did not move far as their house was more or less half way between the two Childrens Homes, 200 yards in either direction. Directly opposite our house was another Children's Home called Meadowside.'

Although the transcription details for the 1911 census refers to 28 and 30 Highweek Road as Brookhill, Derek says the following:

'28/30 Highweek Road is Greenaway [Villas] where my grandmother was the Foster Mother. Miss Stabb shown as her assistant later took charge of Brookhill. Brookhill is number 29 Highweek Road, with even numbers going up on the righthand side and the odds coming back down on the left; hence Meadowside being 41 even though it was opposite our house which was number 14.

'
Many thanks to Derek for the information above.

In 1919, then aged 23, Richard was an inmate of the Newton Abbot Workhouse. Described as the son of an impoverished working man, neither his legs nor arms functioned at birth, and his body was doubled up. After four years and ten operations in hospitals in London, he now could stand upright, but his arms were still paralysed. Before his operations Mr. Butcher of Ashburton School had taught him to write and perform other tasks with his feet, but this skill was lost afterwards. A nurse then taught him to write with his mouth, and further encouragement from the headmaster of Highweek School* developed his interest in art. The Guardians enabled him to attend the Newton Abbot School of Art, where he had been for the past six years.
His work at the time included studies of nature, designs for pottery and illumination.
Western Times 28 March 1919 p12 col3
* Mr. G. Hollis

When the Newton Abbot Guardians met in April 1923 they heard that Richard had sent a painting to Queen Alexandra and had received a reply and 5 guineas.
Following this news a man in Bristol sent him £5, asking for a sketch in return, and one of the Guardians had commissioned a painting for £2 2s.
Exeter and Plymouth Gazette 26 April 1923 p5 col3
Western Times 4 May 1923 p3 cols3,4

In 1953 the Queen was given a painting of Dartmoor by Ashburton artist Richard Hext.

Barrier Miner (Broken Hill, NSW, Australia) 30 May 1953 p1 col7
Available through the free newspaper site for Australia https://trove.nla.gov.au/newspaper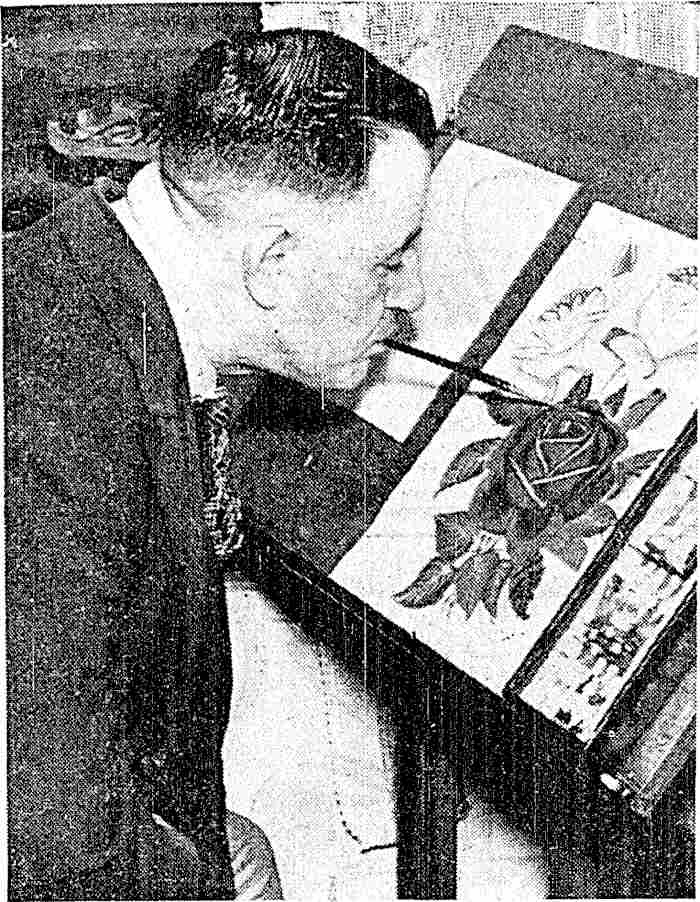 Above:
Richard Hext painting by mouth
New Zealand Herald, 27 May 1939, Volume LXXVI, Issue 23357,p3, distributed through the Creative Commons New Zealand BY-NC-SA licence
Available through the National Library of New Zealand at http://paperspast.natlib.govt.nz, to whom many thanks for the image.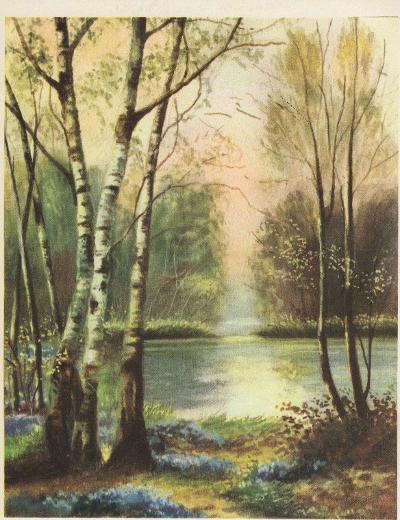 An article in the Mid Devon Advertiser in 1970 (precise date unknown, but in the latter part of the year), detailed some of Richard's achievements. He had won 1st prize for the third year running at the Kenny International Art Show, Minneapolis - a show specifically for mouth and foot artists.
He had won 2nd prize at the Torquay Disabled Rally at Torre Abbey on June 21st, and 1st prize at an exhibition in Plymouth.
He had flown to exhibitions in Vienna, Switzerland, Spain, France, America and Edinburgh, and had two letters from monarchy: Queen Alexandra and Queen Elizabeth II.
At the time of the newspaper item Richard was living at 11, Ashburn Close.
Many thanks to Wendy Major for the article above
Above left:
Spring Morning by Richard Hext
From a private collection
Richard died on January 1st 1975, and there is a memorial to both him and his brother Charlie in St Andrew's Churchyard.
Right: Memorial to Richard and Charlie
My own photograph 2016
For more on Charlie Hext, see the Virtual Museum 1950s section.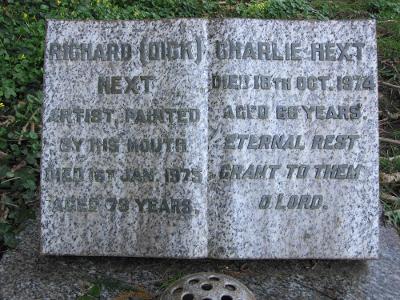 George Palmer Churcher
George Palmer Churcher was briefly a resident on Ashburton at the turn of the 20th century.
In the period 1899-1900 G P Churcher is a subscriber to the United Devon Association, where he describes himself as an artist, living at Highgrove, Ashburton.
Born in Hampshire circa 1833, at the time of the previous census (1891) Geo. Palmer Churcher and his wife Katherine were living in Fyfield, Berkshire. George said he was an artist and teacher of drawing and painting.
The Book of Fair Devon, United Devon Association, Exeter, 1899-1900, p2041891 census RG12, piece no 977, folio 26, p12


Katherine Churcher, of Highgrove, was buried at Ashburton in August 1900, aged 63.
Parish records
George died in the Wandsworth Registration District in 1906, aged 72.
https://www.freebmd.org.uk

***
Arthur J F Bond
Arthur James Fitzgerald Bond was baptised in July 1888 at St James, Devonport, the son of Richard James and Caroline Julia Teresa
Bond. Born in May of that year, Arthur's father was vicar of the parish.
St James Devonport parish records
Richard, Caroline and their family were in Ashburton by 1901, but Arthur was not with them on census night.
1901 census RG13, piece no. 2053, folio 5, p1
Mr Arthur J F Bond, son of the vicar of Ashburton, had an etching of a battleship exhibited at the Royal Academy in 1912. The work, 'Ready, aye! ready', was his first submission to the Academy.
Western Times 3 May 1912, p12 col1
In 1914 Arthur J F Bond produced an etching
of the Chapel of St Lawrence
to commemorate the 600th anniversary of the Grammar School
. Mr Bond, the eldest son of the vicar, was an old boy of the school.
Exeter and Plymouth Gazette, 28 July 1914, p8 col2
1936. An exhibition of naval pictures was to be shown in Portsmouth Dockyard during Navy Week. The pictures 'were painted by artists who took part in, or witnessed the stories they tell.'
Arthur J F Bond was amongst the artists.
Portsmouth Evening News 20 July 1936, p2 col5
Mabel Gear
Mabel Gear was born in March 1898 and baptised in Ashby, Suffolk, the daughter of Lucas George and Annie Margaret Gear. Her father's profession was written as 'Esq.' By 1911 the family were living at New Town Lodge, Colchester, Essex, and in the census of that year both Mabel, 13, and one of her elder sisters were students. Her father was a 'Gentleman, (private means).'
Norfolk parish records
1911 census RG14, piece no. 10302, schedule 262
According to suffolkartists.co.uk Mabel studied at Colchester School of Art and Herkomer's Art School at Bushey, Hertfordshire.
https://suffolkartists.co.uk/index.cgi?choice=painter&pid=264

She passed advanced stage examinations at Torquay School of Art and Evening Schools in 1917.
Western Times 3 July 1917, p5 col1

It seems certain that Mabel was the Mabel Gear of St Olave's, Babbacombe, Torquay, who was a British Red Cross Society Volunteer in WW1, on general duty working at the Town Hall Hospital, Torquay. Her period of service was from 1918 until 1919.*
*Just out of interest, Agatha Christie worked at the same hospital from October 1914 until September 1918 - they may have met.
British Army, British Red Cross Society Volunteers, 1914-1918, available through https://www.findmypast.co.uk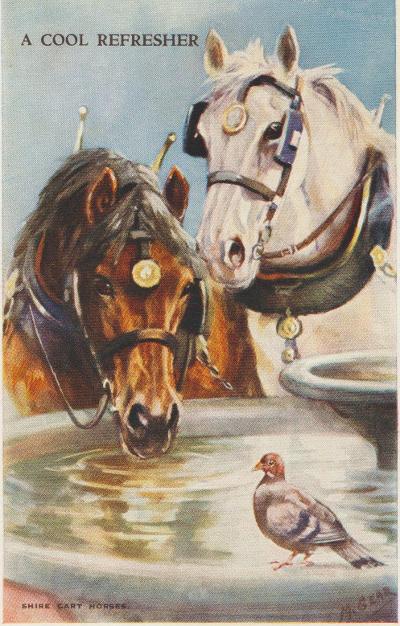 She was elected as a member of the Royal Institute of Oil Painters (1926)
and a member of the Royal Institute of Painters in Water Colours (1927) and exhibited at numerous venues including the Royal Academy, the Liverpool Walker Art Gallery, the Royal Scottish Academy, and the Society of Women Artists from Babbacombe, Devon.
In 1925 the Westminster Gazette, writing about the Royal Academy exhibition, said, 'It is not too much to say that Miss Mabel Gear's beautiful decorative work Birds of a Feather is one of the outstanding features of the Academy.'
https://suffolkartists.co.uk/index.cgi?choice=painter&pid=264
Westminster Gazette 2 May 1925, p6 col4
Above: Postcard of two shire horses and a pigeon drinking at a fountain.
From my own collection

Only one Torquay artist was represented at The Royal Academy exhibition in June 1926 - Miss Mabel Gear, of St Olave's, Babbacombe, 'a well known painter of animals and birds'.
Western Morning News 5 June 1926, p6 col3

At an exhibition at the Royal West of England Academy, Bristol, in 1927, Miss Mabel Gear (Babbacombe) contributed a picture of gulls hovering over a tempestuous sea.
Western Morning News 31 October 1927, p3 col4
She married Ivor I J Symes in London in the December quarter of 1928
https://www.freebmd.org.uk/

In 1934 Raphael and Tucks produced the Christmas cards for the Royal family. The Duke and Duchess of York [later King George VI and Queen Elizabeth] chose Mabel Gear's 'Sympathy'.
The Scotsman 29 November 1934, p14 col3

In 1939 Mabel and her husband, Ivor Symes, were at Manor Farm, Basingstoke. Both were described as artists, non-commercial. Mabel was an ARP, First Aid, and her husband an ARP warden.
1939 register

She died at 32 North Street, Ashburton on 31st March 1987
https://suffolkartists.co.uk/index.cgi?choice=painter&pid=264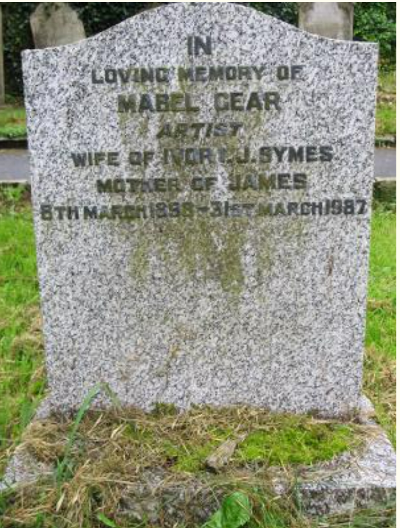 Above:
Headstone for Mabel Gear in St Andrew's churchyard.
My own photograph, 2021
John and Una McLellan
A small piece in the Torbay Express and South Devon Echo in June 1959 noted that two Dartmoor Artists, John and Una McClellan, were doing well in Gloucestershire. They had had a small pottery business in Ashburton, but were now of 47, High Street, Tewkesbury.
The Society of Women Artists had accepted two mosaics from Mrs McLellan for their exhibition at the Royal Institute Galleries in London; Mr McLellan was showing two portraits of Dr and Mrs Mills at the Dartmoor Artists' Exhibition.
Torbay Express and South Devon Echo, 11 June 1959, p4, col 5,6