In the 1861 census there were 8 butchers and a butcher's assistant:

William Mann was both a butcher and auctioneer, living in East Street
His son Thomas Mann was also a butcher
John C Matterface was a butcher in East Street.
His 25 year old son William H Matterface, in the same household, was also a butcher
40 year old Thomas Pearse was a master butcher in West Street
13 year old Richard Pengelly was a butcher's assistant
29 year old Charles Smerdon was in North Street
Richard Smerdon was a butcher in East Street
Charles Yolland was in East Street
https://www.freecen.org.uk


The Mann family

In the 1841 census William Mann, a butcher and circa 35 years old, is living in East Street with his wife Elizabeth. With them are their four young children.

By 1851 William is a butcher and auctioneer, and his son William, 17, is also a butcher.
1841 census HO107, piece no 253, folio 11, p14
1851 census HO107 piece no 1871, folio 266, p15

In 1871 William Snr is an auctioneer, but his son Thomas W, living in the same household, is a butcher. William's son William, and his daughters Betsy Ann and Maria, all unmarried, are down on the census as 'No occupation'.
1871 census RG10, piece no 2080, folio 68, p10

In October 1875 William Mann, auctioneer, a widower, married widow Laura Charlotte Kingwell at the parish church. William's father is also William, but his occupation is hard to read.
Parish records
Laura married again as a widow in 1880. Her husband was George Perkins, a batchelor whose rank or profession was 'Gentleman'. In the 1881 census George is 42 and his wife 60 - although her age at death in 1888 (75) appears to show that she would have been nearer 68.
Parish records
1881 census RG11, piece no 2161, folio 68, p12


The Matterface family

John Campion Matterface was baptised in March 1803, the son of John and Harriot
Parish records

John Snr. may be the John Matterface buried in Ashburton in 1832, aged 62. Harriot/Harriet may be the Harriet Matterface, abode St Andrew's, Plymouth, who was buried in Ashburton in 1848. She was 82.
Parish records

In 1827 John Matterface of Ashburton married Ann Hallett of Teignmouth.
27 year old Ann Matterface was buried at Ashburton in 1830
Exeter and Plymouth Gazette 6 January 1827 p3 col3
Parish records

January 26th 1829. Thomas, the eldest son of John Snr., died in St Lawrence, Newfoundland, 'In his 33d year'.
Sherborne Mercury 18 May 1829 p4 col4

John Campion Matterface married Sarah Ireland in 1832
Devon Marriages Transcription, available via http://www.findmypast.co.uk

John Campion Jnr. was baptised in February 1834, the son of John Campion Matterface, a butcher, and his wife Sarah.
Parish records

In 1840 John Campion Matterface put an advertisement in the Western Times 'To Sportsmen and Others'. Apparently a fine dog called Monarch was for sale, whose qualities involved scent and speed. Monarch was well appreciated by those who hunted with 'The Tory Pack of Ashburton Hounds'. Joe Varnham [??], 'That Crack Sportsmen' had been in charge of the pack, now broken up because of the absence of the dog.
I suspect this advertisement is a comment on the relationship between the young Queen Victoria and her Prime Ministers. There had been a political crisis the previous year, Lord Melbourne had resigned, and Conservative Robert Peel had been expected to come to power. When the queen refused to comply with the usual requirement for Whig ladies of the bedchamber to be replaced with Tory ones, Peel then refused to form a government.
Western Times 5 December 1840 p1 col1
http://www.bbc.co.uk/history/historic_figures/melbourne_lord.shtml

September 1850 When 21 year old Thomas Matterface married Lucy Abbott in St Clement Danes, Middlesex, his father was named as John Matterface, butcher. Thomas was a draper. The Western Courier said that Thomas was of Ashburton.
Parish records
Western Courier, West of England Conservative, Plymouth and Devonport Advertiser 2 October 1850 p5 col4

By 1891 Sarah Matterface, aged 83, was a butcher, an employer, in East Street. Her son William was an employee, and her brother, 80 year old Thomas Ireland, was a butcher's assistant.

https://www.freecen.org.uk


*******

The Smerdon family

Charles Smerdon, born in February 1831, was baptised in June of that year at the Great Meeting chapel. He was the son of Thomas Pope Smerdon, a butcher, and his wife Ann Knott.
Non-conformist births and baptisms, available via https://search.findmypast.co.uk

In January 1857 Charles Smerdon, a butcher of Ashburton, married Charlotte Smerdon, of Whiddon Farm.
Western Times 24 Janaury 1857 p5 col2


*******

1867 After a decree at the High Court of Chancery (Coope v Cresswell) a large number of properties and estates in Devon were up for sale. A house and butcher's shop in East Street , with Mr Charles Yolland in occupation, was one of them.
Western Times 24 September 1867 p1 col3

*******

In 1879 William Willis, a butcher from Ashburton, was one of the last people to see John Hawkins, a Totnes cutler, alive. William testified at the inquest that Hawkins was perfectly sober when he last saw him - later he was found drowned near Holne Bridge.
Western Times 18 March 1879 p7 col4

*******


1890. The wife of Thomas Pearse, a retired butcher aged 69, found him dead in bed one afternoon. An inquest was held, and the jury heard that he had been suffering from 'lowness of spirits' for some time, causing him to remain in his bedroom. Dr Ackerley testified that death had been caused by heart failure and exhaustion, and a verdict was given of 'Death by natural causes'
Totnes Weekly Times 15 March 1890 p3 col2

*******


42 East Street
In the 1911 census Robert Mitchell is shown as a butcher in East Street, assisted in the business by his wife Elizabeth, daughter Annie, and George Poolman, aged 17. The property has a name - Hillview - but its number is not recorded: however, it is three properties down from Greylands, which we know is No 48. (See the 1900s section of People and Properties). As all the houses on that side of the street are even-numbered, Mr Mitchell and his family were probably at No 42.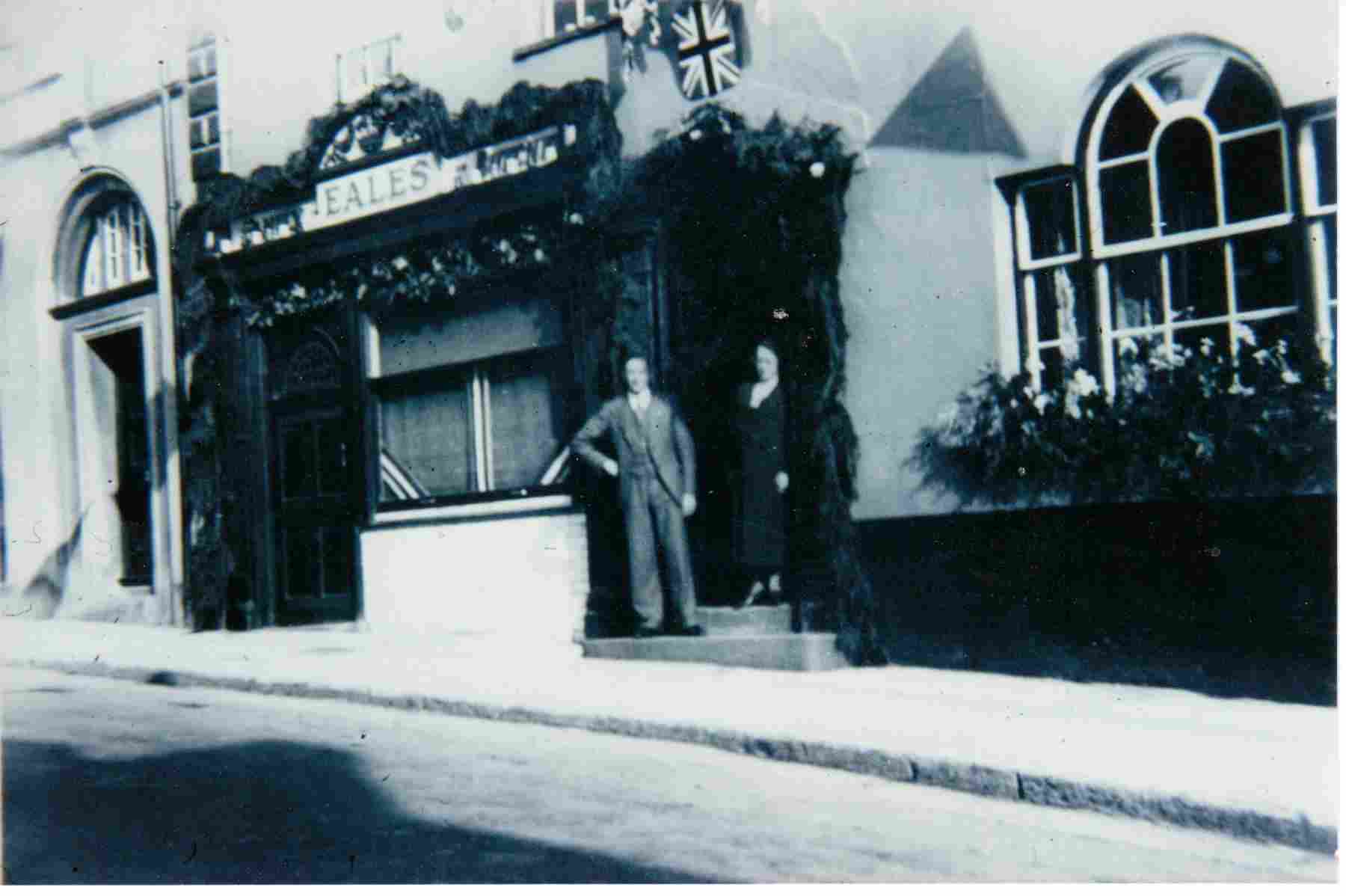 Above: 42 East Street when it belonged to W J Eales.
Thanks to Jane and Arthur Smith for all of the items and photographs connected with 42 East Street

In 1916 Rendell and Sawdye held an auction at the London Hotel for the sale of Nos 42 and 44 East Street. Freehold houses and shops, they were both owned by Mr C R Halse, who was occupying No 42. No 42 was a shop, house and premises with a walled garden and greenhouse; No 44 was a chemist's shop, house and premises, rented by Mr E R Moss, chemist.

A side entrance led to premises suitable for a butchery business, including a slaughterhouse, cowsheds and piggeries. Mr C H Halse was the successful bidder, buying both properties as one lot for £750.

Western Times 30 May 1916 p5 col7
1929 'As a consequence of ill-health' C H Hales sold No 42 and the business for £550
Exeter and Plymouth Gazette 26 April 1940 p9 col3

In Kelly's Directory of Devonshire 1935 Wm Eales is shown as a butcher at 42 East Street. The telephone number at that time was 50.
It is likely that William is on the 1911 census as W Eales, an assistant butcher to S J Willis, in North Street. W Eales is 16, and was born in Ashburton.
Kelly's Directory of Devonshire 1935 p35
See the 1930s section of the Virtual museum for W J Eales's 'Hygienic delivery bag'.
*********************************
By the 1940s the business belongs to G B Soper.
1942 George Brendon Soper of 42 East Street was summoned at the petty sessions for employing a boy under 12 years of age. With his parents' consent the boy had often ridden in the delivery van, and occasionally took a basket and delivered goods. He received no payment for this, but the County Education Committee's case was that the boy was employed, whether he was paid or not. The case was dismissed after costs were paid.
In February 1947 C C Roberts of the Forest Inn, Hexworthy, sent a letter to the Western Morning News. The letter, carried 7 miles through the snow, said that the last postal collection or delivery had been on January 29th, and the last delivery of provisions had been on Janaury 27th. The inn had been without a telephone since the first fall of snow.
Mr Roberts wanted to praise Mr Soper, butcher of Ashburton, who had twice attempted to reach the villagers of Hexworthy. On February 2nd he got as far as Holne Chase, where Mr Roberts had met him with a pack-horse; on February 8th he reached Poundsgate.
Western Morning News 14 February 1947
Mr Soper was Honorary Secretary of the Ashburton gymkhana horse and pony show for several years, and was mentioned in this capacity at 42 East Street in 1950 ( E R Tucker was joint Hon Sec at this stage).
Western Morning News 26 July 1950 p4 col3
See the 1940s section of the Virtual museum for items connected to G B Soper.
********************************************************************
George Brendon Soper died in 1955, aged 49, and William George Smith bought the business at the end of July of that year.
Mr Soper's gravestone is in St Andrew's Churchyard.
Information about George Smith acquiring the business came from the family.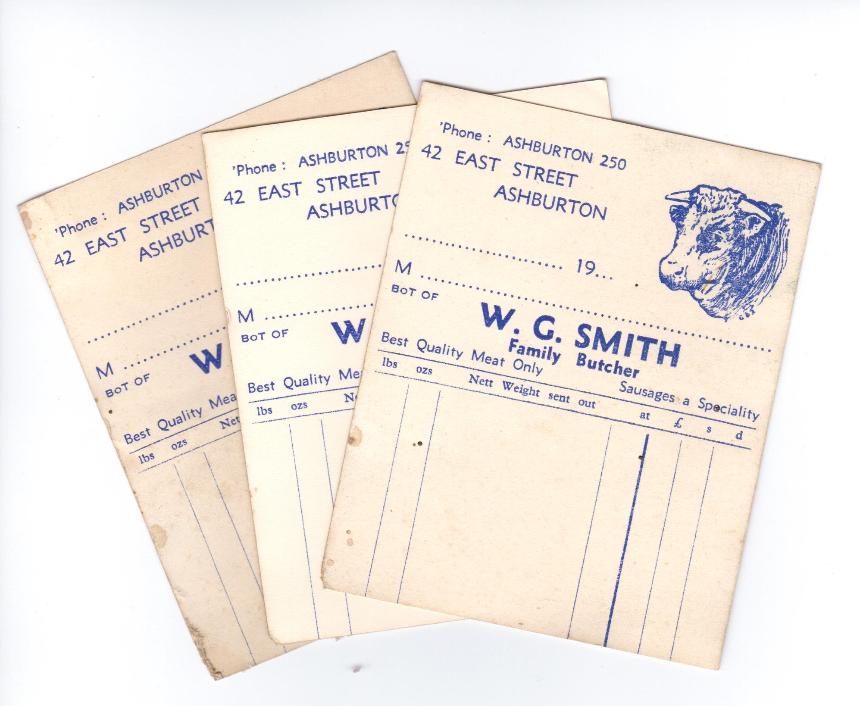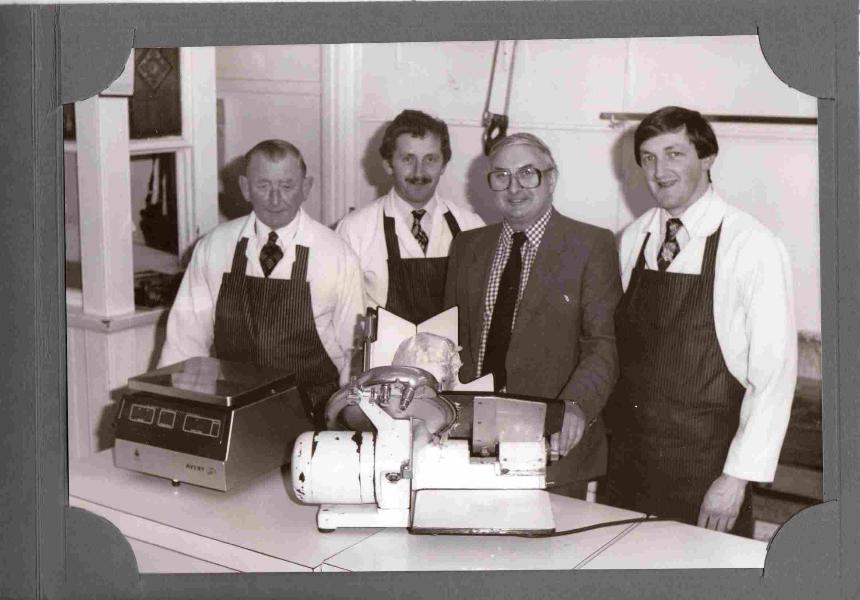 Above: This picture was taken when a company producing machines for slicing ham discovered that Smiths' had the oldest working model in the country. 'They gave us a new one'.
Left to right: George Smith, son Arthur Smith, representative of the company, son John Smith.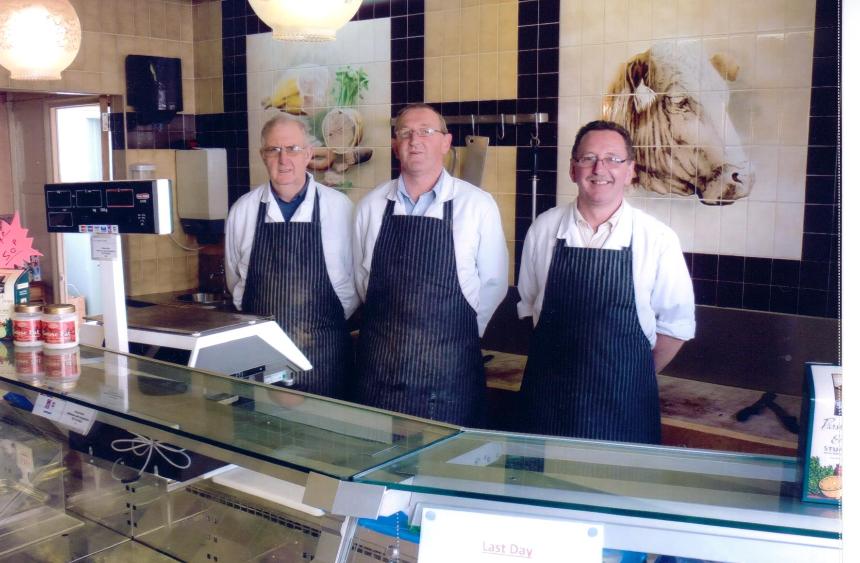 Above: Dennis Coysh, John Smith and Arthur Smith
George died in 2002 - Arthur and John ran the shop for another 10 years before retiring in 2012.