W J Wilson, brush and mop manufacturer, placed a large advertisement in the Western Times in 1835, in which he thanked the inhabitants of Ashburton for their support over the previous 6 years. He listed 38 types of brushes that were always available, including horse brushes, shoe brushes, hair brushes, painter's tools of all description, flue brushes, cementing brushes, hatter's brushes and wool mops.
Western Times, 24 January 1835, p2 col2
A General Election was taking place during January and February* of 1835. At about the same date Mr Wilson also wrote to the Western Times, claiming that he had been offered £30 by a member of Mr Palmer's committee not to vote for Mr Lushington. John Jennings, the chairman of the committee, wrote a strong denial in reply.
The editor noted that this was one person's word against another's, and that it was 'very possible' that the committee would not have offered a bribe. He added, however, that 'it is by no means certain that some of his friends did not resort to the disgraceful practice.'
Western Times 7 February 1835, p4 col3
* There was not one single day for voting at this time.
See https://en.wikipedia.org/wiki/1835_United_Kingdom_general_election - accessed 06-08-2023
Agness, the wife of John Wilson, brush maker, died in August 1843. She was 57.
The Western Times 2 Sept 1843, p2, col5
It seems likely that John married Grace Bastow in Exeter in the March quarter of 1844.
FreeBMD
See below
J Wilson, Brush Manufacturer, was selling his business in 1846. He had successfully carried on business in Ashburton for 21 years.
Woolmer's Exeter and Plymouth Gazette, 25 April 1846, p2, col5
Grace Wilson, 59, was a visitor in West Street at the time of the 1851 census. A brush maker's widow, she had been born in Ashburton.
1851 census HO107, piece no. 1871, folio 318, p10
Grace Wilson, the relict of J Wilson, brushmaker, died at Ashburton in September 1859. She was 67.
Trewman's Exeter Flying Post, 6 October 1859, p4 col6
In March 1829 Isaac Lamason married Maria Osmond, by licence. The marriage was in Ashburton, and both bride and groom were of the parish.
Parish records
The birth of John Isaac Lamason was registered in the Newton Abbot district in the December quarter of 1847. His mother's maiden surname was Osmond.
https://www.gro.gov.uk/gro/content/certificates/indexes_search.asp#Results - accessed 08-08-2023
23 year old John Lamason, who had been born in Ashburton, was a brush maker in Exeter in 1871. With him on the census was his wife Alice, and one year old daughter Agnes.
1871 census RG10, piece no. 2064, folio 63, p17
John Isaac Lamason, a widower, married Mary Jane Bowden in April 1876. A brushmaker, he was resident in Exeter at the time of his marriage.

In August 1892 he married for a third time, to Lavina Soper. Both his second and third marriages were in Ashburton.

Parish records

In the 1881 census John Westaway was an innkeeper in East Street. Next door, in West Street, was John I Lamason, a 33 year old brush maker. With him was his wife Mary, and children Agnes, 11, James and Mary, 4. Mary had been born in Ashburton. Although occupying the premises, they may not have owned it.
1881 census RG11, piece no. 2161, folio 67 p10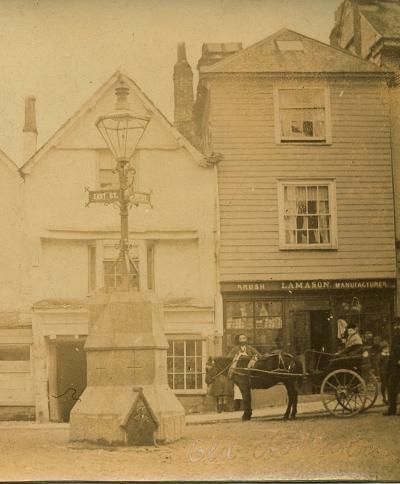 Left: Lamason, Brush Manufacturers, at the turn of the 19th/20th century.
From the collection of Lerida Arnold, to whom many thanks
In 1891 John I Lamason was in the property next to the Duke's Head. This is what is now 1 West Street. A widower, he was a brush maker, born in Ashburton; with him on the census were his children Mary, James and Maria.
1891 census RG12, piece no 1698, folio 54 p16
See the Lamason family for more on John Isaac Lamason
John Isaac Lamason died in March 1912. A trustee of several charities, and a member over the years of many committees, he had also been a governor of the Grammar School and a member of the Rifle Volunteers. He was 64.
Western Times 18 Match 1912, p2, col 4