John Knowles was a shipwright at the Royal Deptford Dockyard, Kent, in the 1780s.
Many thanks to Peter Elphick, maritime historian, for the above information, and for contributions below.

He and his wife Mary had four children baptized in Deptford, Kent, during the 1780s. They included John Knowles, baptized in April 1781, and Samuel Posgate Knowles, baptized in May 1783.
https://familysearch.org
John Knowles jnr. was chief clerk in the surveyor's department of the Navy Office between 1806 and 1832 - Sir Robert Seppings was Surveyor of the Navy at this time, and the two men were good friends. When Seppings was pushed from office in 1831, Knowles resigned.
Peter Elphick
Knowles published various naval works, including the publication of The Elements and Practice of Naval Architecture, a third edition of a book first written in 1805 by David Steel.

Knowles added an appendix on Seppings' work, with an introduction in which he calls himself Seppings' very sincere friend and devoted servant.

Concise Dictionary of National Biography, Oxford University Press, c.1921
The Elements and Practice of Naval Architecture, John Knowles, publ. W. Simpkin and R. Marshall, 1822.
Information about the appendix from Peter Elphick
A correspondent to The Monthly Magazine, who commented on one of Knowles' works (presumably the one above), received this reply from Knowles: 'A correspondent who signs "Fact" in your last month's magazine, has taken the title of a work which I have lately published, on the present method of constructing ships, as practised by Sir Robert Seppings, as a text, for the purposes of abusing the inventor, and of conveying to your readers the notion, that all the improvements which he has introduced are due to the ingenuity of others. It is pretty evident that he has only read the title of the work in question; for if he had perused the book, he would most probably have saved himself the trouble of writing...'

The Monthly Magazine, or British Register, vol LIV, part II, London, 1822, p37

In 1896 T W Windeatt, a great nephew of John Knowles, gave an account of his life to the Devonshire Association. According to Mr. Windeatt the Knowles family had a strong connection to the Royal Navy, with an uncle of John, Rear-Admiral Charles Knowles, being created a baronet in the early 1700s for 'distinguished naval services.'
In 1805 he met Henry Fuseli, keeper and professor of painting at the Royal Academy. They became friends, and John was appointed his executor on Henry Fuseli's death in 1825. Through his love of paintings Knowles acquired a 'large and valuable' collection, a few of which the family, including Mr. Windeatt, still owned.
John Knowles, F.R.S. [1781-1841, buried Ashburton], T W Windeatt The Transactions of the Devonshire Association 1896 vol 28 p338ff. Available through Google at https://archive.org

The Royal Academy of Arts has various items connected to John Knowles in its collection.
They include: FU/5/5 A statement to John Knowles as executor of H. Fuseli regarding lots at James Christie's, in 1827; FU/5/4 A list of lots bought by John Knowles at the sale of Henry Fuseli's work in 1827; and FU/5/10
a catalogue 'of the valuable collection of pictures by Italian, Flemish, Dutch and English Masters; the property of that excellent judge and connoisseur, the late John Knowles, Esq. FRS.'
http://www.racollection.org.uk - Accessed 26-04-2015

In 1831 John published a book in 3 volumes on the life and writings of Henry Fuseli MARA. The Edinburgh Review commented: 'His literary correspondence was not extensive, nor does he seem to have indulged much in the description of his own feelings and expressions....But though the account of his life will not add much to our acquaintance with his inner man, still it contributes something...'
The Edinburgh Review or Critical Journal, vol 54, p159
However, Knowles became best known for a work on the prevention of dry rot in ships, a major problem when ocean vessels were made of wood. 'An inquiry into the means which have been taken to preserve the British Navy from the earliest period to the present time, paritcularly from the species of decay now denominated dry-rot' resulted in him being made FRS (Fellow of the Royal Society), and he received many gifts from European royalty, including gold snuff boxes, gold medals and a diamond ring.
An early member of the Athenaeum club, his portrait was drawn by Charles Landseer, and a marble bust was made of him by W. Behnes. Canon Knowles, a nephew of John, owned the portrait at the time Mr. Windeatt was writing; the widow of another nephew, Mrs. Knowles of Highweek, owned the bust.
After leaving the Navy Office, then at Somerset House, John Knowles became the managing director of the Economic Life Assurance Office at Blackfriars.
According to Mr. Windeatt, John Knowles moved to Ashburton later in life, where one of his brothers, Samuel, already lived.
T W Windeatt, op cit.

In July 1841 John Knowles FRS, died at Ashburton aged 60. He was a corresponding member of the Philosophical Society at Rotterdam.
Western Times 31 July 1841 p2 col5

By October a tenant was being sought for his house in East Street, which had a 'large and well-stocked garden' - Mr. Knowles had particulars for potential applicants.
In November H. Creagh was advertising a sale on the premises of the late Mr. Knowles. The sale included more than 100 dozen bottles of wine, including champagne, claret, hock, madeira and sherry, and his book collection of about 1000 volumes included works on ship-building and 'nautical affairs'. Other items in the sale were plate, china, linen and feather beds.
Exeter and Plymouth Gazette 2 October 1841 p2 col3
Western Times 13 November 1841 p2 col3

A monument to John Knowles was erected in St. Andrew's Church, 'over the pew which the Knowles family used to occupy.'
T W Windeatt, op cit.


Samuel Posgate Knowles married Elizabeth Whitear at St. Giles, Camberwell, Surrey, on July 30th 1808

https://familysearch.org
In the address by T W Windeatt
(op cit)
he says that the Whitear(e)s were an old Ashburton family, and that the Knowles brothers were buried in the Whiteare tomb. I have yet to find anything about a Whiteare family in Ashburton.
The British Postal Museum and Archive hold many records for the appointment of employees of the Post Office from early Victorian times until to 1956. Amongst them, in POST 58/39, are the records for deputy postmasters.When William Lloyd resigned in December 1833, Samuel Porgate Knowles took up the post.
The 1841 census shows Samuel and his wife Elizabeth living in East Street, Ashburton with their daughter, Harriet.
1841 census HO107, Piece 253, Book 1, Civil Parish Ashburton, Enumeration District 8, Folio 7, Page 7

The 1851 census shows Samuel P Knowles, a widower aged 67, living in East Street. A landed proprietor, he was born in Deptford, Kent. With him in the household is his 29 year old unmarried daughter, Harriet.
1851 census HO107, Piece 1871, Folio 263, p8
Later that year, on October 15th Harriet, the youngest daughter of Samuel Posgate Knowles of Ashburton, died of consumption.
Western Times 18 October 1851 p5 col4


The will of Harriet Knowles, 'Spinster of Ashburton', is available through the National Archives
Ref 23 April 1852, PROB11/2151/306 http://discovery.nationalarchives.gov.uk - Accessed 01-05-2015

On January 30th, 1858, Samuel Posgate Knowles died 'at an advanced age'. He was formerly of Her Majesty's Dockyard, Deptford.
Exeter Flying Post 4 February 1858 p5 col2Morning Post 6 February 1858 p8 col3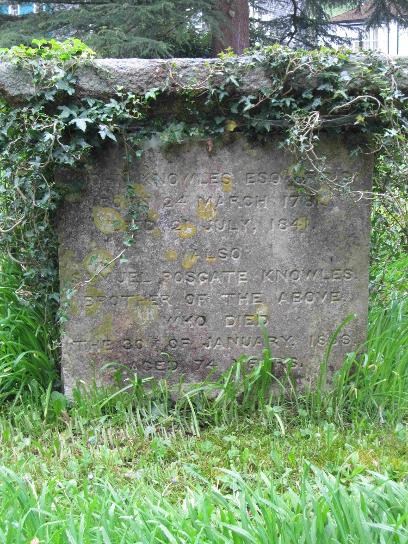 Above: The Knowles tomb in St. Andrew's churchyard. 'John Knowles Esq. FRS, born 24th March 1781, died 21st July 1841. Also Samuel Posgate Knowles, brother of the above, who died 30th January 1858 aged 74 years.'
My own photograph 2015

******
Other members of the Knowles family:
Sir Charles Knowles 1st baronet, who became a full admiral in 1770 before entering the Russian Service of Catherine the Great, 1770 - 1774. He died on 9 December 1777 in London.

His son, Charles Henry, 2nd baronet, was born at Kingston, Jamaica, 1754, where his father was governor for a time.He also entered the navy and rose to become a full admiral. He died in 1831.
Peter Elphick

***
Samuel Posgate Knowles and Elizabeth had 3 children baptized at St. Paul, Deptford, Kent:
Elizabeth Whiteare, June 1809
Mary, March 1811
and Samuel Posgate (jnr.), May 1812
before Harriet was baptized at St. Alphage, Greenwich, Kent, in July 1821.
https://familysearch.org
Mary, Samuel Posgate Jnr. and Harriet all appear later in records in Devon.
William Fabyan Windeatt and Mary Knowles married in Ashburton in June 1838. Mary's father is Samuel Posgate Knowles.
Parish records

In 1861 W C Windeatt and Mary, an 'attorney's wife' are living in Totnes. 50 year old Mary had been born in Deptford, Kent. Thomas White Windeatt, a son, was an articled clerk, living with his parents.
Although the census says W C Windeatt, I believe it should read W F for William Fabyan.

1861 census http://www.freecen.org.uk



The 1891 census sees Thomas W. Windeatt, who wrote about his great uncle John Knowles
(see column 1),
living in Totnes, where he was born. A solicitor and superintendent registrar, he is 46 years old.
1891 Census RG12/1711, Folio 91, p4, Schedule 29

***

June 1st 1843 saw the marriage of Samuel Posgate Knowles, Jnr., of London, to Prudence Bastard Avent of Modbury.
Sherborne Mercury 10 June 1843 p4 col5
In Highweek in 1881 Samuel Posgate Knowles (ie jnr.), a 68 year old annuitant born in Deptford, Kent*, is living with his wife Prudence Bastard Knowles, who was born in Modbury. Samuel died in 1889** and it seems likely that by 1896 Prudence is the 'widow of another nephew' of John Knowles, who according to T W Windeatt owned a bust of him
(see column 1)
.
1881 Census RG11, Piece no.2163, Folio 69, p8

*
Dipford in the transcription I saw** Samuel Poegate Knowles in http://www.freebmd.org.uk