The Sparke and Amery families


James Spark, a widower, married Margery Fabyan in Ashburton in October 1767. Both were of the parish.
Parish records

James Spark and his wife Margery had at least 3 children baptised at the Wolborough Street Salem Chapel, Newton Abbot in the second half of the 1700s.
They were: Peter Fabyan Spark, bapt 13 September 1768
Mary Fabyan Spark, bapt 23 August 1771
Peter Fabyan Spark, bapt 28 December 1773
England Births and Christenings, 1538-1975, https://www.familysearch.org

Peter, son of James Spark, was buried 15 July 1700, at Ashburton.
'A child' of James Spark was buried 22 August 1776, also at Ashburton.
Parish records

The will of James Spark, butcher of Ashburton, dated 30th October 1801, is held at the National Archives.
Ref PROB 11/1364/245, http://discovery.nationalarchives.gov.uk

*******

In a marriage settlement in 1813 Lavington Evans put £500 in trust to Peter Fabyan Sparke, sergemaker, and Samuel Evans of Ottery St Mary for Mary Sparke, of Ashburton. She was betrothed to L. Evans.
Ref 14152/73 http://discovery.nationalarchives.gov.uk

Devon Heritage Centre holds a document stating that Mary Sparke was a minor, and her mother consented to the marriage, 'her father being dead and no sufficient guardian being appointed'
Devon Heritage Centre ref DEX/7/b/1/1813/5 https://devon-cat.swheritage.org.uk/records/DEX/7/b/1/1813/5 - Accessed 15-10-2018

*******
In 1827 John Orchard and John Orchard, father and son, were committed for trial on a charge of fraud. A Mrs Lane had lent Mr Orchard Snr. £1000 on some property, but the deed, for the Ford Estate, had been altered with the intention to defraud. During the course of the trial it was revealed that Mr Sparke, of Ashburton, had lent Orchard Jnr. £1400 on the same estate.
Orchard Snr, nearly 80 years old, and apparently having difficulty knowing what was going on, was found not guilty. John Orchard Jnr. was found guilty, and sentenced to death.
Morning Advertiser 30 March 1827, p3 cols 2,3

*******


Mr P F Sparke of Ashburton is one of those who made a donation to The Society for Educating the Poor of Newfoundland.
Laws and Regulations of the Newfoundland Society, undated, available through https://books.google.co.uk


Peter F Sparke, 'for many years a resident of Ashburton', and 'highly and extensively respcted', died at Narrowmore House, Moreton, in December 1843. He was 70 years old.
Western Times 23 December 1843, p3 col2
The will of Peter Fabyan Sparke, gentleman of Ashburton, dated 16th May 1844, is held at the National Archives.
Ref PROB 11/1999/139, http://discovery.nationalarchives.gov.uk

A worsted and ABB [?] mill at Buckfastleigh was for sale in 1844. Suitable for 'woollen, silk, flax, paper, or any other business where great power is required', it was being sold on the death of the late proprietors.
Interested parties were to the present proprietors, Tozer, Sparke and Co., Ashburton.
Western Times 13 July 1844, p2 col2

*******

George Sparke, an unmarried coachman for the Golden Lion, is living in East Street in 1881. He was born in Ashburton.
1881 census, RG11, piece no. 2161, folio 63, p3

George Sparke, of the Golden Lion, Ashburton, was buried, aged 71, in June 1884
Parish records

*******


12 July 1811 John Amery of Lustleigh married Mary Fabyan Sparke at Ashburton, by licence. Mary was of the parish.
Parish register

Sarah Ann Amery, with parents John and Mary Fabian Amery, was baptised at Brook Street Independent, Tavistock, in May 1814. They were of Lustleigh.
England and Wales Non-conformist Births and Baptisms, available via https://search.findmypast.co.uk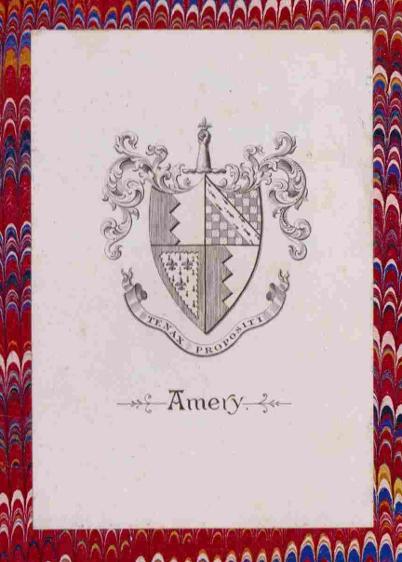 Above: Bookplate showing the Amery arms.
From my own collection

John Amery may be the John Amery of Narrowmore, Lustleigh, who was buried in March 1833, aged 50.
Mary Amery [a daughter?], also of Narrowmore, was buried later in the same year, aged 18.
Lustleigh parish records
Mary Amery, a farmer aged about 60, is on the 1841 census at Narramore, Lustleigh. Jasper Amery, aged circa 15, is with her.
1841 census, HO107, piece no. 253, folio 3, p1
William Fabyan Windeatt was the owner Of Druid house and plantation (and more besides) at the time of the tithe apportionments (1836 onwards), with John Sparke Amery as the occupier.
https://new.devon.gov.uk/historicenvironment/tithe-map/ashburton/
William Fabyan Windeatt, the son of Thomas White Windeatt, dissenting minister, married Mary Knowles, the daughter of Samuel Posgate Knowles, in June 1838 in Ashburton.
Parish records

J Sparke Amery, of Druid House, married Frances Windeatt at Totnes on 27th December of the same year. Frances was the daughter of the Rev T W Windeatt, dissenting minister.
North Devon Journal 3 January 1839 p3 col1

Therefore William Fabyan Windeatt and Frances were brother and sister.
September 2nd 1839 A son was born 'to the lady' of J S Amery
Western Times 7 September 1839 p2 col5

The birth of Peter Fabyan Sparke Amery was registered in the September quarter of 1839, in the Newton Abbot district. The mother's name is written as Windcatt.
https://www.gro.gov.uk

In 1841 John Amery, aged 28 and a sergemaker, is living with his wife Frances at Druid. Peter Amery, aged 1 and presumably their son, is with them.
1841 census HO107, piece no. 253, folio 6, p6

December 22nd 1843 A daughter was born 'to the lady' of J S Amery
Western Times 30 December 1843
Frances Mary Fabyan Amery's birth was registered in the March quarter of 1844, mother Windeatt.
https://www.gro.gov.uk
August 4th 1844 Frances Mary Fabyan Amery, daughter of J Sparke Amery, died aged 7 months.
Western Times 10 August 1844 p2 col5
September 27th 1845 A son was born 'to the lady' of J S Amery
Western Times 4 October 1845 p3 col3
John Sparke Amery's birth was registered in 1845, mother Windcatt.
https://www.gro.gov.uk
In 1846 J Sparke Amery (Snr) gave his annual dinner of roast beef and plum pudding to thirty old men of the town. They were each given 2s 6d.
Western Times 14 March 1846 p6 col4
Convinced of the benefits of allotments, he let out about 7 acres. They were mostly taken up by young men in the wool industry, who could then grow food when 'trade is dull, and they have no employment.'
Western Times 12 December 1846 p5 col4
When Mr Matheson announced that he was no longer going to offer himself as a candidate for election as Ashburton's MP, J S Amery, in his role of Portreeve, called a public meeting to debate the matter.
Western Times 3 July 1847 p5 col2

May 1848 Jasper Addams Amery, yeoman, married Catherine Wreford Tozer Tozer in Ashburton. Jasper's father is named as John Amery, yeoman, and Catherine's father is Solomon Tozer, gent. John Sparke Amery is one of the witnesses.
Parish register

In 1851 J S Amery presided over a large meeting of Dissenters in the new Market Hall.
Western Times 22 February 1851 p7 col4

In the 1851 census John Sparke Amery, born in Lustleigh, is living at Druid House, Ashburton. He is a landed proprietor and farmer. His 45 year old wife, Frances, is also a landed proprietor - she was born in Bridgetown, Totnes. Their 5 year old son, also called John Sparke Amery, is with them.
1851 census HO107, piece no. 1871, folio 342, p6
By 1851 Mary Fabyan Amery is at Druid Cottage, Ashburton. She is a landed proprietor, born in Ashburton.
1851 census, HO107, piece no. 1871, folio 341, p5

***
Jasper Amery and his wife Catherine were living at Alston House in 1851. Jasper, 28 and a landed proprietor, had been born in Lustleigh.
1851 census HO107, piece no 1871, folio 346, p15


1853 Jasper Addams Amery died aged 30, and was buried on March 18th.
By 1861 his wife Catherine had remarried (Gabriel Beer Lidstone) and was living in Kingsbridge. Her 9 year old daughter Frances Elizabeth Amery, and 8 year old son Jasper John Amery were with her.
Parish register
1861 census RG09, piece no. 1425, folio 59, p1

In July 1863 three children of Jasper Addems Amery, gentleman, and Catherine Wreford Tozer Amery were received into the church at Dodbrooke. Mary Catherine, born May 1849, Frances Elizabeth, born in June 1851, and Jasper John, born in March 1853, were all baptized.
Dodbrooke parish records
***
Mary Fabyan Amery died in 1862, aged 83.
https://www.gro.gov.uk/gro/content/certificates/indexes_search.asp
1859 J S Amery was one of the purchasers of The Borough Woods. Shirley Woolmer Esq. was the other.
Western Times 16 April 1859 p7 col3
The Lustleigh Society has 27 entries for members of the Amery family buried in Lustleigh. The database can be accessed here: http://www.lustleigh-society.org.uk/home-page/lustleigh-graves/
Being able to vote in Victorian times depended on a man owning or renting property, and there were constant disputes and objections (see the Election fever sub-menu under Gathering together for more on this topic).
In 1863 Mr Daw objected to John Sparke Amery, F P S Amery and James Henry Prout having votes because of buildings and land that they rented from the Duke of Somerset at Weston Road, Tramridge. (this appears to be in Totnes). Mr Daw contended that a Mr Barter was the real tenant.
The votes were disallowed
Exeter and Plymouth Gazette 16 October 1863 p6 col6
In 1863 Peter Fabian Amery, 'son of John Sparke Amery, Esq., of Druid House' was appointed portreeve.
Western Times 13 November 1863, p5 col5
1869. P F S Amery gave a lecture on Combustion., illustrated with a large number of experiments. At the end of the talk he went to the top of St Lawrence Tower and burned a magnesian torch, which lit up large areas of the town beneath.
Western Times 22 January 1869 p8 col2

1870 Mary Catherine Amery married John Richard T Kingwell. In 1926 she was described as the daughter of the late Jasper Amery, and niece of the late J Sparke Amery.
http://www.freebmd.org.uk/
Exeter and Plymouth Gazette 2 November 1926 p2 col1
January 7th 1878 John Sparke Amery, at Druid, died aged 65.
He was buried on January 14th
Exeter and Plymouth Gazette 11 January 1878 p5 col4
Parish register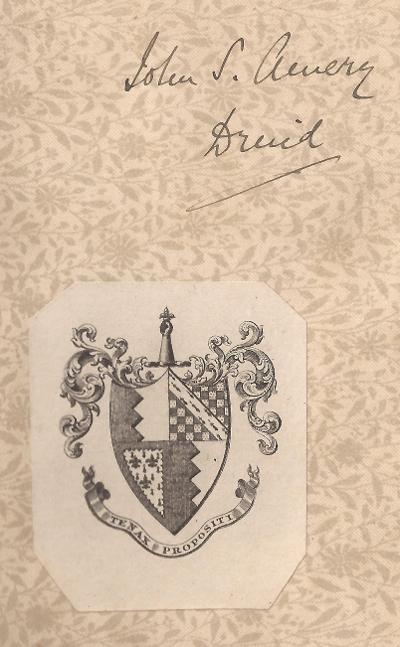 January 7th 1878 John Sparke Amery, at Druid, died aged 65.
He was buried on January 14th
Exeter and Plymouth Gazette 11 January 1878 p5 col4
Parish register

Left:
Another bookplate, this one bearing the signature of John S Amery.
This could have been John snr., who died in 1878, or John jnr., who died in 1929. See under Doctors and Surgeons for the arms and signature of Walter S Gervis, which are opposite the bookplate.
See under Doctors and Surgeons
With many thanks to Jeremy Fox.
15 February 1882 Frances Amery, widow of John Sparke Amery, died aged 76. In the report of her funeral the Western Times stated that on her mother's side she was connected to the Fabyan family of Ashburton*, who had a long connection with the woollen trade. 'She was a staunch, but by no means bigoted Nonconformist.'
She was buried on February 22nd.

Western Times 17 February 1882 p5 col6
Western Times 3 March 1882 p7 col4
Parish register

*Thomas White Windeatt of Totnes had married Mary Fabyan of Ashburton at Ashburton in May 1803. The witnesses included William Fabyan, Elizabeth Windeatt and Mary Fabyan Sparke.
Parish records
Peter Fabyan Sparke Amery, son of the late John Sparke Amery, died in July 1907. A JP and County Councillor, he was also a Colonel in the 5th F.B.D.R. He was perhaps best known for his interest in antiquities, and was a member of the Devonshire Association.

He was buried, aged 67, on July 30th.
Exeter and Plymouth Gazette 27 July 1907 p3 col5
Exeter and Plymouth Gazette 30 July 1907 p7 col4
Parish register
65 year old John Sparke Amery and his 58 year old cousin Jasper John Amery are at Druid, Ashburton, for the 1911 census. Both are single and living on private means - in addition, John Sparke Amery is a farmer.
1911 census RG14, piece no. 12726
John Sparke Amery (Jnr) JP, born 1845, died in April 1929
Quoting an obituary in The Times, the Exeter and Plymouth Gazette wrote that the two brothers, Lieut Col Fabyan Amery and John Sparke Amery, were the 'twin stars at the centre of every movement for the social or intellectual advancement of their native town.'
On the day of his funeral flags were flown at half mast on the Council and Grammar Schools, and on the Liberal Club.

Western Times 19 April 1929 p12 col2
Exeter and Plymouth Gazette 17 April 1929 p4 col3
Exeter and Plymouth Gazette 20 April 1929 p5 col2
http://www.freebmd.org.uk/
In Ashburton churchyard there is a memorial to Peter Fabyan Sparke Amery, 'of Druid', who died 26th July 1907, aged 67. John Sparke Amery, who died on 13th April 1929, aged 83, also features on the gravestone.
http://www.ashburtonarchive.org.uk
In 1934 a 17th century window was placed in the Congregational Church, in memory of the two Amery brothers
Western Times 26 October 1934 p14 col6

For the Amerys' involvement in mining and building, see the Quarries and mines, and the Ashburton Building Company sections under Banks and businesses.