From a transcript of trades and professions from the Universal British Directory of Trade, Commerce and Manufacture, Vol 2, late 1700s:
Tho. Rennell,
grocer and druggist
In March 1828 the banns of marriage were read for Richard William Rexford, of the parish of Plymouth, and Elizabeth Ley of Ashburton
Parish records
'Banks's Family Friend', pills that would preserve health and prolong life, were on sale through various agents in 1836.
Mr Rexford, grocer etc., was the agent for Ashburton.
North Devon Journal 10th March 1836, p1 col3
Crossthwaite and Co.'s Occult Lozenges, for 'all complaints of the chest and lungs', was available from various retailers, including Rexford, bookseller, Ashburton.
Dorset County Chronicle 17 November 1836, p3 col6
This is probably the R W Rexford who in 1837 warned purchasers of Devonshire Sauce to make sure that the article was the genuine Rexford article: they had to check that the cork was sealed with the impression Rexford, chemist, Ashburton, and that the label had his signature.
Western Courier, West of England Conservative, Plymouth and Devonport Advertiser, 22 March 1837, p1 col3

By 1841 Rd, Elizabeth and 2 year old Elizabeth were living in East Street, Wolborough, Newton Abbot. Richard was a chemist
1841 census HO107, piece no 229, folio 12, p19
Thomas Tout, an Ashburton grocer and draper, underwent his last examination for bankruptcy in 1846.
Western Times 5 September 1846, p7 col3
***
Thomas Norris married Mary Baker at Ashburton in January 1815
Parish records

William Baker Norris, the son of Thomas and Mary, was baptized in February 1819 in Ashburton.
Parish records

Mary Norris, a grocer aged about 50, was living in West Street at the time of the 1841 census.
1841 census HO107, piece no 253, folio 17, p29

In August 1846 Mrs Norris, a grocer in West Street, was woken by the door handle being rattled. William Norris went to see what the commotion was about, and found an old woman outside, dressed in her nightclothes. Named Ford, she lived in Back Lane, but whether they knew her identity is uncertain. She was convinced that she should be sleeping at the grocer's, saying that she had been told to sleep there, and eventually the Norris family concluded that she thought she should be at Dr Soper's house next door. She went to work there at a very early hour, and apparently the Doctor had told her that she could sleep there.
Several men who had emerged from public houses were alarmed by the appearance of Ms Ford, including one who 'screamed out "The Ghost!" and bolted'.
Exeter and Plymouth Gazette 29 August 1846 p3 col6
Presumably it was the same Mary Norris who was buried, aged 59, in September 1848
Parish records
William Baker Norris, West Street, Ashburton, Grocer, pork dealer, china and glass dealer, insolvent debtor
London Gazette Issue 22009 9 June 1857, p2046

***
Henry Kingwill [Jnr.], a bachelor, married Jane Mugridge on May 21st, 1839. Henry, a carrier from East Street, was the son of Henry, also a carrier. Jane, from North Street, was the daughter of Thomas Mugridge, a grocer.
Parish records
Jane Kingwell, a widow aged 40, was a linen draper and grocer in the 1851 census, and in the 1861 census

1851 census HO107, piece no 1871, folio 296, p20
1861 census RG09, piece no. 1405, folio 34, p17
Jane was aged 78 when she was buried in February 1888
Parish records
***
In 1851 Robert Ellis, a farmer's labourer, his wife Susan, and young daughters Susan A and Jane were living in East Street.
By 1861 Robert was a working gardener, and Susan A was a 'house servant out of place'.
1851 census HO107, piece no 1871, folio 291, p10
1861 census RG09, piece no 1405, folio 31, p11
82 year old Robert Ellis was a grocer shopkeeper in East Street in the 1901 census. His daughter Susan Ann, was also a grocer shopkeeper.
1901 census RG13, piece no 2053, folio 35, p2
Susan Ann Ellis (a grocers' shop) is listed between no 21 East St and no 29 East St in the 1911 census. Susan, aged 65, was single.
1911 census RG14, piece no 12727, schedule 12
See People and Properties 1900s
Miss Susan Ann Ellis died in August 1924. A 'highly respected Ashburtonian', she died at Woodland Road, aged 79.
Western Times 15th August 1924, p10 col1
The Court for Relief of Insolvent debtors James Warren Perrott, (sued as James Perrott), formerly of North St., Ashburton, Saddler, grocer and tea-dealer, then of various places in Middlesex

London Gazette Issue 21632 24 November 1854, p3807
See Saddlers and Harness makers under Banks and Businesses for more on the Perrott family
At a Police Meeting in 1856 the Rev Marsh suggested that alterations be made to the practice of many shops staying open late on Saturday night, sometimes into the Sabbath. Grocers, tea dealers and druggists were those he cited.
Western Times 3 May 1856, p7 col4
1856. George Gould Vanstone, a grocer and draper of Ashburton, was discharged from insolvency. He had been supported by Mr Laidman, and was unopposed.
Exeter and Plymouth Gazette, 4 October 1856, p6 col5

***
There was some confusion over the insolvency case of Mr John Westaway, an Ashburton grocer, in 1859. Mr Westaway was accused of vexatiously defending an action against a Mr Cooper, but he claimed that he had never instructed anyone to do so. The case was adjourned for a week, even though Mr Floud, who was supporting Mr Westaway, said that it would be 'very hard for his client to be sent back to starve in prison.' He added that Mr Westaway had a large family 'almost without means of sustinence'.
Exeter and Plymouth Gazette, 19 November 1859, p6 col1
Forty year old John Westaway was a baker and grocer in the 1861 census. Born in Ashburton and living in North Street, John had a wife, Mary, and 7 children.
1861 census RG09, piece no. 1405, folio 54, p18

***
In 1861 twenty year old Robert Aplin, baker and confectioner, was living in North Street with his wife Dinah.
1861 census RG09, piece no 1405, folio 53, p16

Robert Aplin, North Street, Baker and grocer, declared bankrupt
London Gazette Issue 22981 published on the 16 June 1865, p3077

By the time of the 1891 census Robert and his wife were living in Ilsington. Robert, 50, was a retired police sergeant, living on a pension.
1891 census RG12, piece no 1698, folio 122, p3
***
In 1876 a case came to Newton County Court involving two Ashburton residents: Beauretuer v Daniels. Mrs Beauretuer was a grocer and herbalist, and Mr Daniels was a tailor. Each claimed money from the other, Mrs Beauretuer's claim being for payment for curing Mr Daniels's gout. Mr. Creed, questioning Mrs Beauretuer, caused considerable laughter when he asked whether her treatment consisted of having her palm crossed with money and her muttering a charm. She denied this and said that she had rubbed something onto the defendant's leg.
Mr Creed persisted in asking her where she got her knowledge of charms, and Mrs Beauretuer retorted by asking him where he got his knowledge. When he replied that he got it from books, she said that she did the same.
Mrs Beauretuer was apparently in the habit of bringing cases to court, and the judge suggested that in this one the plaintiff and defendant should call it quits. The plaintiff was unhappy with this suggestion, and the case was adjourned.
Exeter and Plymouth Gazette 18 August 1876 p7 col5

'Most of the tradesmen's little boys and girls first went to Miss Hext's school opposite the town hall....Even now I well remember Miss Hext sending me down the street to Mr Huddy, the grocer, for a pennyworth of memory powder. The grocer's assistant told me to tell Miss Hext that they were expecting some to come in next week'
From the reminiscences of Reg Andrews, born 1893. Many thanks to Dave Hodge-Brooks and Ernie Smerdon for passing these on.

Grocers in West Street at the time of the 1891 census:
William Pengilly, Greengrocer
John Down, Grocer and provision dealer
Grocers in North Street at the time of the 1891 census:
Harry V Foot, Tailor, grocer and newspaper reporter
Henry Veale, Tudor House, Grocer
Agnes W Huxham, Baker and grocer
William H Huddy, Foales Court, Grocer
Grocers in East Street at the time of the 1891 census:
Edwin W Johns, Town letter carrier and grocer
Grocers in St Lawrence Lane at the time of the 1891 census:
40 year old Harry Smyth Gibbs, who had been born in Barnstable, was a grocer in East Street at the time of the 1901 censús. With him in the household was his wife Mary Ellen, a daughter and two sons. All the children had been born in Exeter.
1901 census RG13, piece no. 2053, folio 35, p1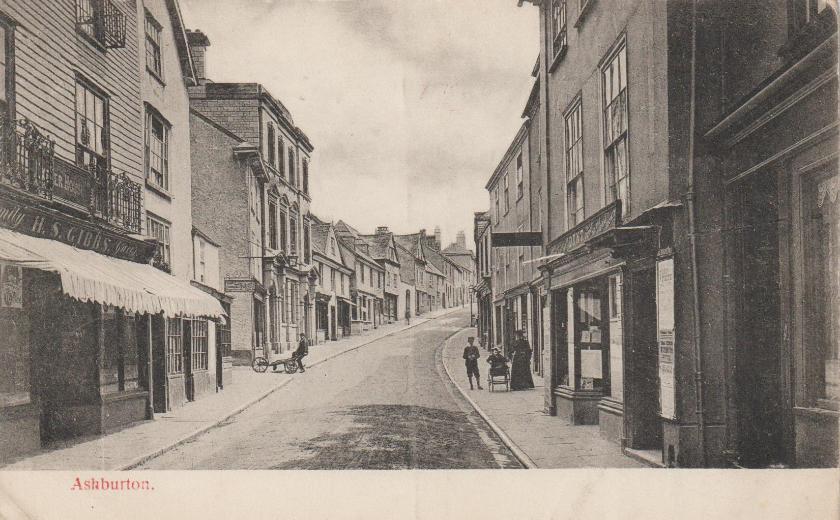 Above:
H S Gibbs' shop, with blind.
From my own collection
In the 1901 census William Henry Huddy was a grocer in East St., with the elder of his two sons, 17 year old William Thomas Huddy, an apprentice.
He was still in East St in 1911, and he and his wife were in East Street on the 1931 electoral roll.
1901 census RG13, piece no. 2053, folio 38, p7
1911 census RG14, piece no. 12727
England and Wales Electoral Registers 1832-1932
John Down was listed as a grocer in the Brixham Western Guardian in 1903. He was a tea dealer nad provision merchant, operating from London House. Pork, sausages, poultry, butter and eggs were fresh every Friday and Saturday.
Brixham Western Guardian 29 January 1903, p8 col1
See the Down and Beer families, under Individual Families
Herbert William Adams, a dairyman and grocer of the Anchor café, committed suicide by hanging in October 1925. The inquest returned a verdict of 'Suicide whilst temporarily insane'.
Western Morning News 13 October 1925, p2 col6
John J Tape, of Holsworthy, married Alice, the youngest daughter of Samuel Weeks, at Ashburton Congregational Church, in 1902
Totnes Weekly Times 12 July 1902, p5 col6
Amongst the businesses advertising in a 1930s Guide to Ashburton was
J J Tape,
Grocer and provision merchant, East St
Ashburton Urban District Council, undated, but between 1930 and 1935
The 1939 register shows John J Tape, a master grocer, at 11 East Street.
1939 register, available through www.findmypast.co.uk
In a 1950s Guide to Ashburton were the following:
D & E Milton, Greengrocery, 34 East St
G Arscott, Grocers and general stores
Eagle Dairy, Milk, cream, general grocers, tobacco etc., East St

Slade and sons, 'the good old fashioned grocers!', est 1837, the Grocers of London House, Ashburton
Osborn's, Grocers, 16 North St
Co-op, Groceries, drapery, bread and confectionery, boots and shoes, North St
C H Churchward, Grocer, fruiterer, florist, The Sun Stores, North St
Parsons and Co., Grocer, dairymen and confeectioners, 17 West St
Ashburton Urban District Council, undated, but between 1952 and 1960