The full text of Caunter family records, by F Lyde Caunter, 1930, is available through archive.org, here:
https://archive.org/stream/caunterfamilyrec00caun/caunterfamilyrec00caun_djvu.txt - Accessed 16-12-2019
Here are some extracts:
'I regret to say that the great West Country historian, the Reverend John Prince, makes practically no reference to the family in his works on Devonshire. When he was collecting information, he called upon the then head of the Caunter family at Ashburton; this gentleman, at the time, happened to be suffering from a particularly bad attack of gout, and upon being apprised of Mr Prince's quest, he is said to have given the reverend gentleman short shrift in suitable language, after which it is not surprising that Mr Prince did not deign to take notice of the family in his "Worthies of Devon"...'
pp10,11
'Ashburton, a quiet little Devonshire town on the outskirts of Dartmoor, has been the home of Caunters from the beginning of the 16th century. I find it quite remarkable how little the family seem to have moved about. Except in Ashburton and Staverton parishes, one finds hardly any Caunters elsewhere in Devonshire...'

p22
'The Ashburton Caunters owned a great deal of property in the parish. Place House, or as it is sometimes known, Wood Place, a charming country house in beautiful grounds, is about half a mile out of Ashburton, and used to be occupied with some 80 acres of land...Place passed out of the hands of the Caunter family in 1889.

Waye House, an equally charming property, was formerly occupied as a farm, but in later years as a country house; it lies beyond Place from Ashburton. It used to be known as Highway and Higherway. It ceased to belong to the family in 1863, when Waye House and about 60 acres were sold.

p23

'Balland Park remained in the family until late in the 19th century...'

p36

'John Caunter, of Ashburton, was a serge-maker born in 1708. I am of opinion that the date of his birth was the 14th December, 1708, as this is the date of an entry in the Register of the birth of John, son of John Caunter, Gent.'
[Mr Lyde Caunter then mentions an earlier John, born in 1699, but points out that a John, son of John Caunter, Gent., was buried on the 8th December 1708.]
'It therefore seems that the first-born John died young, and another son, being born a week later, was promptly named John. As a matter of fact, the Caunter Monument in Ashburton Churchyard gives the date of death of Mr John Caunter as the 18th April 1772, and his age as 71 years, but I rely upon the register rather than upon the date on the stone in giving his birth as 1708...
The will of this Mr Caunter, which is dated 9th September 1771, begins with the long preamble of which testators were so fond in those days, encouraged no doubt by lawyers who were paid by the length of the document which they drew.'
pp42,43
'The testator gave to his wife Elizabeth Caunter his dwelling-house where he then lived for her life and afterwards to his two daughters Mary and Elizabeth, and he gave his house with the "dry house and mills lately erected courtlage and herb garden" to his son John Caunter the Younger.

Various trusts follow and testator then gives his property known by the name of the Dock Inn, which he lately purchased of George Hearle and then in possession of Mary Caunter, widow, to his two daughters Mary and Elizabeth to whom he also gives a dwelling-house in Ashburton, which he held of the feoffees of the parish lands. There are various other clauses and ultimately the residue is given to testator's son John. The Will was proved on the 8th June, 1772.

Elizabeth Caunter, the wife of the before named testator, made her Will dated the 8th February 1787, which was proved on the 8th June, 1791. She mentions her daughter Mary Bickford, the wife of William Bickford, of Ashburton, her daughter Elizabeth Callard, the wife of Henry Callard, of Ashburton, her nephew John Codd, her grandson John Caunter the Younger, and her grand-daughter Mary Caunter the Younger. She died aged 90.
Richard Caunter, son of John and Elizabeth, lived at Ashburton, and died the 7th June, 1771, intestate. He married Mary Jerman.

John Caunter, born 1797, died 1857, lived at Leat Park and Waye, Ashburton, and married in 1822 Mary Eales, of Golden Bank, Liskeard, daughter of Major-General John Eales of the Hon East India Company.

This John Caunter was a Justice of the Peace for the County of Devon.

John Eales Caunter, born 1828, of Ashburton.
He served in the 15th Bengal Native Infantry. His death is 1859 came about as the result of privations suffered in the Indian Mutiny. He served in the Sikh War, entering the battle of Goojerat in civilian clothes, having been rushed up from the port of disembarkation. He died at Beeawr, Rajpootana, India.

He married Fanny Elizabeth Ashford in 1854, and he and his wife were at Nusserabad in India, on the outbreak of the Indian Mutiny.

p44,45
John Caunter, born 1768, lived at Place, Ashburton, and was a merchant in the sergemaking trade. He seems to have purchased a great many properties besides those which came to him from his father, and in his will, dated 27th December 1824, he refers to the following properties owned by him:
Lands called Home Park or Lower Roborough in Ashburton;

His lands called Balland and Tucker's Parks, fields known as Balland Parks, his lands lately belonging to Miss Woodley called Home Park and Pitley Park and fields adjoining;

His house at East Street, Ashburton;
His cottage and land at Travellers Rest and other fields adjoining;

His farm and lands called Waye and fields adjoining part of Brownswell;

Prigg Meadow with barn, stable, orchard and the glebe garden in Ashburton;
His mills at the lower end of the Courtlage behind his dwelling-house in Ashburton, together with his mansion house where he then lived with the office, workshops, gardens and his house in West Street;

His lands called Place or Woodplace, Rock Park and Bicklands and part of Brownswelland his tenement at Sherwill in Widdecombe;

His premises in Ashburton which were his late grandmother's adjoining Heavyhead Lane and Lawrence Lane and Ford Meadow, houses and premises in Kingsbridge Lane, Ashburton, and houses and premises in West Mill, Leat Park, Gulwell Bridge and other lands and mills called Gages Mills and mills at Bickington.

Charles Walter Caunter, born 1803, had the misfortune when a child to be dropped by his nurse, and in consequence suffered from ill-health all his life. He lived at Place with his father until his death.

Henry Caunter, of Ashburton, who was born in 1808, and died in Stornoway, Lewis, in 1881, was a most versatile individual. He mined, made music, painted and travelled considerably....

He married in 1835, Sarah Fulford, daughter of John Fulford, of Crediton; their daughter Alice married at Allahabad, India, James Rawlinson Jackson, who was Deputy Surgeon-General I.M.S., and thier grandchildren with the exception of Frances Erskine Jackson were all born in India.

p47,48

Richard Caunter, born 1800, was a woollen Manufacturer, and resided at Place, Ashburton; he owned mills and various properties in and around Ashburton. He married (1826) Mary Ann Lyde, daughter of the Reverend John Alan Lyde.

p54

George Caunter, of Ashburton, born 1806, son of John Caunter, practised as a solicitor at Ashburton, and married Jane Frances Woodley. He died 1876. There is a memorial window to him and his wife in the South Aisle of Ashburton Church. His wife was born at Halshanger, Devonshire, in 1819, and was the third daughter of James Woodley, of Halshanger.

Henry Caunter, Solicitor, Liskeard, son of Richard Caunter, was a native of Ashburton. He was educated at the old Grammar School there, and came to Liskeard in 1851, in his eighteenth year, and was articled to Mr Bernard Anstis...In 1858 he married Miss Catherine Mary Lawrence, daughter of Mr Thomas Hodge Lawrence....
Dr Richard Lawrence Caunter, the eldest son of Mr Henry Caunter, was born in 1860.

Henry Lyde Caunter, born 1865, the youngest son of Mr Henry Caunter, of Liskeard.

pp58,59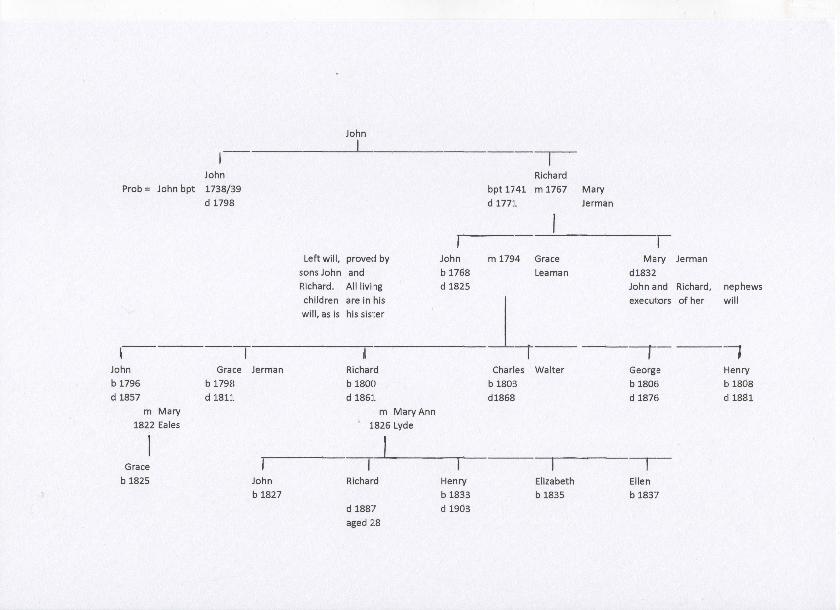 Above: Caunter family tree, compiled from the records on this page.

1766 John Tucker was an apprentice to John Caunter of Ashburton, woolcomber.
Ten years later, in 1776, Wm Bennett was an apprentice to John Caunter, sergemaker.
In 1783 John Bowe Bennett was apprenticde to John Caunter, clothier, as was William Drewe in 1790
These John Caunters may not have all been the same person.
Register of duties paid for Apprentices' Indentures 1710-1811
In 1770 John Caunter, clothier, insured premises with the Sun Fire Office. They included more than one house, offices, a drying linney and a linney called the Dock Inn.
The Devon Cloth Industry in the Eighteenth century, Sun Fire Office Inventories of merchants' and manufacturers' property 1726-1770, Edited by Stanley D Chapman, Devon and Cornwall Record Society, 1978, p2

Richard Caunter, the son of John, was baptized in Ashburton 28th December 1741.
Parish records

The handwritten page below provides details of Richard's marriage and family.
'Richard Caunter and Mary Jerman was baned the 10th May and ... married the 2nd July 1767' [a word is inserted - Thursday?]

Information confirmed by parish records

'John son of Richard Caunter was born Saturday the 9th Aprill and baptized the 12th of May following. 1768

ob 1825
m 1794 Grace Leaman ob 1824 - at Ashburton'

'Mary Jerman daughter of Richd Caunter was born on Saturday 24th February 1770'
'Richard Caunter their father died in June 1771 aged about 30'

The children of John (born 1768) and his wife Grace:
'John Caunter son of John Caunter was born 16th October 1796 of a Sunday about half after four o clock in the afternoon and baptized [blank]'

John was baptized 25th August 1797, the son of John and Grace. The date of birth is written in the register
Parish records

'Died 12th [?] April 1857 - 60'

The death of John Caunter aged 60 was registered in the Newton Abbot district in the June quarter of 1857

https://www.gro.gov.uk

'Grace Jerman Caunter daughter of John Caunter was born early in the morning of the first May about half after..... 1798'
She was baptized 15th July 1800, the daughter of John and Grace. Date of birth is written in the register
Richard son of John and Grace was baptized on the same day.

Parish records

'....?.....' [then crossed out]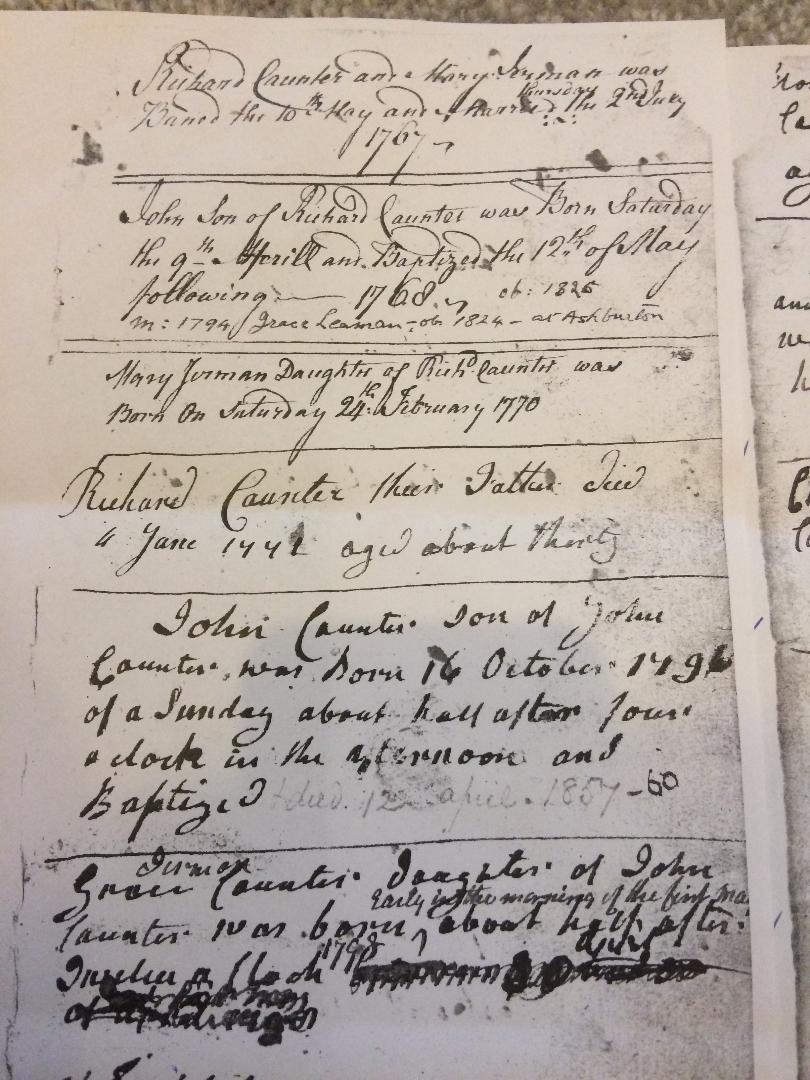 Above: Page from The Gospel Magazine Spiritual Notes, dated 1766 and inscribed R....d Caunter.
With many thanks to Christine Caunter

The second page begins:

'Monday 24 December 1798 Mr John Caunter died in the 60 year of his age aged 59'
John is possibly the John Caunter who was baptized in March 1738/39, the son of John.
This would make him the brother of Richard baptized in 1741.

Richard Caunter son of John Caunter and great nephew of the above Esq J Caunter [?] was born on Satterday y 7 June 1800 half after five in the afternoon'
Richard was baptized 15th July 1800, the son of John and Grace Caunter.
Parish records
If Richard was the great nephew of John who died in 1798, his grandfather was a brother of John

'Novr 1861 61' [presumably means that Richard died in November 1861 aged 61]
'Charles Walter Caunter son of John Caunter was born 25 April 1803
Died 21 June 1868 aged 65

Charles Walter was baptized 28 July 1803, the son of John and Grace. His date of birth is noted in the register.
Parish records

George Caunter son of John born 8 January 1806
on Wednesday [inserted]

about quarter before eleven a clock in the fore noon.
Died July 1876 - 70

2 February 1813 cousen Sally Adams died aged about 79 years'

Sally Adams was buried at Ashburton on February 8th, aged 72
Parish records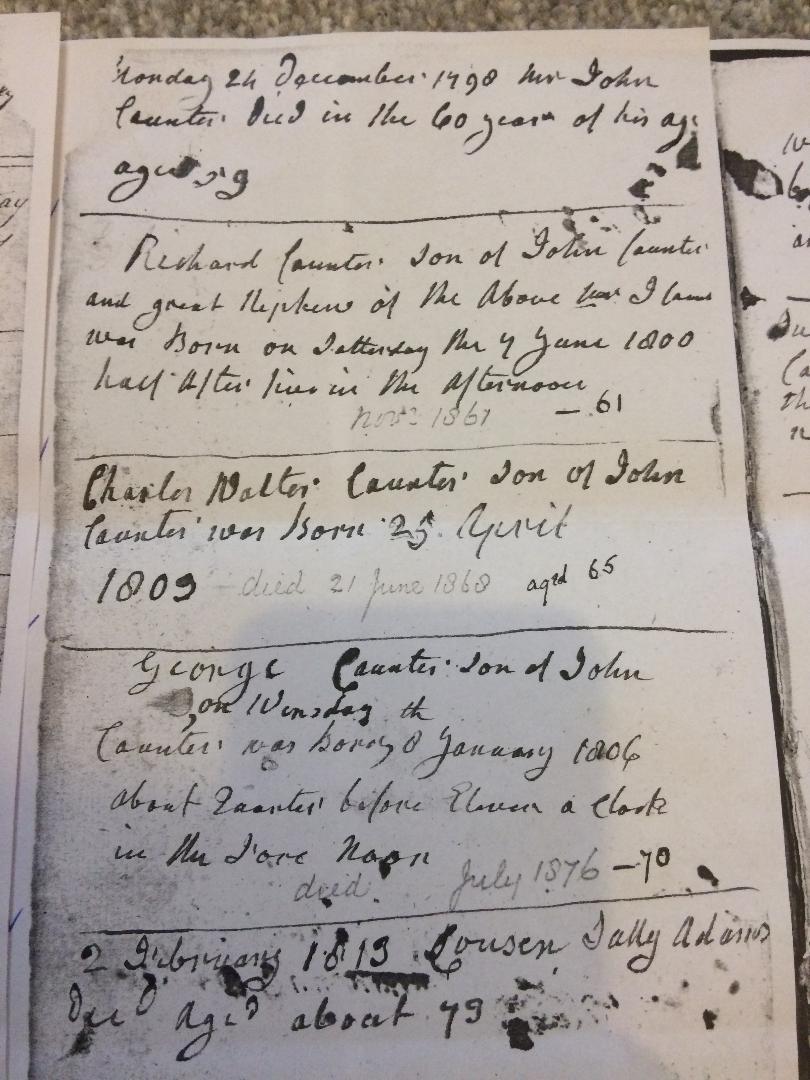 The third handwritten page begins: 'Henry son of John Caunter was born 15th November 1808 quarter before three in the afternoon and baptized the 14th March 1809.
Died September 1881 - aged 72'
Henry's birth date and baptism are confirmed by the parish records, which state that Henry is the son of Mr John Caunter and Grace.
'Tuesday 19th November 1811 Grace Jerman Caunter died about half after five in the afternoon aged thirteen years and near seven months.
Grace Caunter daughter of Mary and John Caunter junr was born the 25th April 1825 about half past twelve[?]'
Grace, the daughter of John and Mary Caunter, was baptized at Bickington on 20th June 1825. The couple's abode was Ashburton, and John was Esq.
This is the John Caunter who was born in 1796.

Bickington parish records

John Caunter son of Richard Caunter junr was born 15 August 1827 at half past one in the morning.'
.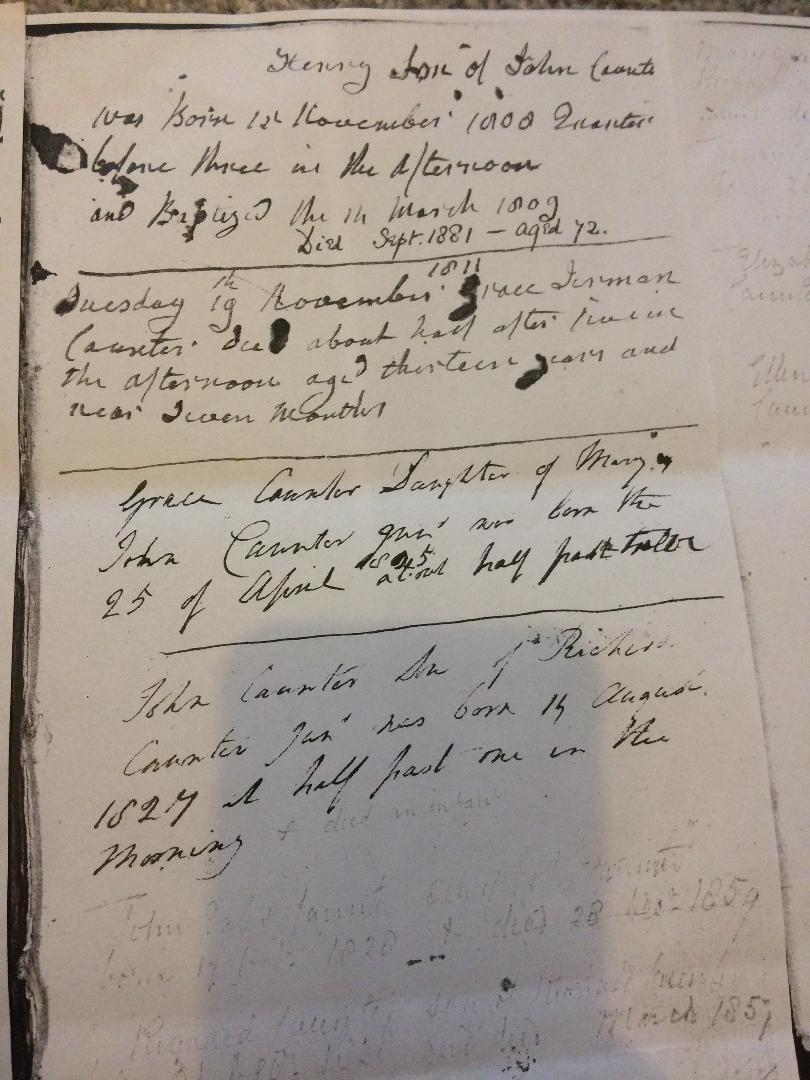 Above: Second page from The Gospel Magazine Spiritual Notes, dated 1766 and inscribed R....d Caunter.
With many thanks to Christine Caunter
Much of the final page is faint, but someone born or baptized in 1833 'ob 1903 Liskeard.'
This fits with the death of Henry Caunter on the 17th January 1903, aged 69.
In the 1901 census solicitor Henry Caunter was living at Middleton House, Liskeard, with his wife Catherine Mary and their children. Henry had been born in Ashburton.

Cornwall Memorial Inscriptions

1901 census RG13, piece no 2193, folio 71, p31

Henry Caunter, the son of Richard and Mary Ann Caunter, was baptized on May 8th, 1833. Richard's occupation was 'gent'.
Parish records

'Elizabeth Caunter daughter of Richd..............5th May 1835.'
This may have been the birth date of Elisabeth Caunter, daughter of Richard and Mary Ann, baptized August 19th 1835. Richard was a serge manufacturer.
Parish records

'Ellen Caunter, daughter of Richard Caunter, born 20 May 1837'
Ellen Caunter, the daughter of Richard and Mary Ann, was baptized September 27th, 1837.
Parish records

Richard Caunter had married Mary Ann Lyde (written Marian Lyde by the vicar) 12th April 1826 at Ashburton. The marriage was by licence.
Parish records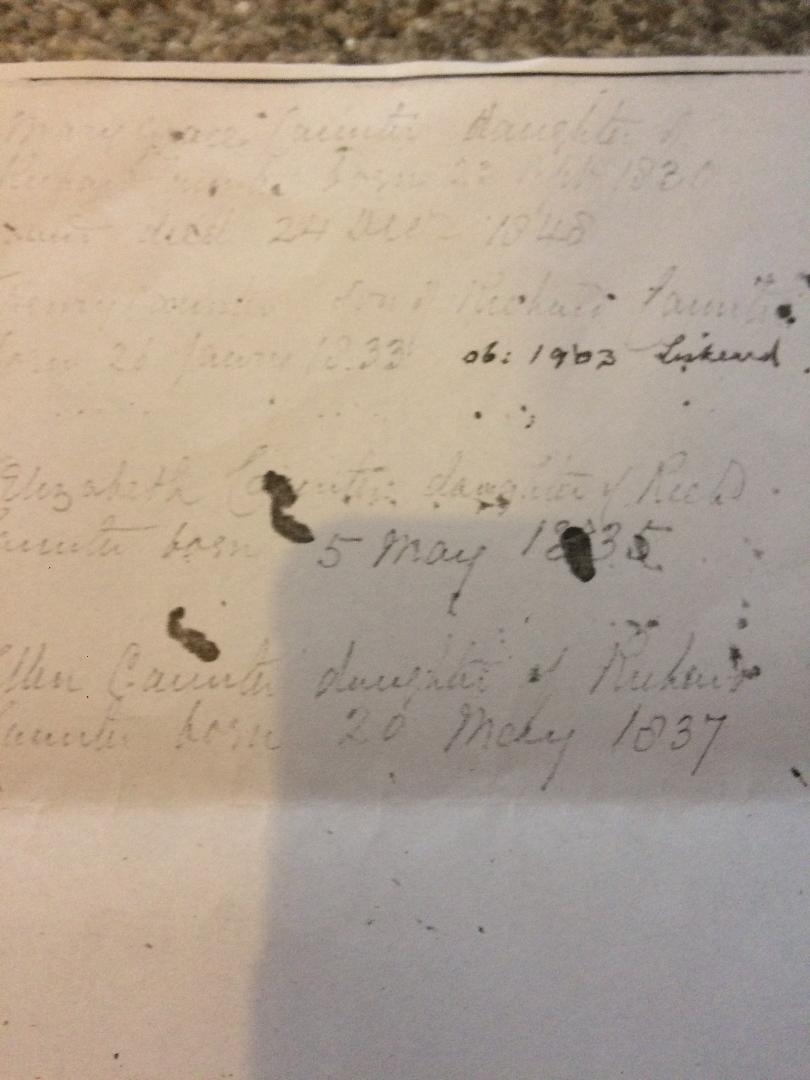 Above: Fourth page from The Gospel Magazine Spiritual Notes, dated 1766 and inscribed R....d Caunter.
With many thanks to Christine Caunter
1804 Jane, the wife of Richard Caunter, was buried in March
Parish register

*******
John Caunter, a merchant and sergemaker of Ashburton, died after a short illness in July 1825, and was buried on the 30th of that month. According to the transcript of Ashburton burials, 1813-1837, (Devon Family History Society 1997) he was aged 59 (therefore born circa 1766).
Exeter Flying Post 4 August 1825 p4 col1
This fits in with the John Caunter on the handwritten page above: 'John son of Richard Caunter was born Saturday the 9th Aprill and baptized the 12th of May following. 1768

ob 1825
m 1794 Grace Leaman ob 1824 - at Ashburton'
On the 21st November 1825 his eldest sons John and Richard Caunter proved the will of their father. He left bequests to his sister Mary and sister-in-law Jane Leaman, and to his children Charles Walter Caunter, John, Richard, George and Henry. He also leaves £20 to his daughter Mary. This is the only record of Mary that I have found, and the sum left to her is hugely disproportionate to the amount of money and property left to the five sons. It seems likely, therefore, that Mary is perhaps another relative - possibly his daughter-in-law Mary, the wife of his son John.
John Snr's wife Grace (nee Leaman) had died aged 56 the previous year, and a daughter Grace Jerman Caunter had died in 1811.
Charles Walter Caunter was left two thousand five hundred pounds with interest, plus an additional five hundred pounds to be paid out of his estates and lands at Waye, Ashburton. Other land and property mentioned in the will includes Stonepark or Lower Roborough, land near Balland and land near Pitley, Priggs Meadow, property in East Street and West Street and property near Travellers' Rest. He mentions premises which were his late grandmother's near Heavyhead Lane and Lawrence Lane, houses and premises in Kingsbridge Lane, West (?) Mill, Leat Park, Gulwell Bridge Meadow, 'and all those mills also in Ashburton called Gages Mill,' plus all his mills and lands in Bickington.
PCC will, National Archives, catalogue ref Prob 11/1705
https://familysearch.org/
Bath Chronicle and Weekly Gazette 16 December1824 p4 col4
Transcript Ashburton burials, 1813-1837, Devon Family History Society 1997
See the Virtual museum, 1820s section, for a portrait believed to be that of John Caunter Snr.

*******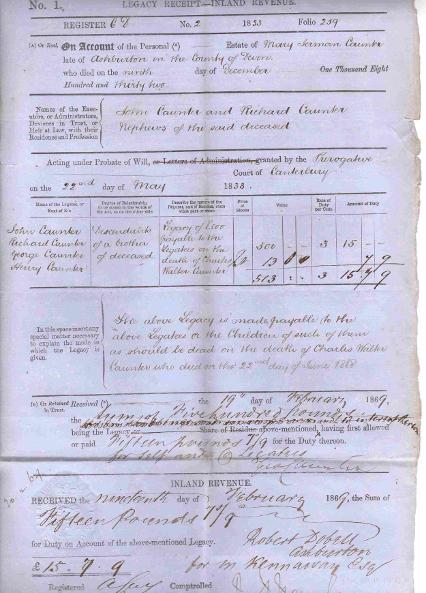 Left: A legacy receipt from the Inland Revenue.
Mary Jerman Caunter, the sister of John Caunter Snr., had died on 9th December 1832. John and Richard Caunter were the executors, 'nephews of the deceased', and John, Richard, George and Henry are referred to as descendants of a brother of the deceased. A legacy of £500 had become payable to the legatees on the death of Charles Walter Caunter (their brother): he died on the 22nd June 1868.
The amount of duty payable was £15 7s 9d
From my own collection
John Caunter Jnr. (born 1796)

In 1822 John Caunter Jnr married Mary, daughter of the late General Eales of Liskeard. John is described as a merchant.
Bath Chronicle and Weekly Gazette 27 June 1822 p4 col4
John Caunter the younger, a merchant of Ashburton, married Mary Eales at St Paul's, Exeter, on 20th June 1822. The marriage was by licence.
St Paul's Exeter parish records
He still holds Waye in 1837 when John Knott is listed as a gamekeeper for John Caunter at Waye and other lands.
Western Times 14 October 1837 p1 col5
In 1838 John Caunter attended a dinner in celebration of the 'not guilty' verdict on his brother Henry and others accused in the Ashburton election riot. In a speech of thanks, he emphasised the seriousness with which he regarded his position as magistrate, and referred to the slanderous statement of 'old Mr Barons of the Golden Lion' who had claimed that he was a 'better electioneerer than magistrate'.
Western Times 11 August 1838 p3 col5

He was president of the Ashburton Madrigal Society in 1841, and was one of the umpires (when he is described as being of Way House) at a contest between the Totnes and Modbury brass bands in 1843.
Exeter and Plymouth Gazette 11 December 1841 p3 col3
Western Times 6 May 1843 p3 col6

John Caunter had less pleasant duties. In 1843 a boy picking ferns found the body of a woman, who was later identified as Rebecca Tooley, from Totnes: she had been viciously murdered. In the absence of the coroner John, as magistrate, opened the enquiry at the London Inn.
North Devon Journal 17 August 1843 p3 col4

In September 1846 Mr Mann was conducting an auction of important furniture and effects at Waye House, the property of Mr John Caunter. The items for sale included 'superior goosefeather beds', dinner services, a horse, phaeton, and 12 hogsheads of cider.
Western Times 17 September 1846 p1 col1
By 1851 John, his wife Mary and daughter Grace are living in Leat Park, which on the census is between Gulwell Cottage and Peartree House.
https://ancestry.co.uk/
He died, aged 60 in April 1857. Described by the Western Times as a 'warm supporter of the Liberal cause', he had been a magistrate for the borough for 30 years.
Western Times 18 April 1857 p6 col5

The Mrs Caunter* of Leat Park House who marries Capt Thomas E Rogers in June 1859 is John's widow. In the 1861 census Grace is shown as the step-daughter of Thomas, living at Waye.
Western Times 11 June 1859 p5 col4
* Mary Caunter marries Thomas Eales Rogers in the June quarter 1859 Newton Abbot district.
http://www.freebmd.org.uk/cgi/search.pl
http://www.freecen.org.uk/
1870 Richard Leach Berry of Chagford married Grace Caunter of Ashburton on June 8th at Ashburton church. Richard's father was named as John Berry, merchant, and Grace's father was John Caunter, 'Esquire'.
Parish records
*******
Richard Caunter (born 1800)

The family were staunchly pro-Reform. In 1831 Richard 'in a very able speech' proposed that a petition in favour of the Reform Bill should be sent to the Lords. The meeting, held in St Lawrence Chapel, endorsed the proposal.
Western Times 1 October 1831 p2 col5

1833 saw a dispute over the election of the new bailiff, James Woodley. Richard Caunter, currently holding the position, objected to the list of freeholders from whom the court leet jury was selected. It was this jury who chose both the bailiff and the portreeve. The case reached Exeter Court the following year - for details see the Local Administration section of Gathering Together.

John and Richard Caunter were amongst those calling for a meeting to discuss the building of a rail road from Torquay to Ashburton, via Newton Abbot, in 1833.
Exeter and Plymouth Gazette 3 August 1833 p2 col3
Richard, together with H Caunter and G Caunter (almost certainly Henry and George), was still attending meetings over the proposed railway twelve years later. In October he was chairman of the management committee of the Ashburton, Newton and South Devon Junction Railway: John was also on the committee, and G Caunter was one of the solicitors involved.
Exeter and Plymouth Gazette 14 June 1845 p2 col1
Exeter and Plymouth Gazette 11 October 1845 p2 col1

1841 saw the trial of William Barnes, charged with stealing wool from the workshop of Richard Caunter. Elizabeth Battershall and Elizabeth Waygood were charged as accessories to the crime, and William Major was accused of receiving stolen goods.
It was stated that Richard Caunter always had a considerable quantity of wool in his premises, an amount so large that it was difficult to establish that any was missing. The premises are obviously in the Kingsbridge Lane area, and near Hext's passage - a lot of evidence concerns whether or not William Barnes was seen in Hext's passage, so called because it led up to the house of Hext. Much was made of the fact that it was not a thoroughfare.
The second floor was used for sorting the wool, the combing shop is described as being in an under room. William Burge, woolstapler, worked in the inner sorting room. James Badcock, a woolcomber; Joseph Mugford, a wool sorter.
The trial continued.
Western Times 27 February 1841 p3 col5
Richard also owned Belford Mill, which suffered a catastrophic fire in 1848. Some buildings, including the 'dying room', were saved. It is perhaps a measure of the importance of the woollen industry that the fire was reported in the Stamford Mercury, the Sherborne Mercury and the Blackburn Standard.
Western Times 9 September 1848 p6 col2
For details, see the Fire and Flood section of Ashburton in Peril.
Mr Richard Caunter's factories were specifically excluded from the Western Times' complaint of manufacturers still using the 'truck system' of paying wages.
The truck system involved employees getting paid in goods or tokens - if the latter, these had to be spent at designated shops, which either had some arrangement with the employer, or were actually owned by the manufacturers.
Western Times 26 January 1850 p8 col5
The British truck system in the nineteenth century, George W Hilton, Journal of Political Economy, vol65 no.3, June 1957 p237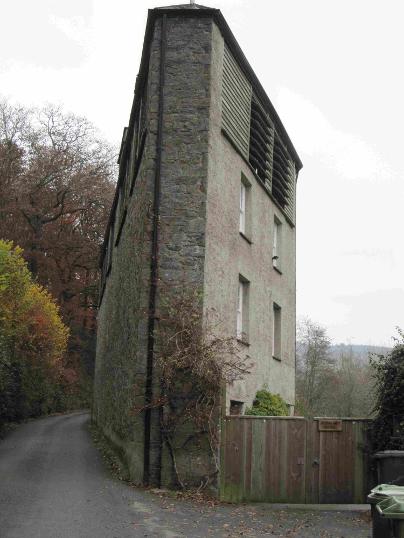 Above: Belford Mill
My own photograph 2013
Later that same year Richard was appointed Portreeve
Western Times 4 November 1848 p5 col2
*******
Richard Caunter was absent from the election of the Ashburton MP in 1857, a very unusual occurrence. His son was dangerously ill.
The same edition of the paper reported his son's death. Also called Richard, he died aged 28, and within a fortnight Richard's brother John, aged 60, was also dead.
Western Times 4 April 1857 p11 col1
Western Times 4 April 1857 p7 col1
Western Times 18 April 1857 p6 col5
The 1861 census shows Richard, a widower living in West Street with his daughter Ellen and his brother Charles. Aged 60, he is described as a woollen manufacturer.
http://www.freecen.org.uk/

Richard died on the 17th November 1861, a year after his wife, Mary. The Western Times described him as a man 'worthy of esteem' in all aspects of life: personal, political, business, and in his relationships with his workforce.
Exeter Flying Post 17 October 1860 p5 col1
Exeter Flying Post 20 November 1861 p5 col2
Western Times 23 November 1861 p7 col2
*******

George Caunter (born 1806)

Right: Photograph of George Caunter? The initial is hard to decipher.
With many thanks to Ros Caunter
On 12th February 1824 John Caunter the younger swore an oath to say that Articles of Agreement had been made between John Caunter the elder and George Caunter on the one part and Matthew Anstis of the second part. Matthew Anstis, Gentleman, was from Liskeard in Cornwall, and was an attorney of His Majesty's Court of King's Bench at Westminster, and a solicitor in the High Court of Chancery - the agreement bound George Caunter to him as clerk for five years. Richard Caunter was a witness.
UK Articles of Clerkship 1756-1874 http://.ancestry.co.uk

In his father's will of the same year, provision was made for discharging the remainder of the debt to Mr Anstis for his articles.
PCC will, National Archives, catalogue ref Prob 11/1705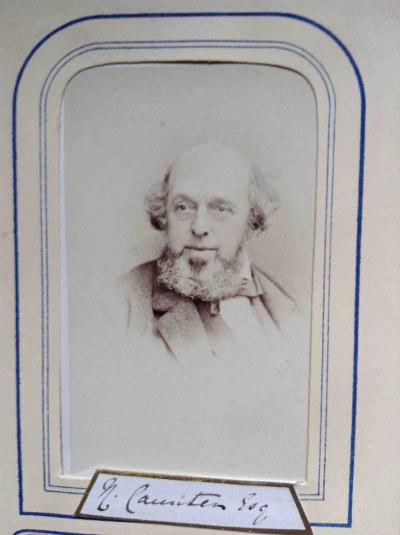 In a strongly worded letter to the Western Times in 1837, George refuted the claim that a tenant of his, Mr (William) Yeo, had voted five times according to Mr Caunter's wishes. In the course of the letter several allegations were made as to the behaviour of Mr Yeo as a tenant.
Writing back to the Exeter and Plymouth Gazette a week later, Mr Yeo took exception to George Caunter's comments, and complained that, amongst other things, as landlord Mr Caunter had failed to pay money for repairs. George had, he said, told him to take out an action if he wished to recover the money. 'I should have stood a better chance if a man had met me on Ashburton Down and clapped a pistol to my head'.
Mr Yeo signed himself 'brutally injured' and 'basely slandered'.
Western Times 19 August 1837 p2 col2
Exeter and Plymouth Gazette 26 August 1837 p2 col2
George Caunter retaliated by taking out an action for libel against the newspaper proprietor, Mr Woolmer. The Western Times reported that it was unlikely that Mr Yeo had written the letter in the Exeter and Plymouth Gazette, as he could hardly write his name.
The following March £40 damages were awarded to Mr Caunter. The Exeter and Plymouth Gazette wrote nearly two columns commenting on the judgement, and was still asking questions about Mr Caunter in July.
Western Times 2 September 1837 p3 col3
Exeter and Plymouth Gazette 31 March 1838 p6 cols1,2

February 1 1844 George Caunter married Jane Frances Woodley, the youngest daughter of the late James Woodley, Halshanger.
Exeter Flying Post 8 February 1844 p2 col6
A daughter, Frances, was born 14th January 1845.
She married Henry Mallaby Firth in the September quarter of 1877
Inland Revenue Receipt, in my possession.
http://www.freebmd.org.uk/

In July 1859 a committee looked into the recent election at Ashburton, as there had been allegations of 'bribery, treating and undue influence'. John Harvey Astell and George Moffatt had been the two candidates: Mr Astell had been elected.
George Caunter is described as one of the agents of Mr Astell.
London Standard 27 July 1859 p2 col5
One witness noted that Mr Caunter had been hit in the eye, but said that he didn't know whether one of Mr Moffatt's 'roughs' had caused it. He speculated that it might have been caused by one of his own side '(laughter)'.
The committee finally decided that the election of John Astell should stand. The banquet three weeks later that followed this decision was described by the Western Times as a 'corruptionist feed'. Much of the dispute over the election centred on one voter's debt of £134 - a warrant was out for his arrest, and it was alleged that an agent of Mr Astell's paid it. The paper noted that in his speech Mr Caunter seemed to forget the £134.
Exeter and Plymouth Gazette 30 July 1859 p9 col3
Western Times 6 August 1859 p6 col4
Western Times 27 August 1859 p5 col2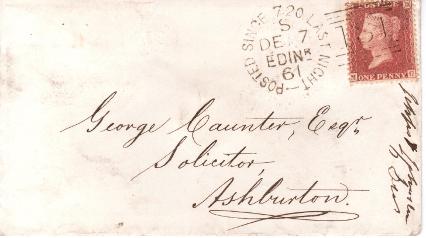 Left: A letter, 'posted since 7.20 last night' to George Caunter Esq., Solicitor, Ashburton, in 1861. No other address was needed.
From my own collection.

George died in July 1876, aged 70
Exeter and Plymouth Gazette 28 July 1876 p5 col4
*******
Henry Caunter (born 1808)

Right: Photograph of Henry Caunter? The initial is hard to decipher.
With many thanks to Ros Caunter
In September 1881 the death was announced at Millburn Cottage, Stornoway, Ross-Shire, of Henry Caunter, aged 72, formerly of Ashburton.
Western Times 19 September 1881 p2 col4
Henry was a long way from his home town, where he was born in November 1808, the youngest of the six children of John and Grace Caunter. He had four brothers: George, John, Charles Walter and Richard; and a sister Grace Jerman Caunter.
https://familysearch.org/
An obituary in the Northern Chronicle, quoted in the Western Times, said that the 'very much beloved' Henry Caunter was an accomplished musician and talented amateur artist. But there was more to Henry Caunter, whose interests had ranged from woollen manufacture through to mining and the chemical industry. He had been an inventor, and an ardent supporter of the Liberal party.
Western Times 21 October 1881 p8 col4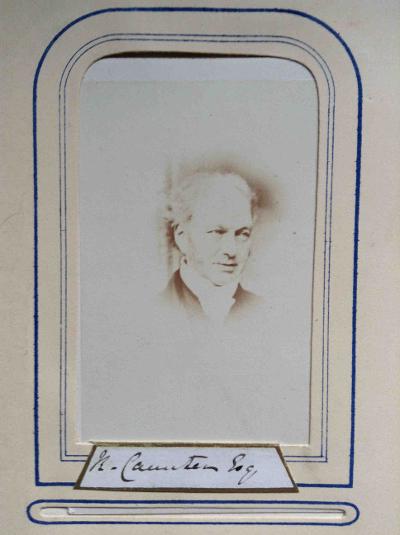 Henry Caunter of Ashburton married Sarah Fulford, daughter of John Fulford, in Crediton in October 1835: they had a daughter, Sarah Fulford Caunter, baptised in June 1837, and probably a son Henry Fulford Caunter, who died aged 5 in the March quarter of 1838. On 12th November 1840 'the lady' of Henry Caunter of Ashburton gives birth to a daughter - Henry is described as a woollen manufacturer. By 1841 they are living in West Street and have with them 7 month old Alice - the only child with them on the 1841 census.* The marriage was to be a short one: Sarah died in 1842, aged 27, at Windsor Terrace, Plymouth, her death being registered in the Plymouth District in the March quarter of that year.
https://familysearch.org/
Exeter Flying Post 22 October 1835 p2 col2
http://www.freebmd.org.uk/
https://www.gro.gov.uk
Exeter and Plymouth Gazette 21 November 1840 p2 col7
http://ancestry.co.uk/
Exeter and Plymouth Gazette 19 February 1842 p3 col1*Alice is described as Henry's younger daughter when she marries in 1869. Exeter Flying Post 27 January 1869 p5 col6

Assuming that we are talking about the same Henry, and there aren't really any other candidates, Sarah had lived to see her husband involved in perhaps the most notorious event in Ashburton's election history - the riot of 1838.
In 1838 The Western Times reported on the case of The Queen v Henry Caunter and others, where the defendants were charged with riot and assault during an election campaign. It was alleged that they assaulted Robert Bowden and Richard Ford, using violence way beyond that which 'all men were ready to allow during election proceedings'. For more on the case, see the Election fever sub-menu of Gathering Together - basically people were kicked and beaten, and property was damaged.
The defendants were found not guilty.
Western Times 4 August 1838 p5 all columns, p6 col 1-3
In 1839 H. Caunter, sole manufacturer, was advertising a woollen cloth that combined 'Elegance of style' with 'Economy of cost.' It was, he said, suitable for ladies' cloaks, gentlemen's dressing gowns, waistcoats etc.
He was also selling a 'tilting cloth', apparently used for covering waggons and hayricks, made of hair. This was, he said, cheaper and more durable than woollen tilting cloth.
Western Times 21 December 1839 p2 col5
It was not all work or politics - in 1840 the Ashburton Glee club met at the London Inn, with John and Henry Caunter supervising the proceedings. Whether the 'spirit' that the Western Times speaks of refers to the mood or what was consumed in the inn is unclear.
Western Times 5 December 1840 p3 col5
Liberals met their MP William Jardine at a banquet in 1841. A pavilion had been built in the garden of Messrs Caunter, which was covered in serges and decorated with flags. R. Caunter was in the chair, and the glee singers were led by Henry Caunter.
Western Times 24 July 1841 p3 col2
Two years later R Caunter, H Caunter and J Caunter were all at a similar dinner given for the newly elected James Matheson. John Caunter of Waye House sat on Mr Matheson's left, and Henry led the singing, 'the picture of happiness'. The brothers' aquaintanceship with James Matheson was to have a profound effect on Henry's future.
Western Times 20 May 1843 p2 col1

By 1850, Henry is Portreeve, and in White's Directory describes himself as an 'Artist etc.' in West Street. Together with Robert Palk he is also managing various tin and copper mines on Dartmoor, and two years later they are both secretaries of the Ashburton and South Devon Geological Society and Museum in West Street.
Western Times 7 December 1850 p1 col4
White's History, Gazetteer and Directory of Devonshire 1850, pp 462, 466
Slater's Directory of Berks, Cornwall, Devonshire etc. 1852-53, p7.
In the same year Abraham Cann, Devon Wrestling Champion, arrived in Ashburton to adjudicate in a disputed wrestling match. Henry Caunter, described later as a talented Ashburton artist, painted a portrait of Mr Cann, which was then raffled. The painting was won by Robert Mugford of the Town Arms.
Western Times 9 February 1850 p5 col4
Western Times 2 October 1879 p3 col2
For more on this story, see the Historical visitors' book, under the Gathering Together section.
The portrait is now in the Royal Albert Memorial Museum and Art Gallery, Exeter. For a biography of Abraham Cann by the curator, and to see an image of the painting, go to http://www.livinghere.org.uk and search under 'Cann'.
Other paintings by Henry Caunter survive at Bradley Manor, Devon: a portrait of his sister-in-law, Jane Frances Caunter (nee Woodley), and a portrait of Richard Bunclark, woodman to the Druid Estate.
To see images of the paintings, go to
http://www.nationaltrustcollections.org.uk/ and search for 'Caunter'
In February 1851 Henry Caunter, in his capacity as Portreeve, presided over a meeting of The Friends of Peace. An address by W Stokes of the London Peace Society focussed on the idea of disputes between nations being settled by arbitration rather than by warfare.
Western Times 22 February 1851 p7 col4
At some stage after the 1851 census Henry moved north - he is a visitor in Edinburgh at the time of the 1861 census, with Alexander and Eliza MacColl. Alice Caunter and Sarah Counter [sic] are also in the household, and both are described as nieces. Henry describes himself as a landed proprietor.
1861 census Edinburgh South Leith ED 95, P20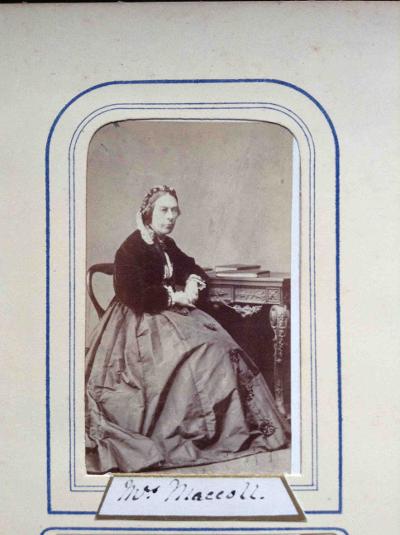 Above: Mrs MacColl, presumably Eliza MacColl, née Fulford.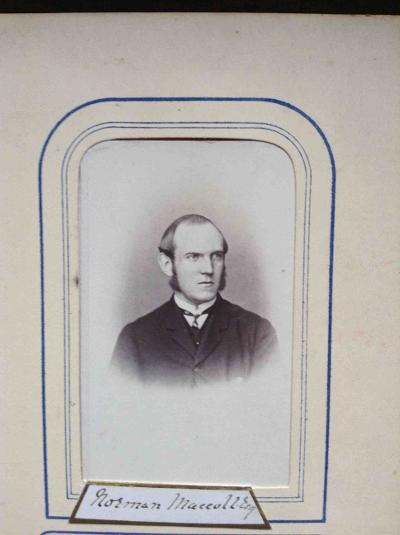 Above: Norman MacColl, son of Alexander and Eliza MacColl
Many thanks to Ros Caunter for the above photographs
He became involved in Sir James Matheson's plan to expand the production of oils from peat moss at the Lews Chemical Works.
In 1844 Sir James had bought the Island of Lewis, and according to his monument devoted 'the remainder of a long and useful life to ameliorating the condition of the inhabitants of that island'.
See http://www.hebrideanconnections.com for the description of Sir James' life on his monument in the Castle grounds of Stornoway.
Henry Caunter, of Stornoway, took out a patent in 1864 - For improvements in preserving ships' bottoms. In 1865 Lews anti-fouling grease, Caunter's patent, is on sale at £28 a ton. He had already taken out at least one other patent on the grease, as a lubricant for axles on vehicles.
Birmingham Journal 30 November 1867 p12 col6
Western Times 27 January 1865 p3 col3
Glasgow Herald 19 December 1865 p7 col5
The Western Times article above describes Mr Caunter as the manager of Sir James Matheson's works - which is the occupation he puts down on the 1871 census.
http://ancestry.co.uk/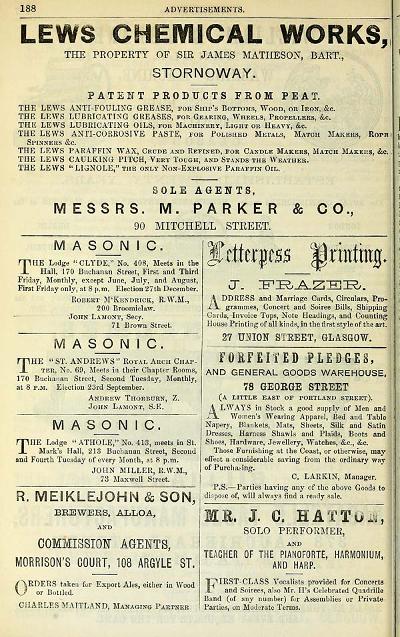 Above: Post Office Annual Directory Glasgow, 1868-69, p188
Image displayed under the Creative Commons License
The Post Office Directory for 1868 has the Lews Chemical Company, Stornoway, listed under Patent Grease ManufacturersPost Office Annual Directory Glasgow, 1868-69, p624

Competition from southern companies was ultimately blamed for the defeat of the scheme.
Western Times 21 October 1881 p8 col4.
But the corner opposite the house where Henry Caunter lived is still known as Caunter's Corner.
The Lewis Chemical Works, Dr Ali Whiteford, leaflet published in Stornoway, Isle of Lewis.
See also Dr Whiteford's book on the Lewis Chemical Works: An Enormous Reckless Blunder, Islands Book Trust, Isle of Lewis 2017

Other members of the Caunter family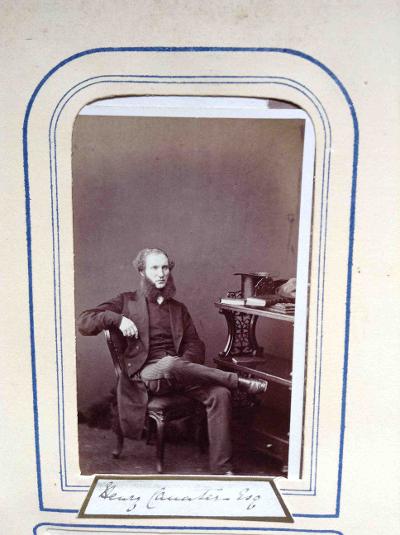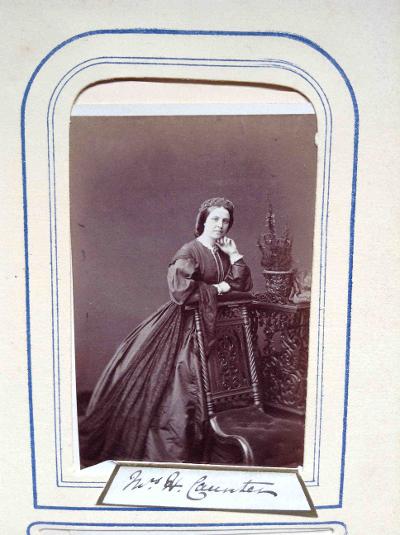 The 1881 census for Liskeard, Cornwall shows a 21 year old Ethel Caunter living with her parents Henry and Catherine M. Caunter. Henry is a 48 year old solicitor, born in Ashburton.
To date, Ethel seems to be the best candidate for the photograph on the right, and it seems likely that Henry and Mrs H Caunter in the photographs above are her parents.
http://freepages.genealogy.rootsweb.ancestry.com/~kayhin/82286.html - Accessed 01-12-2015
Henry is on the 1841 census as the 8 year old son of Richard, a merchant, and his wife Mary Ann. They are living in West Street. Other members of the family on the census - 12 year old Richard and 4 year old Ellen - confirm that Richard Snr. equals the Richard above, owner of Belford Mill.
1841 census HO107, Piece 253, Book 3, Enumeration District 10, Folio 23, P40
Many thanks to Ros Caunter for all of the photographs