Members of the Soper family appear in the Churchwardens' accounts in the 15th Century. For example, John Soper paid 10d for a seat in the church in 1496-97

In 1516-17 John Soper received 2s 8d for keeping the players' finery, and an extra 10d for painting 5 wigs.
Churchwardens' Accounts of Ashburton 1479 – 1580, Alison Hanham, Devon & Cornwall Record Society printed Devonshire Press 1970, p23, 56

*******

Willyam Soper was one of many who paid 'for the releyffe of the poore wth in the pish of Aishberton' in 1644. His contribution was 6d.
Devon Parish Taxpayers 1500 - 1650, Todd Gray, vol 1, Exeter 2015, p93


1675 William Soper of Aishburton, butcher, is one of those named on a lease of properties near Fursleigh.
http://discovery.nationalarchives.gov.uk, ref 48/14/57/7a-c, held by Devon Archives and Local Studies Service

1728 A document concerning land in Ashburton, Ugborough and South Brent mentions William Soper, butcher, late of Ashburton, as an occupier of some of the land.
http://discovery.nationalarchives.gov.uk, ref 3250A/T/B/T/15, held by Devon Archives and Local Studies Service


*******

John Soper married Agnes Trenick at St Andrew, Plymouth, in November 1743
The John Trenick Soper, son of John, who was bapt 28 Nov 1746 at Ashburton was probably their child.
Parish records

John Soper married Agness Searle on the 8th September 1747 at Buckfastleigh.
Parish records
This is probably the couple who baptise the following child in Buckfastleigh:
Walter bapt 11 Nov 1748 (mother Agnes)

The following children baptised in Ashburton might be the offspring of either couple:
Elizabeth bapt 4 Oct 1752 (mother Agnes)
Richard bapt 1 March 1754
Eleanor bapt 15th July 1755 (mother Agnes)
Thomas bapt 31 July 1757
Philip bapt 26 Dec 1760 (mother Agnes)
William bapt 8 Dec 1763 (mother Agnes)
Parish records

In 1761 John Soper, sergemaker, was the tenant of 'one messuage lying on the North side of the street in Ashburton between the two rivers.'
http://discovery.nationalarchives.gov.uk, ref 3768Z/Z/1, xerox copy held by Devon Archives and Local Studies Service


Jan 27 1790 Thomas Soper, sergemaker of Ashburton, Devon, insured with The Royal and Sun Alliance Insurance Group.
Ref CLC/B/192/F/001/MS11936/366/565653 London Metropolitan Archives http://search.lma.gov.uk - Accessed 20-02-2017

Jan 28 1790 Walter Soper, sergemaker of Ashburton, Devon, insured with the Sun Fire Office.
Ref CLC/B/192/F/001/MS11936/366/565657 London Metropolitan Archives http://discovery.nationalarchives.gov.uk -Accessed 20-02-2017

Jan 28 1790 John Soper, sergemaker of Ashburton, Devon, insured with The Royal and Sun Alliance Insurance Group.
Ref CLC/B/192/F/001/MS11936/366/565658 London Metropolitan Archives http://search.lma.gov.uk - Accessed 20-02-2017


April 12 1792 Richard Soper, sergemaker of Ashburton, Devon, insured with the Sun Fire Office
Ref MS 11936/385/598973
London Metropolitan Archives http://discovery.nationalarchives.gov.uk - Accessed 22-02-2017


All of the above appear to be connected with Messrs Green and Walford's warehouse, Little Winchester Street, late Spencers malt lofts, near Hayes Wharf, Tooley Street.

John Soper, sergemaker, was buried on January 11th 1792
Mrs Soper, widow of John Soper, sergemaker, was buried on February 15th 1795
Parish records
A memorial in Ashburton church reads: 'In memory of John Soper, late of this town, Agnes his wife and Eleanor their daughter The first died on the 5th Jan 1792 the second on the 7th Feb 1795 and the last on 7th Jan 1800 This unadorned tribute of the sincere affection of a son and brother was placed here by the direction of William Soper Dempster of Skibo Castle in North Britain.'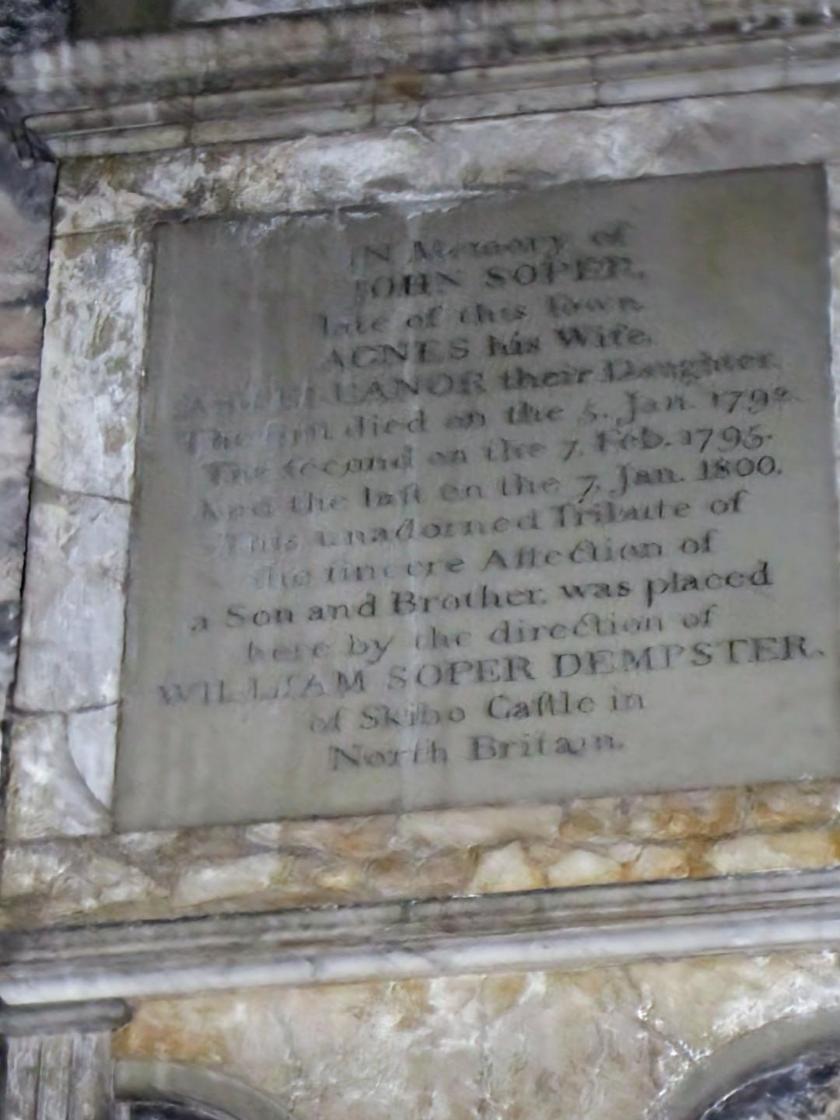 Above
: The memorial to John and Agnes Soper
My own photograph 2023
*******
William, the son of John and Agnes Soper, was baptized on December 8th, 1763
Parish records
On February 16th, 1781 William Soper, of Ashburton, petitioned 'The Honorable the Court of Directors for Affairs of the United Company of Merchants of England trading to the East Indies.' He said that he had been 'properly educated' and was 'very desirous of being appointed a writer'.
Records of the British India Office, available through http://search.findmypast.co.uk - Accessed 21-02-2017
From an unknown publication, bound in with a copy of Worthy's Ashburton and Its Neighbourhood, owned by Fabyan Amery:
'John Hamilton Dempster, the penultimate lord of his name at Skibo, had an only daughter, Harriet, born January 6th, 1786, who by the early death of her brother, George, succeeded to Skibo in the first year of the present century. The young heiress of Skibo at once set out on her travels, and ultimately reached the then very remote, little town of Ashburton, in Devonshire, on the high road between Exeter and Plymouth. She was soon attracted by a very personable young native, one William Soper, who constantly passed the windows of her temporary abode at Ashburton; he was the son of a serge maker of the town, and held an appointment in connection with the supply of serges to the East India Company.
Eventually she called him into her lodgings, told him her name and position, and frankly made him an offer of her hand and castle in far off Scotland, both of which the fortunate Devonshire youth was by no means reluctant to accept, with the hearty approbation of his family and connections.
The young lady was married to him at the tender age of fifteen, and took him back in triumph to Skibo Castle. She had five children, four of them daughters, but died in her twenty-fifth year, October 16th, 1810. Her husband, who had assumed her name, had her remains interred at Ashburton, and the Lady of Skibo rests in an almost forgotten grave within the walls of the distant Devonshire church.'

1803 'The King has been gratiously pleased to grant unto William Soper of Ashburton, in the County of Devon, and of Pulrossie, in the Shire of Sutherland, Esq., late Commissioner of the Honorable Company's Customs at the Port of Surat, in the East Indies, and to Harriet his wife, his Royal Licence and Authority that they, and the issue of their marriage, may assume, use and bear the surname of Dempster, in addtion to their present surname of Soper, pursuant to a clause in a deed of entail of John Hamilton Dempster, of Pulrossie aforesaid, late Captain of the ship Earl Talbot, in the service of the Honorable East India Company, deceased, bearing date 15th October 1799; and also that the said William Soper, and Harriet his wife, may bear the arms of Dempster quarterly with those of Soper; such arms being first duly exemplified according to the Laws of Arms, and recorded in the Heralds' Office.'
The London Gazette, issue 15605, p924 https://www.thegazette.co.uk/London/issue/15605/page/924 - Accessed 21-02-2017

'In the north transcept is a vault (on the eastern side), containing the remains of "Harriet Soper Dempster, of Skibo Castle, Sutherlandshire, North Britain, ob 16 October 1810, aged 25".'
Ashburton and Its Neighbourhood, Charles Worthy, Ashburton 1875, p27

*******


On the 10th January 1799 William Honeywill, aged 10, was apprenticed to Richard Soper of Ashburton.
Devon Heritage Centre ref 4289A/PO/3/b/250 https://devon-cat.swheritage.org.uk/records/4289A/PO/3/b/250 - Accessed 13-10-2018
*******

Miss Eleanor Soper was buried February 13th 1800
Eleanor Soper, spinster, left a will proved in the PPC in May 1800.
Parish records
http://www.nationalarchives.gov.uk PROB 11/1342/188

Walter Soper of Ashburton, merchant, and Elizabeth Roskilly of Awliscombe married by licence on the 18th February 1802, at Awliscombe.

Awliscombe parish records.

In March 1827 Walter Soper, late of Ashburton, died at Tiverton. He was 78.
North Devon Journal 13 April 1827 p3 col4
George Gervis married Elizabeth Soper in September 1825.
Parish records

*******
John Soper married Susanna[h] Searle by licence on 7 February 1828, in Ashburton. John signed his name John Soper MD.
Parish records

In March 1830 Dr. John Soper wrote to The Lancet about the birth of a child in Ashburton the previous year. The organs of the abdomen were distorted and in places external, and he described a tumour that might have been the bladder. The parents had baptised the child Matthew, but Dr. Soper had stated that he thought the baby was a girl. The Lancet headed the item a 'singular case of monstrosity.'
The Lancet, vol2, p56
See Doctors and Surgeons, under Banks and Businesses, for more on this.

John Soper's own daughter was baptized in June of 1830. His wife is named as Susanah.
Ashburton baptisms 1830-1840 Devon FHS 2006

43 year old John Soper, MD Surgeon, is living with his wife Susanna and 11 year old Sarah Eliz in West Street at the time of the 1841 census. John was born in the East Indies.
1841 census HO107, piece no. 253, folio 17, p29

'In the aisle, westward of [the north] transcept, are mural inscriptions for J Soper MD, 1849...'
Ashburton and Its Neighbourhood, Charles Worthy, Ashburton 1875, p28

*******


1836 'Names and Descriptions of the Proprietors of all Government Funds and Securities transferable at the Bank of England whose Stock and Dividends have been transferred to the Commissioners of the National Debt in pursuance of the act 56th Geo III Cap.60 as unclaimed for ten years and upwards, since the last date of publication in 1823...London 1836'
Walter Soper, Ashburton, Devon, gent was one of those listed. The date when the first dividend had become due was October 1824. He had also been listed in 1823, when the date of the first dividend was April 1813.

*******


62 year old Richard Soper is living in Cad Lane in 1851, with his wife Ann, also 62. Richard is a carpenter, born in Ashburton.
The next household but one is that of Frederick Soper, 26, his 28 year old wife Marguarite and three children. Frederick is a carpenter and joiner.
1851 census HO107 1871, folio 306, p40
1851 census HO107 1871, folio 305, p39

By 1861 Frederick and Margaret, together with their two sons and four daughters, appear to be the only Soper family living in Ashburton. They are in East Street at the time of the census.
http://www.freecen.org.uk

The Rational Sick and Burial Association held a poll for the appointment of an auditor in 1871, and the numbers were read out at a meeting at the Market House Inn, Holsworthy. Mr Frederick Soper of Ashburton polled some votes, but a Mr Burrington was elected.
Western Times 11 March 1871 p4 col2


In 1895 the Newton Board of Guardians accepted the tender of contracts for the supply of coffins from, amongst others, Messrs Soper of Ashburton.
East and South Devon Advertiser, 29 June 1895, p5 col4

1900 £60 worth of damage was done to Miss L and C C Soper's millinery business after a fire. The cause of the fire was not known.
Western Times 27 October 1900 p2 col5

Clarinda C Soper, a milliner, is living in East Street in 1901. Her widowed mother Margaret is with her on census night. In 1891 Lavinia, a milliner, was also in East Street with her sister Clarinda and mother Margaret.
1901 census RG13, piece no 2053, folio 53, p6
1891 census RG12, piece no 1698, folio 49, p6

1909 Captain R Soper, Ashburton Volunteer Fire Brigade, was one of the officials at the second annual prize competition of the Buckfastleigh Brigade.
Western Morning News 30 August 1909, p7 col1

The death of Richard J Soper was reported in February 1912. Described as a well-known Ashburton resident, Mr Soper, who had been a joiner and undertaker, was about 54 years old.
Western Times 17 February 1912, p3 col2