The Harris and Dent Families
The railway branch line came to Ashburton in 1872 (for more on this see the Travelling section under Gathering together). It seems likely that John Harris was stationmaster from the beginning, because in December of that year the death was announced at Ashburton of the wife of John Harris, stationmaster. Celia Farleigh Harris, aged 29, seems the most likely candidate - the indexes suggest that a John Harris married a Celia Farleigh Voisey in 1868.

Exeter and Plymouth Gazette 11 December 1872, p2 col4

http://www.freebmd.org.uk

In the June 1877 quarter in the Plymouth registration district John Harris married Henrietta Voisey. The 1861 census for Harberton suggests that John's two wives were sisters.
http://www.freebmd.org.uk
http://www.freecen.org.uk
The 1881 census shows that of the four children a son, John, was born in Ashburton circa 1877; two year old Frank was also born in the town. John Snr. was now 41, and Henrietta Phoebe was 25.
http://www.freebmd.org.uk
White's History, Gazetteer and Directory of Devon, 1878-79, pp 109, 110
1881 census RG11 piece no.2161 folio 4 p1
In 1892 Frank Harris was one of two candidates who won a two year scholarship at the Grammar School. Candidates had to be under 14, and to have received education at a public elementary school in the district for one year.
Western Times 19 January 1892, p2 col4

John Harris died in 1903.
£100 was raised in the town in recognition of the service given by the late John Harris. He had been the stationmaster for 31 years.
http://www.freebmd.org.uk
Western Times 29 June 1903, p3 col6

Henrietta Phoebe Harvey Harris, a widow, was living with six of her children in Western Road in 1911 - probably the same house the family was living in in 1901, next to Waverly Hall. William John Harris, a farmer aged 33, is now shown as the head of house.
In 1901 the children were: Minnie, Florence M., Wiliam J., Florence M., Albert H., Alice E., Walter L., Percival S., Winifred P and Norman C. Mary A Voisey, mother-in-law to John, was staying with the family.

1911 census RG14, piece 12725, schedule no 27

1901 census RG13, piece 2053, folio 12, p16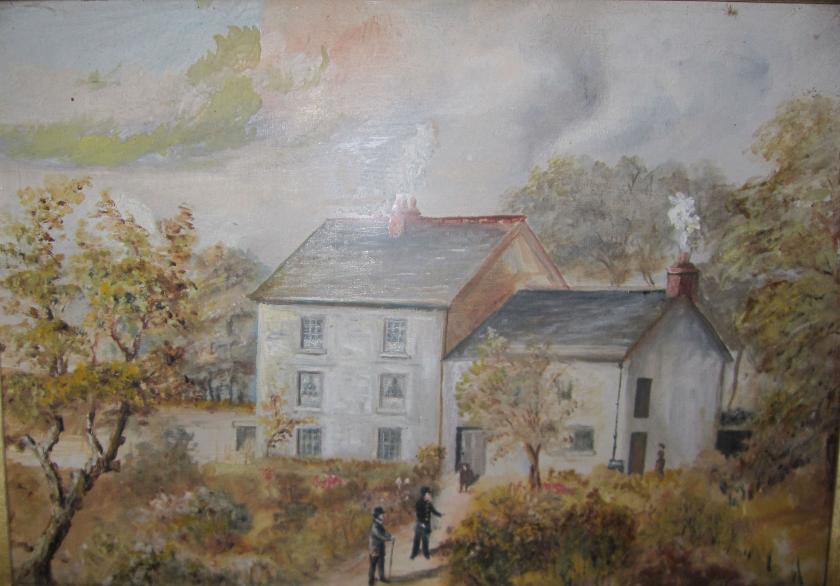 Above: Family tradition has it that this is the house where John Harris lived, with John himself being the figure in the middle. Enlarging the image does show what appears to be a uniform.
Many thanks to Shelagh Toews
At least two of the Harris sons were injured in WW1.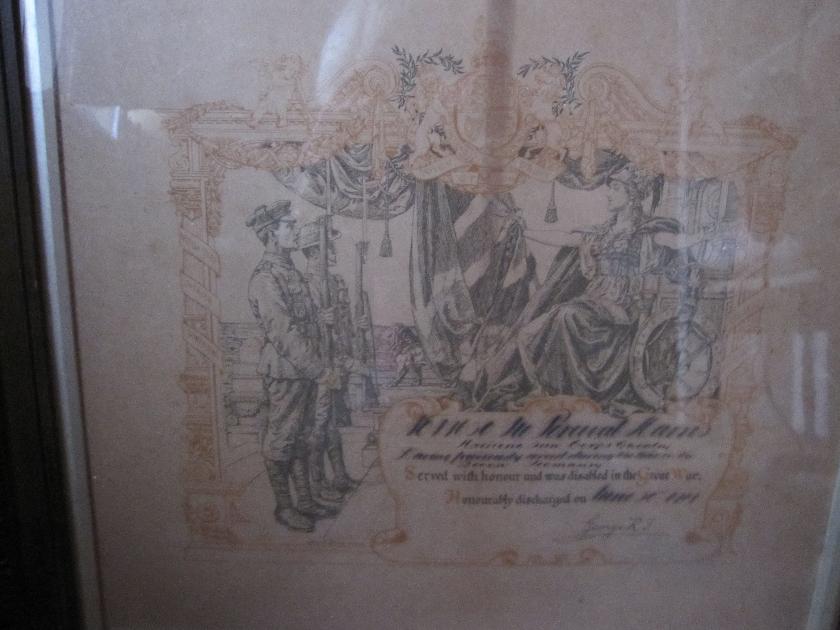 Above and right: Certificate showing that Percival Harris was disabled in WW1 and was honourably discharged.

Many thanks to Shelagh Toews
He had been recruited into the Machine Gun Corps in 1916, whilst serving in the Royal 1st Devon Yoemanry.
British Army Service Records 1914-1920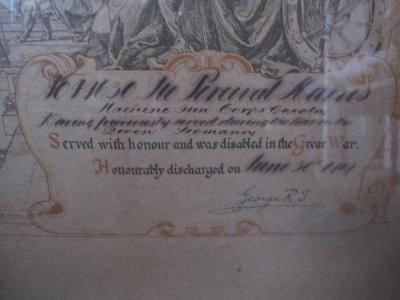 Frank E Harris returned to his mother's home in Western Road at the end of 1918. During the war he had served in South and East Africa, later joining the 2nd Devons and serving in France. He was badly wounded in France and was taken prisoner and had a 'very rough experience' whilst a POW.
Western Times 19 December 1918, p2 col6

When Florence Harris died in 1919, she was described as the daughter of the late John Harris, who had been Station Master at Ashburton for some years. Her brother, Lieut. Frank Harris, was one of the mourners.
Exeter and Plymouth Gazette 6 June 1919, p10 col2

A medal card exists at the National Archives for Frank Ernest Harris, Colour Serjeant of the 2nd Rhodesia Regiment and Lieutenant of the Devonshire Regiment.
http://discovery.nationalarchives.gov.uk, ref WO 372/9/37437

In 1921 Frank Harris, son of Mrs Harris of Western House, was decorated with the Distinguished Service Order at Buluwayo, South Africa. He had served with the Devons in France in the war.
Western Times 14 October 1921, p8 col7

In 1934 Capt. F. E. Harris accepted a position in Agriculture in Rhodesia. He was described as the second son of the late W. J. Harris, stationmaster, and Mrs Harris of 42 West Street.
Exeter and Plymouth Gazette 28 September 1934, p12 col4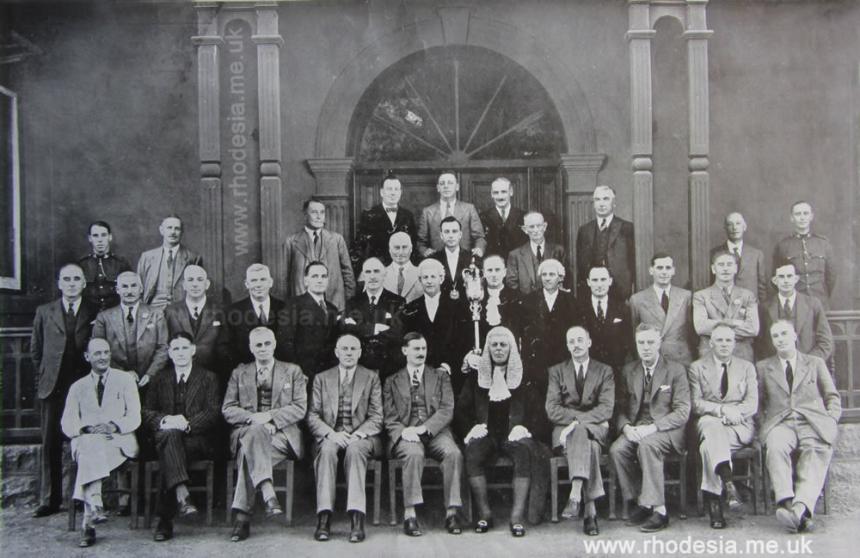 Above: The Rhodesian Parliament 1935. Frank Harris is in the front row, second from the right.
Many thanks to Colin Weyer for permission to use this photograph, for which he holds the rights. For more information about Rhodesia's history see his website at www.rhodesia.me.uk

In 1937 the Hon. F. E. Harris DSO, Minister of Agriculture for Southern Rhodesia, returned to Ashburton to spend Christmas with his mother, 80 year old Mrs H. Harris.

When interviewed by a reporter from the Exeter and Plymouth Gazette, he said that he had been a grocer's assistant, who had left the country in 1902. He was investigating the export of tobacco, beef and maize from Rhodesia to Britain. He added that emigrants from Britain would be warmly welcomed.
Exeter and Plymouth Gazette 24 December 1937, p16 col2
Exeter and Plymouth Gazette 7 January 1938 p11 col5

Albert H and William J Harris were farming at Priestaford in 1939. Winifred Harris was housekeeper there, and Henrietta Harris was registered as 'Unpaid domestic duties'.
Meanwhile Percival S Harris was a farmer at Lillisford Farm, Littlehermpston, Totnes.

1939 register

In 1946 Henrietta, widow of the late John Harris, died aged 88. She was living at 6, Vealenia Terrace at the time.

Western Morning News 24 December 1946, p1 col1
The Dent Family

In 1901 forty six year old Charles N Dent was a printer, stationer and bookseller in East Street, Ashburton. With him on the census was his wife, Caroline, and children Neville, 12; Thomas C, 11; Dorothy and Kathleen, both 8; and Charles Eric, who was 5. None of the family had been born in Ashburton apart from Charles Eric.
1901 census RG13, piece no. 2053, folio 52, p4.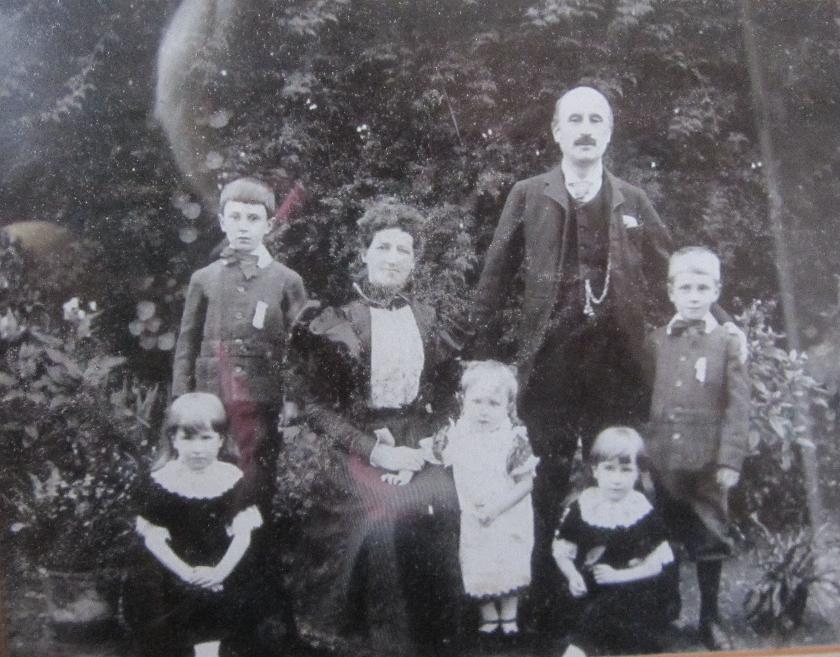 Above: Charles N Dent and his wife Caroline, with children Neville (top left), Thomas (top right), Charles Eric (middle, bottom row) and twins Dorothy and Kathleen (either side of Charles Eric).
Many thanks to Shelagh Toews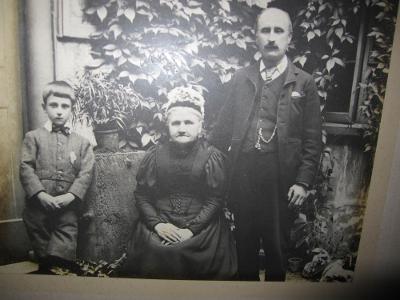 Left: In 1911 Charles Napier Dent's 89 year old mother Anne is with the family. It seems certain that the lady in the photograph is Anne.
1911 census RG14, piece no. 12728

Many thanks to Shelagh Toews for the photograph

Tom Clifford Dent married Gwendoline Hammett Perraton on the 22nd March 1924. He was described as the second son of C N Dent, deceased, and Mrs Dent, late of Ashburton. The wedding took place in the Plymouth registration district.

Western Morning News 24 March 1924, p1 col2

https://www.freebmd.org.uk

Neville Dent married Mabel A Searell(e) in the Exeter district in the September quarter of 1920.
Allen N Dent's birth was registered in Exeter district in the September quarter of 1921, with a mother's name of Searall.

https://www.freebmd.org.uk
Sergt. Allen Neville Dent, RAF, 21, was one of three Totnes men reported missing in 1943. The only son of Mr and Mrs N Dent of Exeter, he was the nephew of Mr C E Dent and the Misses D and K Dent of Weirfields, Totnes. He had gone to Totnes in 1938 to work as an analytical chemist at Daw's Creamery.

Western Times 22 April 1943, p6 col5

By June the Exeter and Plymouth Gazette was able to report that Flight-Sergt. Dent was safe and well, 'a telegram announcing the good news having been received.'

Exeter and Plymouth Gazette 4 June 1943, p4 col4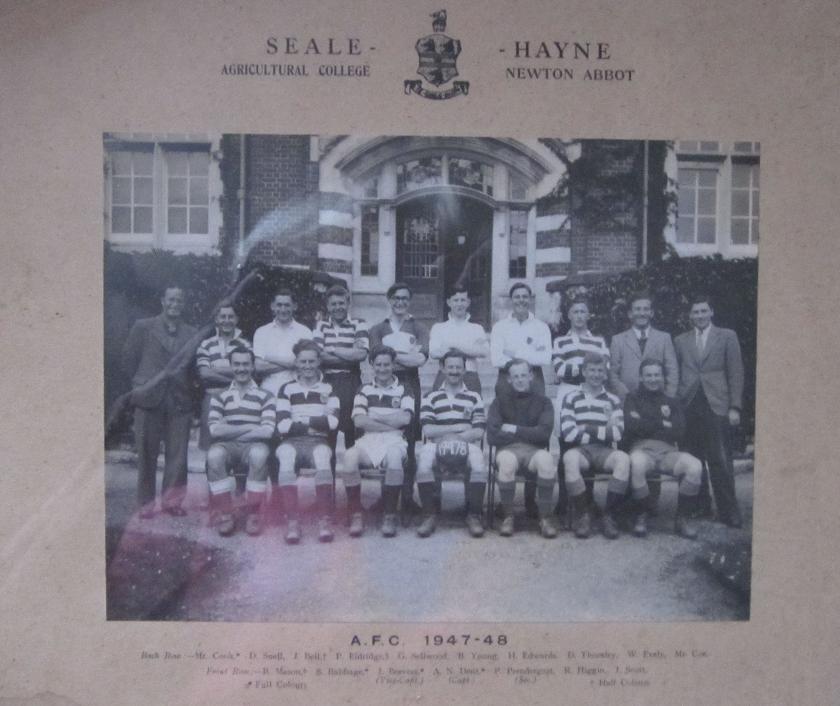 Above: Seale-Hayne Agricultural College AFC , 1947-48
In the photo are: Back row. Mr Cook, D Snell, J Bell, P Eldridge, G Sellwood, B Young, H Edwards, D Thornley, W Evely, Mr Coe
Front row. B Mason, S Babbage, J Beevers (Vice-Capt), A N Dent (Capt), P Prendergast (Sec), R Higgin, J Scott
With many thanks to Shelagh Toews

In September 1949 Allen N Dent married Dorothy M Harris in St Andrew's Church. He was the only son of Mr and Mrs Neville Dent of Parkway, Exeter. She was the only daughter of Mr and Mrs Norman Harris of Gale Farm, Bickington.
Western Morning News 19 September 1949, p4 col1
At some stage, and certainly by 1966, the couple were living at Hele Farm, Ashburton.
Register of electors 1965-66