Booksellers, Bookbinders, Printers and Stationers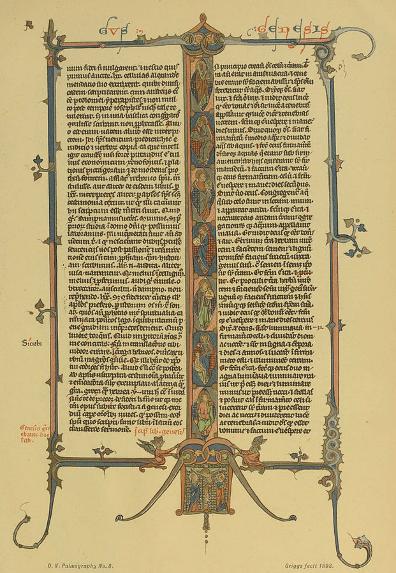 1411-12 Exeter Cathedral accounts show that William Hayford and 'Richard his servant' refurbished some books at this date. He undertook some of the work in Exeter, but also some in Ashburton, 'perhaps his home.'
The Production of Books in England, 1350-1500, edited by Alexandra Gillespie and Daniel Wakelin, Cambridge 2001, p160

A William Hayford had become Vicar of Ashburton in May 1405
http://genuki.cs.ncl.ac.uk/DEV/Ashburton/Vicars.html

The expenses incurred at Ashburton show that he was paid £6, his servant £1 16s 8d. Expenses included gold, 6 skins of parchment, velym, 3 sheepskins, 6 calfskins and coloured thread. 4s 4d was for stitching the covers of 52 books at 1d a piece.
Proceedings of the Cambridge Antiquarian Society, October 1902 to May 1903, No. 44, Cambridge 1904, p303


Above: The first page of Genesis, in a Latin Bible, probably English, 1290-1300
By Bernard Quaritch. [Public domain], via Wikimedia Commons

*******


'Every person having any printing press or types for printing shall cause a notice thereof, signed in the presence of and attested by one witness, to be delivered to the Clerk of the Peace..... and he is hereby authorized and required to grant a certificate....'
39 G 3 c79 s23
A digest of the criminal statute law of England, Harold Nuttall Tomlins, part 2, 1819, p889
Available through https://books.google.co.uk - Accessed 24-05-2015


Z B Vinnicombe printed pamplets in 1819 and 1820, including remarks on three judges' opinions in a case brought against Lord Clinton. He is also shown as a bookseller, distributing Abraham Hawkins' book 'Kingsbridge and Salcombe with the immediate estuary, historically and topographically depicted.'
http://bookhistory.blogspot.co.uk/2014/03/devon-imprints-ashburton.html - Accessed 15-01-2017


Henry Batten is a bookseller and printer in East Street, Ashburton in Pigot's Directory 1822-23
http://genuki.cs.ncl.ac.uk/DEV/Ashburton/AshburtonPigotPre1830.html - Accessed 15-01-2017

Joseph Sanders is shown as being a Methodist preacher at Ashburton in 1808-09 and 1821-23.
He wrote a tract, 'The Despisers of Revelation Affectionately Addressed', which was printed in Ashburton and according to Richard Carlile, 'Thrust into the faces of all those of my friends who are espousing the opinions I promulgate.' Carlile went on to say 'Bull-baiting had been dropped before my time; but I have seen many a badger-baiting there*; and I would gladly come to have this Methodist Parson, Sanders, stuck up on one of the front stalls of the shambles, and I on the other, to expose his villainy in putting forth such a pamphlet.'
An Alphabetical Arrangement of all the Wesleyan-Methodist Preachers and Missionaries, William Hill, 3rd Edition London 1827
* ie at Ashburton
The Republican Vol 9, 1824, R. Carlile, 84 Fleet Street, p74

According to Exeter Working Papers in Book History T. Howe printed and sold the pamplet, which was dated Ashburton November 5th 1823
http://bookhistory.blogspot.co.uk/2014/06/devon-imprints-exeter-balle.html - Accessed 15-01-2017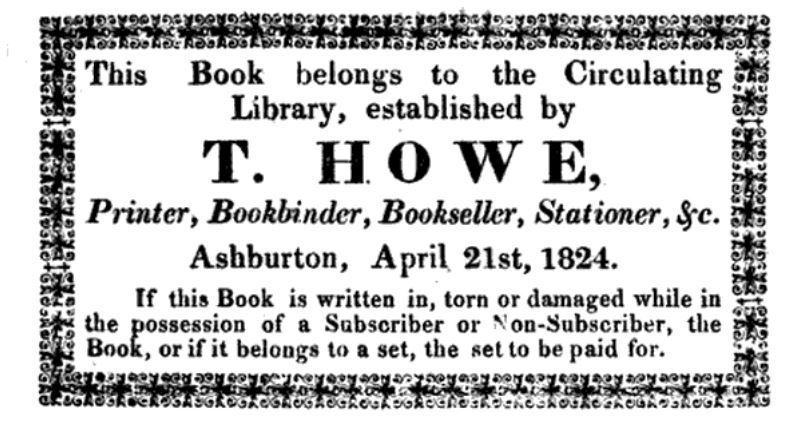 Above: Label from The Life and Morals of Epicurus, John Digby, Reprint, London 1822
Available to see in free eBook


In 1823 Thomas Howe was the successor to Mr. Baker as a printer and bookbinder.
Ref QS/69/1/2 Devon Heritage Centre
http://discovery.nationalarchives.gov.uk

By 1827 Mr T Howe was intending to leave Devonshire. 2 shops were to be sold, with 2 parlours, 4 kitchens, 2 drawing rooms, 9 bedrooms, a large printing office, a drying place and an excellent pump of water. A newly built dwelling house behind was included in the sale.
Mr John Matterface occupied part of the premises.
Exeter and Plymouth Gazette 23 June 1827, p2 col4

Supporters of the Whig politician Lord Viscount Ebrington held a dinner in Newton Abbot in August 1830. Mr Creagh, printer of Ashburton, was one of the participants.
Western Times 28 August 1830, p3 col4



*******

William Emmet Stentiford, the son of John and Eleanor, was baptised on June 30th, 1805
Parish records

He married Mary Ann Hannaford in 1828*
https://familysearch.org
* William Emmit Stentiford in Familysearch

Wm Stentiford, stationer, died aged 29 in March 1835.
William Emmet Stentiford, 29, was buried on the 23rd March
Exeter Flying Post 26 March 1835 p3 col1
Parish records

In the 1841 census Ellen Stentiford, 5 years old, is in the household headed by Mary Ann Stentiford, bookseller. Also in the household [s a George Stentiford, printer.
1841 census HO107, piece no. 253, folio 9, p11


40 year old George Stentiford, printer, is head of household in the 1851 census. His nephew Charles, a printer's apprentice, is with him. The property is five households away from the Duke's Head at the Bullring (later demolished and replaced with a bank - No 2 East St), suggesting that it is highly likely to be the building that became No 12 East Street.
1851 census HO107, piece no 1871 folio 266 p14

Ellen Stentiford died in Canada in 1858. She was the only daughter of the late Mr W Stentiford, printer, of Ashburton.
Western Times 28 August 1858 p5 col3

*******

Crossthwaite and Co.'s Occult Lozenges, for 'all complaints of the chest and lungs', was available from various retailers, including Rexford, bookseller, Ashburton.
Dorset County Chronicle 17 November 1836, p3 col6

1838 The Western Times could be bought from S Mann, bookseller, every Saturday.
Western Times 10 November 1838 p3 col1

William White's 1850 History, Gazetteer and Directory of the County of Devon lists the following under the Ashburton entry:
William Waycott Chappie [sic], printer, bookbinder and stationer, North Street.
Lavington Broom Varder, printer, bookseller and stationer, East Street.
p105ff, available via https://archive.org - Accessed 20-01-2017

In 1851 Samuel Mann, aged 37, is a bookseller and newsagent in North Street. He was born in Ashburton.
Census 1851 HO107, piece no 1871, folio 298, p24

1860 A family residence in the neighbourhood of Ashburton and Brent required a woman to learn to be a good plain cook. Applications were to be via J Searle, bookseller and stationer, Ashburton.
Western Times 18 August 1860 p4 col1


Thomas Skinner, a printer and compositor, is boarding at the Town Mills in the 1861 census, in the household of Robert R Osmond.
http://www.freecen.org.uk


*******
In 1861 furniture, books, china, a phaeton and a cart mare were amongst the goods of the late Rev W Marsh that were being auctioned at the Vicarage. Catalogues could be obtained from Mr Chapple, printer, Ashburton.
Western Morning News 6 August 1861, p1 col1
James M Chapple, aged 46 and born in Ashburton, is a master printer in the 1861 census. His son William W is also a printer, and the family is in East Street.
http://www.freecen.org.uk
Wm Waycott Chapple, 32, is a printer on the 1871 census. He is living next door to the Exeter Inn in West Street.
1871 census RG10, piece no 2080, folio 57 p26
Two years later Mr William Waycott Chapple, printer and stationer of Ashburton, married Louisa Jane Passmore at St Andrew's Church.
Western Daily Mercury 26 September 1863, p3 col1
*******
William Waycott Chapple, West St, is a printer in Morris and Co.'s Directory in 1870.
Henry Couch Creagh, Staverton Pl, is a printer in the same directory.
Morris and Co.'s Commercial Directory and Gazetteer 1870, via http://freepages.genealogy.rootsweb.ancestry.com/~valhender/dirtrans/mor1870/ashburt.htm
*******
L B Varder was advertising in 1874 for a 'turnover' for a jobbing office. Presumably this refers to the system written about in The Printers' Journal and Typographical Magazine: 'A turnover, properly speaking, is a youth who, having lost by some misfortune, the master to whom he was legally bound, accepts an engagement, which is ratified by an indenture, under another who will further instruct him in the business.' However, the magazine complained that 'At the present time any number of youths (and some of them very old ones too) are allowed to run about the trade just as the whim of the moment directs them...'
Western Daily Mercury 24 February 1874, p2 col1The Printers' Journal and Typographical Magazine, No 1 vol 1, January 1865, p126
23 year old Francis Robertson is a printer and compositor ('compositer') on the 1891 census. An employee, he is living in West Street with his wife Mary A and two children.
In July 1893 he inscribed his name on one of the window panes on the first floor of the printing works at 12 East Street: F Robertson Esq. MP - presumably Master Printer.
http://www.freecen.org.ukMany thanks to Nils White for the information about the window panes.
1894 L B Varder, printer of Ashburton, committed suicide by cutting his throat. The inquest heard that he had been ill for some time, and was sometimes very depressed. Deepest sympathy was extended to his widow and daughter.*
Exeter and Plymouth Gazette 9 April 1894, p4 col6*Lavington Broom Varder had married Ann Elizabeth Hurdle in 1874. They are with 12 year old daughter Sarah E L Varder on the 1891 census
https://www.freebmd.org.uk
http://www.freecen.org.uk
Charles Eric Dent was baptised in January 1896, the son of Charles Napier Dent and his wife Caroline. Charles Snr. was a stationer.
Parish records
Francis Robertson, printer (compositor) is in St Lawrence Lane in 1901. There is one more household before East Street - the second household then listed in East Street is Charles N Dent, printer, stationer and bookseller.
1901 census RG13, piece no 2053, folio 52, p4
Charles Napier Dent, a printer and stationer in East Street, is amongst those qualified to serve as jurors in 1901
See People and Properties 1900s
Charles N Dent was a bookseller and stationer in East Street in 1902
Kelly's Directory of Devon 1902, p32


See the Virtual Museum 1880s onwards for receipts printed by C N Dent
Charles Napier Dent, a letterpress printer, stationer and bookseller, is at Caxton House, East Street for the 1911 census. His wife and daughter assist him in the business, whilst his 15 year old son is at school.
1911 census RG14, piece no 12728
In 1923 a printing and stationery business was advertised for sale as a going concern, with no opposition. Death was the 'sole cause of disposal'. Applicants should contact Dent, Ashburton, S Devon.
Western Morning News 16 March 1923, p8 col7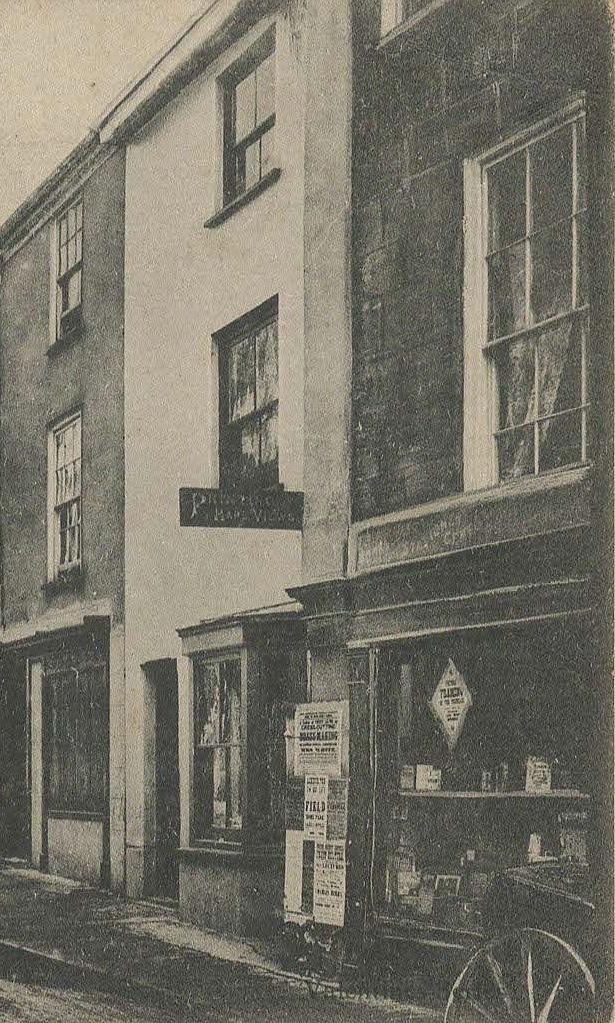 Above: The Printing Works is on the extreme right of the picture. Sometime prior to WW1.
Below: A later picture, with the Printing Works advertising that it sold maps, guides, postcards and chocolates.
From my own collection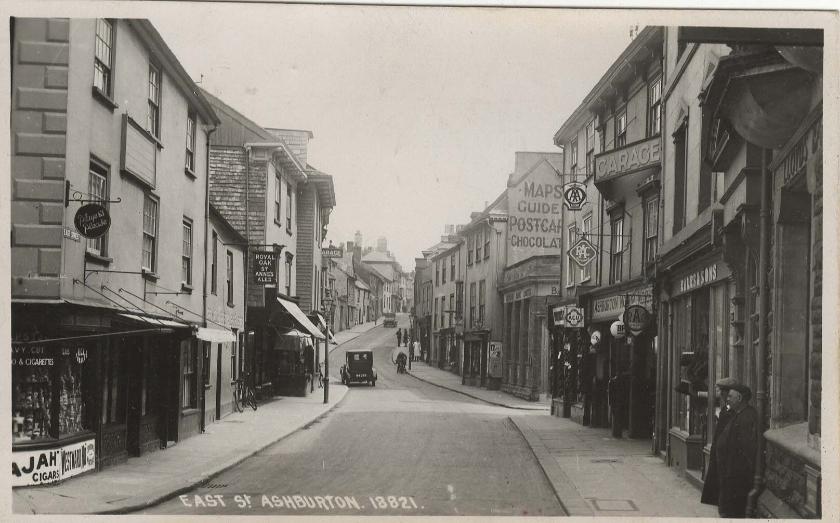 John Flavel Barker is shown as a printer in East St in 1935
Kelly's Directory of Devon 1935, p35
H S Joyce's 'By Field and Stream' was 3/6d from the Caxton Printing Works, Ashburton, in 1935
Western Morning News 7 October 1935 p2 col7
The book Ashburton Grammar School, by W S Graf (1938) was printed by S T Elson, The Caxton Printing Works, 12 East Street.

The 1939 register has a Sidney T Elson at 12 East St., a master printer and stationer. He is a special constable.
His wife Beatrice is the manageress of a stationery shop.
www.findmypast.co.uk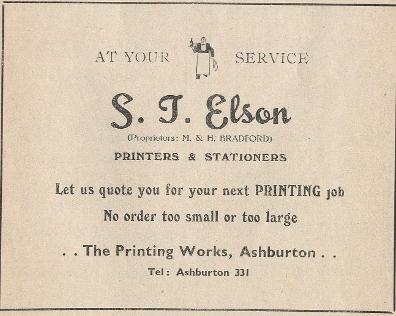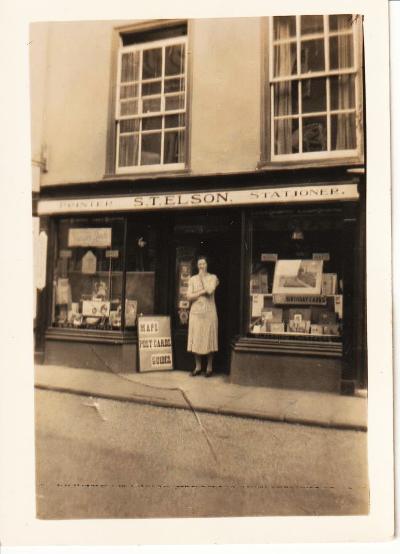 Above:
An advertisement for S T Elson in the Official Guide of Ashburton, 1950s
From my own collection
The funeral of Mrs. Beatrice Elson took place in January 1947. She had died on the 6th at her home, 12 East Street.
Devon and Exeter Gazette, 17 January 1947, p10 col 3
Left:
Beatrice Elson (presumably) outside the Printing Works
From my own collection