Barbers, Hairdressers and Wigmakers
Undated. Simon Morey, barber, is listed amongst the maimed soldiers whose petitions were dealt with at the quarter sessions. He was a quarter master under Sir Richard Granville.

Devon Heritage Centre ref QS/128/3/11 https://devon-cat.swheritage.org.uk/records/QS/128/3/11
Moses Hill was a peruke-maker in Ashburton in the late 1700s

A transcript of trades and professions from the Universal British Directory of Trade, Commerce and Manufacture, Vol 2, late 1700s
***

Elizabeth, the daughter of John and Sarah Saunders, was baptized in April 1827.

John was baptised in September 1829, and Henry was baptised in September 1831.

John's occupation in all the above records was hairdresser.
Parish records
William Taprell, aged 23, died in August 1845 after a long illness. He was the eldest son of Mr Wm Taprell, hair dresser.
Western Times 30 August 1845, p2 col5
62 year old John Saunders was a hair-dresser (master) in the 1851 census. A widower, he was living in West Street.
1851 census HO107, piece no. 1871, folio 267, p 16

In 1859 Henry Eddy was the defendant in a case of persons forcibly entering a house in Back Lane and assaulting the occupant. Henry Saunders, a hair dresser of Ashburton, admitted being in the plaintiff's house, but said that he did not witness any assault.

In the case, which seems to have arisen in connection with the Ashburton election, judgment was given to the plaintiff, with full costs.

Western Times 18 June 1859, p6 cols 3,4

29 year old Henry Saunders was a hairdresser in the 1861 census. He was unmarried and living in West Street.
1861 census RG09, piece no. 1405, folio 70, p12

***

James Fogden was a hairdresser and tobacconist in the 1911 census. Living at 2 North Street with his wife and only surviving daughter, he was 38 years old.
1911 census RG14, piece no. 12727
This may have been the same Fogden who was selling hives of bees in November 1924, because the owner was leaving the neighbourhood.
Western Morning News 22 November 1924, p9 col6

However, 4 years later Fogden, Ashburton, was selling a 6 roomed pre-war house with vacant possession. It was five minutes from the Roman Catholic Church, Post Office and railway station.

Western Morning News, 18 April 1928, p2 col5

Mr and Mrs Fogden, Ashburton, were visiting the Empire Hotel, Bath, in 1932*
*It seems to have been the custom for hotels in Bath to publish the names of their visitors. Several columns of names appear under the heading of Bath Visitors' List.
Bath and Weekly Gazette, 17 September 1932, p24, col4

By 1939 James and Avis Fogden were living in Newton Abbot. James described himself as a retired tobacconist.
1939 Register, available from https://www.findmypast.co.uk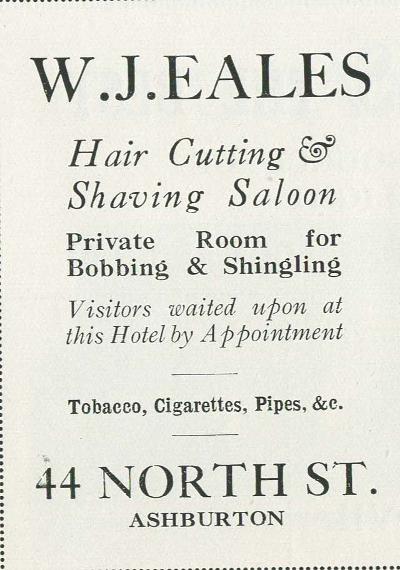 Right: An advertisement for Maison Milton, 30 North Street, Ashburton. 'Ladies' and Gent's Departments' and gents could have hot towels with their next shave.
Ashburton Official Guide, The Come-To-Devon Association, undated but after 1947
Left: W J Eales had a haircutting and shaving saloon at 44 North Street. The advertisement is from a promotional booklet for the Golden Lion Hotel, and probably dates from the late 1920s
From my own collection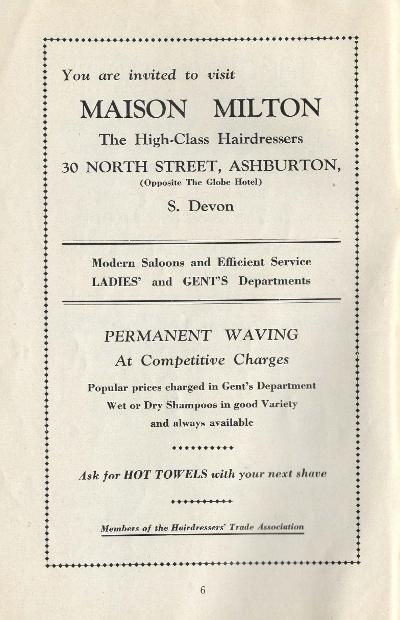 In 1939 two people occupied 1 West Street: Amy White, a widow, and William Hannaford. Born in 1912, William was a hairdresser.

1939 register, available through https://www.findmypast.co.uk
S J Miners was a hairdresser, tobacconist and confectioner in the middle of the 20th century (see picture below). This was probably Samuel John Miners, who was on the electoral register for North Street in 1930.

On the same register are Frederick and Mary Alice Miners, and an entry for Daisy Miners follows that of Samuel John.

In the 1911 census 7 year old Samuel John, who was born in Plymouth, was living with his parents Frederick and Mary Alice Miners at Widecombe.

Samuel J Miners married Daisy Harris in Barnstaple in the September quarter of 1928

Electoral registers 1920-1932, available from https://www.findmypast.co.uk
1911 census RG14, piece no 12735
https://www.freebmd.org.uk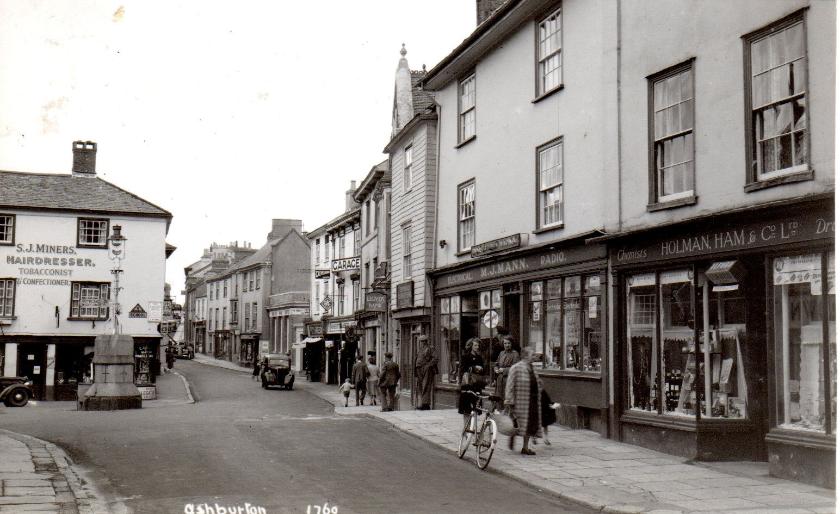 Above: A postcard, circa 1940s or 50s, of the Bullring. S J Miners, Hairdresser, Tobacconist and Confectioner, is on the corner of North Street and East Street.
From my own collection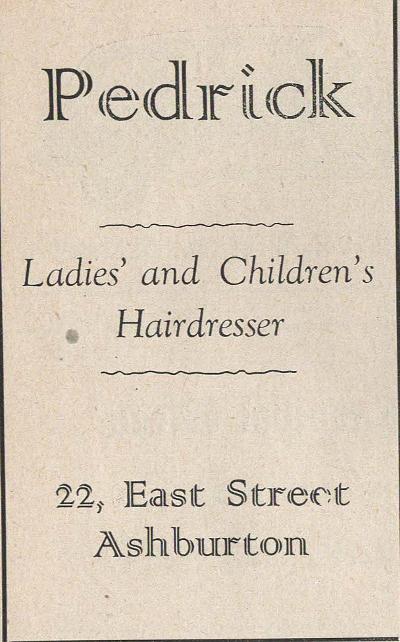 Below: In the 1950s Maison Milton became H B Cook of London.

Left: At the same time Pedrick was advertising as a Ladies' and Children's hairdresser. The business was at 22 East Street.

Businesses advertising in the Official Guide of Ashburton - Ashburton Urban District Council, undated but between 1952 and 1960