Roll of honour World War II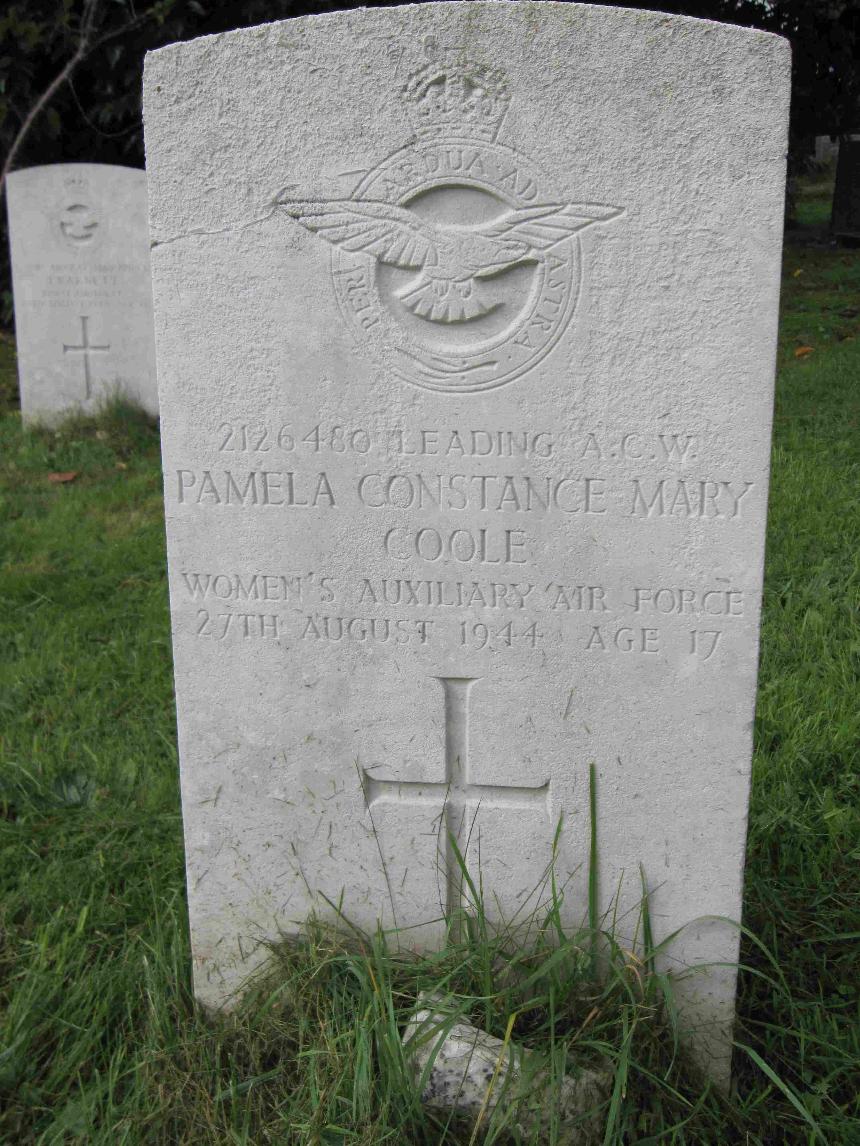 Above: Memorial to Pamela Constance Mary Coole.
My own photograph 2014
Aircraftman J Barnett laid to rest in Ashburton Churchyard. The son of Mr and Mrs H Barnett, 21 Dolbeare Road
Western Times 13 September 1940 p6 col1
Leading Aircraftwoman Pamela Constance Mary Coole. Died 27 August 1944, aged 17. The daughter of Albert Frederick and Constance Ruth Coole. Buried in Ashburton Churchyard
Petty Officer Leonard Ernest Thomas Dann R N, died 25 November 1941, aged 22. The son of Ernest James and Winnifred Alice Dann, husband of Dorothy Maud Mary Dann
Able Seaman Peter Hamm R N, died 5 April 1942, aged 19. The son of Peter and Winifred Blanche Hamm.
Cpl Leonard Harvey, RAF. Missing, now reported killed.The son of Mrs W J Harvey, Higher Bawdley Cottage.
Western Times 2 April 1943 p7 col3
Gunner Ronald Frederick Head, R A, died 15 October 1941, aged 18. The son of Frederick and Bertha K Head
Petty Officer William Ibbotson R N, missing in a submarine presumed lost. Of 34 North Street
Western Times 23 August 1940 p6 col3
Private Henry Eli Knowles, Pioneer Corps Aux Mil, died 30 September 1940, aged 29. The husband of Amy Louisa Knowles.
Leading Seaman Philip William George Norris R N, died 6 December 1940, aged 25. The son of Philip and Ellen Norris
Sergt Tom Pascoe, aged 21. Killed on operational flight. The only son of Mr and Mrs V Pascoe, 75 East St
Western Morning News 22 December 1942 p1 col1
Corporal Edward Lewis Plummer, Devonshire Regiment, died 11 April 1944, aged 33. The son of Edward and Elsie Dorothy Plummer, and the husband of Dorothy Plummer
Lance Bombadier Frederick Samuel Pomeroy, R A died 26 January 1943, aged 37. The son of Samuel and Elizabeth Pomeroy
Captain Edward Neil Whitley, RAMC. Died 29 August 1944, aged 26. The son of William and Elizabeth Frances Whitley, Ashburton. Buried Buckland in the Moor.
Pilot officer Peter Percy Whitley RAFVR. Missing on operational flight October 15/16 1943, now presumed dead. The second son of Mr and Mrs W Whitley, Welstor
Western Morning News 28 May 1945 p1 col1
*******************