Frederick Hand Firth

Frederick Hand Firth of Place, Ashburton, died on the October 18th 1903. His sons Frederick William Firth, Henry Mallaby Firth and the Rev Walter Firth obtained probate for an estate that totalled £27016 0s 11d gross. His wife Caroline was mentioned in the will, plus additional sons Sidney and George Septimus, and daughter Mary Nina. Mr Firth was formerly of Cator Court, Widecombe.
Totnes Weekly Times 2 January 1904 p8 col2



Henry Mallaby Firth
See also Henry Mallaby Firth under Attorneys, a sub-menu of Banks and Businesses.
Henry Mallaby Firth was baptised in Wittan, Cheshire in 1852, the son of Frederic Hand and Mary Firth.

He was an articled attorney clerk in Lewisham in 1871, and married Frances Caunter in Widecombe parish church in 1877. At the time of his marriage his residence was Cator Court, Widecombe. Frances was the daughter of solicitor George Caunter.

Wittan parish records
1871 census RG10, piece no 768, folio 44, p14

Widecombe parish records

In the 1891 census Henry Mallaby Firth, solicitor, is shown at The Knoll, Ashburton. Forty years old, he is living with his wife Frances, three children and three servants.
In the same census Frederic H Firth, 66 and a JP living on his own means, is living at Place House. He was also born in Cheshire.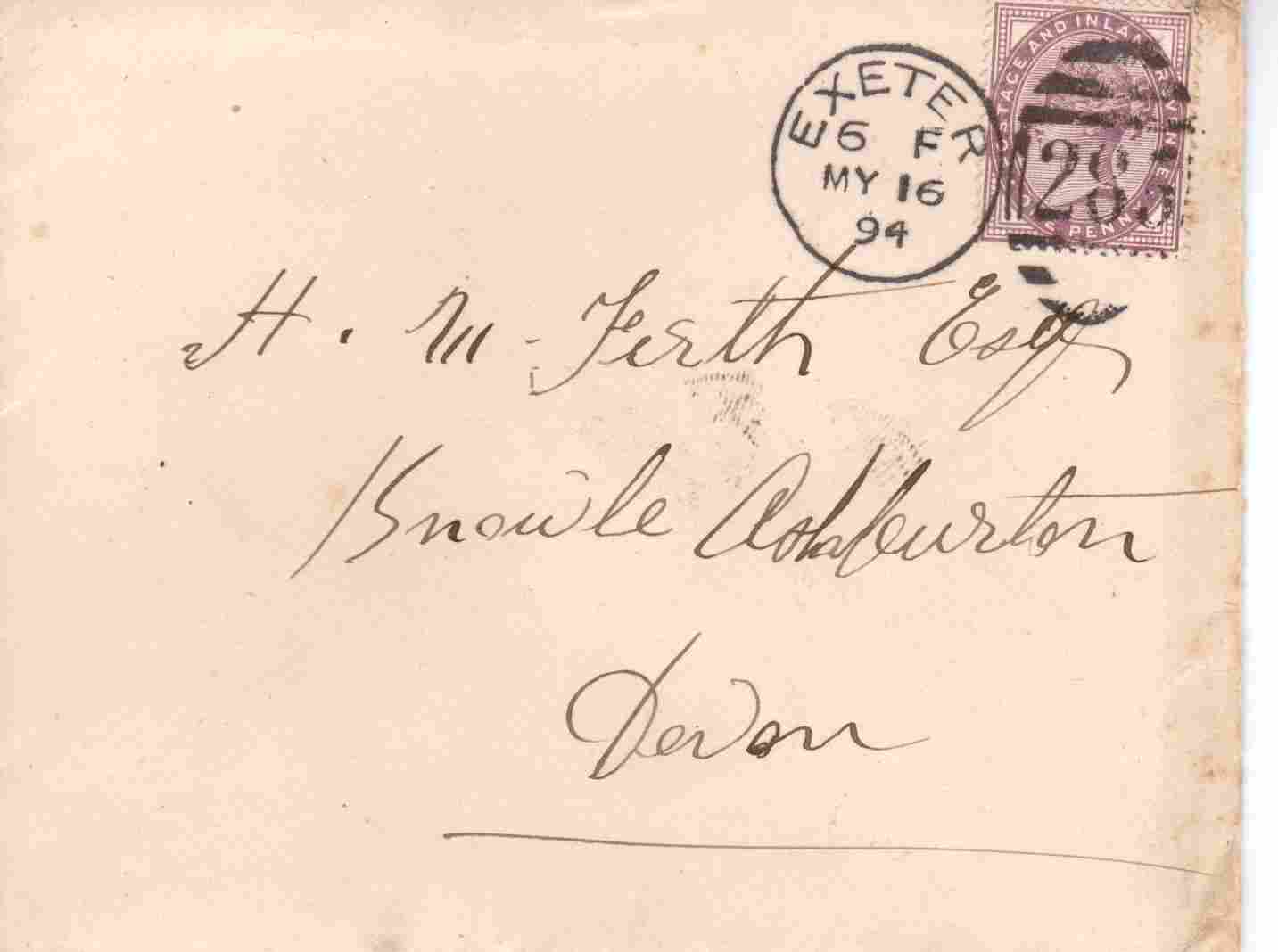 Left and below: H M Firth lived at Knowle, Ashburton. In 1894 George Pine wrote him a letter about employment.
The letter says: The Village, Morchard Bishop, May 16th/94
Sir yours at hand this morning, you ask why I had not got a place before. It's like you I waiting and miss others; I should not applied for your place if I
could not have undertaken it.
I had in the place I was two years before I went to Mrs Oldham, where I had American Baugey a Laundaw & a dogcart in high order & wille with Mrs Oldham we visited all the Lords and Ladys in the neibourhood I very different from many. We I go in for a genuine artical & speaks out the truth. but generaly I have noticed the untruth is lisen to first I remain yours obediently, George Pine.
PS no mater as this is look I meen no offence if I undertook your I should have done it not half done it you can try all down you could not suit yourself better
To H M Firth Esq.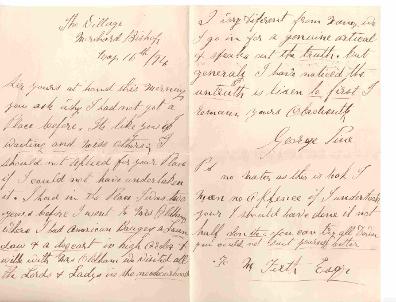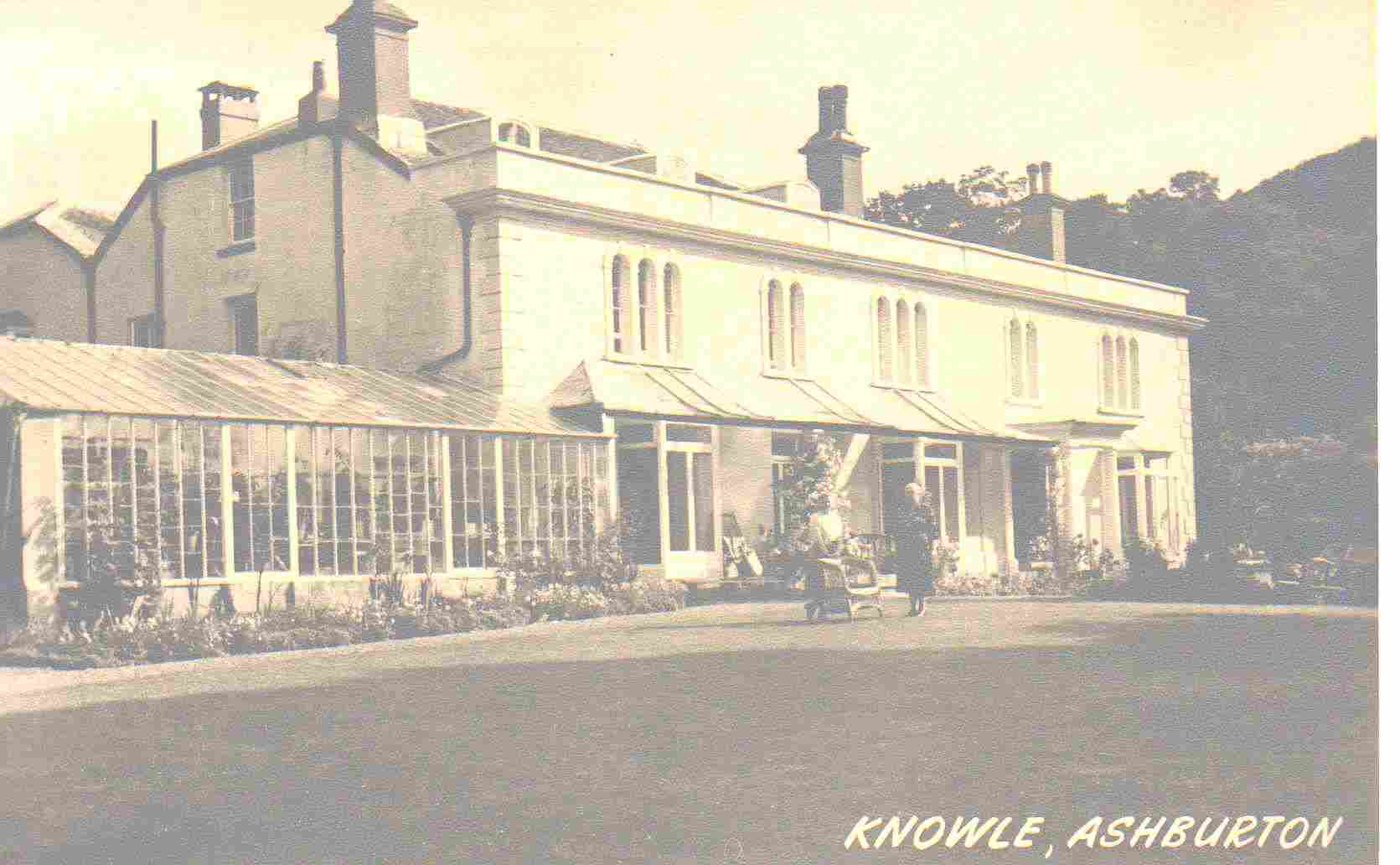 Above: Knowle, Ashburton
From my own collection

Mrs Frances Firth, widow of Henry Mallaby Firth, died in November 1929, aged 84.
Western Times 29 November 1929 p14 col1
In 1930 Michelmore, Loveys and Sons had instructions to sell 'valuable furnishings' at Knowle, Ashburton. The vendor was not named.
Exeter and Plymouth Gazette 19 September 1930 p1 col7
***
Cecil Mallaby Firth

Cecil Mallaby Firth was baptised at Ashburton on August 14th 1878. He was the son of Henry Mallaby Firth, gentleman, and his wife Frances.
Parish records

When James Woodley of Halshanger died in 1894 Cecil Mallaby Firth, at that time under age, was his nearest male relative.
Exeter and Plymouth Gazette 20 April 1894 p6 col3

In 1906 the Kent and Sussex Courier announced that the marriage between Cecil Mallaby Firth and Freda Hansard would take place quietly at Frant.
Cecil Mallaby Firth and Winifred Nest Hansard married in the September quarter 1906.
Kent and Sussex Courier 3 August 1906 p7 col2
http://www.freebmd.org.uk
http://www.freebmd.org.uk

Winifred, the daughter of Septimus and Edith M Hansard, was 11 days old at the time of the 1871 census. Her father was rector of St Matthew, Bethnal Green.
1871 census RG10, piece no. 496, folio 60, p27.


Two paintings by Winifred ('Freda') Hansard Firth (1871 - 1937) are held at Bradley Manor: 'Young woman on a terrrace giving grapes to a cockatoo' and 'The chicken coop, Kent'. Both can be seen on the Art UK org website: https://artuk.org/discover/artists/firth-winifred-freda-hansard-18711937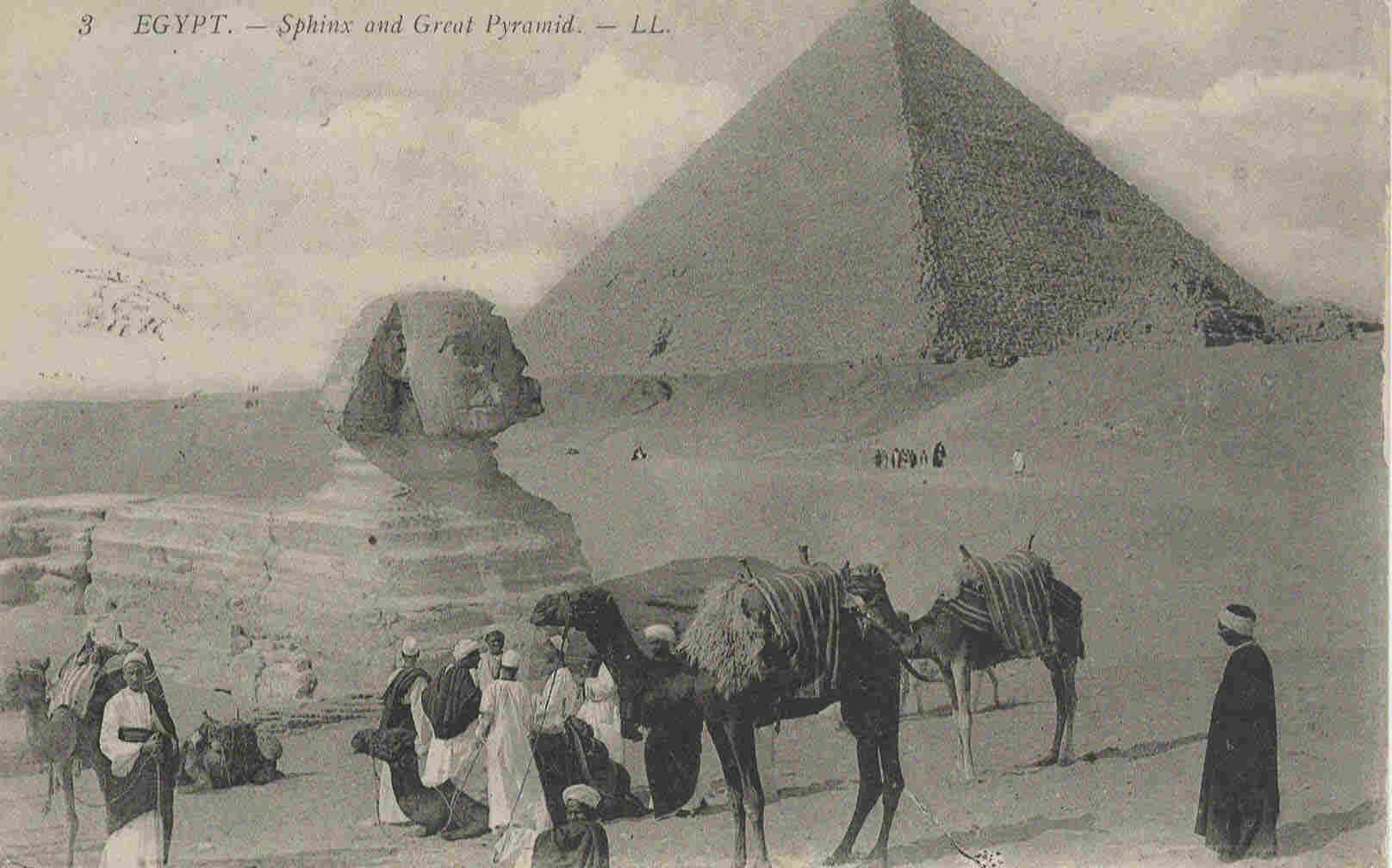 Above and right: A postcard sent by HMF to Miss Firth on 3rd April 1911. He was at Mena House, Cairo - now, as then, a hotel.
http://www.menahousehotel.com
From my own collection

In 1911 HMF - presumably Henry Mallaby Firth, wrote from Cairo to Miss Firth at Knowle. He was perhaps visiting his son, Cecil Mallaby Firth (see below)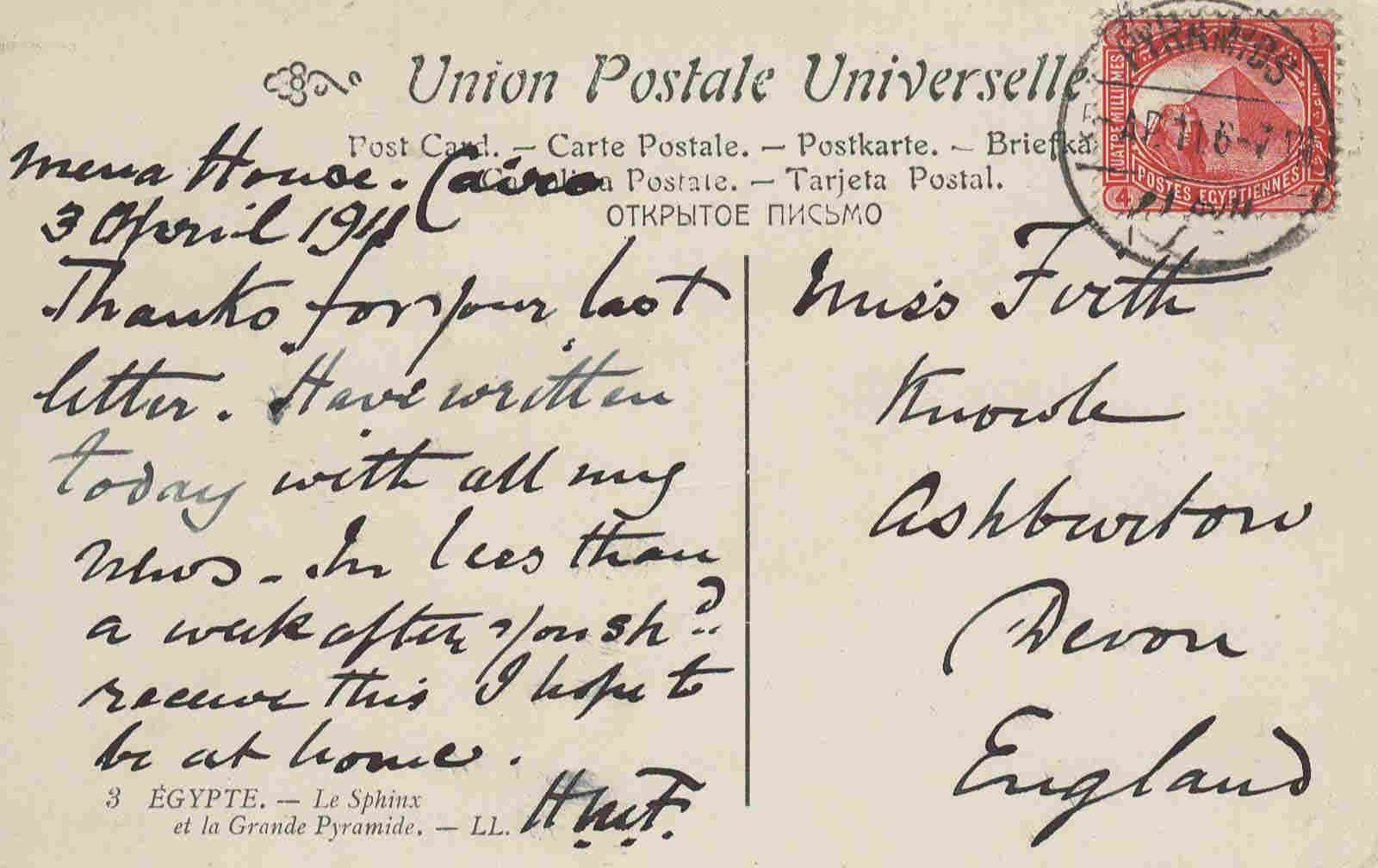 The Commander-in-Chief of the Egyptian Expeditionary Force 'mentioned' Cecil Mallaby Firth, a Temporary Lieutenant in the Intelligence Corps.
Western Times 29 January 1918 p6 col5

Cecil M Firth and Battiscombe Gunn published Teti Pyramid Cemeteries, a 2 volume work on excavations at Saqqara, in 1926.
With James E Quibell he published, in 1935, The Step Pyramid, a 2 volume work also on the Saqqara district.
Texts from the Pyramid Age, Nigel C Strudwick, Atlanta, 2005, p476

Mrs Cecil M Firth executed a drawing of skeletal tuberculosis in Nespaheran, an Egyptian priest of Amun from the 21st dynasty. The drawing 'is now a classic'.
Tuberculosis, ed M Monir Madkour, Germany 2004, p6


Cecil Mallaby Firth died in a London nursing home in July 1931. Returning home on annual leave from Egypt, he was taken ill on board ship, and developed pneumonia shortly afterwards.
Mr Firth had worked in the Egyptian Intelligence Department during WW1, and had worked with the Egyptian Government on archaeological digs for many years, discovering 5000 year old tombs in the Saggara district. His wife and daughter usually spent the winter with him in Egypt.
Mr Firth owned Bradley Manor and part of Bradley woods, and during his excavations and researches there had discovered the original altar stone being used as a gatepost. He also owned Rowbrook, near Poundsgate, and several Ashburton farms.
Exeter and Plymouth Gazette 28 July 1931 p4 col4

On the 31st October Winifred Firth and Diana Firth sailed from a London port, travelling to Port Said. They travelled 1st class.
Passenger lists leaving UK 1890-1960, available through http://search.findmypast.co.uk


Probate for Cecil Mallaby's estate, which amounted to £13,281 net, was granted to his widow, Winifred Nest Firth, and his daughter Diana Helen Firth. Mr Firth was said to be of Bradley Manor, Newton Abbot, Roughbrook, Widecombe, and Sakkarah, Egypt. He divided his property between his wife and daughter, and left some manuscripts and early books to the Bodleian Library, 'in memory of my service there'. His burial wishes were that he should be interred near to his father and brother in Ilsington churchyard, or if his wife had pre-deceased him, to be near her.
Western Morning News 17 November 1931, p11 col2

Winifred N Firth died in the December quarter of 1937, and her death was registered in the Newton Abbot registration district. She was 66.
http://www.freebmd.org.uk

The following year Diana Firth gave Bradley Manor, a 15th century manor house, to the National Trust. According to the Exeter and Plymouth Gazette, the Firth family had owned the property since 1909. Cecil Firth, the 'eminent Egyptologist and explorer' had spent the rest of his life restoring it; a task that was continued by his wife after his death. Miss Firth hoped to continue to live in the house.
Exeter and Plymouth Gazette 1 July 1938 p8 col1