There is a Muggeridge one-name study at http://www.muggeridge.info/muggeridge/index.php - Accessed 26-03-2020


Thomas, the son of Solomon and Rachel Mugridge, was baptised in Ashburton in February 1765.
Solomon Mugridge and Rachel Luscombe, a widow, both of the parish, had married the previous year - Solomon had been able to sign the register.
Parish records
Tho. Mugridge, possibly the Thomas above, was a boot and shoemaker in the Universal British Directory of Trade, Commerce and Manufacture, Vol 2, late 1700s. In the same volume Rachel Mugridge was a haberdasher.
The banns for Thomas Mugridge and Jane Edye Shepard were published in December 1797. Thomas came from Ashburton and his bride was from the parish of Stoke Damerel.

Devon banns registers 1538-1915
A January 1834 notice in the Sherborne Mercury may be connected with the family: all persons having claims on 'Thomas Mugridge and his late sisters, Co., partners, shopkeepers' were to contact 'the said Thomas Mugridge' by the 28th of the month.
If this is Thomas the son of Solomon and Rachel, his sisters could be Eliza (bpt 1767) and Sarah (bpt 1774).
Sarah Mugridge (? surname difficult to read) aged 57 (but see below) was buried on November 15th 1833 and an Elizabeth Mugridge aged 66 was buried in Ashburton a fortnight later.

A headstone in Ashburton churchyard makes the relationship, and Sarah's age, clearer: 'In memory of Sarah Mugridge who died the 11th of Nov 1833 aged 59 years Also of Elizabeth Mugridge her sister who died 26th Nov 1833 aged 66 years Likewise of Thomas Mugridge her brother who died 15th of June 1844 aged 79 years and of Jane Edye Mugridge wife of the above who died 10th October 18 1845 aged 75 years.'

Sherborne Mercury 13 January 1834, p1 col5https://familysearch.orgParish records
Thomas Mugridge of Ashburton is named in the Death Duty registers of 1844, with Jane Edye (could be Edge) Mugridge as executor.
Jane E Mugridge herself features in the Death Duty registers in the following year: Hugh Mugridge, of St Pancras, is her executor.
Parish records
Index to Death Duty registers, 1793-1903
Hugh Mugridge, the son of Thomas and Jane, was baptised on the 20th May 1807.
Parish records

He married Fanny Gard in December 1838, in Ashburton. Hugh, whose address was North Street was a cabinet maker, his father Thomas was a grocer. Fanny was living in West Street at the time of her marriage: her father was John Gard, a cooper.
Parish records

The couple were in Marylebone when their son John Gard Shepheard Mugridge was born in 1844, but his baptism was in Ashburton. Their residence was given as St Mary le-bone, London, and Hugh's occupation was cabinet-maker.
https://www.gro.gov.uk/
Parish records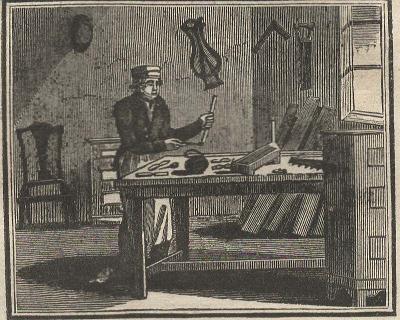 Above: The Cabinet maker
Artificiana, or a Key to the Principal Trades, Edinburgh, 1819, p46


They were back in the Newton Abbot district when Henry Gard Mugridge was born in 1848.
https://www.gro.gov.uk/

John Gard Shepheard Mugridge was buried, aged 6, in October 1850. There are 7 other burials on the same page of the register, between September 27th and October 11th, and all are of young people: the ages are: 16, 18 months, 6, 7 months, 9, 6 and 2. This suggests to me that there may have been an infectious disease in the parish.
Parish records

Fanny was born in 1852, also in the Newton Abbot district.
https://www.gro.gov.uk/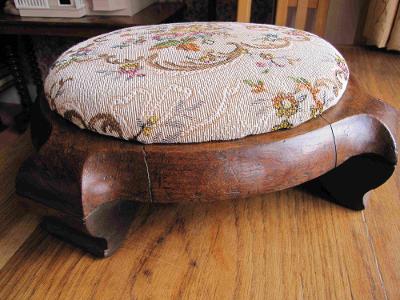 Above: A footstool made by Hugh Mugridge. See the 1850s section of the Virtual Museum for more on this.
From a private collection

By 1851 Hugh was living in West Street with his wife, Fanny, and his mother-in-law, Elizabeth Gard. Hugh and Fanny had a two year old son, Henry Gard Mugridge: Hugh was a cabinet maker.

Hugh and Fanny were in Newchurch, Isle of Wight for the 1861 census; their 8 year old daughter Fanny was with them.

Ten years later the couple were back in West Street with their son, Henry, who was also a cabinet maker.
1851 census HO107, piece no 1871, folio 317, p8
1861 census RG09, piece no 657, folio 108, p38
1871 census RG10, piece no 2080, folio 57, p25

Hugh was buried in Ashburton in 1875, aged 68
Parish records
In 1889 some delapidated buildings in West Street, opposite Messrs Watts, Whidborne and Co.'s bank, were sold to Mr Henry Stevens for £145. Mrs Fanny Mugridge and others were living in the property.
Western Times 10 July 1889, p2 col4
Later that year the buildings, 'late the property of the representatives of Hugh Mugridge' were torn down. During this work James Bowden and John Warren found the remains of an infant wrapped in canvas under the flooring of one of the rooms at the back. P S Nott was informed, who called in Drs Gervis and Fraser. They concluded that it was a fully developed child, probably hidden about 20 years previously.
Totnes Weekly Times 2 November 1889, p7 col2
Henry Gard Mugridge married Lavinia Cornish in the St Germans registration district in 1877, and a son, William Henry Cook Mugridge, was baptized in Ashburton the following year. Henry Gard's occupation was that of cabinet maker.
https://www.freebmd.org.uk
Parish records

Henry Gard Mugridge was living in East Street in the 1911 census, next to William Henry Cook Mugridge
(see People and Properties 1900s).
Both were cabinet makers.
1911 census RG14, piece no 12728
Hugh (bapt. 1807, the son of Thomas and Jane E) had at least 4 siblings: Thomas Shepherd Mugridge (bpt 1799), Solomon (bpt 1803), Mary (bpt 1805) and Jane (bpt 1810).
https://familysearch.org

Solomon, aged 38, was a wheelwright in 1841, in the household of Henry and Jane Kingwill in North Street. He was an annuitant by 1851, when he was living in North Street with his sister, Jane Kingwell. Jane, a widow aged 40, was a linen draper and grocer.
1841 census HO107, piece no 253, folio 14, p22
1851 census HO107, piece no 1871, folio 296, p20
Thomas Shepperd Moggridge* of Ashburton married Letitia Wills in Bovey Tracey in November 1825.
* Thomas signed as Thos. Shepheard Mugridge

Bovet Tracey parish records
Oddly, the marriage was announced in the Dorset County Chronicle 8 months earlier. It said that Thomas was a cabinet maker, and that Letitia was of Gale Farm, Bickington.

Dorset County Chronicle 3 March 1825, p3 col5
In the following 5 years they had at least 3 children, baptized at Ashburton: Thomas Shepheard Mugridge (jnr), baptized in 1827, Solomon Wills Mugridge, baptized 1829, and Philip baptized in 1830.
https://familysearch.org
Mary Elizabeth was baptized in 1832.
Devon Family History Society transcription

Hugh was baptized in 1834, Sarah Jane in 1835, and William Shepheard in 1839. The denomination for these three baptisms is marked as 'Independent'.
Devon Family History Society transcription

Thomas S Mugridge, aged 51, was in East Street at the time of the 1851 census, with his wife Letitia and children Hugh, Lavinia and Joseph. Thomas was a cabinet maker.
1851 census HO107, piece no 1871, folio 288, p4

The previous year Thos. Shephard Mugridge, jun., late of Ashburton, married Miss Creek* of Ashburton at St Pancras Church, New Road, London.
They had a 4 month old daughter, Eliz., and were in St Pancras for the 1851 census. Thomas was a cabinet maker.
Western Times 23 February 1850, p5 col1
* Elizabeth
https://www.freebmd.org.uk
1851 census HO107, piece no 1494, folio 256, p4

Thomas Shepherd Mugridge [snr.] was buried in February 1853, aged 53.
Parish records


Phillip Mugridge married Isabella Kingwell 21st April 1856 at St Pancras, London. They emigrated the following year - see below for their story.
Many thanks to Graham Jensen for this information.

Isabella was also from Ashburton. See The Kingwell Kingwill family for more information.
***
In 1881 Fanny Mugridge, aged 29 and born in Ashburton, was at Chappells Pianoforte Factory, Belmont Street, St Pancras. She was in the household of her 53 year old cousin Thomas J Mugridge, a pianoforte maker employing 109 men and 20 boys. Thomas was also born in Ashburton, and may in fact be Thomas S[hepheard] Mugridge jnr.

Thomas had two sons who were also pianoforte makers: Thomas S, aged 24, and William, aged 21. Both were born in St Pancras.

1881 census RG11, piece no 214, folio 4, p1
Mugridge and Ulph
According to the Pianoforte tuners' association, the Chappell factory was in Belmont Street, Chalk Farm, Camden Town, and was built 1865-66 for Chappell and Co. of New Bond Street, London. Thomas Mugridge and Ulph were the original occupiers: they made pianos exclusively for Chappell's.
https://pianotuner.org.uk/wp-content/uploads/2019/05/August-2014.pdf - Accessed 17-03-2020

An auction of household goods in 1875 included a 'brilliant-toned cottage pianoforte in handsome walnut case'. It was by Mugridge and Ulph.
West Somerset Free Press, 30 October 1875, p1 col4

In 1897 Thomas S Mugridge and William Mugridge, trading as Mugridge and Ulph, Little Camden Street, Camden Town, London, pianoforte manufacturers, are listed under Receiving Orders, in connection with the Bankruptcy Acts 1883 and 1890
Liverpool Mercury, 9 June 1897, p6 col2
***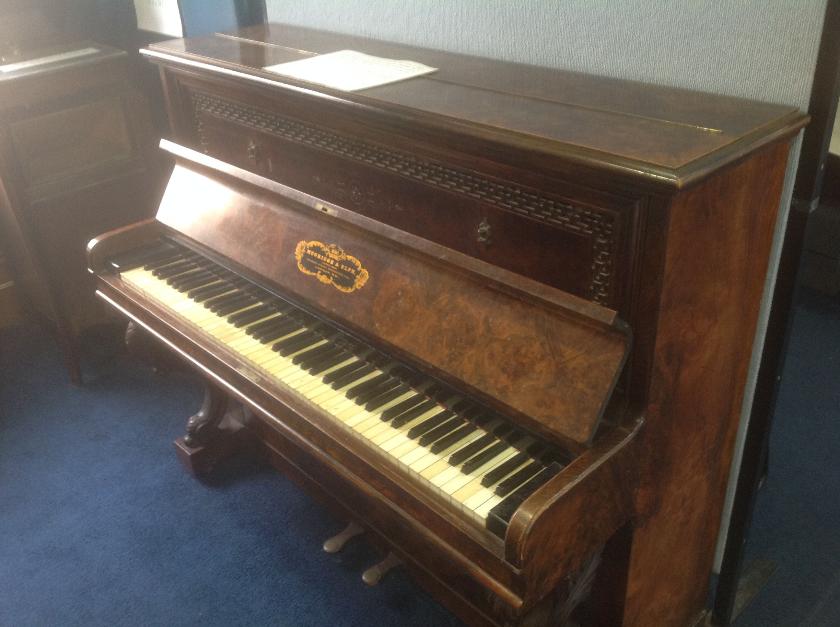 Above: A Mugridge and Ulph piano that was taken to Bathurst, New South Wales, and is now on display in the entrance to the Bathurst museum. It was a wedding present from Phillip's uncle and brother.

With very many thanks to Graham Jensen for both the photo and information.
Phillip Mugridge (1830 - 1894)
and Isabella Kingwell (1826 - 1892)

The following narrative is taken from a family history titled: Leaving the Shore: Honouring the Jensen, Watts, Rivett and Mugridge ancestors who 'left the shore' and began a new life in New South Wales between 1790 and 1879 - researched and written by Graham Jensen, to whom very many thanks for sharing it here. It is written as though Phillip Mugridge, 1830 - 1894, was telling his story.

'Ashburton in Devon had long been my family's home for as long as living memory and birth records for our family can be traced back to 1640. To leave this town and travel to an unknown future on the other side of the world was not a decision that I would take lightly and would not be without some pain.
I was born the third of six sons to Thomas Shepheard Mugridge and Letitia Wills. My father was a cabinetmaker and it was thus almost inevitable that I would learn to work with wood, as my brothers also. The challenge my brothers and I had was that the family business was not going to support all of us and thus the idea of emigrating became an attractive option.

On 21 April 1856 I married Isabella Kingwell in St Pancras Church of England, London. We decided to emigrate and left Liverpool on 15 July 1857 sailing aboard the Boanerges under Captain William Skeene. On board were 476 government immigrants: 70 married couples, 109 married men, 121 single women, 48 boys and 58 girls. Most of the immigrants were from Cambridgeshire and the English Midlands, so having originated in Devon, we were unusual.
On the day of our arrival in Australia, 26 October 1857, our first child was born. We named him Henry Australia Mugridge after the land where we would create a future for ourselves and our children. At the time of our arrival, many emigrants to Australia were heading west in pursuit of gold which five years previously had been discovered in productive quantities at Ophir and surrounding regions. Isabella and I thus headed for Bathurst where we heard of a rapidly growing town in need of experienced builders.

I began work as an itinerant builder and in 1860 my brother William joined me. In the meantime Isabella had given birth to our first daughter, Isabella (1859). Elizabeth was born three years later in 1862.

In 1873 William and I identified an opportunity to establish a timber works and under the name Mugridge Brothers purchased a two and a quarter acre block of land on the corner of Russell and Rankin Streets, Bathurst. We set out to build a business that would rival any similar outside of Sydney. The strength of our business was the variety of products and services we were able to offer, and the importance we placed on good relations with our workforce. For us there was no artificial distinction between capital and labour and we prided ourselves on both the absence of industrial disputes and the length of service to the firm by many of our employees. The strength of the relationships we had with our employees can be seen from this record of an 'employee farewell' to my brother William, just before he and his wife Mary left for a holiday in England. It was reported in the Bathurst Free Press and Mining Journal.
The chairman...said that they were about to lose their kind and liberal employer. Bathurst could not afford to lose such men as Mr Mugridge, even for a short time, for when they left, they left a place to be filled. His business entitled him to respect, for manufacturers were all too scarce in this country. Many started only to break down, and that meant loss to those employed, for in moderate-sized places like our own, which permanently employed 50-60 hands, they represented that over 100 mouths were daily filled by them. To keep all these hands busy, a master had to have his eyes open and his brain employed. That things went smoothly between Messers. Mugridge Bros. and their hands, that pleasant gathering clearly indicated.
...William Mugridge replied...he thought that when capital and labour were at war, it was generally as much the fault of capital as of labour. Each had its rights, but it must not be forgotten that capital was frequently unscrupulous in its dealings. In order to keep pace with others, employers often cut down prices lower and lower, and gave wages which would barely suffice to keep body and soul together. They remembered Hood's song of the shirt. This represented the grinding down of labour by capital, he hoped such grinding down would never take place in Australia...The grinding down was the crime of capital, and he, for one, did not blame the working men for combining to resist oppression.

Banquet to Mr William Mugridge, Bathurst Free Press and Mining Journal, Thursday 11 March 1886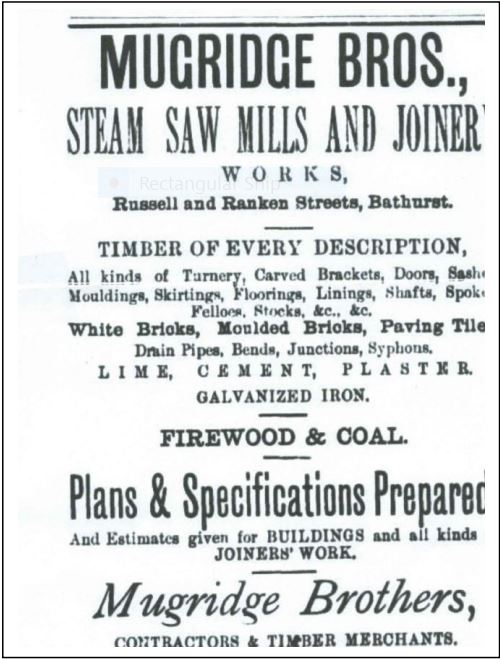 Another key to success was our willingness to build capital by accessing the best equipment available and thus investing in modern improvements and emerging technologies. We were always seeking out new opportunities to improve productivity.
18 March 1882 - ADVANCEMENT - Messrs. Mugridge Brothers, timber-merchants, of this city, are apparently determined to keep pace with the times. They have made arrangements for working a telephone between their two yards here about half a mile distant from each other having had the necessary posts erected along the line of streets between them. The connection will be made very shortly. We believe that the Messrs. Mugridge purchase the instruments for use and pay the Government a few pounds per annum for the use of the wire line, which is erected by the Government. This enterprising firm can claim the honor of being the first to introduce the new method of communication over the mountains.

Bathurst Free Press and Mining Journal, 18 March 1882

Over time, mainly due to ill-health, I withdrew from the business, leaving the management to my brother William and my son Hugh. In 1888 a Centennial History of New South Wales was produced in which the second volume identified key individuals and businesses throughout the colony. To our satisfaction, Mugridge Bros. was described well:
MUGRIDGE BROTHERS, timber merchants and builders, Russell and Rankin Streets Bathurst, established themselves in 1873 in their present works having previously carried on business in the district as builders. The trade done embraces all branches of the timber industry, and is extensive and flourishing. The plant comprises a large breaking down frame, circular saw bench, jobbing benches for cutting timber of all sizes, a large twenty-seven foot band saw for re-sawing, a Fay's planing machine working up to twenty four inches in width, ten ton overhead crane for lifting and carrying logs, large iron-turning lathe, Ransome's general joiner and smaller planer for mouldings and minor work, a sandpapering machine, emery tanite grinder and circular saw bench with twelve inch Fay's surface planer. All of these appliances are driven by a thirty horsepower engine, making it altogether one of the most complete and modern plants outside of Sydney. The grounds covered by the works, timber sheds etc. comprise two and a quarter acres, and the whole concern gives employment to ten horses and thirty hands. The firm have a complete turnout of lorries, timber carriages, and in fact all the vehicles necessary for the conduct of a large and growing business. Mr W Mugridge is a native of England, was born in Devonshire in 1839, and in 1860 came to Australia. Mr H Mugridge is a native of New South Wales.
The Aldine Centennial History of New South Wales, Illustrated

My dear wife Isabella died in 1892 following which I lived with my son Hugh. Although the business did experience some financial difficulties and William ultimately moved to New Zealand, it continued profitably under the management of my son.'

*******
Phillip Mugridge died in 1894 and the excerpt below indicates he was a well respected member of the community. He is buried in the Bathurst Cemetery beside Isabella.
The many friends of Mr Phillip Mugridge will regret to hear that the attack of bronchitis from which he was suffering this morning terminated in death. Up to the time of this seizure - about three weeks ago - the deceased gentleman was in good health, and hopes were entertained last week that he would be shortly about again, but he suffered a relapse, and despite the efforts of his medical attendant and members of his family to check the disease it proved fatal, as stated. Mr Mugridge was 63 years of age, and for many years carried on a large timber trade in Bathurst in conjunction with his brother. Shortly after the failure of that firm Mrs Mugridge died, and for some time Mr Mugridge has resided with his son, Mr H Mugridge, he having joined him in the business now being carried on in Russell-street. It was at the residence of his son that he died. Mr Mugridge was held in the highest esteem by all in the community, and by his death Bathurst loses one of its most exemplary citizens.
Bathurst Free Press and Mining Journal, 27 Jan 1894

Graham Jensen, who generously donated the research above, would like to hear from any other descendants of the Ashburton Mugridge family. You can contact him at the address opposite: