Robert Eggbeer married Rebecca Jewell in April 1831, in Ashburton. Rebecca was a sojourner in the parish.
Parish records
William Eggbeer, who had been born in June 1831, was baptised in August at the independent chapel Great Meeting. He was the son of Robert Eggbeer and Rebecca Jewel.
England and Wales Non-conformist Births and Baptisms, available through www.https://www.findmypast.co.uk/
In the 1861 census 54 year old Robert Eggbeer and his wife Rebecca were living at Great Bridge Row. With them on census night were their two sons and their daughter Susanna. The sons, William and Robert, were masons, as was their father.
1861 census RG09, piece no. 1405, folio 60, p29
In March 1862 the banns were read for William Eggbeer of the parish of Ashburton, and Mary Jane Richards of the North Petherton in Somerset. It seems likely that William was the son of Robert.
Parish records
Robert Henry Eggbeer, the son of William and Mary Jane, was baptised in March 1863. William was a mason.
Parish records
In the 1881 census 49 year old William Eggbeer and his wife Mary J were living in North Street with their 8 children. Robert H was a solicitor's clerk; Emma J was a dressmaker. All the others, apart from 2 month old E May, were scholars. William, a granite mason, had been born in Ashburton, as had all of the couple's children; Mary J had been born in Somerset.
1881 census RG11, piece no. 2161, folio 31, p 18
Albert G Eggbeer, aged 4, was one of the children on the census above
By 1891 the 14 year old Albert was a tailor's apprentice, living in North Street with his parents and some of his siblings. His elder sister Bertha M, 17, was an elementary teacher.
1891 census RG12, piece no. 1698, folio 28, p19
Robert H Eggbeer, a solicitor's clerk, was married and living in East Street by 1891. His wife was Caroline M, and they had two young children.
1891 census RG12, piece no. 1698, folio 47, p2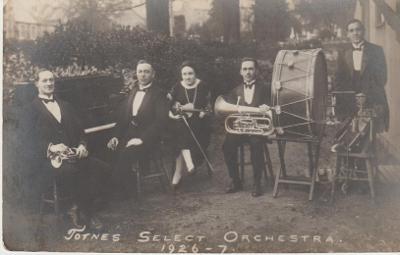 A Registration Court, for revising the lists of voters, was held at the Golden Lion Hotel in September 1892. R H Eggbeer was one of those representing the Liberals.
Totnes Weekly Times 24 September 1892, p2 col5
Bickington's war memorial was unveiled in January 1921. Mr A G Eggbeer, bandmaster, Ashburton, sounded The Last Post and Reveille.
Exeter and Plymouth Gazette, 4 January 1921, p3 col5
Above:
Albert George Eggbeer, (extreme left), was a member of the Totnes Select Orchestra 1926-27.
With many thanks to Morva Townsend, for both the picture and the information.
Albert G Eggbeer, born in August 1876, was an insurance agent by 1939. He was living at 6 Globe Arch (Park House) with Mary E A Eggbeer. Winifred J Eggbeer, born in December 1919, was also in the household. Her surname was amended to Hyslop, which indicates a marriage.
1939 register, available from https://www.findmypast.co.uk/