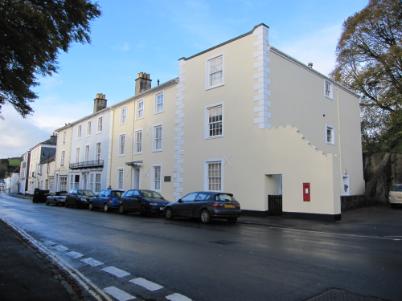 Above: Ireland House, East Street My own photograph circa 2013
Henry Naylor had arrived in Ashburton in 1918, moving from Steyning Grammar School in West Sussex.
Interstingly, although the memories of many past pupils are gathered together in 'Schooldays Remembered - Recollections of Steyning Grammar School', including several from the periods when he taught there, no-one mentions him.
He was accompanied by his wife Edith and a young and increasing family: his third child Margaret had only been born in April of that year (
GRO certificate).
He had moved from Steyning to take up the position of headmaster of the Grammar School - his first headship.
He seems to have joined into the town's activities with gusto: he was involved with the cricket club, the Ashburton Mutual Improvement Society and the horticultural society. He became Bailiff and then served two terms as Portreeve of the town from 1922 to 1923, and then to 1924 (Pete Webb, Past Portreeves of Ashburton, 7th ed. 2011). In this he was probably a typical headmaster of a small rural town. In later years Wendy Major remembers him as an imposing figure striding through the streets, academic gown flapping. Bill Spry added that he wore his mortar board around the town. Imposing, but not sartorially elegant - Heather Woodley, nee Shilstone, who was a pupil at Greylands, comments that 'He wasn't the smartest.....he didn't worry how looked. He was an unusual character. But,' she adds, 'I think he had a brilliant brain'. To this picture add a crocodile of boys, dressed in vivid uniforms of black, gold, and possibly cerise, which is Hazel Bray's memory of the pupils being taken to church. 'His wife ran along behind him,' she recalls.
Poor Edith, she gets little credit for her role as Headmaster's wife - which probably involved substantial work in the practical and pastoral care of the boarders. W S Graf (
Ashburton Grammar School 1314 - 1938, Ashburton 1938, p39
) states that this is what most wives at the Grammar School did, to the extent that at one point there was surprise at a bachelor being appointed as Principal. Bill Spry believes that she also taught at Greylands - the 1911 census shows her to have been a teacher of domestic science.
Perhpas more unusually, he seems to also have been something of an entrepreneur. In his history of the Grammar School, Graf (op. cit. pp24 -29) says that Mr Naylor, who was headmaster until 1932, operated in a world where 'schemes have to pass from committee to committee' and 'often the opportunity passes before anything can be done.'
It does not seem to have been a world in which he was comfortable - in other words, he was irritated by red tape. So it was that when new buildings and facilities were needed, he often took matters into his own hands. By 1922 he had bought Hazelwood, 51 East Street, as a boarding house for the girls, and the following year he bought three fields in Balland Lane to use as playing fields. Hazelwood was also apparently used for the junior boys, according to a letter from Andrew Hunter who boarded there in 1926 (preserved in St Lawrence Chapel Grammar School scrapbooks), but when it was no longer adequate for its original purpose there was 'another enterprise of the headmaster', the purchase in 1925 of Greylands, at 48 East Street. Later again, in 1928, he bought Ireland House from the Grammar School governors (deeds and mortgages connected with this are in the Devon Record Office). These properties were not cheap - although they seem so to us today - Ireland House cost £510, and Greylands was probably in the region of £950, the price it had sold for previously in 1920 (Exeter and Plymouth Gazette 14 May 1920 p5 col4).
Henry's father, William Joseph Naylor, had died in 1921, but the funds for Henry's purchases did not come from him - William's net estate was just under £344, (gross just under £1849) and even that was basically put into trust for William's wife. It was to be divided equally amongst his twelve children after her death.
He would, however, have had a financial boost in 1932. His father-in-law, William Shipley, died in 1930, leaving most of his personal estate in trust for his wife, Clara Matilda. However, she probably died in 1932 (Clara M died Walsall in the December quarter - freeBMD), and the estate was then to be divided equally amongst his children. As his will mentions three sons-in-law and three daughters-in-law that must mean that in 1930 at least there were a minimum of six children. However, as the estate that William left was worth £9218 net (£12597 gross) Henry, or Harry as William calls him, probably benefited from Edith's inheritance of perhaps £1500.
As well as the 5 and a quarter acres of fields at Balland he also had land at Waterleat (Western Times 14 Apr 1927 p1, col 5), and possibly cottages at Stormsdown (WMN 9 Sep 1926 p2 col5 ) and a bungalow with views to Haytor - these latter properties were certainly rented out by a person called Naylor, just as Henry rented out Ireland House when it was no longer used by the Grammar School (WMN 26 Jan 1929, p2 col5).
The girls, for whom Hazelwood was purchased, had been admitted to the Grammar School in 1912, but co-education did not last long. The governors abandoned it in 1930 (W S Graf p33) when some of the girls became the first pupils of the new Ashburton High School.
Hazel Bray, whose sister was at the Grammar School when it closed, suspects that the headmaster might have encouraged the governors in their decision - he was, she maintains, 'a schemer'.
It opened on September 16th at Greylands, 'for boarders and a limited number of day pupils' (Ian Stoyle ephemera) with Miss M J Sharkie as headmistress. There is no mention of the Grammar School head being behind the venture, but surely there can be little doubt that he was: he both owned the premises, and as we shall see, is very much in evidence in the years to come.
A year later, back at the Grammar School, the County Council, in a time of dramatic economic downturn, was more than usually concerned about cost. According to Graf, getting funding for improvements was proving difficult ( W S Graf, p34) and in parrticular, the headmaster's house, which by this time was on the premises at Balland Lane, was too small for Mr Naylor and his family. It seems to have been the last straw - Henry Naylor resigned.
Below:
Hazelwood House, East Street
My own photograph, circa 2013