[1] William Hutchings born circa 1808
[2] William B Hutchings born c 1827
[3] William Henry Hutchings bapt 1853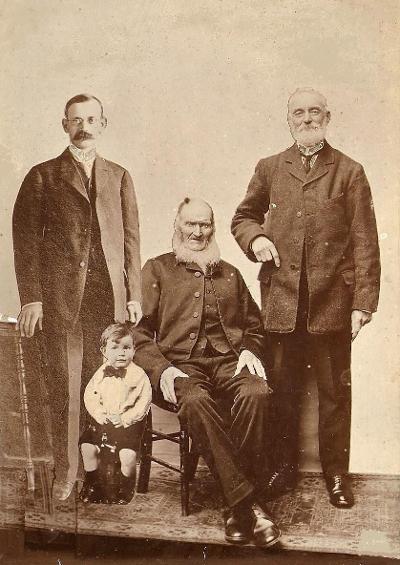 Left: This photo (Kevin Joint has the original) was printed in an unknown newspaper in 1913. The caption was as follows: 'William B Hutchings (seated) is a native of Ashburton, where he has lived all his 88 years. His son, William [Henry], aged 60 (on the right) is a resident of Ashburton. His grandson Frederick is in California where his great-grandson was born three years ago.'
With many thanks to Kevin Joint

Frederick John Hutchings was born in the June quarter of 1878, in Launceston registration district. His mother's maiden name was Blight.
https://www.gro.gov.uk/

In February 1824 the banns were read for the marriage of William Huchings of Ashburton and Jane Courtier of Ilsington.
Ashburton parish records

Samuel Courtier, son of Jane Couriter, a spinster, was baptised in July 1824 at Ilsington.
Transcription Ilsington parish records, Devon Family History Society.
The Devon Heritage Centre holds a document from the overseers of Ilsington parish, concerning payment for a male child born on the 29th May 1824 to Jane Courtier. The father was William Hutchings of Ashburton.
Devon Heritage Centre ref 4289A/PO/4/c/11, alternative reference no. 122A/PO/334
https://devon-cat.swheritage.org.uk/records/4289A/PO/4/c/11
The couple appear to have married in August of 1824, at St David, Exeter. Both said they were of the parish.
Exeter parish records
Samuel Courtier married Sarah Ann Bartlett in November 1850 at Ashburton. He named his father as William Hutchings.
Parish records

William and Jane Hutchings, both approximately 35 years old, were living in East Street at the time of the 1841 census. With them were William, 15; Elizabeth, 9; Susan, 6 and Ann, 2.

Ann Hutchings' birth was registered in the December quarter of 1837. Her mother's name was Courtler, which probably should read Courtier.
1841 census HO107, piece no. 253, folio 18 p31
https://www.gro.gov.uk
John Hutchings' birth was registered at Newton Abbot in the September quarter of 1841`.

Jane Hutchings' birth was registered at Newton Abbot in the June quarter of 1844.

Harriet's birth was registered in the June quarter of 1849.

In all cases the mother's maiden name was Courtier.
https://www.gro.gov.uk/gro/content/certificates/indexes_search.asp - accessed 11-09-2020

Jane and Harriet Hutchings, daughters of William and Jane, were baptised in May 1849.

Parish records

William Hutchings [2], aged 24 and unmarried, was living in East Street in the 1851 census. He was with his parents William [1], 43, and Jane, 47. Four siblings of William were also in the household: Ann, John, 9, Jane, 7, and one year old Harriett.
1851 census HO107, piece no. 1871, folio 291, p 11
In 1852 William Hutchings [2], a labourer, married Susan Preston; both were of full age. William's father was also called William.
Parish records
Jane Hutchings, aged 8, was buried at Ashburton in October 1852.

Susan Hutchings, aged 17, was also buried at Ashburton in October.
Jane Hutchings, 49, was buried in November of the same year.
Parish records
Harriet Hutchings, aged 4, was buried at Ashburton in October 1853
Parish records

John Hutchings was buried at Ashburton in December 1864. He was 23.
Parish records

William and Susan were in Browses Buildings at the time of the 1881 census. William, a gardener, was 55, and his wife 49. Living with them were three daughters, Susan, Hariete and Sarah, and one son, Samuel. Sarah, the youngest child, was 9.
1881 census RG11, piece no. 2161, folio 72, p19

In 1888 William Hutchings, a labourer of over sixty, had an accident at Waye Quarry. He was using a crowbar to excavate building stone when he rolled down the almost perpendicular rockface, fracturing his right leg and dislocating his ankle. Dr Tanner attended him at the Cottage Hospital.
It seems likely that this is William B Hutchings, born circa 1827

Western Times 11 May 1888, p5 col7
By 1901 William B Hutchings and his wife Susan A were living at Station Cottages, with their 32 year old son, Samuel. William now says he was born in Tiverton, and his wife in Buckfastleigh.
1901 census RG13, piece no. 2053, folio 7, p6

From Kevin Joint: ' William B Hutchings was the oldest inhabitant of Ashburton at the time of his death in 1920. He was living at 30 North Street with his son William Henry, having moved from No. 7 Station Cottages - presumably to be looked after. He was 95 years old when he died.'
With thanks to Kevin
Right: William Henry Hutchings in his toy, china and fancy goods shop, North Street. Photograph taken sometime in the early 20th century
Many thanks to Linda Cameron both for the photograph, and for information below. I have added to it where I can.
William Henry [3], the son of William and Susan, was baptized in May 1853
Parish records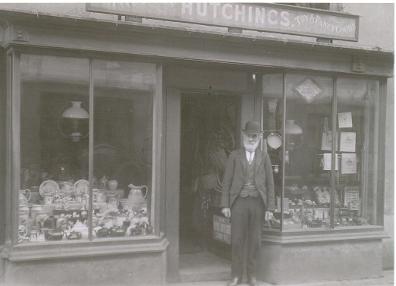 In the 1861 census William Henry was with his parents at Waye Kiln: his father, a lime burner, was 34 and his mother 29. William was 8; also in the household were his two younger sisters, Elizabeth and Mary, aged 5 and 2. All of the family had been born in Ashburton.
1861 census RG09, piece no. 1405, folio 16, p11
By 1871 eighteen year old William was a groom, working at Waye House. Mary J Blight, aged 22, was a general servant in the same household.
1871 census RG10, piece no. 2080, folio 16, p9
William Henry Hutchings married Mary Jane Blight in the March quarter of 1872, in the Newton Abbot district.
https://www.freebmd.org.uk
By 1891 William Henry was living in North Street, but was employed as a gardener - according to family tradition, before they married both he and his wife worked at Waye House and Waye Farm.
http://www.freecen.org.uk/
From great granddaughter Linda Cameron
In 1911 he was still living in North St, on the eastern side of the road, roughly at No. 30 - see the People and properties section.
William was an earthenware dealer, and he and his wife, Mary Jane, had been married for 39 years. Of their 8 children still living, five were with them on the census: Ella Jane, Emma Amelia, Lily Elizabeth, Amy Louisa and Herbert Charles.
1911 census RG14, piece no. 12727
This is probably where the shop pictured above was situated.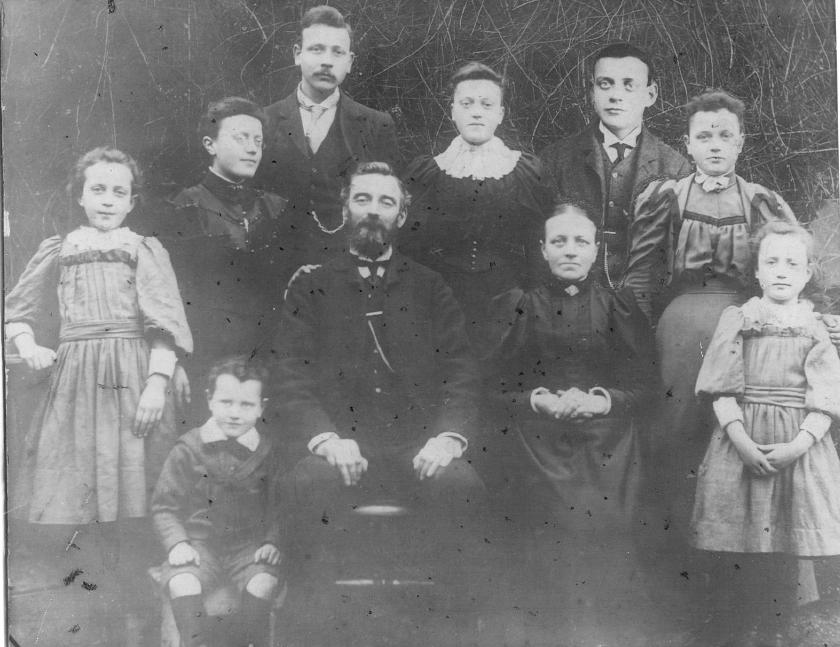 Above: William Henry, Mary Jane and children.
With many thanks to Linda Cameron
William H Hutchings died in the December Quarter of 1930, aged 77, and his death was registered in the Plymouth registration district.
In January R Hancock and Son, solicitors in Callington, appealed to other solicitors and bankers for any will that they might hold for William. The advertisement said that he was formerly of Ashburton, but had lived for the past three years at Callington, and had died on December 18th 1930
Western Morning News 17 January 1931 p1 col2
See the Virtual Museum 1900s section for a postcard that was probably sent to William Henry Hutching's daughter.

Kevin Joint is great grandson of Sarah Hutchings, who was a younger sister of William Henry.
'My great gran was known to us as Gran Andrews as she married George Andrews she was, for a time, the oldest inhabitant of Saltash, Cornwall. She lived to 102 years.'
Many thanks to Kevin for this contribution.

Sarah Hutchings, the daughter of William and Susan, was baptised in September 1871. William was a labourer.
Parish records

The banns were called between George Andrews of Dartington parish and Sarah Hutchings in August 1893. A note in the record says that they were married in September.
Devon Banns registers

George and Sarah were living at Hewton, Bere Alston, Devon, in 1911, with their 12 year old daughter, Ada Louise. George was a market gardener. Married for 17 years, they had had two children, both still living.

1911 census RG14, registration district Tavistock, piece no. 13065

The couple celebrated their silver wedding in 1918. George was the son of the late J A Andrews, of Week, Dartington; Sarah was the youngest daughter of W B Hutchings, Ashburton. In 1918 the couple were living at Horson Farm, Antony, Torpoint.
Western Evening Herald, 10 September 1918, p2 col4
In May 1965 Saltash's first 'Meals on Wheels' service began. 93 year old Mrs Sarah Andrews, who lived alone at 121 Fore Street was the first customer.
Cornish Guardian 27 May 1965, p2 col2