can search the website from the Home Page
The Tucker Family
At least two Tucker families have featured in Ashburton - the family of solicitors in the town (see immediately below) and the family of Edwin Tucker and Sons, seed merchants, who came to Ashburton in the early 1860s*. The latter firm is still going strong today (2016). Some information is at the bottom of the page.
*1831 According to their own website - perhaps an earlier relative ?
http://tuckers.stores-and-co-ops.agriculture.crediton.tel/
'The Tucker family was prominent in the town for 6 generations. Starting from professional roots,
Moses Tozer, surgeon, died 1791 is the first name on the family vault. Robert Tucker* was
succeeded by Robert Tucker**. They founded the solicitors firm of that name and took leading parts
in public life in Ashburton. One branch of the family, that of Major General Sir Charles Tucker*** is
commemorated by 2 tall crosses, one north of the church to his first wife who died in Secunderabad,
the other in the churchyard extension to himself and other members of his family.'
From: Background to the tombstone survey - see the sub-menu of Churches and memorials.
*Circa 1803 - 1893
**Robert Coard Tucker 1833 - 1925. There was in fact a third Robert - Robert Edward Tucker, born September 1863. he also became a solicitor.
*** 1838 - 1935 Son of Robert Tucker Snr.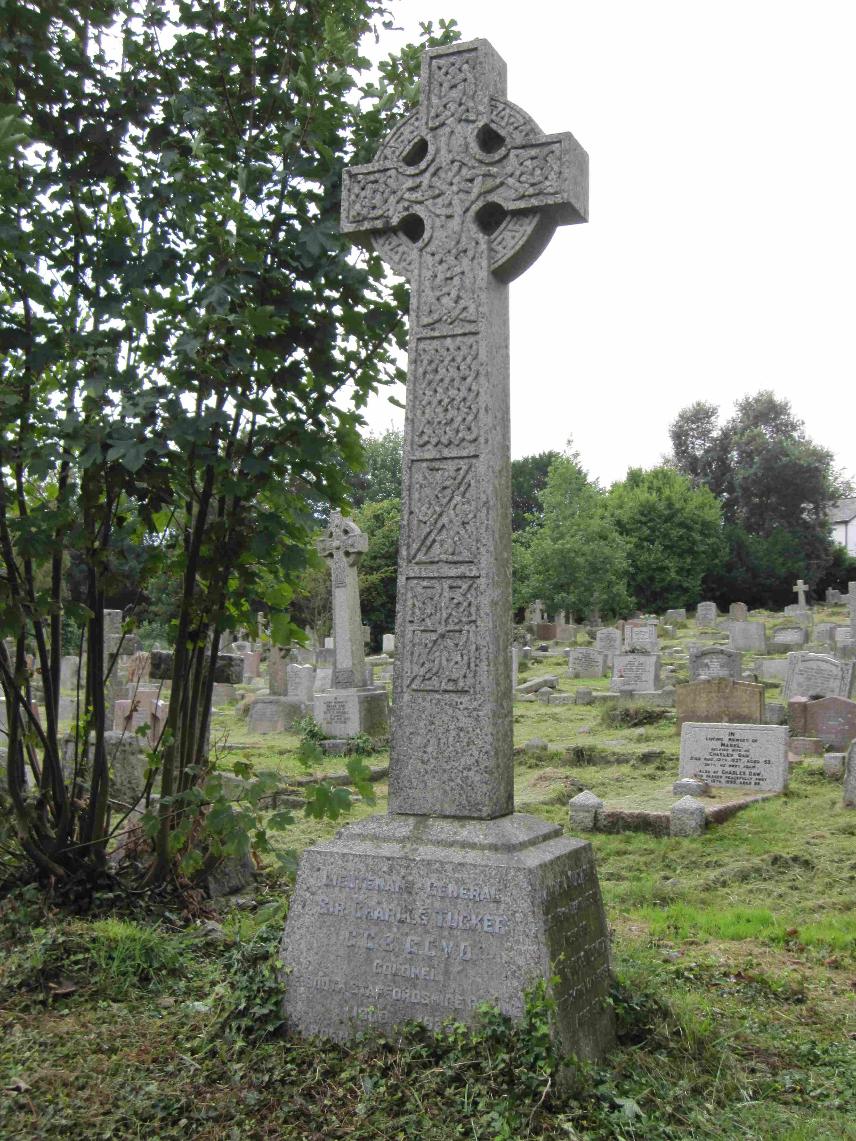 Above: Memorial to Lieutenant General Sir Charles Tucker GCB GCVO in Ashburton Churchyard.
It reads: Colonel The South Staffordshire Regiment 1909 - 1935
Born 6th December 1838 Died 22 December 1935
A similar cross to the north of the church is a memorial to Matilda Frederika Hayter, the wife of General C Tucker. She died in Secunderabad 11th July 1897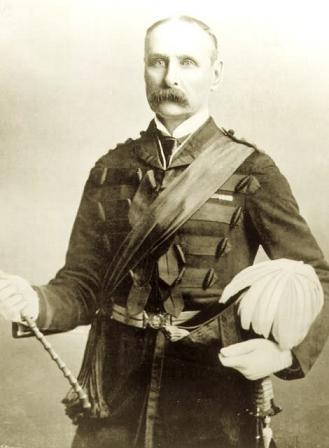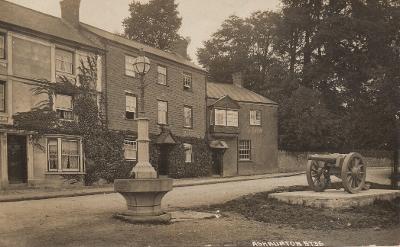 Above: Cannon at the top of East Street, presented by Gen Sir Charles Tucker to R E Tucker in 1904.
From the collection of Kevin Joint, to whom many thanks
Sir Charles retired in 1905 after 50 years in the army, but was still a full Colonel in the South Staffordshire Regiment. His connection to the army therefore totalled 76 years.

At the Grammar School annual prize day in 1931, a letter was read out from General Sir Charles Tucker, aged 94, the oldest surviving old boy of the school at the time. He had joined the 22nd Regiment in 1855, paying £450 to become an Ensign. His pay at the time was 5s 3d a day.
Exeter and Plymouth Gazette 16 December 1931 p2 col5
********
At 95, Sir Charles was the oldest general in the British Army. When he died in 1935, the family asked that there be no flowers at the funeral except Haig poppies. The funeral had to be postponed several times, because rough weather delayed the return of his body from Biarritz.
The coffin was carried from the Hall, where Sir Charles had been born, on a gun carriage drawn by four horses: it was draped with the Union Jack, and his plumed hat, belt and sword were on top. All the pall-bearers were high-ranking army officers. A band from the South Staffordshires played Chopin's Funeral March and Handel's Dead March in Saul, as the funeral processed to the parish church through streets lined with people.

The family mourners were: Mr Duncan Tucker, son.
Mr and Mrs H Ward Oliver, son-in-law and daughter.
Mrs R L Bazalgette, granddaughter, and Capt R L Bazalgette*.

Col. R E Tucker, nephew, and Mrs R E Tucker.
Mr N P Squarely, nephew.
Mrs O Fosbrooke, grand-niece, and Mr O Fosbrooke.

Miss Tucker, niece.
Com. E W Kitson.
A firing party of fourteen fired a salute as the coffin was lowered into the grave, followed by sixteen buglers sounding The Last Post and Reveille.
*Reginald Louis Bazalgette had married Leonie Frederica Ward Oliver, the daughter of Henry Ward Oliver and Edith Augusta B Tucker.
https://www.freebmd.org.uk
Thanks also to Charles Bazalgette
Western Morning News 28 December 1935 p1 col2
Western Morning News 31 December 1935 p3 col3
Exeter and Plymouth Gazette 3 January 1936 p14 col5
Western Times 3 January 1936 p9 col2

His obituary in the Western Morning News said that he had taken part in campaigns in Bhotan (1865) and Perak (1876) and had fought against Sekukuni and the Zulus.
He was known to use robust language on the parade ground. On one occasion in South Africa, when Field Marshall Sir Evelyn Wood was inspecting the troops, the bugler, instead of sounding the Advance, sounded the Retreat. Before Sir Charles could 'explode' he realised that the Field Marshall was looking at him, so modified his outburst to 'Oh, you are a naughty boy !'
Western Morning News 24 December 1935 p6 col1
*******

Andrew Tucker, Doctor of Laws, and his descendants

'Doctor Andrew G C Tucker* was born in 1778 at Ashburton. After qualifying as a solicitor and obtaining the degree of LL.D. of St Andrews, he practised in that town and evidently from his writings was a keen naturalist and philosopher.'
Report and transactions of the Devonshire Association, Plymouth 1900, Vol XXXII p271
Available to read freely on http://archive.org/ Accessed 22/9/2013
* Believed to be Andrew Griffin Coard Tucker
"Old Stephen Tucker (husband of Joanna Squarry) of Teignmouth, great grandfather to Robert Tucker, of Ashburton. William Tucker, his son, was a Newfoundland merchant. Andrew Griffin Coard, bap. Sep. 1778, and William were William's two sons, who lived with their grandfather, Stephen, whilst their father was on his voyages. William became a sailor, was taken prisoner by the French...He afterwards sailed from Newfoundland, and the ship was never heard of."
Family records compiled by Lavinia M Squarey, 1909, via http://www.rootsweb.ancestry.com/~cannf/pw_lloyds1771-1780.htm

Stephen Tucker wed Johannah Squeery, 1734.
1739 West Teignmouth. William, the son of Stephen and Joanne Tucker.
Lloyd's Register 1791. Vessel: Two Brothers, Captains Townsend and Prowse. Voyage Dartmouth to Newfoundland, 67 tons/8 men. Built at New England 1770, for W. Tucker.
Vessels, Voyages (Lloyd's List & Register) and early Port de Grave surnames, via http://www.rootsweb.ancestry.com/~cannf/cb_earlypdgships.htm

William Tucker Jr. of West Teignmouth, with Andrew Griffin Coard Tucker of Ashburton, Gent owned the Brig 'Jane & Mary', 86 Ton. Built in France in 1788, it was 'a Prize'.
1801 -1845 Voyages, to and from Newfoundland, via http://www.rootsweb.ancestry.com/~cannf/pw_lloydspost1800.htm

Andrew Griffin Coardy Tucker was baptised 4th September 1778 at West Teignmouth, the son of William and Elizabeth.
https://www.familysearch.org
In 1794 Andrew G C Tucker was registered as an apprentice attorney to Thomas Turner, in Exeter.
Country Apprentices 1710 -1808 transcription, via https://search.findmypast.co.uk

He married Maria Pitts Squarey in August 1799 at West Teignmouth.

His second marriage was to Harriet Luke in November 1823 in Plymouth.
Amongst the marriage bonds and allegations held at the Devon Heritage Centre is one for Andrew Griffin Coard Tucker, Doctor of Law, widower, and Harriet Luke of St Andrew, spinster.
https://www.familysearch.org
Devon Heritage Centre ref DEX/7/b/1/1823/284 https://devon-cat.swheritage.org.uk/records/DEX/7/b/1/1823/284

Dr Andrew G C Tucker wrote 'Ornithologia Danmoniensis or an history of the habits and economy of Devonshire Birds', published by Cadell and Davies, London, 1809 - the first person to publish a work on the birds of just one county.
Bookseller's description, Abebooks, December 2015

'Dr. Butters, in a letter addressed to the editor of this work, has described the case of Mr. R. Tucker, son of Dr. Tucker of Ashburton, who mistakes orange for green.....Like Mr. Dalton, he could not distinguish blue from pink; but he always knew yellow.'
On the invisibility of certain colours to certain eyes, The Edinburgh Journal of Science, Vol 4, Nov-April 1826, p85
'Died] At Ashburton, in her 45th year, Maria, wife of A Tucker esq., solicitor.'
Maria Pitts Tucker was buried at Ashburton on 17th May, 1821.
The Monthly Magazine or British Register, vol51, London, 1821, p588
Parish records

8 September 1828 Robert Tucker of Ashburton married Lavinia Hancock of Wiveliscombe. She was the youngest daughter of Wm Hancock, a banker.
Exeter and Plymouth Gazette 20 September 1828 p3 col2
Robert Charles Tucker was baptised 5 November 1829, the son of Robert Tucker and Lavinia
https://familysearch.org/
see Deaths, below
Robert Charles, infant son of Robert Tucker, solicitor, died in 1830
Western Times 6 March 1830 p4 col6

1831 A daughter born to 'the lady of' R Tucker'
Western Times 9 July 1831 p3 col5
= Lavinia Mary, baptised 1832, the daughter of Robert Tucker and Lavinia ?
https://familysearch.org/

Died, 11 November 1832 Dr Tucker, aged 55
Exeter and Plymouth Gazette 17 November 1832 p2 col4

8 February 1833 A son born to 'the lady of' Robert Tucker.
Exeter and Plymouth Gazette 16 February 1833 p3 col1
Robert Coard Tucker was baptised 16 May 1833, the son of Robert Tucker and Lavinia
https://familysearch.org/

William Tucker was baptised 17 September 1835, the son of Robert Tucker and Lavinia
https://familysearch.org/

1 April 1837 A daughter born to 'the lady of' Robert Tucker
Exeter Flying Post 6 April 1837 p2 col6
Probably = Anne - see 1861 census

5 December 1838 A son born to 'the lady of' R Tucker
Western Times 8 December 1838 p2 col6
= Charles Tucker - see memorial above.

21 November 1840 A son born to 'the lady of' R Tucker
Probably Henry Tucker, birth registered December quarter 1840 Newton Abbot district. He died the following August (see Deaths below)
Western Times 28 November 1840 p2 col5
http://www.freebmd.org.uk

14 August 1841 Henry, youngest son of Mr R Tucker, solicitor, died.
Western Times 21 August 1841 p3 col1

23 October 1841 Lavinia Tucker, aged 32. Wife of Robert Tucker, mother of four children, died.
North Devon Journal 28 October 1841 p3 col2

1849 The Western Times alleged that Mssrs. Matheson, Tucker and Caunter were as strong in Ashburton as Matheson and Co were in China.
Western Times 2 June 1849 p7 col5
For more on Lieut General Thomas Matheson, MP for Ashburton, see the Election fever sub-menu under Gathering together.
For more on the Caunter family, see the sub-menu under People and properties.

29 July 1857 Robert Coard Tucker, eldest son of R Tucker, solicitor, married Katherine Margaret Kitson of Waye House
Exeter Flying Post 30 July 1857 p5 col2

24 May 1858 A daughter was born to the wife of R E Tucker, solicitor
Exeter Flying Post 3 June 1858 p5 col3

18 February 1860 A son* was born to the wife of R C Tucker
Exeter Flying Post 22 February 1860 p4 col5
* Robert Charles Tucker, born March quarter 1860. see Deaths below.
http://www.freebmd.org.uk/
5 March 1860 Robert Charles, infant son of R C Tucker, solicitor, died.
Exeter and Plymouth Gazette 10 March 1860 p5 col4
The Ashburton Rifle Corps assembled in April, with Lieut R C Tucker, and Sergeants Eddy, Philips, Hern, Harding, and Amery.
Exeter and Plymouth Gazette 28 April 1860 p6 col1

In the 1861 census widower Robert Tucker, aged 58, solicitor, is living in East Street with his family. They include his 28 year old son Robert C(oard) Tucker, another solicitor, and his wife Catherine M Tucker. Also in the household are Robert Snr's unmarried daughter Anne,24, and his granddaughter Catherine W Tucker.
http://www.freecen.org.uk

18 February 1862 A daughter was born to the wife of R C Tucker
Western Times 22 February 1862 p5 col4

5 September 1863 A son was born to Mrs R C Tucker
Exeter Flying Post 9 September 1863 p5 col2
Robert Edward Tucker was born in the September quarter 1863, Newton Abbot district.
http://www.freebmd.org.uk/

The deeds of The Wilderness, East Street, include an indenture made on November 9th, 1863.
John Angel, innkeeper, and his wife Eliza were of the first part; Elizabeth Waycott of Totnes was of the second part; Robert Tucker was of the third part and Robert George Abraham was of the fourth part
Thanks to Sandy Smith for allowing me to see these deeds

9 March 1865 A son was born to the wife of R C Tucker
Exeter and Plymouth Gazette 17 March 1865 p5 col5
Charles Cartwright Tucker was born in the June quarter of 1865
http://www.freebmd.org.uk/

In 1866 a committee in Totnes was investigating bribery in elections. Robert Harris gave astonishing evidence as to the scale of the problem, claiming that £25 was almost the going rate for securing votes, with larger amounts being paid at times. He said that Mr Tucker of Ashburton was frequently at Totnes - 'He does the legal dirty work'.
Gloucester Journal 1 September 1866 p8 col4

21 September 1866 A son was born to the wife of R C Tucker
Western Times 28 September 1866 p5 col3
Alan P(lasket) Tucker was registered in the December quarter of 1866, in the Newton Abbot district.
http://www.freebmd.org.uk/
See deaths below.

8 February 1868 A son was born to the wife of R C Tucker, solicitor
Western Times 14 February 1868 p5 col2

25 November 1872 A son was born to the wife of Capt R C Tucker
Exeter and Plymouth Gazette 30 November 1872 p3 col2

In White's Directory of 1878-79 Robert Tucker and Robert Coard Tucker are described as Tucker and Son, solicitors at The Hall.
White's History, Gazetteer and Directory of Devon 1878-79 p122
The Hall, at the top of East Street, is described by Nicholas Pevsner as being built in 1803. It had (has?) a polygonal entrance hall, with a bust of Mr. Tucker by P. Olivieri. The staircase had alternate fluted and twisted balusters.
The Buildings of England, Devon, Bridget Cherry and Nicholas Pevsner, 1991,p133

28 January 1887 Alan Plasket Tucker, son of Robert Coard and Catherine Margaret Tucker, died in London aged 20
North Devon Journal 3 Feb 1887 p8 col6

27 April 1892 Captain R E Tucker married Annie Lloyd Williams in Anglesey.
'The presents were numerous and costly'
Western Times 29 April 1892 p8 col4

2 May 1893 When Robert Tucker died, aged 90, he was described as a 'sturdy' Liberal and a good friend to the poor, the 'Grand old man of the town'.
Relatives named at the funeral included his sons Major R C Tucker and W Tucker, and his daughter Mrs Squarly.
Western Times 5 May 1893 p6 col5
Western Times 9 May 1893 p3 col2

Robert's tombstone inscription includes details of his wife, Lavinia, who died on the 23rd October 1841 aged 32, and their son Henry, who died on 13th August 1841, aged 8 months. Also commemorated is Charles Bird, barrister, formerly of Exeter, who died on 6th May 1858, aged 80, and his wife Ann, who died on 8th December 1861, aged 77.
See https://www.ashburtonarchive.org.uk - accessed 21-03-2021

It seems likely that Ann was Ann Squarey, who married Newell Vicary in October 1808, and Charles Bird in September 1819. Members of the Tucker family were witnesses on both occasions.
Parish records
25 June 1894 A son was born to the wife of Capt R E Tucker
Exeter Flying Post 28 June 1894 p4 col7
This would be Alan Robert L Tucker, born the September quarter 1894 Newton Abbot district.
http://www.freebmd.org.uk/
See death in 1914 below

14 April 1896 A daughter was born to the wife of R E Tucker
Exeter Flying Post 18 April 1896 p7 col4

April 19th 1898, the Rev C C Tucker, son of Mr Tucker of Ashburton, married Charlotte Smith, at Ely.
Exeter Flying Post 23 April 1898 p8 col4

In 1902 R E Tucker was Captain and Hon Major of the Ashburton 5th (Haytor ) Volunteers Battalion, Devonshire Regiment A Company. The company were based in Station Road and were 107 strong.
Kelly's Directory of Devonshire 1902, p 31.

The Rev Charles Cartwright Tucker died in 1905. His coffin was brought from Torquay, where he was a curate, to Ashburton. He was described as the son of Major and Mrs Tucker
Western Times
Golden Wedding
July 1907 Maj and Mrs Tucker. Married 29th July 1857. Major Tucker's father was Robert Tucker, and his father was Andrew Tucker, Doctor of Laws.
Mrs Tucker's father was the Rev. W. Kitson.
Exeter and Plymouth Gazette 29 July 1907 p4 col2
They celebrated their diamond anniversary ten years later.
Western Times 31 July 1917 p5 col1
Right: A clock to celebrate the golden wedding of Robert Coard Tucker and Katherine Margaret Kitson. The words 'Golden Wedding' replace the numbers; the initials of the coupleand the date of their wedding is written on the face of the clock.
Many thanks to Brendan Tucker for this photograph - see more in the Virtual museum.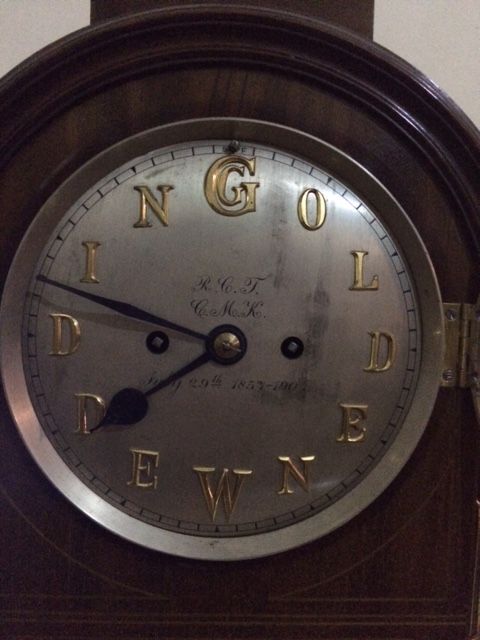 In the 1911 census 78 year old Robert Coard Tucker is living at The Hall with his wife Catherine Margaret Tucker and his daughters Katherine Winifred and Marion Tucker. He describes himself as a retired civil servant on a pension.
http://home.ancestry.co.uk/

His son Robert Edward Tucker, solicitor is living at Roborough, East Street with his wife Annie Lloyd Tucker. He is 47
http://home.ancestry.co.uk/

1914 Second Lieutenant Alan Robert Lloyd Tucker, Royal Warwickshire Regiment, died between 18 and 20 December 1914, aged 20. He was the son of Robert Edward and Annie Lloyd Tucker, of The Hall, Ashburton, Devon.
www.cwgc.org.
Catherine Margaret Tucker, of The Hall, died 'in her 93rd year' in July 1924
Western Morning News 2 July 1924 p1 col2

October 1925, 'in his 93rd year' Major Robert Coard Tucker, solicitor, died.
Western Morning News 12 October 1925 p3 col2
*******
Some other Marriages:
27 May 1841 At St Sidwell's, James Thurston Shorto married Maria Elizabeth Tucker, of Dix's Field. She was the daughter of the late Dr Tucker of Ashburton
Exeter and Plymouth Gazette 29 May 1841 p2 col7

9 May 1848 Lavinia Nugent Tucker, daughter of the late Andrew Griffin Coard Tucker LLD married the Rev John Comins
Exeter and Plymouth Gazette 13 May 1848 p5 col5

27 September 1854 Elias P Squarey married Lavinia Mary Tucker, eldest daughter of Robert Tucker
Western Times 30 September 1854 p5 col1

3 December 1859 John Furneaux Tucker of Gaye's House, Ashburton married Elizabeth Barns at Buckfastleigh
Exeter and Plymouth Gazette 10 December 1859 p5 col5

17 August 1867 Dorchester. Edward A Worthy, son of Charles Worthy, married Annie Tucker, youngest daughter of Robert Tucker.
Exeter and Plymouth Gazette 23 August 1867 p5 col6

5 May 1869 Feltham. William Tucker, son of Robert Tucker, married Emma Johnson
Western Times 14 May 1869 p5 col6

Some other Deaths:
13* December 1836, aged 29. The sister** of Robert Tucker, solicitor.
* 9th December in the Western Times
** Named as Ann Tozer Tucker in the Western Times
Exeter and Plymouth Gazette 17 December 1836 p2 col6
Western Times 17 December 1836 p4 col3

23 April 1859 Mary, wife of John Tucker, at Gage's House
Exeter Flying Post 28 April 1859 p5 col1
*******

Edwin Tucker and Sons
Edwin, the son of John and Sarah Tucker, was baptised in Harberton in March 1839. The family lived at Hazard, and Edwin's father was a yeoman.
Parish records

The 1861 census for Hazard, in Harberton, shows 22 year old Edwin Tucker, farmer and seed dealer, living with his widowed mother Sarah.
By 1871 he is living in Kingsbridge Lane, Ashburton, and is married to Elizabeth Jane. They have four children.
http://www.freecen.org.uk/
He married Elizabeth Jane Parnell in 1862 - they begin having children in Ashburton in 1863 (see below), one of whom is J Parnell Tucker*; his wife is Elizabeth J on the 1891 census. He is a seedsman (in brackets), maltster and farmer.
http://www.freebmd.org.uk/
http://www.freecen.org.uk/
1871 census RG10, piece no 2080, folio 56, p23
* Named as a son at the funeral of his father in 1916
Western Times 5 September 1916 p5 col6

2 May 1863 At Ashburton, to the wife of Edwin Tucker, seed merchant, a son
Exeter and Plymouth Gazette 8 May 1863 p5 col5

21 February 1868 to the wife of Edwin Tucker a daughter
Western Times 28 February 1868 p5 col6
In 1869 Mary Hext and her son John were charged with stealing 14 turnips and 75 tops, belonging to Edwin Tucker. They were each fined 5s 6d to cover the value of the produce, plus 7s costs.
Exeter and Plymouth Gazette 25 March 1869 p7 col3

18 March 1870 A son was born to the wife of E Tucker
North Devon Journal 24 March 1870 p8 col4

13 August 1872 at Kingsbridge House, to the wife of Edwin Tucker a son
Western Times 16 August 1872 p5 col6
This was probably Alfred Henry Tucker, born September quarter 1872 in the Newton Abbot registration district.
http://www.freebmd.org.uk/
See below for his marriage in 1899

In White's Directory of 1878-79 Edwin Tucker is described as a maltster and seed, grain and manure merchant of Kingsbridge Lane
White's History, Gazetteer and Directory of Devon 1878-79 p122

5 July 1899 Alfred Henry Tucker married Elizabeth Ella Spreckley at Loughborough. He is described as the third son of Edwin Tucker.
Western Times 10 July 1899 p1 col1

In 1901 John Parnell Tucker is living at Orley House, East Street.
http://home.ancestry.co.uk/

3 December 1903 Edmund Tucker, youngest son of Mr and Mrs Tucker, married Mabel Elizabeth Loveys at Moretonhampstead. Mr and Mrs Tucker were then at Bank House
Western Times 8 December 1903 p1 col1
They were still living at Bank House when their daughter Ellen Jane died in November 1907
Exeter and Plymouth Gazette 2 December 1907 p1 col3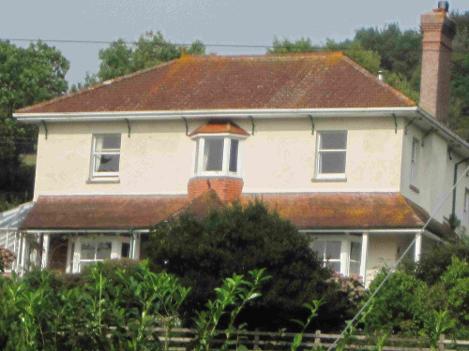 In the 1911 census Edwin Tucker Snr, maltster, seed merchant and farmer is living at Thorn Park with his daughter Emily Tucker and his son Edmund.

Left: Thorn Park, where Edwin Tucker Snr was living in 1911
My own photograph 2013
***
Edwin Tucker Snr. died in August 1916 at his residence, Thorn Park. Aged 77, he was the founder of Edwin Tucker and Sons, maltsters and seed merchants, and had been active in public affairs throughout his life. An 'ardent' conservative, he was a past portreeve, and chairman of the directors of the Ashburton Building Company. At one time he had been a local representative on the Newton Abbot Board of Guardians, and was a member of the Dart Fishery Board.
His funeral took place on Saturday 2nd September 1916.
The mourners included his sons: J Parnell Tucker, Edwin Tucker, A H Tucker and E Tucker; and his brother from Hazard, A Tucker.
Western Times 1 September 1916, p8 col5
Western Times 5 September 1916 p5 col6
In the 1911 census Edwin Tucker Jnr is living at Te Whare* with his wife Elizabeth Hill Tucker
http://home.ancestry.co.uk/
*Te Whare is between Moorside and Rew on the enumerator's schedule
In the same census J Parnell Tucker, maltster and seed merchant, is living at Welstor.
http://home.ancestry.co.uk/

In 1911 Henry Hainworth and William Hainworth* sold 'Stables, gardens and premises' in East Street to Edwin Tucker the younger for £465.
The property now known as the Wilderness was then built there.
From the deeds to the Wilderness.Thanks to Sandy Smith for showing these to me.
*Father and son, executors for Catherine Ann Abraham, the previous owner (and sister of Henry Hainworth) who had died 8th April 1910.
*******

In 1915 Edwin Tucker was in correspondence with the Army Service Corps about the billeting of soldiers:
to Mr Edwin Tucker, The Wilderness, Ashburton
21st January 1915
Dear Sir,
With reference to your letter of the 18-1-15 re coach house etc I send you herewith Agreements which please complete in duplicate and return to me for signature on behalf of the War Department after which I will return you one copy.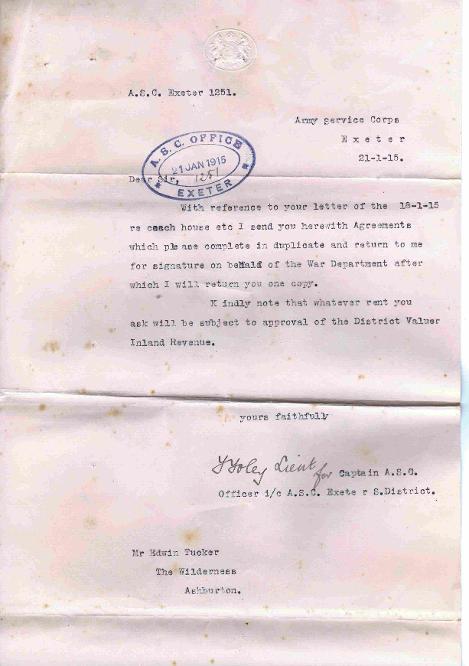 Above right: Letter to Edwin Tucker 1915
From my own collection
Kindly note that whatever rent you ask will be subject to approval of the District Valuer Inland Revenue.

yours faithfully,
T Yoley (?) Lieut for Captain A S C Officer i/c A S C Exeter S District.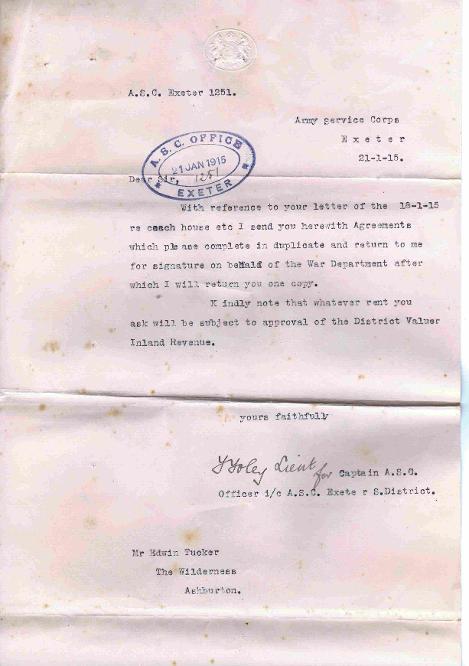 On 23rd January 1915 Edwin Tucker replied:
Dear Sir,
I have to thank you for your letter of the 21st inst & herewith enclose the two forms duly filled in with respect to the letting of my stables & coach houses for the use of the soldiers about to be billeted at Ashburton.
You will observe I have named the sum of 25/- per week as rent. Of course I do not know the rate of pay but do not
think I am asking beyond value. I might point out that my premises are now being occupied, a quantity of stores having been placed in them some days since.
Yours faithfully.
Above: Letter to the Army Service Corps 1915
From my own collection
***
Edwin Tucker was still at the Wilderness in 1928
Correspondence to Thomas Martin, Ball and Co. Sold privately, not in my possession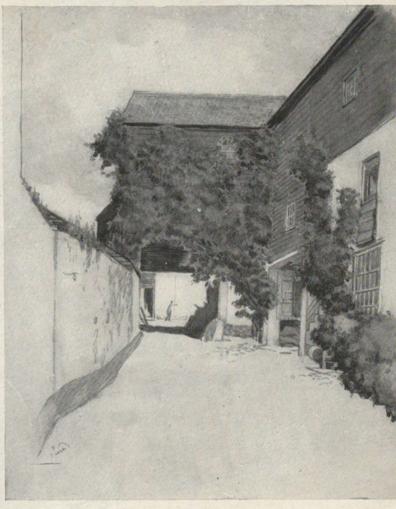 Above: Sketch of Tucker's Yard, which was located at the top of the current carpark (with access to West Street)
From the Official Guide of Ashburton, 1940s to 50s.
From my own collection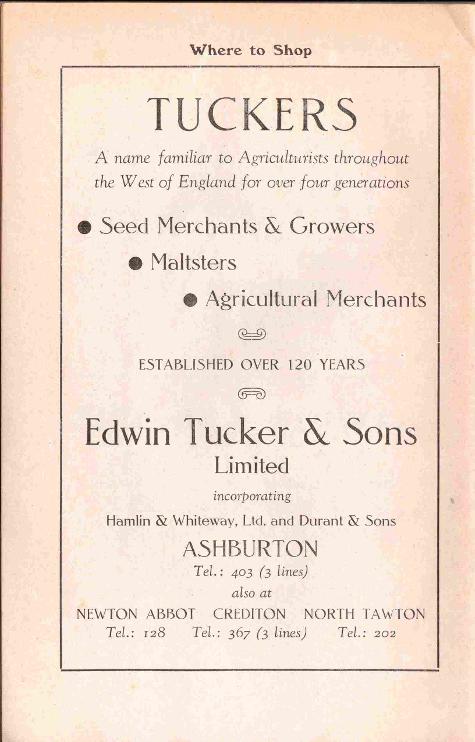 Above right: Advertisement for Edwin Tucker and Sons Ltd', from the Official Guide to Ashburton, Ashburton UDC, undated but 1950s

From my own collection