Torns has sometimes been known as Thorn Park.
In December 1908 Edwin, second son of Mr and Mrs Edwin Tucker, of Thorn Park, Ashburton, married Elizabeth Hill Mitchell in Liverpool.
East and South Devon Advertiser, 19 December 1908, p8 col7
In the 1911 census Edwin Tucker Snr, maltster, seed merchant and farmer was living at Thorn Park with his daughter Emily Tucker and his son Edmund.
http://home.ancestry.co.uk/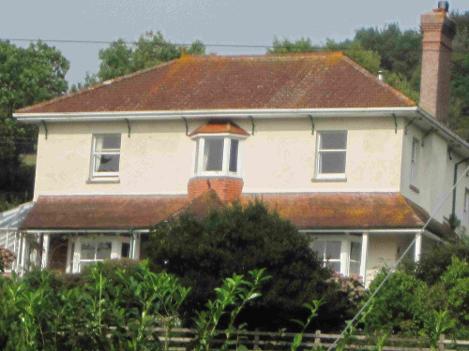 Left: Thorn Park, where Edwin Tucker Snr was living in 1911.

My own photograph 2013
Edwin Tucker died at his residence, Thorn Park, in August 1916. Aged 77, he was the founder of Edwin Tucker and Sons, maltsters and seed merchants.
Western Times 1 September 1916, p8 col5
For more on the Tucker family, see under Individual Families 4
A notice in the Western Times in July 1920 stated that Rendell and Sawdye would not be selling Thorn Park at auction, as previously advertised, as it has been disposed of by private treaty.
Western Times 9 July 1920, p3 col3
In September of the same year Howell, of Thorn Park, wanted a young Aberdeen bitch and a female Persian kitten. 'No fancy prices'.
Western Times 23 September 1920, p2 col1
Christopher Tomlinson, Ada Helena, Reginald George and Frances were all on the electoral register for 1922, at Torns.
England and Wales Electoral Registers 1910-32,
available through https://www.findmypast.co.uk/
Major Tomlinson was giving up poultry keeping on account of ill-health in 1924. Rendell and Sawdye were to hold an important sale of poultry, poultry houses and appliances at Torns in June.
In November household furniture and effects were to be auctioned, Major Tomlinson having disposed of the property.
Western Morning News 17 May 1924, p9 col5
Western Morning News 25 October 1924, p8 col6

Winifred Ethel Penn Gaskell lived at Scobitor, Widecombe, for many years, but for a short while lived at Torns. She died at Ashburton Hospital, aged 74.
'A distinguished philatelist', her collection of stamps and items of aeronautical interest was 'amongst the largest and finest in the world'. She exhibited at numerous international conferences.
Torbay Express and South Devon Echo 11 November 1949, p4 col3
Torquay Times and South Devon Advertiser 10 March 1950, p2 col3
In March 1927 Miss Penn Gaskell, of Torns, Ashburton, presented a massive silver cup to be presented at the Ashburton, Buckfastleigh and District Fanciers' Association. She was unanimously elected as president for the forthcoming year.
Western Times 11 March 1927, p10 col2
Gaskell, at Torns, was advertising for any postcards of aviators, aeroplanes, balloon prints in March 1929. She was interested in any cards
connected to aviation.
Exeter and Plymouth Gazette 15 March 1929, p4 col5
William Rendell was on the electoral register of 1931, living at Torns. Also on the register was Helen Rendell, and Miss Barbara Edith Rendell
England and Wales Electoral Registers 1910-1932, available through https://www.findmypast.co.uk/
Re Mrs Helen Rendell, decd. Torns, a 'very desirable country residence' at Rewdo[w]n Cross, was being sold in August 1944. Occupying an elevated position, it boasted a verandah, vinery and conservatory, 3 reception rooms and 4 bed and dressing rooms. The kitchen had a Kooksjoice range, and the house had electricity throughout. In addition to the house there was a coach house, with man's bedroom.
Exeter and Plymouth Gazette 11 August 1944, p2 cols 1,2
In September 1944 the Western Morning News reported that Mr W Rendell, of Torns, Ashburton, had left £4650 gross. Probate was granted to his daughter, Barbara E Rendell, of the same address and to his son, Robert W Rendell, of Halshanger Cottage.
Western Morning News 5 September 1944, p2 col2
Later that same month the executors of the late Major W Rendell were selling furniture and effects at Torns.
Western Morning News 15 September 1944, p1 col 3
In January 1949 Kennard was advertising for a general cook. Torns was a comfortable home for a country lover, with every modern convenience. It was one mile from the bus.
Western Morning News 21 January 1949, p4 col6
Mrs Rhoda Dora Kennard, of Ashburton, was awarded £10,000 damages in June 1960, for injuries received in a car accident. Her husband, Arthur Stanley Kennard, was awarded £2,118 special damages for expenses he incurred; Mr Kennard was a senior joint partner in a south Devon firm of chartered accountants. In making the awards Mr Justice Pilcher said that the accident limited Mrs Kennard 'both physically and mentally', to an extent that 'she must really have lost all enjoyment in life'. He added that money could not 'compensate for what she has lost'.
Birmingham Daily Post 11 June 1960, p18 col7
Arthur S Kennard, Rhoda D Kennard and
Bryony D Kennard are all at Torns on the 1965/66 Register of Electors.
Register of Electors 1965/1966, under People and Properties 2
April 1972. Chamberlaine Brothers and Mitchelmore, by order of Mr and Mrs J A Wilson, were selling household furniture and effects, saddlery etc., at Thorn Park.
The property had already been sold.
Torbay Express and South Devon Echo 8 April 1972, p11 col4
Richard John Munro Dupont (1920 - 1977) lived at Thorn Park during the 1970s.
My own memory
Captain Dupont, the son of Dr J M and Mrs Dupont of Frome, Somerset, staged an exhibition at the Royal Water Colour Society in London in 1946. The paintings, about a hundred in number, formed 'a complete record of the Fourteenth Army's advance from the Assam frontier to Rangoon'.
Somerset Standard 12 July 1946, p4 col4
An article on the artist in 1963 said that Mr Dupont painted a wide variety of subjects, including country homes and their owners, trainers and jockeys - most of his works featured horses and dogs. A leading equestrian painter, he had exhibited his work in the United States.
Somerset Standard 1 February 1963, p9 cols 3,4,5
Richard John Munro Dupont of Torns Pk., Ashburton, Devon, died 17 May 1977. Probate was granted at Bristol in August, value £72,057.
England and Wales Government Probate Death Index 1858-2019
See https://www.sulisfineart.com/richard-dupont-artist
for examples of his work - accessed 28-04-2022