Apart from the newspaper reports, the material below all comes from Peter Thorogood, the son of the superintendent at the Home. Many thanks to Peter.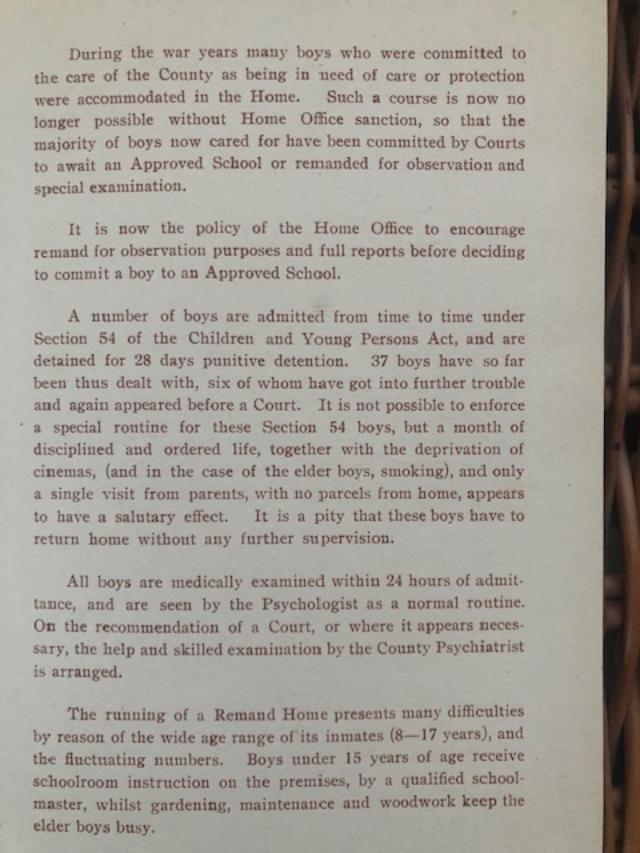 Above: Information from booklet on the Remand Home, 1940s
Devon County Education Committee advertised for domestic help at the remand home in 1943. The salary was from £50 a year plus full board.
Western Morning News 31 July 1943 p4 col3
The following year a handyman was required, for general duties and to give some woodwork instruction to the boys.
Western Morning News 6 October 1944 p1 col5
There was also a vacancy for the post of Deputy Superintendent at Ashburton Remand Home. The salary would be Burnham scale II for a certificated or non-certificated teacher, plus a war bonus of 9s 6d per week. Full board, lodgings and laundry would be provided.
Western Morning News 2 October 1944 p4 col4
1945 After a boy at the home received bruises, Mr J Cock suspended the deputy superintendent of the remand home from duty. The sub-committee of the Devon Education Committee resolved that the deputy's employment would be terminated.
Western Morning News 27 April 1945 p2 col3
In 1946 a 16 year old boy at Plymouth Juvenile Court heard that he was to be returned to Ashburton Remand Home. Although earlier he had said that it was 'pretty good', he now burst into tears and threatened to kill himself if he had to go back. He was carried out of the courthouse.
Western Morning News 4 December 1946 p6 col6

When the post of Assistant Matron was advertised in 1947, the school accommodated 35 boys. The initial salary was £200 per annum.

Western Morning News 24 March 1947 p4 col2


1947 A 9 year old boy who had absconded twice from the Home was further remanded for a week for a psychiatric report. Amongst other charges he had, with an 8 year old, broken into a house in Devonport and stolen a milk jug and sugar bowl.
Western Morning News 12 November 1947 p3 col2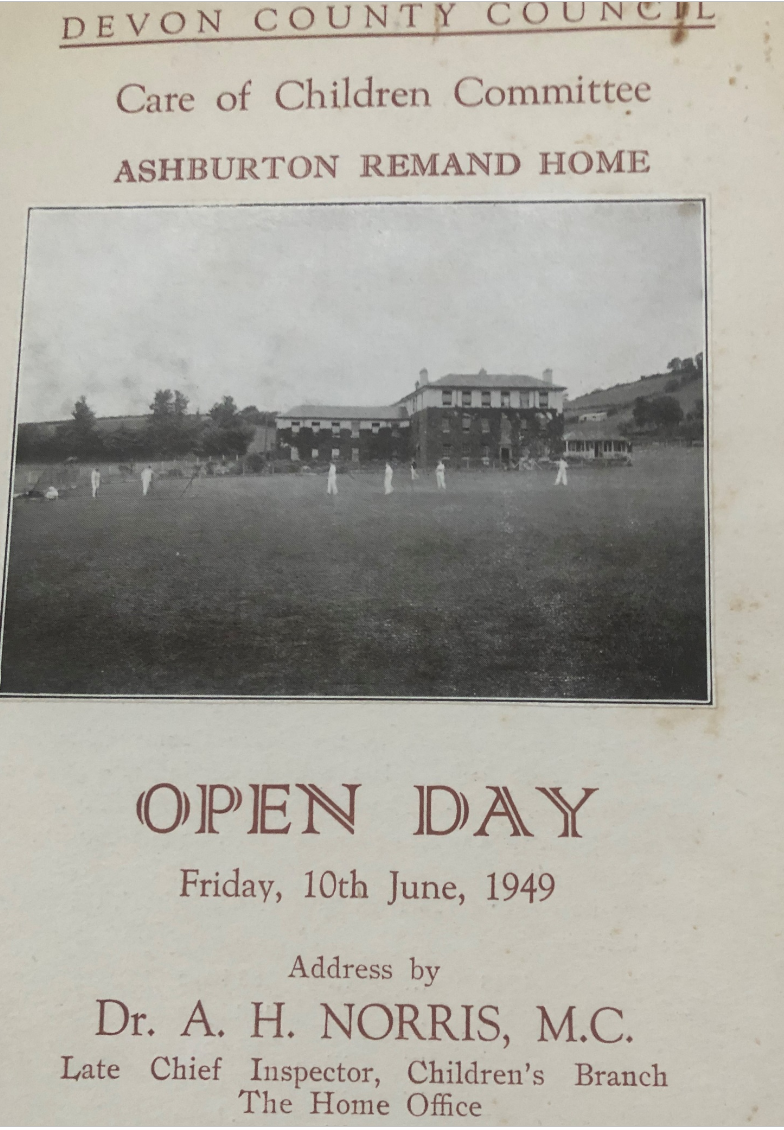 4 boys who escaped from Ashburton Remand Home in 1950 got as far as Barnstaple before being recaptured. One of them had driven them part of the way, and after abandoning the car they had boarded a train at Crediton.

North Devon Journal 12 January 1950 p4 col5

1953 A document in the National Archives is concerned with the future use of the Ashburton Remand Home, Balland Lane; a further document from the 1950s details the high cost of maintenance and closure.

National Archives http://discovery.nationalarchives.gov.uk ref BN 62/3248 and BN 62/1549


By 1958 the remand home had closed - the Ashburton and Buckfastleigh County Secondary School opened in the premises in 1958.
(At least I think it did. I have seen someone claim that they went there in 1957)
***
Growing up at the Remand Home
Peter Thorogood's father, G F Thorogood, was Superintendent at the remand home during the 1940s and 50s. Here are Peter's reminiscences:
When I was asked by an army officer, "Thorogood, how far away is that cow?" I answered, "400 yds sir."
"Very good; how did you decide that distance?"
"I estimated it, halved it, and doubled it, sir."
"Very good Thorogood; how would you capture that cow?"
"I wouldn't sir, I like cows."
"WRONG ANSWER, FAIL."
I decided that was enough of the cadet force. I left, but that is 11 years later.
The House and Laburnham tree
I don't remember the Open Day in 1949, so I will start from my first memories.
Jill had an unusual life. She had a long beard and a long chain, and her breakfast was stolen from the breakfast tables, where my friends were eating, before going through the kitchen, past the scullery, past the small pantry, through to the bread-room.
Loaves of stale bread vanished in minutes. She spends the rest of the day butting the wire fence where Lindy our terrier barked from the other side. Lindy was my second dog. The first dog was called Chum: he was a Keyshound, and he was big, like a friendly wolf.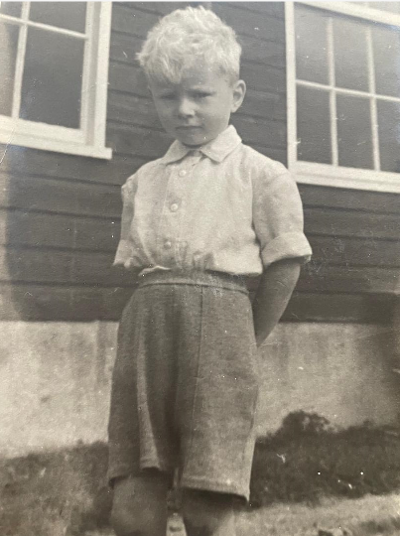 Above:
Peter Thorogood, early 1950s
With many thanks to Peter
He was my best friend, and would let me sit on him, then turn his head and lick me.
Jill slept alone in her stable, which was next to the garage where the Rover lived, and a dozen rabbits who chewed and slept all day. Jill sometimes slept peacefully with a male teenager.
I had an ever-changing group of friends who arrived in police cars. I had many rides in police cars, usually round the backyard. I wore 100s of police helmets, and I would like to go to the kitchen to watch the two policemen who bought me new friends drinking tea and biscuits. I would creep into the white Ford Zodiac, sit behind the wheel making ringgg ringgg noises.
Lunch was at 12:30 exactly, when the gong would sound, and my friends would appear in a long line wearing knaki shorts and grey shirts. We would sit in tables of five. Sometimes one of my friends would already have a plate of dry bread in front of him, and he would be wearing white shorts and a vest. The rest of us had meat and two veg.
Outside there were white pigeons, but they might have been doves, living above the kitchen in their own house above the kitchen yard which was very steep and difficult to skate on. It was always covered with white pigeon poo, which sometimes Mr Luckson would scrub away.
The coal man, Mr Smerdon, would grumble; he said words that I didn't know, as the dirty black bags became awkward, walking down the steep slope before he lent forward pouring bag after bag down into the chute to the cellars, past his black capped face. Mr Smerdon never said anything, just dropped his coal and folded his bags. I didin't like him, and his horse wanted to bite me.
Ron Bonstow had a chestnut horse that pulled a cart full of milk churns. He had ginger hair and a beard, but not as long as Jill's. Normally we would have two chums, but when it was busy, we would have four. Ron would roll them into the cold storeroom, where the potato peeler lived. Ron never liked me talking to his horse,who had a nose trough and would drop manure and hay over the back yard near the clothes line. The long clothes line was always full of sheets; it was fun to hide in them and be a ghost.
Mr Luckson, the gardener, lived in one of the council houses at the top of the back vegetable garden. He was from a place called Cornwall which was a long way from Ashburton. He had a new television, and sometimes we would go up there on a Sunday. My dad and Mr Luckson would have a small glass of sherry and laugh about the vicars on the television. There were lots of vicars with crosses, and they were dressed in white clothes. One vicar kept swinging a gold thing that was on fire. They kept bowing to each other and never walked much. It was a bit like a silly tag, but they didn't touch and say 'it' and run away. I told my dad I didn't want to be a vicar on the television, which he thought was very funny. Mr Luckson told me I would have to go to church every day to get on television. My Dad would ask Luckson the gardener, had the vicars ever learnt semaphore, as their hand signals were no good. My dad called them bishops, which is part of a game called chess. He would reply, 'I wonder if they have lost something, George, spending all that time grovelling on their knees.' This was obviously very funny. My mum, who was called Olive, but was always called Bobby, would interrupt, telling them to stop being silly.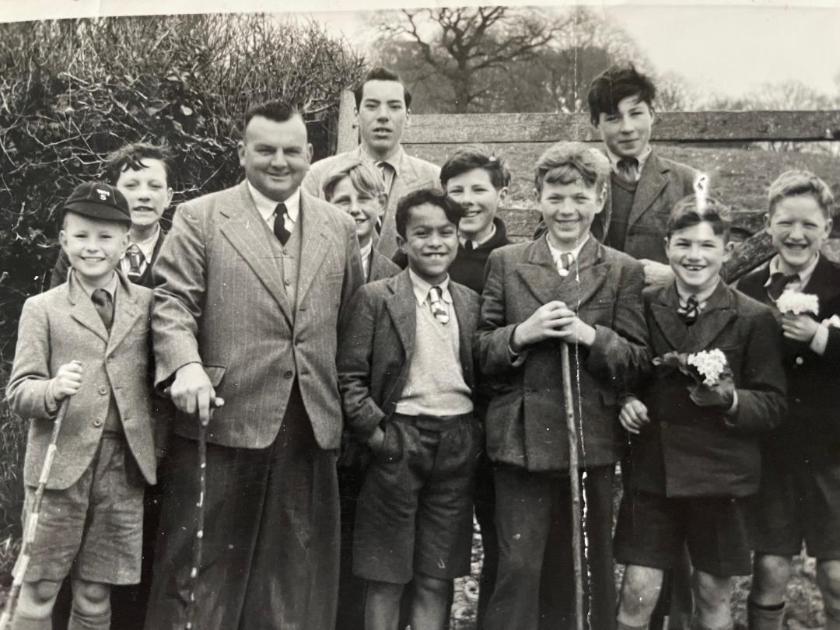 Above:
Mr Luckson with P Thorogood on left, and group of inmates
Peter's father kept a diary of his time as superintendent of the remand home.
Here are some extracts:
April 1943
My wife and I (Mr and Mrs G F Thorogood) and our daughter take up residence in the late Ashburton Grammar School Hostel, which is to be opened on 1st May as a Remand Home.
5 boys transferred from Pinhoe Remand Home arrive in evening. M, one of these lads, has scabies and is ordered by Dr Hall to Isolation Clinic.
May. M taken to Newton Abbot.
Mrs Boon arrives to act as a temporary cook.
Remainder of lads - 18 in number, arrive from Pinhoe.
No domestic help and acute shortage of cooking utensils.
Mr Widgery, a supply teacher from County staff arrives.
Sand pit made and filled with large load of quarry sand.
Mr Brooking (our gardener) does not wish to associate himself with our lads and tells them so.
C brought back by Exeter police.
Mr Brooking decides to resign. Told to carefully consider the matter.
Cinema show for lads in Town Hall.
Juniors commence school under Mr Widgery.
Mr Brooking leaves.
Mrs Fall (sp?) commences duties as cook.
Mrs Boon stays on to help with domestic work.
June. Mr Forge, Home Office Inspector, pays us a brief visit.
Disturbance in Senior Dorm at 9.30pm. H and C .....strokes each on seat.
July. B and W abscond. W soon recovered and in consideration of his previous absconding and misbehaviour whilst at Skin Clinic is given 4 strokes on seat with cane.
B brought back from Bristol. 4 strokes on seat with cane.
B. W and S abscond whilst Mr Widgery is taking bath. Commit numerous housebreaking offences at Holne.
3 absconders brought back from Weston Super Mare.
B and S again abscond - actually whilst Police are in the building interviewing the 3 offenders.
Superintendent in touch with police and magistrates' clerk with a view to having B remanded in custody.
[In July a letter appeared in the local paper, which was highly critical of the remand home. Rates were increasing, said the writer, W J Chambers, and yet money was being lavished elsewhere: 'it is alleged that this place provides every device and luxury in the way of games, sports, and means of pleasurable recreation for the fortunate inmates, the latest being a large and expensive rocking horse de luxe for the entertainment of the younger guests. I am told that any child who picks a pocket or robs a till, or indeed shows any criminal tendency is received with open arms at this 'Palace of a thousand delights'.
Mr Thorogood pasted a cutting of the letter into his diary.]
20th July. Amazing letter in local press. Actually the rocking horse and a 'swing boat' were bought at a Newton Abbot sale for 10/- the pair, the purchase being a personal matter and never charged to County.
Another cricket match with local lads. Ashburton 105 for 7 dec. Remand Home 71 for 6.
August. Mr Widegery leaves as holidays commence. Mr Robinson, a School Enquiry Officer, arrives to assist for a week.
Visit of the portreeve, (Mr Brian Baker) and Mr R Andrews. Lads given a very interesting talk on Sicily. Visitors much impressed - we are very pleased as local people have got (?) a poor idea of our work, the kind of life we lead, and our difficulties.
R 2 strokes on hands - laziness and wetting his bed.
Mr Bawery (sp?), who has been appointed as Deputy Superintendent, arrives to take up duties. Mr Robinson leaves
Superintendent, Mr Bawery and 25 boys spend day on Hay Tor and pick 15lbs of whortleberries.
F, 1 stroke on hand with cane - scratching name on lavatory wall.