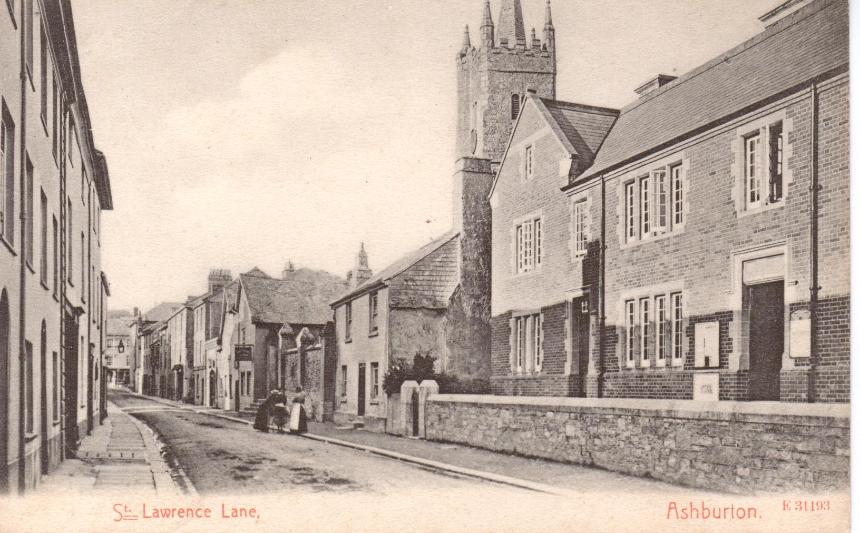 Above: St Lawrence Lane (sometimes known as Station Road) showing the St Lawrence Chapel tower
From my own collection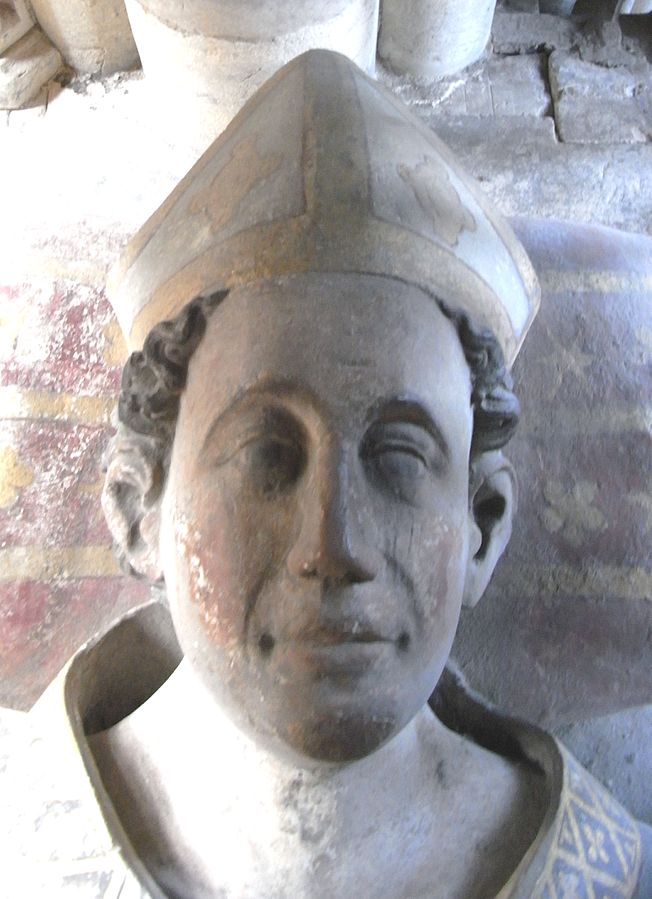 Although the Pope claimed the right to appoint bishops in the 1300s, in practice this was done by the king, who inevitably selected candidates who would be of use and support to him. Walter Stapledon was in the king's service when chosen to be Bishop of Exeter in 1307.
Nicholas Orme, The Church in Devon 400-1560, Exeter 2013, p72
Through this appointment he automatically became Lord of the Manor of Ashburton. (see Domesday Book and 1100s and 1200s under Early History)

A major contribution of his to the town was the founding of a chantry at St Lawrence's Chapel, which ensured that the building was maintained (at least in theory). The word chantry is a Middle English word connected to French and Anglo-French words meaning 'singing', or 'to sing'. (Shorter Oxford English Dictionary) - when used to describe a building it means a chapel or altar where a priest or priests sang masses for the soul of the founder, or for those people the founder named.
Above:
An effigy of Walter Stapledon in Exeter Cathedral
Photograph by 'Lobsterthermidor'September 2013
http://creativecommons.org/licenses/by-sa/3.0)], via Wikimedia Commons


Right: Arms of Walter Stapledon, Exeter Cathedral
Photgraph by 'Lobsterthermidor' September 2013 (own photo) [Public domain] via Wikimedia Commons



Below:
Charles Worthy's translation of the 'Chart of the Burgesses of Ashburton concerning the chantry in the chapel situated in the court of the Bishop in the same town' This is presumably the agreement to maintain St Lawrence's Chapel, 1314, ref D & C 612 in the Cathedral archives in Exeter. The Bishop's ordinance for the foundation of St Lawrence's Chapel, 1314, is also in the archive - ref D & C 613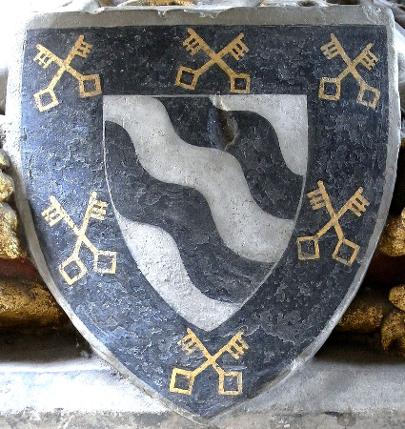 'The Portreeve and Commonalty of the Burgesses of the Town of Ashperton greet in the Lord all those unto whomsoever these letters shall come. Whereas our venerable Father and Lord, Walter Stapledon, by the grace of God Lord Bishop of Exeter, hath (with the consent of his Chapter at Exeter) granted all the obventions and oblations of the Chapel of St Lawrence, situated within the boundary of his Court of Ashburton, to one fit Priest to be chosen through us, and to be presented each year at a fitting time and place, by the Official of the peculiar jurisdiction of Ashperton, who shall for ever celebrate in the same holy Chapel, for the health of the said Bishop, and for his soul when he shall have departed this life, and for the souls of all his predecessors and successors as is more fully contained in the letters of the said Bishop and Charter, which remain in our possession. We (being most especially anxious for the increase of Godly worship, lest the said Chantry so holy and wholesome an institution should perish in the future through the failure of the salary and stipend of the Priest himself, which may God forbid) bind ourselves, our heirs, and successors, to find for the Priest there for celebrating as is promised, a full and sufficient maintenance, together with the oblations and obventions aforesaid which are reckoned towards his stipend. So (since the same Chantry will never perish through the failure of the salary and stipend of the Priest himself), we will amply repair as often as is necessary, the aforesaid Chantry, its books and ornaments, in a manner seemly for Godly worship, and we will maintain them in fitting condition for ever. To the performance of each and all these undertakings, we bind each and all of ourselves, our heirs and successors, all our goods and property both moveable and immovable, spiritual and temporal to the coertion and distriction of the aforesaid Bishop and Chapter and of their successors, and any other Judge Ecclesiastical or Civil, whom the Bishop of Exeter for the time being or the Chapter may choose to appoint, in testimony of which we have agreed to affix our common seal to this writing. These being the witnesses:
The Lords Robert, by the Grace of God, Abbot of Tavistock
Matthew, Prior of Plympton
Peter, Abbot of Buckfast
Joceline, Prior of Totnes
Roger de Charleton, Archdeacon of Totnes, and others.
Given at Ashperton on Friday, the Eve of the Assumption of the Blessed Mary, in the year of our Lord 1314.
Ashburton and its neighbourhood, Charles Worthy, L B Varder printer and publ., East St 1875 p xvi and xvii of appendix
*******
1326 Bishop Stapledon came to an unfortunate end. Having been 'in great favour with the King', when there was insurrection against the regime he was left as the custodian of London when Edward II left for Bristol. A mob captured Walter and 'beheaded [him] in Cheapside and buried his body in a sand hill'. 6 months later he was dug up and taken to Exeter, where he was reburied 'in his own church very honourably'.
The Chronicle of Exeter, 1205-1722, Todd Gray, The Mint Press, Exeter, 2005, pp24,25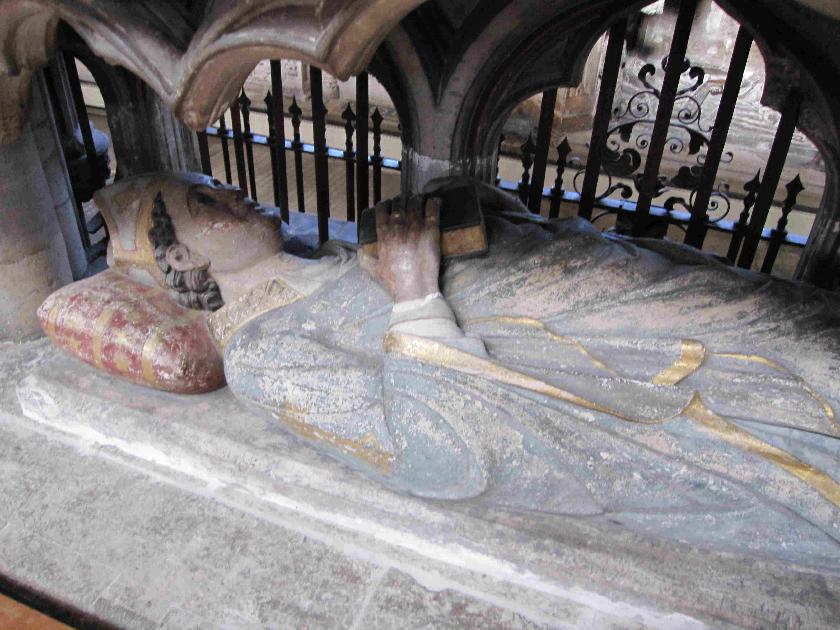 Above: Tomb of Bishop Stapledon in Exeter Cathedral
My own photograph 2016. Many thanks to the Cathedral

1497-98
'Expenses.......To the priest of St Lawrence present at the said dirge* and mass - 4d
*The dirge, a particular prayer for the dead, was on this occasion said for Thomas Tankret.
Churchwardens' accounts of Ashburton, 1479 -1580, Alison Hanham, Devon and Cornwall Record Society 1970, p24

In the mid 1500s (1544 - 1551) there was a dispute between John Predyauxe of Orcherton, Modbury and defendants George Forde, gentleman, John Dolbeare, Lawrence Ellys and others on the detention of deeds relating to lands of the chantry of St Lawrence in Ashburton, Devon.
National Archives
C 1/1253/53-54
http://discovery.nationalarchives.gov.uk - Accessed 7-1-2014
A second dispute (dated 28/01/1547-06/07/1553) between John Predyaux, commissioner for chantries, chapels, gilds, etc., and John Seyntclere, John Dolbeare, William Furse, alias Waye, and others related to the lands and market tolls belonging to the dissolved gild of St. Laurence.
National Archives STAC 3/2/14
http://discovery.nationalarchives.gov.uk - Accessed 7-1-2014
The Chapel was not in good condition in 1860, but was about to be repaired and have a new roof.
Exeter and Pymouth Gazette 7 July 1860, p6 col4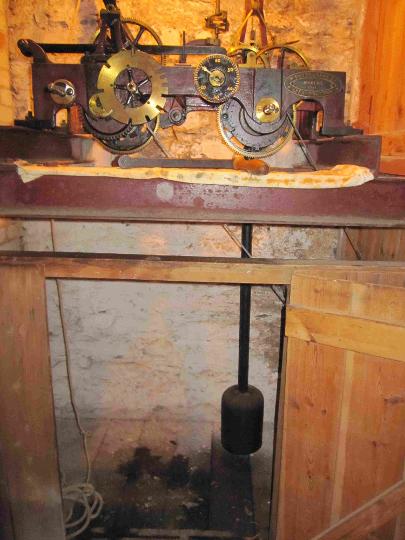 When the old market house was demolished in the mid-1800s, the three clock dials from the old market house were overhauled by Mr J Horson, and refitted in the tower of St Lawrence Chapel.
Exeter and Plymouth Gazette 14 June 1851 p4 col1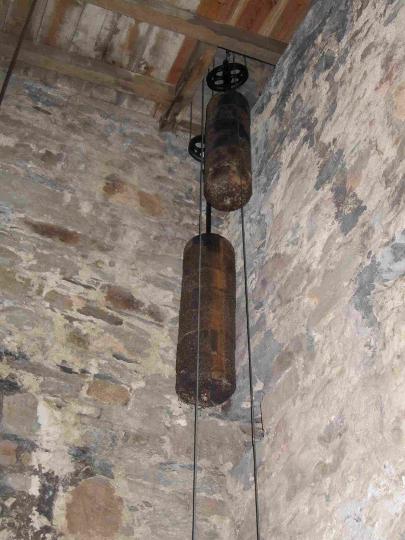 Above left: The mechanism of the clock in the St. Lawrence Tower. It is believed to be of a later date than the clock faces rescued from the old market hall.
Above: The weights for the clock.
My own photograph 2015. With thanks to the Guild of St. Lawrence.

In a letter to the Western Morning News in 1938, Mr B J Langler gave some information about the clock and bells. The bell in the St Lawrence Chapel tower (on which the hour was struck) was inscribed, he said, with 'Thomas Bilbie, Cullompton. Fecit 1780.' He added that the clock itself only dated from 1911.
Western Morning News 23 August 1938 p11, col2


The clock is a double three-legged gravity escapement, hour striking flatbed turret clock. It was made by
William Potts & Sons Ltd of Leeds and
set going on September 30th, 1911.

Potts, Michael S, Potts of Leeds, Five Generations of Clockmakers, 2006, p374
Many thanks to Al Cobb for this information


Ashburton Grammar School was based at The Chapel of St Lawrence, but the date of its foundation is uncertain. In his history of the school W S Graf notes that 'there is no obligation on the priest to keep a school and there is no evidence to show that he did' (Ashburton Grammar School 1314 – 1938, W. S. Graf, Ashburton 1938 p 2) But he adds 'Teaching was almost always one of the activities of the priest of a chantry chapel, and in the case of Ashburton, we have, at the time of the Reformation, a well established tradition that there had been a school conducted by the priest' (ibid)
During the Reformation of Henry 8th, an act of 1545* resulted in Commissioners going around the country surveying the chantries. At Ashburton they reported 'The Guylde called saynt Larences Guylde, founded by ______, For the contynual fynding of a pryste, As well to praye for the Donors of the landes belonging to the sayd guylde and other benefactors of the same, As also to kepe a scole for the erudycion of children for ever....' (op cit p 4)
* The Chantries Act 1545 (37 Hen 8 c 4) The results of these assessments are in the Chantry Certificates http://www.history.org.uk/
Graf says 1546
I believe (but am not sure) that the relevant documents are in the National Archives, ref E301/15
A document in the Devon Heritage Centre concerns a messuage, curtilage and herb garden, bounded on the south side by the garden of the 'schoole house' and on the north by East Street. It seems likely that this refers to the grammar school.
Devon Heritage Centre, ref 48/14/68/5a-b , 1649


*******

In 1905 reports were made to the Charity Commissioners on endowments made within individual parishes. The report on Ashburton made extensive reference to an earlier report of 1822, of which the following are extracts:
Grammar School.
By deed, bearing date 27th December 36th Elizabeth, Hugh Pomeroy, John Blundell, George Knolle and John Rewell, granted and confirmed to John Caunter and others, of Ashburton, and their heirs, their house or chapel, called Saint Lawrence's chapel, and a piece of land adjoining, called the Chapel-yard, and the said John Caunter and others thereby covenanted with the said grantors, to permit the homage of the manor and borough of Ashburton for the time being (according to an ancient order and custom used in that behalf) to have the use of the said chapel and yard, yearly, at the two law days holden in the said manor and borough.....provided that if the said John Caunter and others.....should convert or employ the said house.....to any other use or employment than for a continual school-house, or keeping of a school for the education, instruction, or bringing up of children in the said place, or should suffer the said chapel to fall into decay, whereby the use of a school-house should cease, that then the said grant should be void.
This chapel has been usually repaired out of the revenues of the church-lands. It is now in a bad state of repair, notwithstanding which the grammar school is kept in it, and parish and other meetings, and the courts of the lords of the manor are held in it. No rent is paid for it.
(Details of various deeds follow, of lands outside the parish - names mentioned are Christopher Lapthorne, Thomas Ford, William Coyte, George Cruse and his son Thomas, Mr Wearing)

....Edward Gould, by will dated 16th March 1735, gave to the minister, churchwardens and sidesmen of the parish of Ashburton 200l (£200) in trust, to be laid out in lands, and the yearly profits thereof....to be yearly applied in the augmentation of the maintenance of the schoolmaster of the free-school of Ashburton, as long as he should apply himself with diligence to the business of a schoolmaster there.....and if not, then the said yearly profits were to be...laid out in sixpenny loaves of good wheaten bread...to be distributed amongst the poor of the said parish, and so continue until the said schoolmaster should better approve himself....

Lawrence Blundell, by will, dated 18th March 1637, gave towards the maintenance of the school at Ashburton, yearly, during the life of his wife, the sum of 40s and after her decease, the sum of 40s more, being in all the sum of 4l (£4) to be issuing out of all his messuages lands and tenements within the parish of Ashburton quarterly, for ever.
This annuity of 4l is payable in respect of a house formerly called the Mermaid, and now the property of Sir Lawrence Palk....

(Mention of gifts by Mr Warren and Mr Acland).


Mr White keeps his school in the chapel of Saint Lawrence, and teaches the Latin and Greek languages to all the children of the parish of Ashburton, whose parents apply for their admission, in respect of the emoluments which he derives from various sources above-mentioned, and which may be estimated at about 56l (£56) per annum; he does not limit the period of admission to any particular age, but receives all such as are sent to the school as grammar scholars. He had, at the time of our enquiry, (October 1821) twelve boys under his tuition, but their number fluctuates; it has been as large as seventeen.
Report to the Charity Commissioners, HMSO 1908, pp10-12.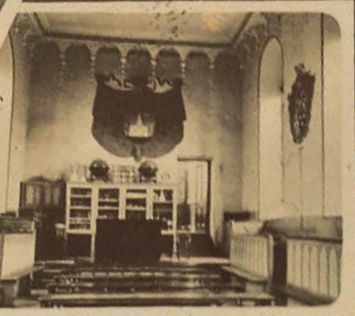 Above:
Interior of the Grammar School
From my own collection
1829 From Liber Scholasticus:
'Ashburton, Head Master Rev John White.
The Grammar School was founded in the 36th of Elizabeth, by several benevolent individuals, and endowed with certain lands for the maintenance of the master, amounting to about 60l per annum. The period of admission is not limited to any age, and the master receives all such as are sent to the school as grammar scholars.
Laurence Blundell, by will dated 18th of March 1637, and proved in the Prerogative Court of Canterbury, in addition to an annuity of 4l for the maintenance of the school at Ashburton, gave the sum of 4l to be issuing out of his lands etc. at Ashburton, to a poor scholar of the said parish to the University, and tenable to MA. Mr. Blundell also gave to one poor scholar of Ashburton, for his maintenance at the grammar school and at the University if he should be fit for it, the sum of 6l a year, to be issuing out of all his said premises; the same to be paid to and for such scholar as should be appointed by his executors and their heirs, the Vicar of Ashburton etc.
The annuities of 4l and 6l are considered to be payable in respect of two parcels of land, containing by estimation 80 perches, and a messuage called The Mermaid; and two closes containing by estimation, six acres, called the Rock Parks and the Barley Arish, and a small plot of ground adjoining thereto; and a close, called Cook's Close, containing one acre and a half; and a messuage and garden in Heavyhead Lane, and another messuage and garden in Heavyhead Lane, all within the borough of Ashburton, which were purchased subject to these rent charges in 1761, by an ancestor of Sir Lawrence V. Palk, Bart., the present proprietor thereof. '
Liber Scholasticus, an account of the fellowships, scholarships and exhibitions at the Universities of Oxford and Cambridge.....also of such colleges, public schools, endowed grammar schools....as have university advantages attached to them, printed for C., J., G. and F. Rivington, London, 1829, pp146,147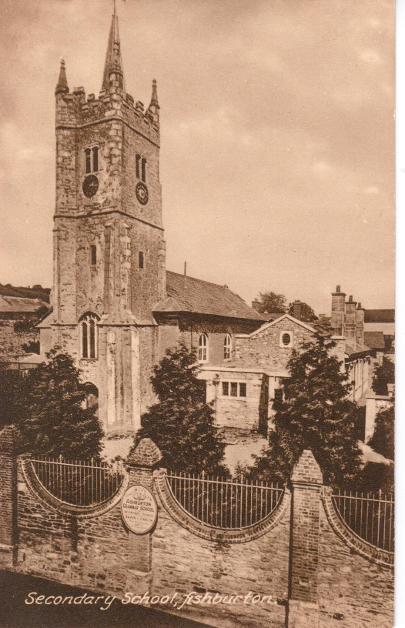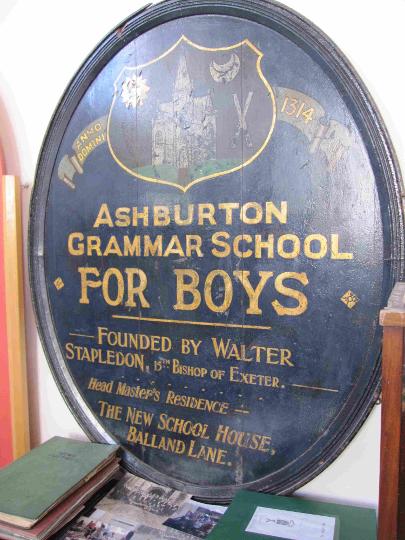 Above: The plaque is now housed inside the Chapel.
My own photograph 2015. With thanks to the Guild of St. Lawrence.

Left: The Grammar School
From my own collection

1868. 'The income of the endowment is derived from land, and amounts to about 80l a year; and the two farms which produce this sum are said to be well let. Besides a well-built master's house and a large garden, accommodation is provided for 30 boarders, and there is a good playground with a covered shed on one side, all of which were left by Dean Ireland in 1842, together with 15l a year to keep the premises in repair, on condition that the Church of England doctrine, and Greek and Latin, should be taught in the school. Of the money endowment, 23l 10s is conditionally left "if the master be diligent in his work," and every year a meeting of the trustees and sidesmen is held to award it. It has never been withheld.
The appointment of master rests with the vicar, trustees, and six sidesmen, which last are elected by the ratepayers in vestry, chiefly on political grounds, and consist of tradesmen in the town, and seem to have no other duties than those connected with the school. When the head mastership was last vacant, the number of trustees had been greatly reduced, and the sidesmen practically decided the appointment. It is said that politics on these occasions play an important part in determining the fitness of the candidate. The present master is in orders, and a graduate of Dublin University.
The school is held in what used to be the chapel of S. Lawrence, which forms a handsome and spacious room with a gallery at one end, the entrance being under a lofty tower. It is about one-eighth of a mlle from the master's house, and is in the centre of the town. There is no playground there, and the day boys are not allowed to make use of the one attached to the master's house.
There were 18 boys present when I examined the school, of whom three were the master's sons, and two were boarders, leaving 13 boys from the town. By an indenture entered into by the master on his appointment, Latin, Greek and mathematics are to be taught gratuitously; for any other instruction 5l 5s is charged; as a fact all paid this sum. He had no assistant. When I visited the school a motley group of urchins were awaiting the opening of the school-room door; there was no covered place for them to wait in case of rain. There were some of them who could only just read. Out of seven of the upper boys, two construed Caesar creditably, and knew some grammar. One boy, the son of a butcher, aged 15, did best in Latin, arithmetic and Euclid, and did credit to the school. In writing from dictation, nine upper boys averaged three mistakes each; the best having one, the worst eight. The upper boys had a fair knowledge of elementary arithmetic and algebra, the lower had no idea of notation. The knowledge generally of history and geography was very indifferent.
The boys seldom stayed beyond 14. There were no examinations at the school except those conducted by the master himself. or occasionally by a friend. The two Gifford Exhibitions, founded in 1826 and attached to this school, and in default of candidates thrown open to the county, had not been held by a boy from the school for more than 20 years...
...The grammar school, in the state in which I saw it, cannot be said, in proportion to its endowment, to be a very useful institution...The feeling of the town was one of some dissatisfaction at the existing state of things, though the leading inhabitants were exceedingly cautious in expressing any opinion upon the matter.'

Schools Inquiry Commission, vol 14, South Western Division, Special Reports of Assistant Commissioners, London 1868

*******

Some pupils:
Richard Carlile*:
When I got to a five-penny school it was considered an extravagant affair, too expensive to be borne, and a successful effort was made to put me upon the list of free scholars. From the age of six to nine I was at writing and arithmetic; from nine to twelve at Latin. But the sum of all this narrative is that though at twelve years of age I left school, with a knowledge of writing, arithmetic, and the Latin language, and a pretty good knowledge of words and the tact of spelling them, I was wholly ignorant of grammar. I remember well when my severe old writing and ciphering master was told that I was about to leave him to learn Latin, he said, 'Hi, hi! you had better learn English first'. This old man never gave me a chastisement without saying, 'There, you larned rascal, take that! You will thank me for it by the time you are twenty years old.' For my part, I had no more idea of school education than that it was a pastime for boys, and I sought an exchange from old Hanaford's to the Latin school with no idea but that of more play and less punishment, and because all the better dressed boys were there; but I found after that this smattering of Latin gave me everywhere an air of superiority, and among such company as I was able to keep I passed for a scholar. The very vanity and flattery attached to this state of mind, I believe, induced me to seek further knowledge. It is a singular circumstance, but I can trace both the Quarterly Review and the Republican to the free schools of Ashburton. Wm. Gifford* and Dr. Ireland, the Dean of Westminster, both received the rudiments of their education at these free schools, and I came after them to undo, I hope, all the mischief that they as politicians have done. These free schools of Ashburton were not so free for the poor as for the rich; one of them was a school for Latin and Greek wholly, free by endowment, and here only the children of the richer people were admitted. Here, also, I followed Dr. Ireland and Wm. Gifford.
From Richard Carlile to Eliza Sharples Carlile, quoted in The battle for the press, as told in the story of the life of Richard Carlile, Theophila Carlile Campbell (his daughter),London 1899, chapter 2http://www.gutenberg.org/files/38370/38370-h/38370-h.htm- Accessed 17-11-2013
* Born 1790. See Famous Ashburtonians
*******

The 1851 census shows that seven pupils are staying with master John B. Paige in the school house in East Street: William G. Cochrane (14), William M. Pritchett (13), Harry A. Trachy (12), Harry Bastard (13), Arthur Dampier (13), James L. More (12) and Robin G. Green (8).
1851 census: HO107; Piece: 1871; Folio: 287; Page: 2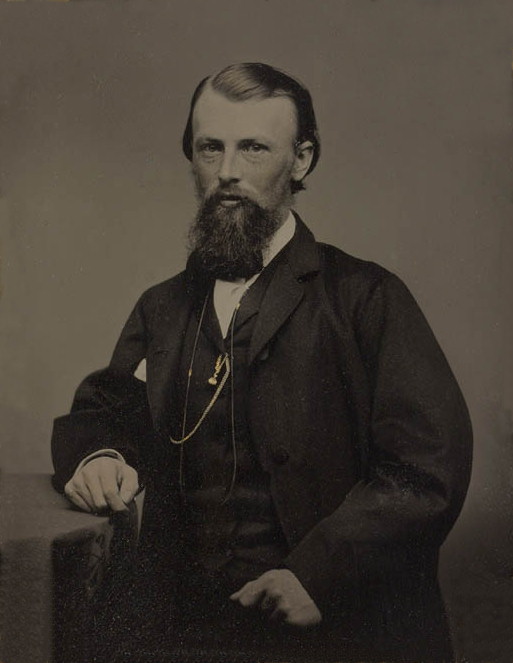 Above: William John Wills
By Thomas Hill originally uploaded by users Diceman, Rocketfrog on en.wikipedia [Public domain], via Wikimedia Commons - Accessed 23-6-2014

William John Wills
In 1860 William John Wills, selected by Robert O'Hara Burke, was part of the first expedition to cross Australia from south to north.

Born in January 1834, Wills was the son of a Totnes doctor, but in his twelfth year he attended Ashburton Grammar School.

Hard-working but nervous, he was 'far from brilliant' (Western Times) and did not excel at any examinations. He left the school in 1850 to become apprenticed to his father. He emigrated to Australia in 1852.
The initial expedition was a success: Burke and Wills plus two other team members were the first people to make the south/north crossing, proving in the process that there was no inland sea. But on the return journey they failed to meet up with the rest of the members of the expedition, and died through disease and lack of food and water. John King was the only eventual survivor.


Western Times 21 February 1863 p2 col2
http://www.davidreilly.com/australian_explorers/- Accessed 21-6-2014


Arthur Harry Church
Arthur Harry Church was born in Plymouth in 1865, and according to his obituary was the son of a saddler.
http://www.freebmd.org.uk
Obituary notices of Fellows of the Royal Society, vol 2, no 7, A G Tansley, pp432-443

The 1881 census shows him boarding with the Master of the Grammar School, James Mortimore. Aged 16, he was a pupil-teacher.
Later he went to University College, Aberystwyth, gaining at external London first class B.Sc degree in Botany.
1881 census RG11, Piece 2161, Folio 23, p2
Bristol Mercury, 7 January 1891 p7 col6

He then received a scholarship to study botany at Jesus College, Oxford, where he achieved a first. 'Fortunately I learned my botany before I came to Oxford...' (quoted on the website http://www.pictureoxon.com - Accessed 30-10-2015)
He married Emma Palmer Pratt in 1898.
By 1911 he is living in Oxford (although he has a postal address in Dawlish), with his wife Emma Palmer and two daughters. He is a university lecturer in botany at Oxford.
FreeBMD
1911 census RG 14, Piece 12697, Schedule no 150

According to the Natural History Museum he 'was considered one of the ablest and most original botanists of his time.....his lectures at University were said to be delightful' and his art 'inspirational'.
Church became a Fellow of the Royal Society in 1921, and died in 1937.
http://www.nhm.ac.uk/


See also: Famous Ashburtonians, for information on John Dunning, William Gifford and John Ireland.
Sidney Endacott was at the school in 1885 - see Poets and artists, under Famous Ashburtonians.

Reg Andrews: 'From the Board School I was sent to the Ashburton Grammar School, under the tutelage of that quite famous headmaster, James Mortimer. Here indeed was discipline, spelt with a very large D, and I do not think we boys really resented it. I left the grammar school in 1909 and went as office boy to that highly esteemed firm of Edwin Tucker and Sons, Ltd., agricultural seed merchants and maltsters, where I remained for 55 years. Two grammar school pupils, both Ashburtonians, who later made their mark in the world were Dr John Satterly, who became the professor of physics at Toronto University, and Mr George Foaden who became the agricultural advisor to the Egyptian government in Cairo. Both were half a generation before my time.'
From the reminiscences of Reg Andrews, born 1893. Many thanks to Dave Hodge-Brooks and Ernie Smerdon for these.

********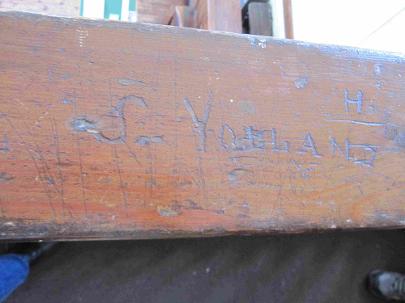 Left: S Yolland carved his name in the balcony that is accessed from the St Lawrence Tower.
My own photograph 2015. With thanks to the Guild of St. Lawrence.
In 1895 a competitive examination was held for two scholarships at the Grammar School, worth £8 per annum for two years. Candidates had to be boys under 14 years of age, who had been at the Board School for at least a year. The successful candidates were William Burch and Mark Nicks
Exeter and Plymouth Gazette 18 January 1895, p7 col1

Six candidates competed for two scholarships in 1900. Ernest Nicks and Thomas H Gale were successful.
Totnes Weekly Times 15 September 1900, p3 col1


In 1918, after an examination, six free places were awarded at the Grammar School. Raymond Tape, Gordon R Williams and Hilda Perkins were the successful candidates from Ashburton Council School; Eric Pinney and Ethel Midgeley came from Buckfastleigh and Vida Middleton was from Totnes.
Western Times 19 June 1918 p3 col1


In 1924 (and again in 1927) the Headmaster of the Grammar School, Henry Naylor, had a book of pupils' poems published - The Ashburton Book of Poems.
Ashburton Grammar School, W S Graf, Ashburton 1938, p27


The following pupils contributed:
Betty Ayres (13)
Lorna Ayres
James Badcock
Kathleen Bannerjee
Raymond K Beer
Marjorie Burrell
Leslie J Clake
Eileen Cording
Patrick Daw
Spenwyn Daw (12)
Roma Dawe (13)
Gwen M Dyer (14)
Hilda Gill (13) [probably = Hilda W Gill below]
Janie Hannaford (13)
Doris M Head [probably = Doris Head below]
Alice Homewood
Kathleen Hutchin
Barbara Jones
Nora Knapman
Freda Marshall
Charlotte Matthews (13)
Josephine Maunder (14)
Annie Moore (12)
Leslie Moorse
Ruby Northcote

Amy Oldreive (10)
Ethel Owens
Harold Palk
Ruth M Penny
Iris Perring
Ursula Phillott (12)
Violet M Ravenshaw [probably = Violet Ravenshaw below]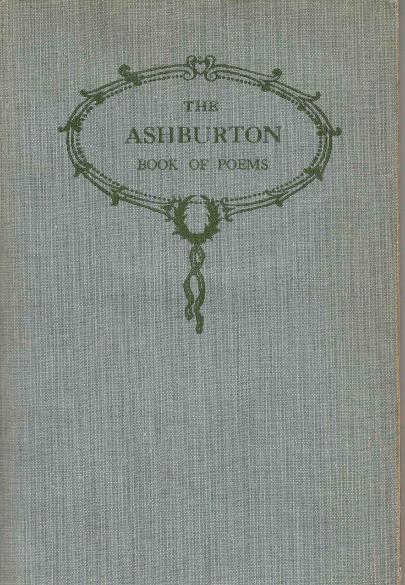 Above: The Ashburton Book of Poems, by the pupils of Ashburton Grammar School, London, undated
From my own collection

James S Rhodes (14)
Mary Rhodes (14)
Norah Rogers (14)
Edith Rowland (14)
Nellie Saffrey (13) (14)
Molly Seely
Charles F and Arthur J Simpson
Marjorie Sowerby (13)
Ethel Spurling
Cora Squire
Susanne Sutor
Nora Tapley (13)
Eileen Thorne
Peggy Trembath (14) (15)
Kaye and Louis Webb
Bernice Winsor (14)
Irene D Wood [probably = Irene Wood below]
The ages of some of the pupils come from Bruce Harran's copy of the book, below, which also has some additional pupils.
With thanks to Bruce Harran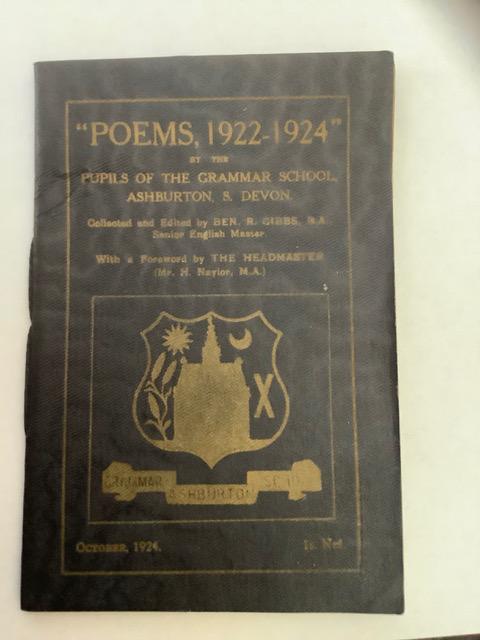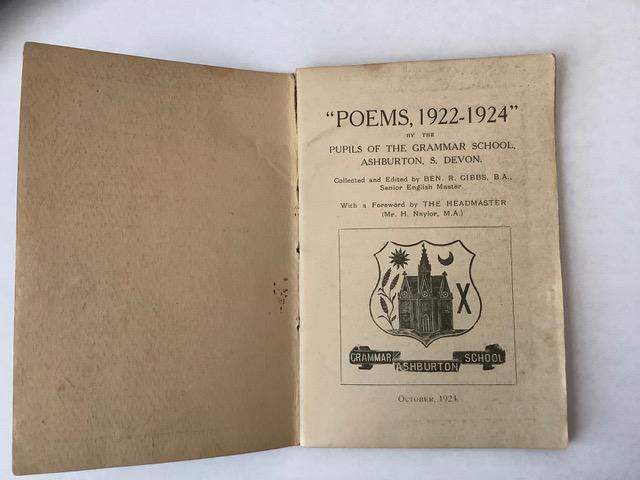 Additional pupils:
Richard A Bradford (14)
Mary French (14)
Hilda W Gill (14)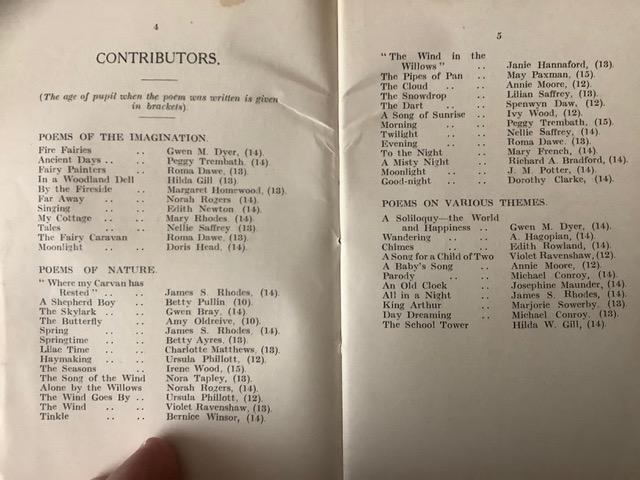 Doris Head (14)
Margaret Homewood (13)
Edith Newton (14)
Betty Pullin (10)
Violet Ravenshaw (12) (13)
Irene Wood (15)
Ivy Wood (12)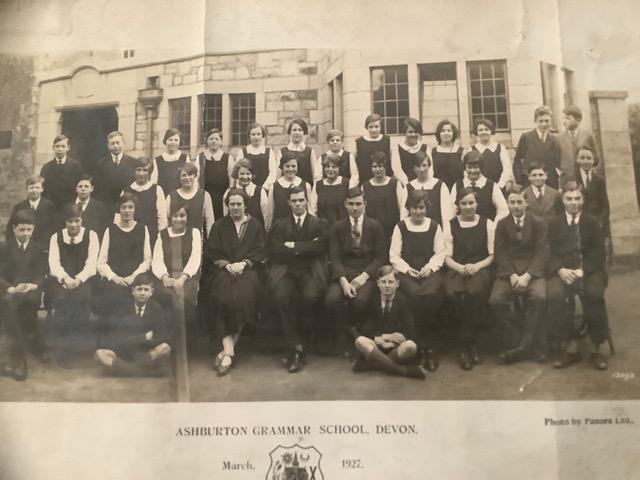 Above:
Ashburton Grammar School in 1927. Thomas Henry William Foorde Harran is on the middle row, extreme right.
With many thanks to Bruce Harran
The Grammar School prospectus, 1920s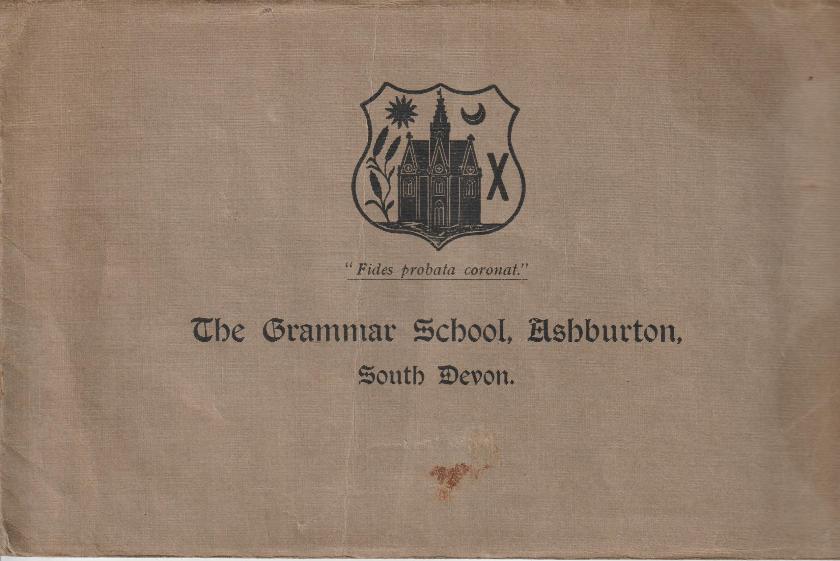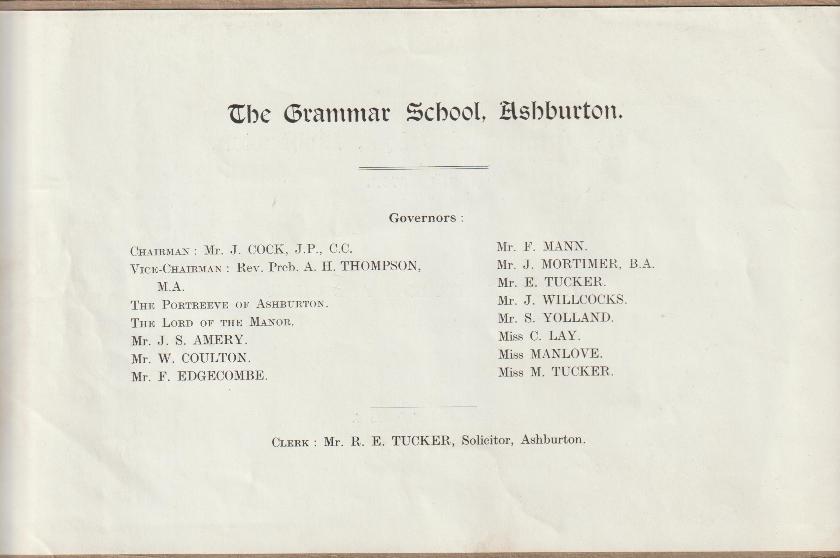 Governors
Chairman: Mr J Cook, JP, CC
Vice-Chairman: Rev Preb A H Thompson, MA
The Portreeve of Ashburton
The Lord of the Manor
Mr J S Amery
Mr W Coulton
Mr F Edgecombe
Mr F Mann
Mr J Mortimer, BA
Mr E Tucker
Mr J Willcocks
Mr S Yolland
Miss C Lay
Miss Manlove
Miss M Tucker
Clerk: Mr R E Tucker, Solicitor, Ashburton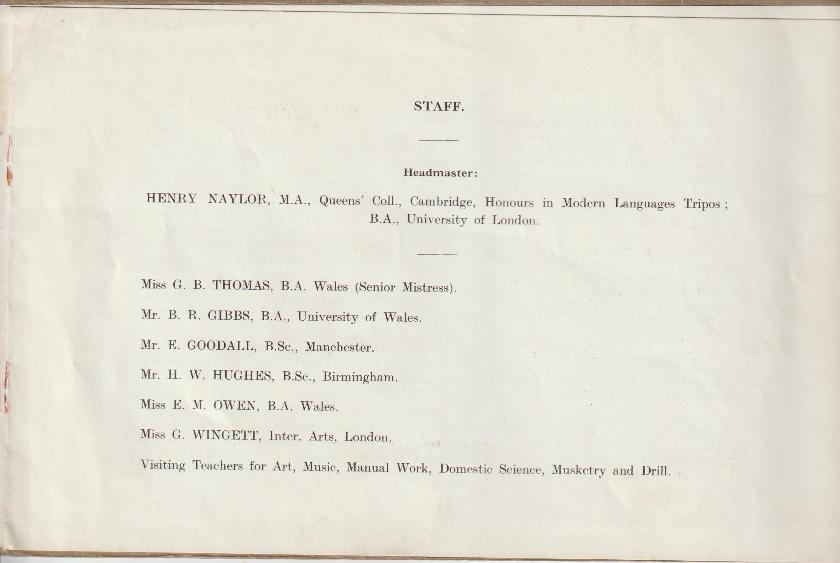 Staff
Headmaster: Henry Naylor, MA, Queens' Coll., Cambridge, Honours in Modern Languages Tripos; BA, University of London
Miss G B Thomas, BA Wales (Senior Mistress)
Mr B R Gibbs, BA University of Wales
Mr E Goodall, BSc Manchester
Mr H W Hughes, BSc Birmingham
Miss E M Owen, BA Wales
Miss G Wingett, Inter. Arts London
Visiting Teachers for Art, Music, Manual Work, Domestic Science, Musketry and Drill.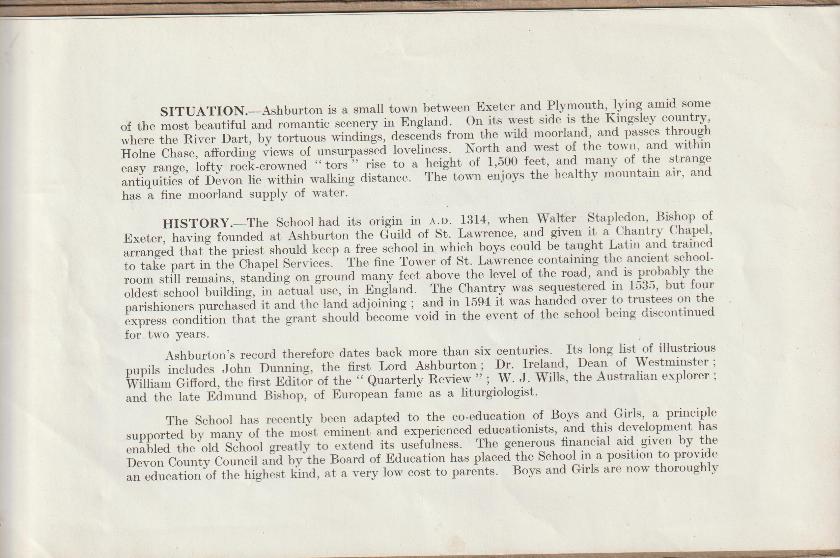 'Situation - Ashburton is a small town between Exeter and Plymouth, lying amid some of the most beuatiful and romantic scenery in England. On its west side is the Kingsley country, where the River Dart, by tortuous windings, descends from the wild moorland, and passes through Holne Chase, affording views of unsurpassed loveliness. North and west of the town, and within easy range, lofty rock-crowned "tors" rise to a height of 1,500 feet, and many of the strange antiquities of Devon lie within walking distance. The town enjoys the healthy mountain air, and has a fine moorland supply of water.
History - The school had its origin in AD 1314, when Walter Stapledon, Bishop of Exeter, having founded at Ashburton the Guild of St Lawrence, and given it a Chantry Chapel, arranged that the priest should keep a free school in which boys could be taught Latin and trained to take part in the Chapel Services. The fine Tower of St Lawrence containing the ancient schoolroom still remains, standing on ground many feet above the level of the road and is probably the oldest school building, in actual use, in England.
The Chantry was sequestered in 1535, but four parishioners purchased it and the land adjoining; and in 1594 it was handed over to trustees on the express condition that the grant should become void in the event of the school being discontinued for two years.
Ashburton's record therefore dates back more than six centuries. Its long list of illustrious pupils includes John Dunning, the first Lord Ashburton; Dr Ireland, Dean of Westminster; William Gifford, the first editor of the Quarterly Review; W J Wills, the Australian explorer; and the late Edmund Bishop, of European fame as a liturgiologist.
The School has recently been adapted to the co-education of Boys and Girls, a principle supported by many of the most eminent and experienced educationalists, and this development has enabled the old School greatly to extend its usefulness. The generous financial aid given by the Devon County Council and by the Board of Education has placed the School in a position to provide an education of the highest kind, at a very low cost to parents. Boys and Girls are now thoroughly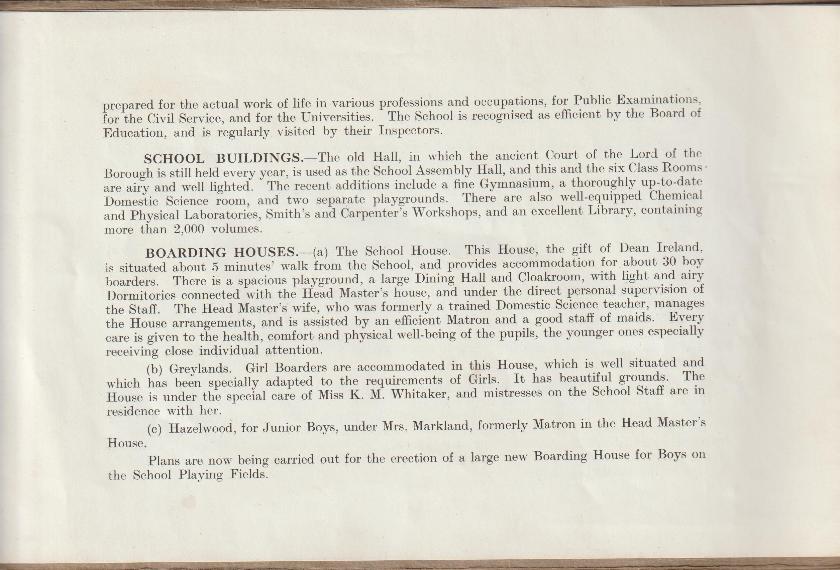 prepared for the actual work of life in various professions and occupations, for Public Examinations, for the Civil Service, and for the Universities. The School is recognised as efficient by the Board of Education, and is regularly visited by their Inspectors.
School Buildings - The old Hall, in which the ancient court of the Lord of the Borough is still held every year, is used as the School Assmebly Hall, and this and the six Class Rooms are airy and well lighted. The recnt additions include a finei Gymnasium, a thoroughly up-to-date Domestic Science room, and two separate plygrounds. There are also well-equipped Chemical and Physical Laboratories, Smith's and Carpenter's Workshops, and an excellent Library, containing more than 2000 volumes.
Boarding Houses - (a) The School House. This House, the gift of Dean Ireland, is situated about 5 minutes' walk from the School, and provides accommodation for about 30 boy boarders. There is a spacious playground, a large Dining Hall and Cloakroom, with light and airy Dormitories connected with the Head Master's house, and under the direct personal supervision of the Staff. The Head Master's wife, who was formerly a trained Domestic Science teacher, manages the House arrangements, and is assisted by an efficient Matron and a good staff of maids. Every care is given to the health, comfort and physical well-being of the pupils, the younger ones especially receiving close individual attenttion.
(b) Greylands. Girl Boarders are accommodated in this House, which is well situated and which has been specially adapted to the requirements of Girls. It has beautiful grounds. The House is under the special care of Miss K M Whitaker, and mistresses on the School Staff are in residence with her.
(c) Hazelwood, for Junior Boys, under Mrs Markland, formerly Matron in the Head Master's House.
Plans are now being carried out for the erection of a large new Boarding house for Boys on the School Playing Fields.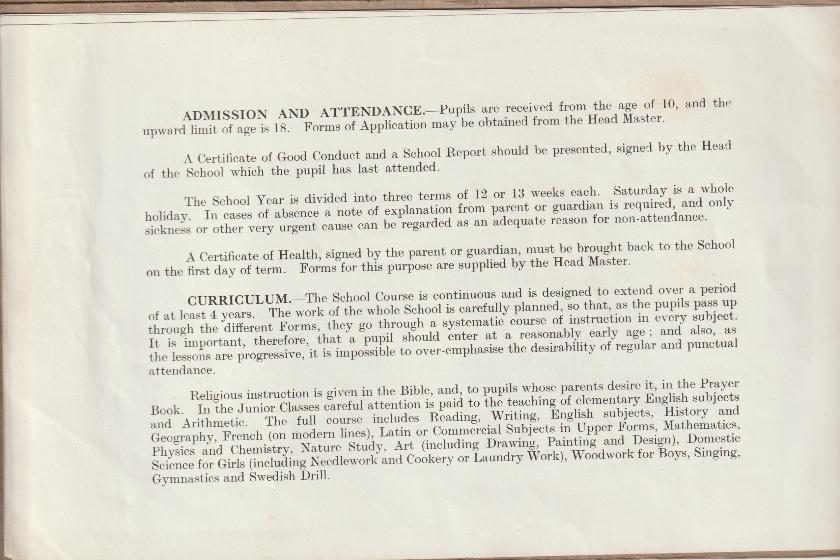 Admissions and Attendance - Pupils are received from the age of 10, and the upward limit of age is 18. Forms of application may be obtained from the Head Master.
A Certificate of Good Conduct and a School Report should be presented, signed by the Head of the School which the pupil has last attended.
The School Year is divided into three terms of 12 or 13 weeks each. Sturday is a whole holiday. In cases of absence a note of explanation from parent or guardian is required, and only sickness of other very urgent cause can be regarded as an adequate reason for non-attendance.
A Certificate of Health, signed by the parent or guardian, must be brought back to the School on the first day of term. Forms for this purpose are supplied by the Head Master.
Curriculum - The School Course is continuous and is designed to extend over a period of at least 4 years. The work of the whole School is carefully planned, so that as the pupils pass up through the different Forms, they go through a systematic course of instruction in every subject. It is important, therefore, that a pupil should enter at a reasonably early age; and also, as the lessons are progressive, it is impossible to over-emphasise the desirability of regular and punctual attendance.
Rerligious instruction is given in the Bible, and, to pupils whose parents desire it, in the Prayer Book. In the Junior Classes careful attention is paid to the teaching of elementary English subjects and Arithmetic. The full course includes Reading, Writing, English subjects, History and Geography, French (on modern lines), Latin or Commercial Subjects in Upper Forms, Mathematics, Physics and Chemistry, Nature Study, Art (including Drawing, Painting and Design), Domestic Science for Girls (including Needlework and Cookery or Laundry Work), Woodwork for Boys, Singing, Gymnastics and Swedish Drill.
[For more on Swedish Drill, see https://afterthoughtsblog.net/2016/04/swedish-drill-history.html/ - accessed 24-10-2021]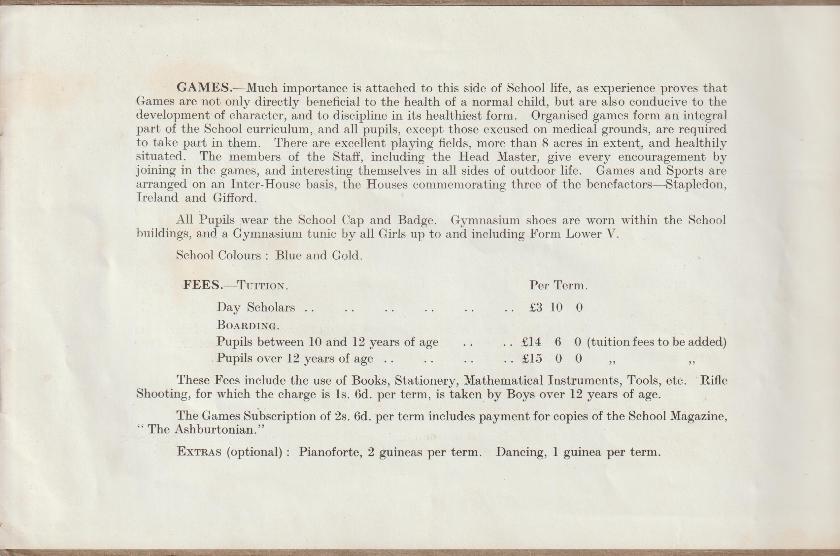 Games - Much importance is attached to this side of School life, as experience proves that Games are not only directly beneficial to the health of a normal child, but are also conducive to the development of character, and to discipline in its healthiest form. Organised games form an integral part of the School curriculum, and all pupils, except those excused on medical grounds, are required to take part in them. There are excellent playing fields, more than 8 acres in extent, and healthily situated. The members of the Staff, including the Head Master, give every encouragement by joining in the games, and interesting themselves in all sides of outdoor life. Games and Sports and arranged on an Inter-House basis, the Houses commemorating three of the benefactors - Stapledon, Ireland and Gifford.
All pupils wear the School Cap and Badge. Gymnasium shoes are worn within the School buildings, and a Gymnasium tunic by all Girls up to and including Form Lower 5.
School Colours: Blue and Gold.
Fees - Tuition. Per Term.
Pupils between 10 and 12 years of age £14 6 0 (tuition fees to be added)
Pupils over 12 years of age £15 0 0
These fees include the use of Books, Stationery, Mathematical Instruments, Tools, etc. Rifle Shooting, for which the charge is 1s 6d per term, is taken by Boys over 12 years of age.
The Games Subscription of 2s 6d per term includes payment for copies of the School Magazine, "The Ashburtonian."
Extras (optional): Pianoforte, 2 guineas per term. Dancing, 1 guinea per term.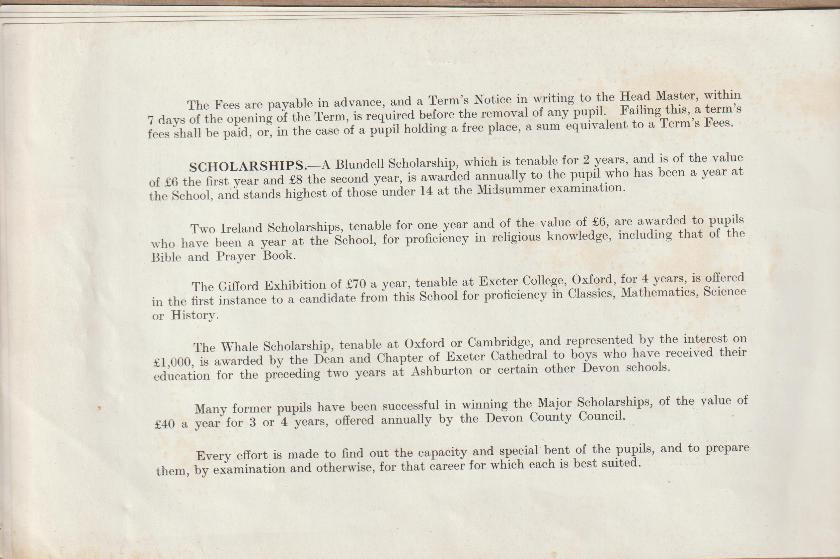 The Fees are payable in advance, and a Term's Notice in writing to the Head Master, within 7 days of the opening of the Term, is required before the removal of any pupil. Failing this, a term's fees shall be paid, or, in the case of a pupil holding a free place, a sum equivalent to a Term's Fees.
Scholarships - A Blundell Scholarship, which is tenable for 2 years, and is of the value of £6 the first year and £8 the second year, is awarded annually to the pupil who has been a year at the School, and stands highest of those under 14 at the Midsummer examination.
Two Ireland Scholarships, tenable for one year and of the value of £6, are awarded to pupils who have been a year at the School, for proficiency in religious knowledge, including that of the Bible and Prayer Book
The Gifford Exhibition of £70 a year, tenable at Exeter College, Oxford, for 4 years, is offered in the first instance to a candidate from this School for proficiency in Classics, Mathematics, Science or History.
The Whale Scholarship, tenable at Oxford or Cambridge, and represented by the interest on £1000, is awarded by the Dean and Chapter of Exeter Cathedral to boys who have received their education for the preceding two years at Ashburton or certain other Devon schools.
Many former pupils have been successful in winning the Major Scholarships, of the value of £40 a year for 3 or 4 years, offered annually by the Devon County Council.
Every effort is made to find out the capacity and special bent of the pupils, and to prepare them, by examination and otherwise, for that career for which each is best suited.
With many thanks to Bruce Harran
***
Some masters:
The Rev. Fitz. Henry Hele was chosen as Master in 1832, following the resignation of the Rev. John White.

North Devon Journal 6 December 1832 p3 col4

In 1837 the Rev. Wentworth Bird was appointed Master.

North Devon Journal 19 October 1837 p3 col6


1839 W. Baxter was the Master. It cost 35 guineas for a pupil under 12 to board, and 40 guineas for pupils over that age.* Two Exhibitions and two scholarships to Exeter College, Oxford, were available for pupils educated at the school.
Western Times 2 March 1839 p3 col6Other advertisements show that this is per annum.
1841 The Rev. George P. Lewis was the newly elected Master.
Two years later the Rev. G. Lewis was leaving the Grammar School to become Chaplain of the Honiton Union.
Western Times 24 July 1841 p2 col2
Western Times 13 May 1843 p3 col3

When electing a new Master, the Trustees stated that the endowment was £83 10s. 'exclusive of a very good house and walled garden, which belongs to the Master.'

Western Times 20 May 1843 p1 col3

In 1845 Reginald Cleave was awarded one of the scholarships to Exeter College.

Western Times 19 April 1845 p2 col6
J. B. Paige was Headmaster by 1848. T. White was Second Master, and the Third Master was Mr. Barneet
*
Western Times 23 December 1848 p1 col1* Barnet and Barnett elsewhere


When Mr. Paige left in 1859 he sold a large quantity of his own possessions. They included mahogany furniture, 30 feather bolsters, 30 iron bedsteads, 40 hair and straw mattresses, 100 blankets and 'an excellent shower bath.'

Exeter and Plymouth Gazette 9 July 1859 p1 col4
The 1861 census shows 34 year old Frederick Flood as Master of the Grammar School, living in East Street with his wife and six young children (the oldest was eight). Born in Honiton, he was a clergyman (B.A.) 'without care of souls'.
http://www.freecen.org.uk
Benjamin Richard Gibbs BA, senior assistant master at the Grammar School, died in March 1934, aged 37. An English specialist, he had been at the school since 1920, and had written a number of educational books. At one time he had been president of the Ashburton Mutual Improvement Association, and was deeply interested in the WEA. He left a widow, who had also at one time been on the staff of the Grammar School, and a young daughter.
Western Times 23 March 1934, p10 col4

Right: Badge of Ashburton Grammar School.
Many thanks to Roy Martin for this photograph