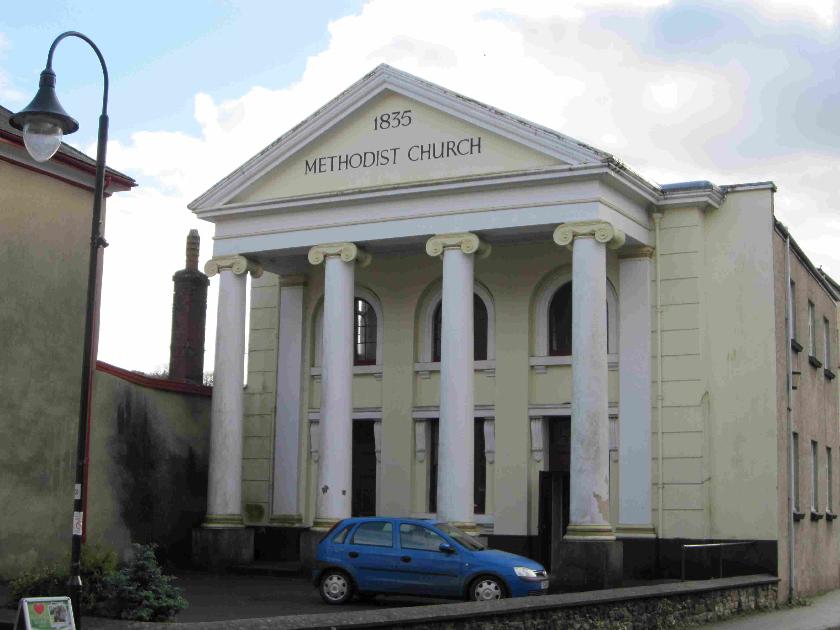 Above: The Wesleyan Chapel, West Street.
My own photograph 2012


The Wesleyan Chapel
From William Hill's 'Alphabetical Arrangement' of Methodist ministers:
William Trampleasure 1808-09
Francis Collier 1816-17
John Robinson 1816-17.
William Hill 1818-19
William Radford 1824-25
Thomas W Smith 1827
Joseph Earnshaw 1828-30
Elias Thomas 1831-32

The Wesleyan Methodist Itinerancy has a complete list of Ashburton ministers from 1802 to 1856
Rev Jospeh Hall, The Wesleyan Methodist Itinerancy, London, 1873 pp12,13
It can be viewed for free via Google books

The list begins with William Thoresby in 1802. In 1798 William Thorsby, a Minister of the Gospel, had married Mary Bickford in Ashburton.
The couple had at least three children, who were baptized by William between 1800 and 1803

Parish records

England and Wales non-conformist births and baptisms, available via Findmypast.

William Thorsby, Dissenting Minister, was buried at Ashburton in August 1806.
Parish records

Decree of the High Court of Chancery, Thoresby v Bickford
Creditors of William Thoresby, Dissenting Minister, (died 1806) to prove their debts
Creditors of William Bickford, Mercer, (died 1815) to prove their debts
London Gazette Issue 17698 17 April 1821, p11
Joseph Sanders is shown as being at Ashburton in 1808-09 and 1821-23.
He wrote a tract, 'The Despisers of Revelation Affectionately Addressed', which was printed in Ashburton and according to Richard Carlile, 'Thrust into the faces of all those of my friends who are espousing the opinions I promulgate.' Carlile goes on to say 'Bull-baiting had been dropped before my time; but I have seen many a badger-baiting there*; and I would gladly come to have this Methodist Parson, Sanders, stuck up on one of the front stalls of the shambles, and I on the other, to expose his villainy in putting forth such a pamphlet.'
An Alphabetical Arrangement of all the Wesleyan-Methodist Preachers and Missionaries, William Hill, 3rd Edition London 1827* ie at Ashburton
The Republican Vol 9, 1824, R. Carlile, 84 Fleet Street, p74


In 1821 John Jenkins hoped to be appointed as a Wesleyan Minister abroad, but instead was appointed to the Ashburton Circuit. It covered a large area, and he travelled on average about 300 miles a month, with most places in the circuit being visited about once a fortnight (see below for the towns the circuit covered). 'The people are kind,' although he also speaks of 'painful circumstances' in one unnamed place, because the people resented the removal of the previous preachers. On another occasion he clashed with the local parson, 'who can hunt, drink, shoot etc.', whilst attempting to preach in the centre of a town where revels were held and bulls baited. In the end he and his fellow preacher were hauled before the magistrates. He also relates tales of mortal danger in getting from place to place in adverse weather conditions. Unfortunately none of the locations are identified.

A Memoir of the Rev. John Jenkins by George Jackson, 2nd edition 1832, p 20ff.
Freely available from https://books.google.co.uk/
According to BMD Registers, National Archives reference RG4, the Ashburton Wesleyan Circuit covered:
Ashburton, Ashprington, Bickington, Barnstaple, Bovey Tracey, Brixham, Kingsbridge, Plymouth, Broadhempston, Buckfastleigh, Caunter (Woodland), Chudleigh, Holne, Ilsington, Ivybridge, Axminster, Kingsteignton, Teignmouth, Ludbrook (Medbury), Modbury, Devonport, Moreton Hampstead, Oakhampton, Plympton St Mary, Plymouth, Elburton (Plymstock), Ermington, Kingsbridge, South Bovey, South Brent, Staverton, Totnes, Upburrough, Widdecombe in the Moor, Woodland and Woolstongreen (Staverton)

http://www.bmdregisters.co.uk/ - Accessed 15-1-2015
*******
In 1834 and 1835 the numbers in the congregation swelled when there was discontent with political meddling by the incumbent of St. Andrew's. At that time it was a 'small building in one of the back streets'. A new chapel was built to accommodate them all in West Street - it cost £1500.

Western Times 5 May 1849 p5 col5
1841 'A new Wesleyan Chapel was opened here on Friday last....'
Western Times 13 March 1841 p3 col4
When William Horswell died in 1847 he was described as 'universally respected'. He had been the Wesleyan minister for some years.
Western Times 25 December 1847 p5 col1

1850 The Rev Samuel Brown was minister
History, gazetteer and directory of Devonshire, William White, 1850 p466. Freely available on http://books.google.co.uk - Accessed 25-9-2014
1854 Mr W B Ward married Annie Moody, described as the daughter of the Rev J Moody, Wesleyan minister
Exeter Flying Post 12 October 1854 p8 col5

John Eddy, the son of Henry Eddy, painter, was badly hurt in July 1856. He had been painting the windows of the Wesleyan Chapel when the ladder slipped off.
Western Times 12 July 1856 p7 col3

When the Rev Richard Moody died he was buried three miles away at Wolston Green, 'there being no Dissenters' burial ground in the town'
Western Times 17 January 1857 p6 col5
1864 The Rev R Bloomfield 'preached two excellent discourses' at the Wesleyans' jubilee service.
Western Times 20 May 1864 p7 col2
In 1869 the portico of the chapel needed partly rebuilding. Mr H Eddy prepared the plans, and the work was to be undertaken by Mr Hext.
Western Times 10 December 1869 p8 col3
In 1882 the Rev. W S Weatherill, Wesleyan Minister of Ashburton, escaped injury when he and two companions were thrown from their pony and trap near the Terrace Steps in North Street
Western Times 23 June 1882, p7 col3

Mr Edward Jope was the Wesleyan minister in 1885, and at the time of Queen Victoria's Golden Jubilee in 1887

Western Times 7 August 1885 p7 col2
Western Times 22 June 1887 p4 col2

The Rev. G F N Sherwell was one of those conducting the service for the funeral of T S Clarke in November 1892.
The service for Mr Thomas Clarke was held in the chapel, before his burial in the churchyard. He had been superintendent of the Wesleyan School, on the school board, and an 'ardent worker' for Methodism.
Totnes Weekly Times 12 November 1892, p7 col3
Exeter and Plymouth Gazette 11 November 1892, p6 col7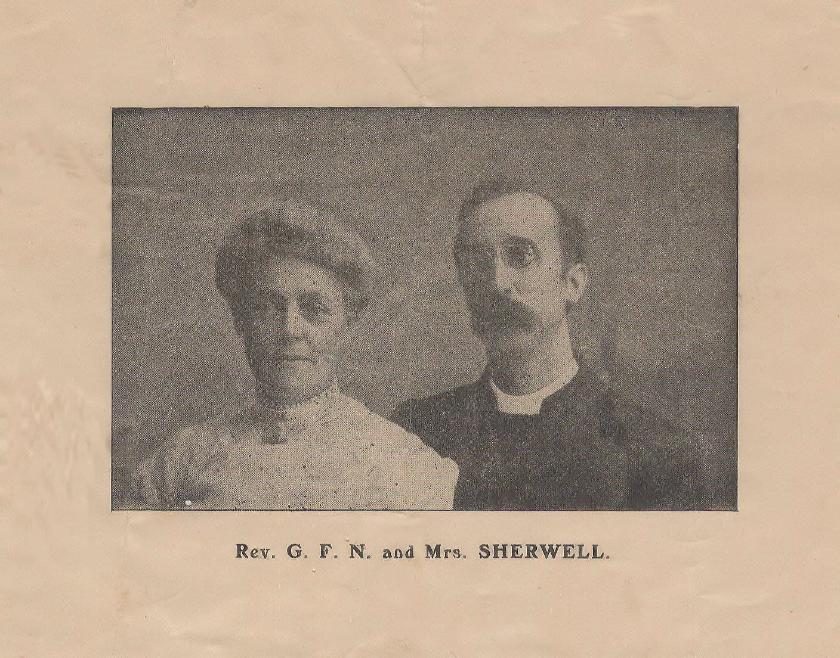 Above: The Rev G F N Sherwell and Mrs Sherwell.
Many thanks to Jane Batchelor for the above photo

George Frederick Neale Sherwell was born on December 27th 1859, and was baptised in January 1860 in West Bromwich, Staffordshire. He was the son of George W and Mary Ann Sherwell.
England and Wales Non-conformist births and baptisms, available through www.findmypast.co.uk

He was a Methodist minister living in Mickleton, Gloucestershire, in the 1891 census, and he married Harriet Ferriday* in the June quarter of that year.
1891 census RG12, piece no 2484, folio 43, p6
https://www.freebmd.org.uk
*See below for confirmation that this is the correct bride


10 May 1895. A son was born to the wife of the Rev G F N Sherwell (Wesleyan)
Western Times 13 May 1895, p2 col2

The birth of George Ferriday Sherwell was registered in the Newton Abbot district in the June quarter of 1895. The mother's maiden name was Ferriday.
https://www.gro.gov.uk

By 1898 G F N Sherwell was on the electoral register in the Witton ward of Cheshire.
Cheshire electoral registers, available through www.findmypast.co.uk

***


Right: Memorials to Thomas S Clarke, who died in 1892, and his granddaughter Rita Eveline Webber, who died in 1985.
My own photograph 2015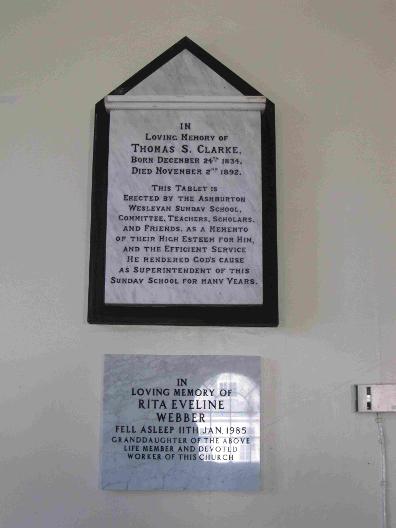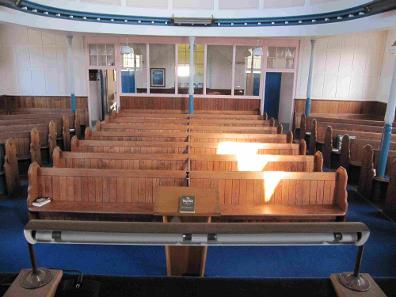 1896 saw the refurbishment of the Wesleyan Chapel. Open pews of pitch pine replaced box seats - each had an umbrella stand, and a frame to insert the occupants' names. A rostrum painted in green and chocolate took the place of the pulpit, and an alcove had an upholstered area for the preacher. The walls were decorated in green. Mr. Lear was the builder, and H. Boon the decorator. The plans had been prepared by S. Endacott.

Western Times 2 October 1896 p8 col6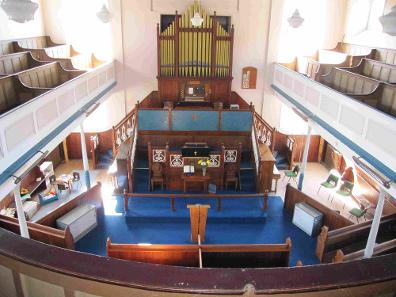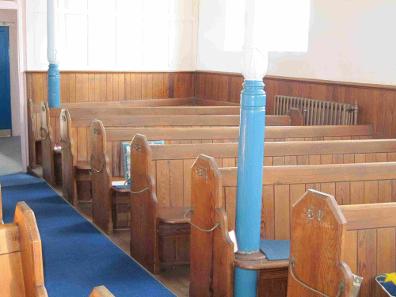 Above and below: The Methodist Chapel in 2015
My own photographs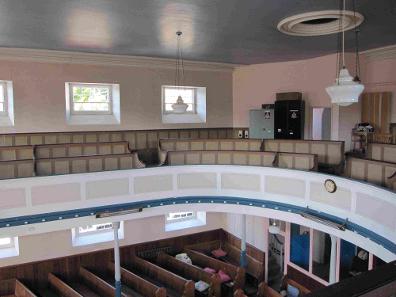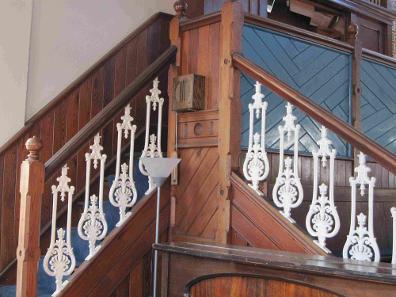 Leonard John William Babb is a Wesleyan minister in the 1911 census. Living at Mayflower, Ashburton, he is 27 years old.
1911 census RG14, piece no 12725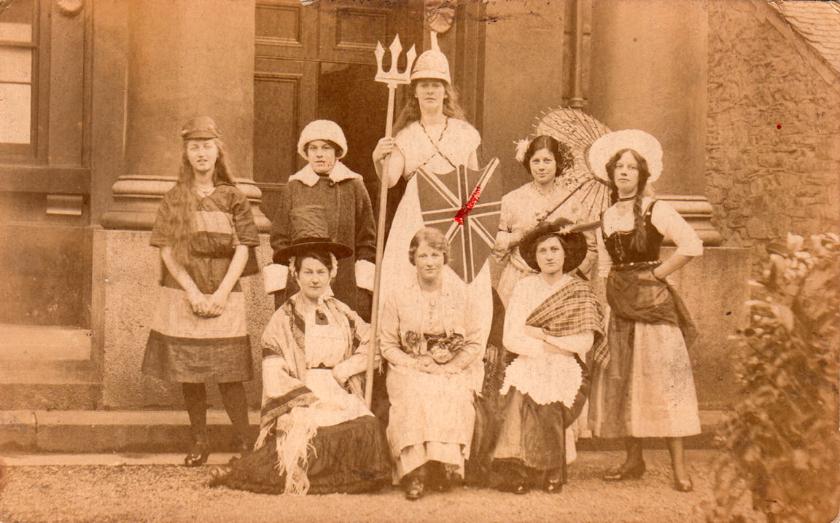 Above: Photograph taken in front of Ashburton Wesleyan Chapel c. 1914-15. Mabel (Merrett) Rodgman is in the back row second from left as Miss Canada.
Photographer Mrs A Hannaford, xxxxdenis Terrace, Ashburton (obliterated when pasted in a book).
Thanks to Nancy Frey for the above photograph
***

Mention of Rev H J Crocker, Methodist Pastor
Western Times 7 April 1933 p13 col 1
1951 The Chapel Trustees are shown as the owner/occupiers of the Methodist Chapel, c/o the Rev. Bell, Sparnham, Ashburton
In a list of buildings of special architectural or historic interest, compiled under Section 30 of the Town and Country Planning Act 1947 and dated 1951.
Thanks to Pete Webb