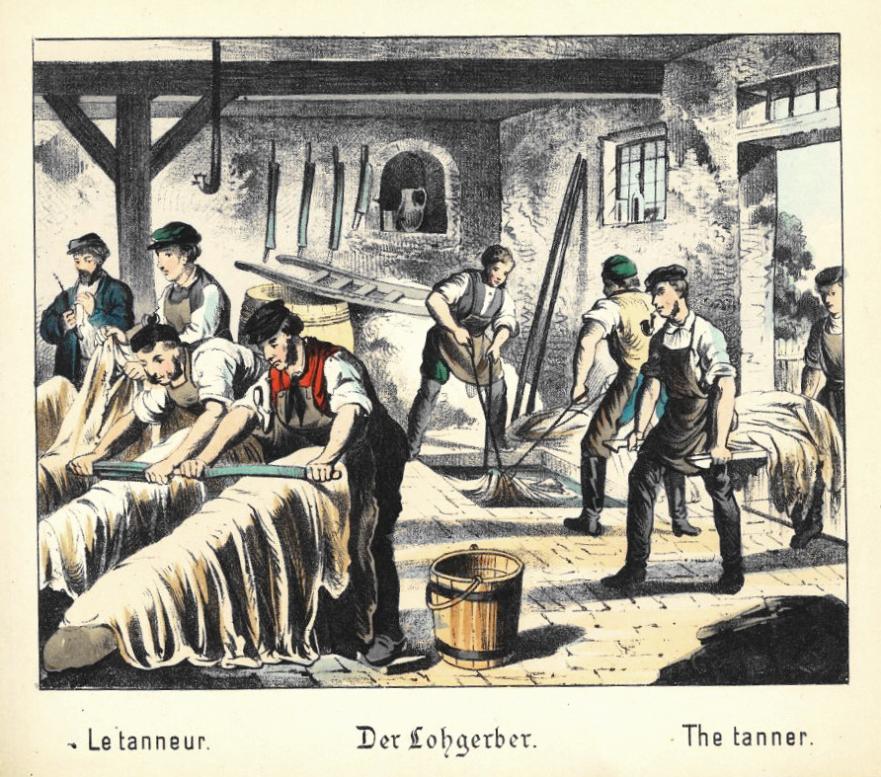 By Anonymous artist [Public domain], via Wikimedia Commons
A tanner processed hides and skins into leather. The hair was scraped off after loosening with lime and sulphide; after this the skin was soaked in vegetable extracts such as oak bark. Once dry the hide was in a preserved state, which could then be passed on to curriers, who would soften it with oils, fats and waxes. The leather was then ready to be made into shoes, harness and leather goods.
http://rmhh.co.uk/occup/index.html - Accessed 3-2-2016

'No person shall tan leather, or have gain by tanning of leather, except such as shall be brought up as apprentices or hired servants seven years in tanning leather, and except the wife and such sons of a tanner as have used tanning of leather four years, or the son or daughter of a tanner, or such person who shall marry such wife or daughter, to whom he shall leave a tan-house and fats; upon pain of forfeiture of all leather by them tanned, or whereof they shall receive any profit by tanning, or the value thereof...

No person, which shall use tanning leather, shall suffer any hide or skin to lie in the limes till the same be over-limed, nor shall put any hides or skins into tan-fats, before the lime be well sokened and wrought out; nor shall any use any stuff in the workmanship or tanning of leather, but only ash-bark, oak-bark, tapwort, malt, meal, lime, culver-dung or hen-dung, nor shall willingly suffer his leather to be laid or to hang or to lie wet in any frost, until the same be frozen, nor shall dry or parch leather with fire or summer sun... '
An abridgment of the Publick statutes in forcde and use since Magna Charta in the nineth year of King Edward III to the eleventh year of his present Majesty King George II, John Cat, vol I, London, 1739, pp x, xi

In 1525 John Prideaux, tanner, was in debt to Thomas Seymour; presumably the same John Predeax who was in debt to John Elyot of Charleton the following year.
http://discovery.nationalarchives.gov.uk refs C 131/108/3 and C 241/278/1
In the churchwarden's accounts of 1561-62 William Dolbeare, tanner, was elected as one of the wardens for the following year.
The same accounts mention Hugh Fursse, son of Richard Fursse, tanner, deceased.
Alison Hanham, Churchwardens Accounts of Ashburton, 1479-1580, Devon and Cornwall Record Society, The Devonshire Press Ltd., Torquay 1970, p147
In 1598 Ellis Coake of Ashburton, a tanner, claimed that Leonard Miller of Ashburton and Christina Kellye, widow had withheld bequests made to him in the wills of his parents.
National Archives C 2/Eliz/C16/13
http://discovery.nationalarchives.gov.uk - Accessed 6-1-2014

In a legal action concerning the market in 1630 between, amongst others, Thos. Prideaux and Thos. Ford*, Nicholas ffabyan of Ashburton, tanner, made a statement about the 'pillory, cage or prison house' and the stocks.
*Quoted by J S Amery in his Presidential Address to the Devonshire Association.
Report and Transactions of the Devonshire Association, vol 56, Plymouth 1925, p72


Mr Amery gives a reference of 6th Charles 1 (1630), and says the action was in the Exchequer. It seems likely to be linked to the document from the following year in the National Archives, 'Accounts of the profits of the market, Prideaux and Harris v. Ford and Others.' 7 Charles 1 ref E 178/5236
http://discovery.nationalarchives.gov.uk

Occupations in Ashburton PCC wills

John Dolbeare, tanner, February 1611
In 1615 Thomas Dolbere, tanner, was one of the defendants in proceedings in Star Chamber. The case, brought by Thomas Adiscott, involved the alleged suppression of a will, assault, theft and falsification of documents.
http://discovery.nationalarchives.gov.uk ref STAC 8/35/20

See Wills, under People and Properties for a draft will of Thomas Harris of Ashburton, dated 26th June 1619. Named in it is his wife Johanna, his sons Barnard, Thomas and Nicholas, and daughters Johanna, Mary and Agnes. Agnes is the wife of George Knollings.
1624 Barnard Harris of Aishberton, tanner and Thomas Harris the younger, tanner, brother of Barnard were involved in a settlekment of a 'moiety of a great close of land called Chewley Park', where the consideration was £135.
Ten years later a 'Declaration of the Uses of a Recovery'* was made concerning lands and meadows called Chewly Parke. Peter Gawde of Aishberton, tanner, John Ogier of Aishberton, blacksmith and Nicholas Harris of Aishberton, tanner, were involved.

http://discovery.nationalarchives.gov.uk South West Heritage Trust refs 48/14/68/1 and 48/14/68/2

* As I understand it, this was where those involved in a land transaction colluded in a fake lawsuit to ensure that the land was free from restrictions imposed by wills, settlements etc.

https://www.nottingham.ac.uk/manuscriptsandspecialcollections/researchguidance/deedsindepth/freehold/commonrecovery.aspx - Accessed 5-2-2106


1637 Epitaph within the church for Thomas Harris, died September 30th:

'Fear not to die;
Learn this of me,
No ills in death,

If good thou be.'

'H.H.' writing in Notes and Queries, A Medium of Communication between Literary Men, Artists, Antiquaries, Genealogists etc. vol 6, July-December 1852, London, p468
The epitaph is in fact on a granite slab outside the church, on the ground in front of the West door. Thomas Harris died on September 30th 1637, and his son, Nicholas, who is also commemorated, died on 10th October 1669.
Right and below: The memorial slab to Thomas Harris, tanner, and his son Nicholas, tanner.
My own photographs 2017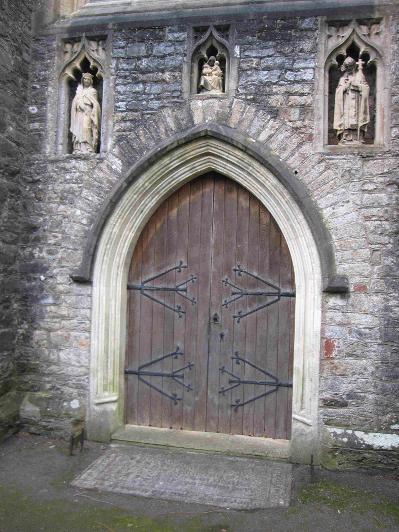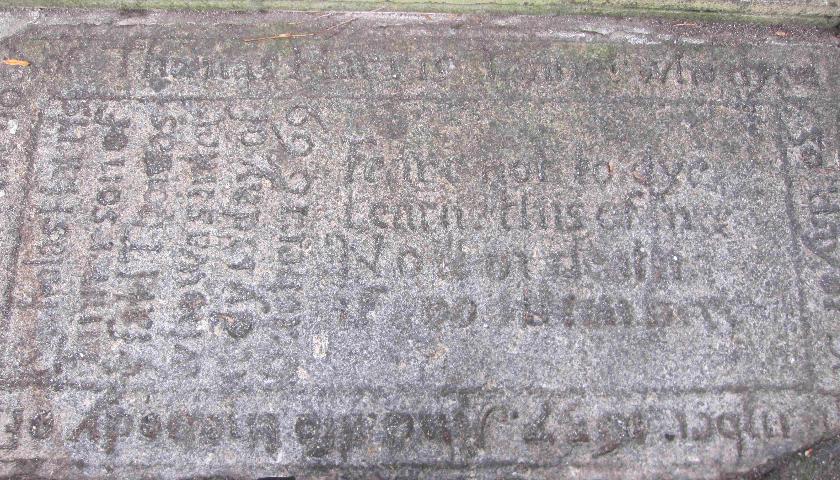 Robert Prowse and John Dolbear were ordered to keep the peace in 1639. Both were tanners of Ashburton
http://discovery.nationalarchives.gov.uk South West Heritage Trust ref 133Z-0/Q/20
The will of Nicholas Harris, tanner of Aishberton, was proved in the court of the Dean and Chapter of Exeter in 1670. He left messuages in North Streete and East Streete and 3 closes of land called Longabrendon.

http://discovery.nationalarchives.gov.uk South West Heritage Trust ref 48/14/68/7
'One of the leading supporters of Nonconformity in Ashburton, in its early days, was Mr John Fabyan, of Ashburton, tanner.'
He left a will dated 24th July 1690, in which Peter Fabyan the younger is mentioned.
Article on Nonconformity, Western Daily Mercury, 8 January 1912, p8 col7
1717 'A petition of the tanners, leather-dressers and cutters of leather, in the town and borough of Tot_ness as also of the town and borough of Ashburton, both in Devon, on behalf of themselves and others was presented to the House and read; setting forth that vast quantities of oak-bark had been exported from this part of the kingdom into Ireland, where there is no duty on hides, to the great discouragement of the petitioners; and for the better preventing the gathing of hides and skins in the flaying, a law was made against the same; but the forfeitures therein are so inconsiderable that it is in a manner ineffectual; and by another statute, the engrossing of oaken bark to fell again is forbid; but by the art of some people those laws are made of no effect: and praying the the exportation of bark may be prohibited.
Ordered, that the said petition do lie upon the table.'
Journals of the House of Commons, August 1714- September 1718, reprinted 1803, p702,703
In 1737 there was a presentment (ie a formal statement) to the Quarter Sessions regarding John Moore of Ashburton, cordwainer. He was a searcher and sealer of leather*, but had refused to search and seal one hide of leather belonging to Nicholas Tapper. The goods were valued at twenty shillings.
Devon Heritage Centre ref QS/4/1737/Epiphany/PR/56 https://devon-cat.swheritage.org.uk/records/QS/4/1737/Epiphany/PR/56 - Accessed 8-10-2018

*This appears to have been a form of quality control. See The Acts of Assembly of the Province of Pennsylvania, Philadelphia 1775, p108, which presumably followed the pattern in England.
1748. At the Court Leet and Baron the searchers and Sealers of Leather in 1748 presented William Hern for 'Selling of leather unsearched and unsealed', an offence which he was to repeat in 1751 and 1762.
Court Entries of Ashburton 1747-1803, Hamlyn Parsons, Report and Transactions of the Devonshire Association, vol 87, Crediton 1955, p245
In 1750 Jno Teddey, his son Thomas Teddey and Philip Bennett were also presented at court for 'Washing skins above the town' - they may have been tanners.
ibid
1760 Amongst the bastardly bonds held in the accounts of the overseers of the St Thomas Union is one concerning Ann Coles and William Herne, tanner. Both were from Ashburton.
http://discovery.nationalarchives.gov.uk South West Heritage Trust ref 1481A/PO 692/8
William Hern and son, tanners
William White, tanner
Trades and Professions from the Universal British Directory of Trade, Commerce and Manufacture, Vol 2, late 1700s

November 5th 1795 'A method of tanning leather without oak-bark, discovered and proved by William White, tanner, of Ashburton, Devon.
I have tanned several hides and calves skins (these three years past) with oak leaves only, and have found that the leather is tanned quicker, weighs as well, and answers for wear in all respects as well as if tanned with oak-bark... Bark being now so very dear, the above discovery must be of some benefit to tanners. The expense of drying the bark by fire, and pounding and sifting it, is considerable; whereas the expense is saved by using the leaves. The felling of coppices so young as fourteen years growth hath for several years past reduced the quality and quantity of oak-bark very much; therefore I suppose the above discovery will be of public utility...'

8 tanners and dressers of leather added their support - many are local names, but they may not have been from Ashburton: William Herr; John Windeatt; George Ley; Tho. Bickford; Edward Langman; Richard Maye; William Bickford; William Batten.
Letters and papers on agriculture, planting etc. selected from the correspondence of the Bath and West of England Society, vol 8, Bath, 196, p84
Old Maps Online has an 1803 map of Dartmoor, Devon, which shows tanyards at Chewley
http://www.oldmapsonline.org - Accessed 4-2-2016
The will of Samuel Tozer, tanner of Ashburton, was proved in the Court of Ely in 1807
http://discovery.nationalarchives.gov.uk, ref IR 26/333/266, Sept 11th 1807
1810 Amongst the bankrupts listed in the Bristol Mirror was John Ellis of Ashburton, tanner.
Bristol Mirror 3 November 1810, p4 col5
John Higgins, Senior and John Higgins Junior.

John Higgins was an apprentice to Samuel Melhuish, currier, in 1786.
Country Apprentices 1710-1808, National archives ref 33 f 49 (IR 1 series).
John Higgins married Mary Goodridge in May 1792.
The following children were baptized after this date, with father John and mother Mary:
Mary, November 1793

John, September 1795
Elizabeth, April 1797

Ann, May 1799

Thomas, September 1803

William, August 1805

Richard, October 1807

William, February 1811

Susanna, October 1813

Parish records

William Ashley was apprenticed to John Higgins, currier, in 1799
Country Apprentices 1710-1808, National archives ref 69 / 124 (IR 1 series).

Mr John Higgins the elder was buried at Ashburton in November 1808.
A memorial in Ashburton churchyard records that he died on November 7th, aged 71, and that his wife Mary died on December 15th 1816, aged 83.

The same memorial records that two grandchildren of the couple had also died: Ann Higgins, who died aged 2 in 1801; and William Higgins, who died aged 3 in 1808.

Parish records

Memorial in Ashburton churchyard.

In 1811 John Higgins of Ashburton, tanner, was involved in the lease of two fields called Hemphy and Splatt (in Ashburton?)
http://discovery.nationalarchives.gov.uk South West Heritage Trust, part of the Torquay Natural History collection ref 48/14/68/23
Ann Higgins, the third daughter of John Higgins Esq., Ashburton, married Lieut. John Laurie, of the Honourable Company's Artillery and Deputy Commissary of Ordnance, in December 1819. The marriage took place in Bombay.
Bombay Gazette, 22 December 1819, p3 col2

In January 1821 the partnership was dissolved between John Higgins the elder, of Ashburton, John Higgins the younger, and Richard Eales Borrow, of 9, Camomile Street, London. Hide dealers and leather factors, they had been trading as Higgins, Son and Co.

London Gazette, vol 1, 1821, p257ff
John Higgins, aged 28, was buried at Ashburton in November 1823. John Higgins, leather factor, left a will that was proved in the Prerogative Court of Canterbury in May 1824. He gave 'to my dear father John Higgins all that part and share in his trade or business of a tanner which by agreement sometime since made between us it was intended for me to have' and to his brother Thomas 'all my part and share in the trade or business of hide dealer and leather factor and all other business which I am engaged in with Mr Borrow in London...in order that he may during the remainder of my said partnership have an enjoy the whole of my interest therein jointly with Mr Borrow...' He requests that if necessary, his wife will concur in any measures to enable his brother to take the business upon him.

Parish records
Ref PROB 11/1686/270 National Archives https://discovery.nationalarchives.gov.uk

His father, 55 year old John Higgins was buried at Ashburton in March 1825.
A notice in the Exeter Flying Post in April 1825 required all creditors and debtors to the estate of the late John Higgins, tanner, to send particulars to Miss Higgins of Ashburton.
Parish records

Exeter Flying Post, 14 April 1825, p1 col4
A large amount of property was for sale in St Lawrence Lane in 1827.
It included:
Lot 1. A dwelling house, courtlage, stables and outhouses, behind which was an extensive tan-yard, lime pits, drying lofts etc.
Lot 2 was an adjoining dwelling house and outbuildings, together with a steam boiler for boiling bark.
The properties had lately been occupied by Mr John Higgins and Mr John Higgins jnr.
Lot 3 consisted of a dwelling house, also in St Lawrence Lane, and Lot 4 was drying lofts and store houses behind.
Lot 5, a walled garden, was in Broxy Lane. It adjoined lots 3 and 4.
Exeter Flying Post, 11 January 1827, p4, col4
Susan Higgins, the youngest daughter of the late John Higgins Esq., Ashburton, married William Leggett of the 1st Troop H. A. in June 1836. The marriage took place at St Thomas's church.
Bombay Gazette 11 June 1836, p2 col1

In 1862 Richard Higgins, of 21, Magdalen Street, Exeter, died aged 54. He was the only surviving son of the late Mr John Higgins of Ashburton.
Western Times, 1 February 1862, p5 col6

Lavington Evans
Lavington Evans was born in June 1785, and baptised in the Presbyterian faith in July of the same year, in Ottery St Mary. He was the son of William Burd Evans and his wife Sarah.
England and Wales Non-conformist births and baptisms transcription, available through https://search.findmypast.co.uk

According to research by the late Robin Morley Fletcher, Lavington Evans had been apprenticed to a Mr Bickford, possibly William Bickford above, and later bought Mr Bickford's tannery business. During a difficult time in the tannery business, he opened a successful drapery business.

Many thanks to Vanessa Griffith for this information

Lavington Evans had been apprenticed to William Bickford, a linen draper, in 1801.
Country apprentices 1710-1808, National archives 70 f 85, available through https://www.findmypast.co.uk
Lavington Evans, tanner, Ashburton, was one of the trustees of the Independent Chapel of Beeralston, which opened in 1811
https://www.bereanglicans.org.uk/churchfamily-historygraveyards/a-history-of-the-local-non-conformist-churches/history-of-bere-alston-united-church - Accessed 18-03-2019

Bristol Record Office holds an 1813 marriage settlement concerning Lavington Evans, tanner of Ashburton, who is betrothed to Mary Sparke, also of Ashburton.
http://discovery.nationalarchives.gov.uk, Bristol Record Office ref 14152/73, Jan 4th 1813
Pigot's Directory 1822-23 lists 4 tanners in Ashburton: Lavington Evans in North Street, John Higgins in St Lawrence Street, John Vere Mann in East Street and John Rendle at Old Mill.
Pigot's Directory of Cornwall and Devon 1822-23

White's Directory of Devonshire in 1850 shows Evans, Lavingtn, as a tanner in Lawrence Street, Ashburton.
William White, History Gazetteer and Directory of Devonshire, 1850, p468

In the 1851 census Lavington and Mary Evans are living in West Street with their 3 adult children. 60 year old Lavington is a tanner, employing 12 men, 2 boys and 1 woman. His 23 year old son James is a draper employing one assistant, and his son Jonathan, 20, is a tanner. All the family were born in Ashburton apart from Lavington, who was born at Ottery St Mary.
1851 census HO107, piece no. 1871, folio 267, p17

Another son, David Parker Evans, was in Stanford Dingley at the time of the 1851 census, with his wife and daughters, and also a sister and brother. David was a master tanner employing 19 labourers.
1851 census HO107, piece no. 1691, folio 148, p7
A notice in the London Gazette in 1855 announced 'Notice is hereby given, that the Partnership lately subsisting between us the undersigned, Lavington Evans and David Parker Evans, carrying on business as Tanners, at Stanford Dingley, Berkshire, under the firm of Lavington Evans and Son, is dissolved by mutual consent the 29th day of September, 1855'. It was dated Bristol, 7th November 1857
London Gazette, 10th November 1857, p3762

Robin Morley Fletcher's research (see above) also indicated that Lavington Evans was involved in the firm of May, Evans and May in Hungerford, and in P and S Evans and Co., Avonside Tannery, Bristol.
Slater's Directory lists May, Evans and May as tanners at Charnam Street, Hungerford.
Slater's Directory of Bedfordshire, Berkshire, etc., 1852, p15

In 1855 the partnership was dissolved of Charles May, Lavington Evans, and George Edward May, of Hungerford, Wiltshire, tanners '(so far as Lavington Evans)'
Morning Chronicle 21 February 1855, p7 col6
'He has also to thank Mr Sparke Evans, of the Avonside Tannery, Bristol, for many useful suggestions.'
Alexander Watt, Leather Manufacture, 5th edition, New York and London, 1906, preface, iv

James Sparke Evans was born in 1824, and Peter Fabyan Sparke Evans in 1826, both the sons of Lavington Evans and his wife Mary.

England and Wales Nonconformist births and baptisms, available through https://search.findmypast.co.uk

In 1855 a foundation stone was laid at Beer for a new 'sanctuary for God'. Samuel Evans of Ottery St Mary laid the stone, and Lavington Evans of Ashburton made one of the addresses in the evening.
Western Times 18 August 1855, p5, col6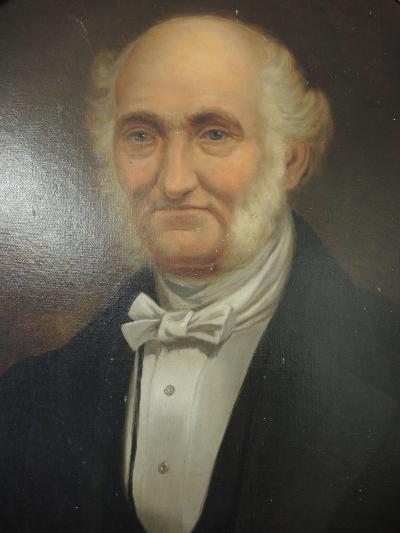 By 1861 Lavington Evans and his family are living at Charlotte St., Bristol, and Lavington is retired.
1861 census, RG09, piece no. 1794, folio 62, p24

He died in the March quarter of 1864, and his death was registered in the Bristol registration district'
https://www.freebmd.org.uk
Right: Mary Evans, née Sparke, the wife of Lavington Evans.
Researched by Robin Morley Fletcher. Many thanks to Vanessa Griffith for permission to use this image

Left: Robin Morley Fletcher says that a portrait of Lavington Evans was presented to Ashburton Chapel by his son, Jonathan Lavington Evans of Bristol. The portrait was unveiled by PFS Amery, JP.
The portrait is now in Ashburton Museum (not on display because of damage), and an inscription reads "1785 Lavington Evans 1864 for nearly 50 years Member and Deacon of this Church. He was the owner of a tannery situated at the rear of St Lawrence Lane."
Photograph by Bob Heath. Many thanks to Bob and to Ashburton Museum for the image and information.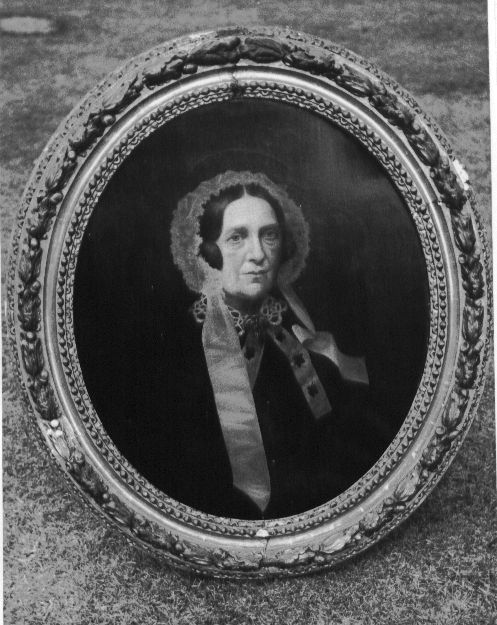 ***
1816 'At Totnes, Ashburton and Moretonhampstead there are several tawers*, who prepare large quantities of goods.'
Review of the mercantile, trading and manufacturing state, interests and capabilities of the Port of Plymouth, William Burt, Plymouth, 1816 p249* Made white leather. http://rmhh.co.uk/occup/t.html - Accessed 3-2-2016
In 1827 the Exeter Alfred reported 'A destructive fire' at Ashburton. It started in Mr Caunter's factory - the whole building and stock was lost, together with a dwelling house alongside. Mr Mann's tan-yard and part of Mr Hern's tan-yard were also destroyed - a total of £12,000 damage.
Exeter Alfred, reported in Palmer's Index to The Times, 5 July 1827, p2 col6
Mr J Mann, tanner, died as the result of an unfortunate accident in March 1834. He was walking along the banks of the Exeter Basin when he fell backwards into the water. The alarm was raised and he was soon retrieved from the water and taken to the House of Reception near the lime kilns. Despite efforts to save him, 'the vital spark had fled.'
Taunton Courier and Western Advertiser 19 March 1834, p4 col 3
It seems likely that this was John Vere Mann, who was listed as a tanner in East Street in Pigot's Directory 1822-23
Pigot's Directory of Cornwall and Devon 1822-23

There is a memorial inscription in Ashburton churchyard to John Vere Mann, who died on the 13th March 1834, aged 37. He is probably the son of William Mann, 'tanner of this town' who is on the same memorial. William died in May 1832, aged 67
Memorial inscription
The tithe apportionment map for Ashburton (1836 onwards) shows a tanyard at Chuleigh, and in plot 1618, close to St Andrew's Church (probably - the map is damaged).
https://new.devon.gov.uk/historicenvironment/tithe-map/ashburton/

James Parker Evans, a tanner of Ashburton, gave evidence in the trial of William Barnes, accused of stealing wool.
Western Times 27 February 1841, p3 col5

Indenture between John Rendell, tanner, of the first part, assigning all his freehold, leasehold and personal property to various people of the second and third parts in trust for all his creditors. London Gazette Issue 20924 8 December 1848, p4489


Later that month Mr Edward Sawdye was advertising a peremptory sale by auction, by the direction of the assignees and mortgagees of the estate of Mr John Rendell. The premises were the Old Mill, and consisted of a tan-yard, drying lofts, a bark barn, sheds, a dwelling house and 5 nearby cottages. 300 hides could be dried in the drying lofts, and the bark barn could hold 100 tons of bark. The house had two parlours, two kitchens and eight bedrooms, and there was nearby stabling for 14 horses.
Western Times 16 December 1848, p1 col3


In 1851 John Rendell, tanner, is one of many occupants of premises called Old Mill. It lies between Chuley House and the Old Totnes Road.
1851 census HO 107, piece no. 1871, folio 359, p2

In November 1852 John Hern, yeoman, married Caroline Susanna Restalic at Ashburton parish church. John's father was William Hern, tanner.
Parish records


Mr Evans, tanner, was selling two bark mills in 1854, one of them with a poweful horse pump. He was also selling two stoves, with pipes for drying leather.

Western Times 8 July 1854 p4 col5

1856 Mr Pinsent Ware of Kingsteignton was letting a tan-yard in Ashburton. Called Old Mill, it had a dwelling house, drying loft, bark barn and water pit. It had 5 lime and 83 tan pits under cover. 800 hides could be dried in the drying loft, and the lifting pumps had a constant supply of water.

Exeter Flying Post 5 June 1856
The 1861 census shows 84 year old Christopher Benton as formerly a tanner. William Whiddon is a tanner, and John Bowden a tanner's labourer. Elizabeth Rendell is a tanner's widow.
William Whiddon is one of a large number of people living in Browses Buildings - which appear to be in the vicinity of Bowling Green and Heavyhead Lane.
On the same census Joseph Aggett is a master currier living in East Street.
75 year old James Doil is a currier lodging in West Street.
http://www.freecen.org.uk/

In 1864 Mr Aggett, of Ashburton, was selling his currier and leather cutter's business. He advertised commodious premises at a reasonable rent. He had been in business for 23 years.
Western Times 23 December 1864, p1 col1
1876 'Small yards are gradually becoming extinct throughout the country, and within a few years some scores have been closed. A village in Wiltshire had seven tanneries at work; now it has only one. At Ashburton, in Devonshire, there were five at work, and they are now all closed.'*
Journal of the Royal Society of Arts, vol 24, p217
*However tanning was still going on after this date - see items below.

The 1890s
'When quite young my mother had a serious illness and I well remember that she had to be kept very quiet, and what we then called tan was spread over the road for some distance outside the shop to deaden the sound of horses and horse vehicles. This tan was actually the bark after the tanners had finished with it.'
The memories of Reg Andrews, born 1893. See Growing up in the 1890s

A note in Indigo in the Arab World says that the author had a conversation with Wilf Joint of Ashburton in the 1990s, where Wilf remembered dog turds being used by leather tanners.
Indigo in the Arab World, Jenny Balfour-Paul, Routledge, London and New York, 1997, reprinted 2004, p215, Note 59