People and Properties 1800s


The following are in the Devon Heritage Centre (formerly the Devon Record Office), filed under Chudleigh Parish ref 3009A-99
For more information go to http://www.nationalarchives.gov.uk/a2a/
William Harding 1811
Now in Chudleigh, born in Sampford Courtenay........ he went to Ashburton to William Skinner by the year for 2 terms...
Removals to Ashburton:
Jane Jewell, singlewoman 1814
William Winsor 1807

Now in Chudleigh, born in Modbury ........ went to Mr Thomas Brown in Ashburton as a waiter .......got married in Chudleigh
John Macey, horsekeeper 1823
Now in Chudleigh, born in Buckfastleigh.........went to Ashburton and served Edward Bovey, esq for a year, then went to Thomas Cousins at the Golden Lion by the week........... he married in Chudleigh
John Lear, shoemaker 1829
Born in Chudleigh, ......... went to Ashburton and lived in lodgings and worked for different masters for 7 ½ years when he got married in Ashburton......
See the Rich and Poor section for more settlement examinations
*******
Ashburton's reaction to the Peterloo massacre.
On the 16th August 1819 the local Yeomanry, backed by Hussars, charged at a peaceful crowd who had gathered in what is now St. Peter's Square, Manchester. Their task was to arrest the speakers, who were protesting against poverty and advocating democracy, but the violent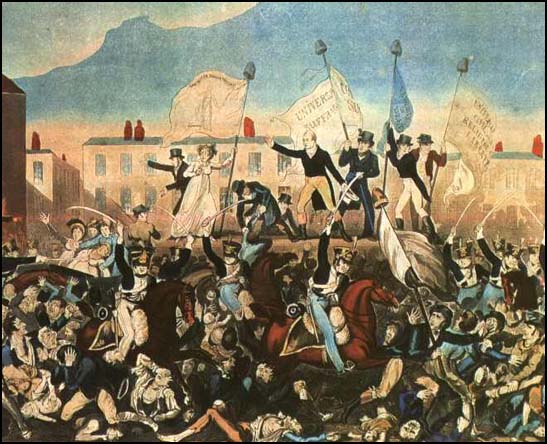 over-reaction of the troops resulted in 18 deaths and over 700 people being seriously injured. It became known as the Peterloo Massacre.
http://www.peterloomassacre.org/history.html

Richard Carlile, who was born in Ashburton, was scheduled to speak at the gathering. He escaped and later published his eye-witness account, together with the print above.
http://humanistheritage.org.uk/articles/richard-carlile/Image by Richard Carlile (1790–1843) (Manchester Library Services) Public domain, via Wikimedia Commons
See Famous Ashburtonians for more on Richard Carlile.


Andrew G C Tucker, a lawyer from Ashburton, gave his opinion on what had happened. He said that the meeting was legally convened, for legal purposes, and that a warrant against Hunt (Henry Hunt, a radical speaker) was 'unduly obtained and unjustifiably executed'. That an armed soldier should execute this warrant was, according to Mr Tucker, illegal, and that 'if the assault by the military was unprovoked, it was contrary to law'. He added that any attempt to suppress peaceable meetings was 'a breach of the fundamental privileges of Englishmen'. It was 'treason against the Constitution'.
Staffordshire Advertiser 2 October 1819, p3 col1


In December of that year Ashburton residents sent a message to the Prince Regent assuring him of their loyalty to the crown, but not declaring an opinion on the incident until a 'full and fair investigation' had been made.
The residents were as follows:
Robert Abraham, solicitor
Robert Abraham jun, solicitor
Chas. Dyke Acland, lieut. RN
Charles Aldrich, clerk
George Bale, exciseman
Richard Berry, merchant
James Bidgood, stocking-weaver
Edward Bovey, gentleman
Thomas Brown, gentleman
John Bryant, currier
C B Calmady Esq.
John Caunter, merchant
John Caunter jun, merchant
Richard Caunter, merchant
James Chalker, machine-maker
Thomas Cousins, innkeeper
William Cuming, captain RN
George Drake, magistrate for the county
John Eales, mercer
James Easterbrook jun, yeoman
Joseph Fitze, sadler
Thomas Foaden, innkeeper
George Gervis, gentleman
Henry Gervis, surgeon
Henry Gervis jun, surgeon
Joseph Gribble, solicitor
John Hannaford, stationer
William Hern, tanner
James Hext, gentleman
William Hill, captain RN
Richard Honywill, merchant
William Hurst, sergemaker
Edward Husson, innkeeper
William Kitson jun, gentleman
James Langdon, gentleman
William Lloyd, lieut. RN
Benjamin Luscombe, builder
Jonathan Luscombe, innkeeper
John Vere Mann, tanner
John Matterface, gentleman
Jeffery Michelmore, gentleman
Jeff_ry Michelmore jun, gentleman
James Mogridge, Portreeve
W Palk Mogridge, solicitor
Sampson Nankivell, surveyor
Thomas Norrish, baker
Jonathan Palk, clerk
Robt. Palk, magistrate for the county
Christopher Preston, innkeeper
Thomas Smerdon, cordwainer
Thomas Smerdon jun, cordwainer
Walter Soper Esq.
Peter F Sparke, merchant
John Templer jun, clerk
William Terry, gentleman
Solomon Tozer, merchant
Solomon Tozer jun, merchant
John White, clerk
John Winsor Esq.
Joseph Widger, mercer
George Wills, gentleman
James Woodley Esq.
Peter Wotton, cordwainer
Philip Wootton, builder

Exeter Flying Post 2 December 1819 p1 cols 4,5



*******

In 1827 various 'valuable property' was for sale at the Golden Lion.
They were: Bowden Hill Field, tenant Mr Stentiford
Little Field, Great Close, Long Close, Outerfield, Vicarage Bench, Late Ealesfield, otherwise Atwills, tenant Mr Easterbrook
Square Park, tenant Mr Sanders
Sladers Park, tenant Mr Pearce
Long Hill, tenant Mr Ford
Screeches Field, tenant Mr Mardon
Little Headborough, tenant Mr King
Cabbage Close, tenant Mr Foaden
French's Park, tenant Mr Smerdon
Higher Roborough and Lower Roborough, tenant Mr Lukey
Nursery, Reeves Meadow, George's Meadow, Balland Park, Leanyhill Field and Alston Lane Close, tenant the proprietor
Close in Alston Lane, tenant Mrs King
Another Close in Alston Lane, tenant Mr Leaman
Dwelling house and offices in East Street, tenant Mrs Searle
Reversion of a moiety of a house, stables and gardens in Lawrence's Lane, tenant Mr Luscombe

In addition there was leasehold property for sale;
Rew Fulling Mills and Rew Causeway, tenant or occupier Messrs. Caunter
Alstone Meadow and Hurstsclose, t or o the proprietor
Lang's Close, t or o Mr Stentiford
Tea Close, lately Mr Bearns (sp?)
Rack Park, t or o Mr Leaman
Lucey's Meadow, t or o Mr Lukey
Parish Land Field, lately Mr Bear
Tweenaways, t or o Mr Smerdon
New Park, t or o Mr Skinner
Buthills, t or o Mr Sanders
Leanyhill Field, lately Mr Bearns

Exeter and Plymouth Gazette, 6 January 1827, p1 cols 3/4

*******

In 1828 five cottages had just been built at Crokaton, and were for sale by auction. They had gardens in front and an orchard at the end, and were currently occupied by Mr Philp, Mr Ellis, Mr Popplestone, Mr Standbury, Mr Woodley and others. With the property came an entitlement to vote for the Ashburton members of parliament.
Exeter and Plymouth Gazette 23 February 1828, p1 col3

A tenement called Reeves in North Street was up for sale in 1831. A house occupied by Mr Tuckerman was part of the sale, as was a public bakehouse in Reeves Court, behind the house, occupied by Joseph Berry. Two tenements adjoining the bakehouse were included - they were occupied by William Foale - as was a house, garden, stable and orchard on Back Lane behind the tenement. George Mortimore and others occupied these premises. Purchase of the whole came with two votes for members of the borough.
The auction was to held at the Duke's Inn; the solicitors were Abraham and Kitson, Ashburton or Torquay.
Exeter and Plymouth Gazette, 2 July 1831 p1 col3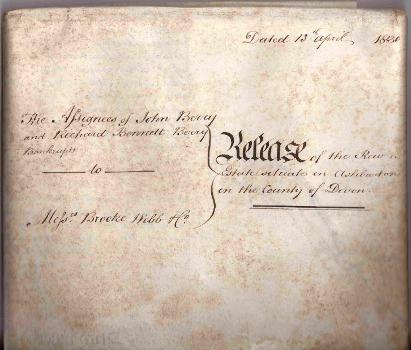 1829/30
As a result of the bankruptcy of John Berry and Richard Bennett Berry, their mill was sold(see 'The Mills' in the sub-menu in the Banks and Businesses section) and then in 1829 the messuage and tenement, farm and lands known as Rew or Rew Down Estate were up for auction. Also a field called New Park, formerly belonging to Mr Widger

London Gazette Issue 18632 27 November 1829 p14
*******

Above: Release of the Rew Estate, dated 13th April 1830. The Assignees of John Berry and Richard Bennett Berry, bankrupts, to Messrs Brooke Webb and Co.

From my own collection
Right: Map of the Rew Estate. The road 'From Ashburton (bottom quarter of the map) goes to 'Belford Factory'. At the crossroads the road goes left up to present day Druid.
From my own collection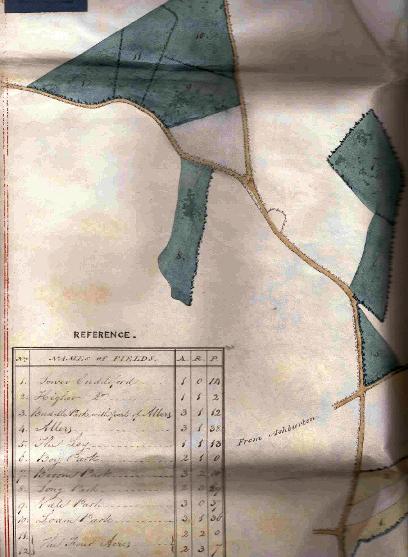 Below:
3 pages from an auction catalogue, 1840s. The reference numbers correspond to the tithe map plan - see https://www.devon.gov.uk/historicenvironment/tithe-map/ashburton/ -
accessed 14-03-2021
'Nearly 100' lots were to be sold in November 1841, and it seems likely that this catalogue is from that sale.
Exeter and Plymouth Gazette, 6 November 1841, p1 col2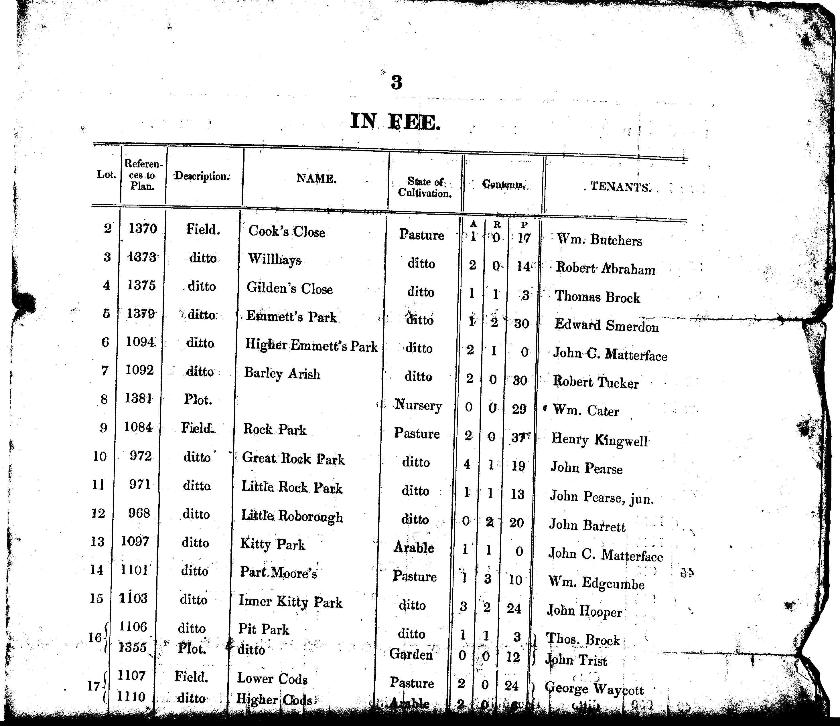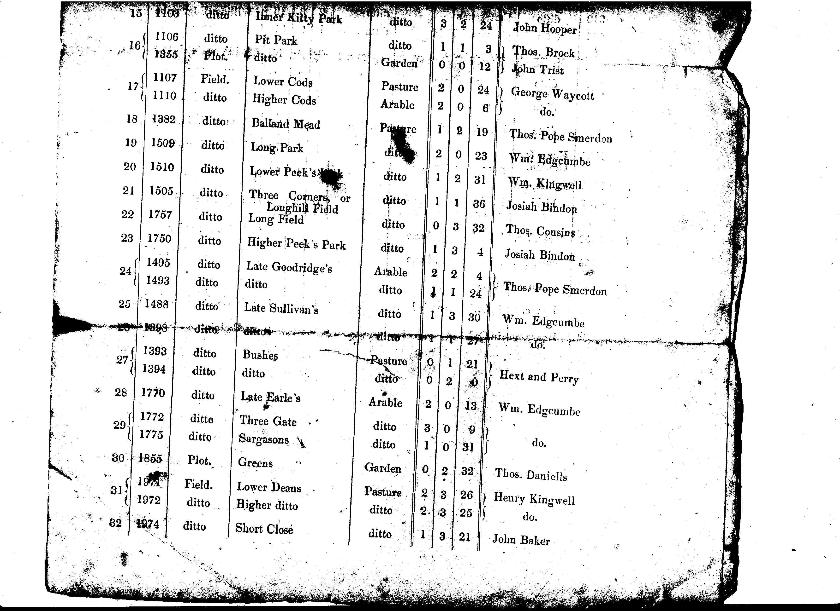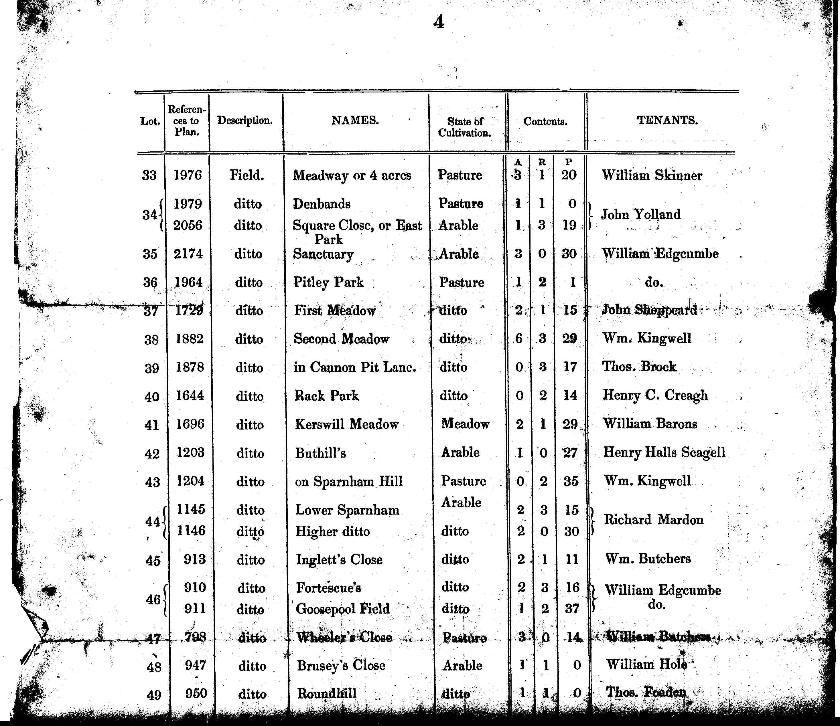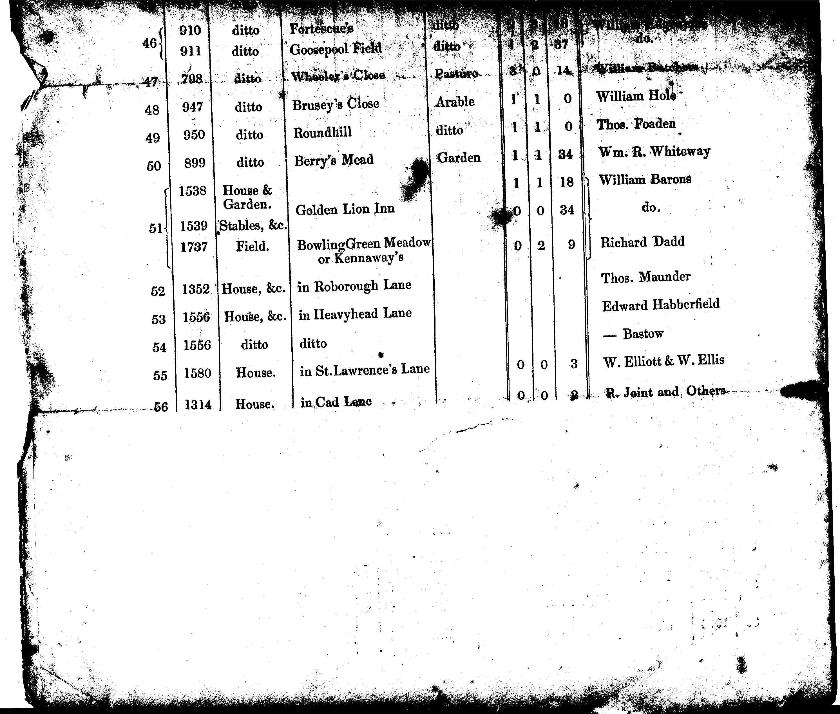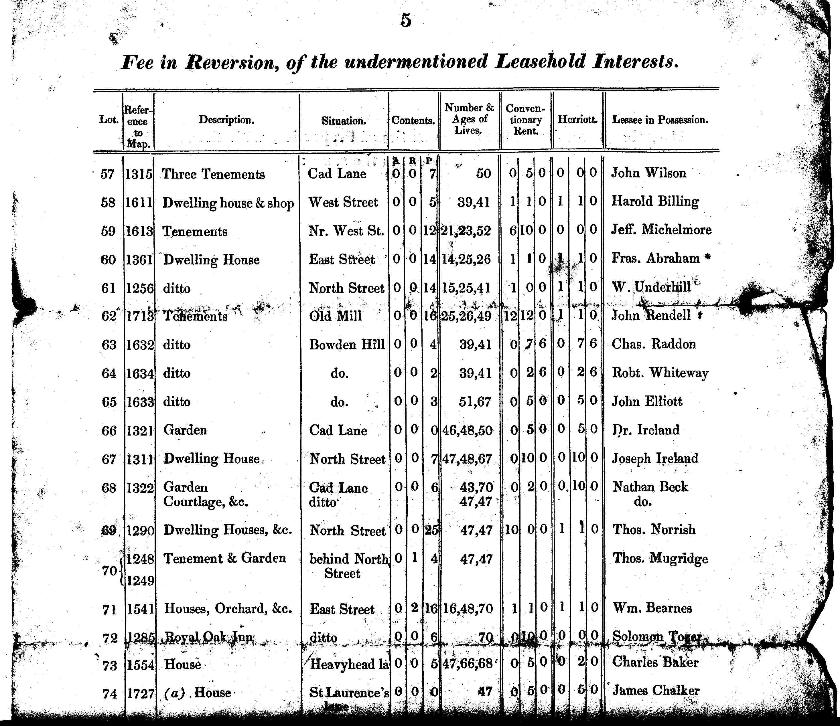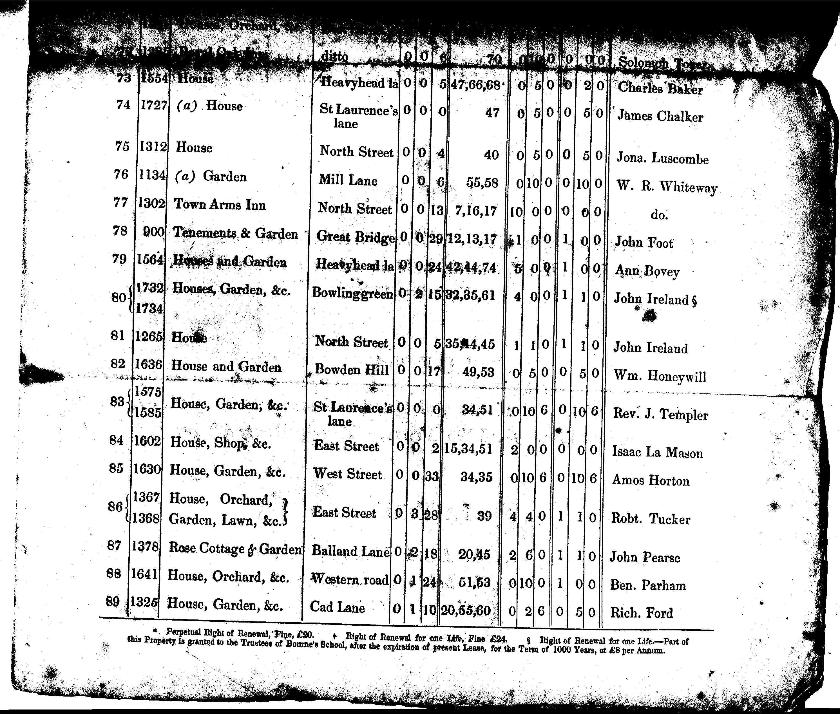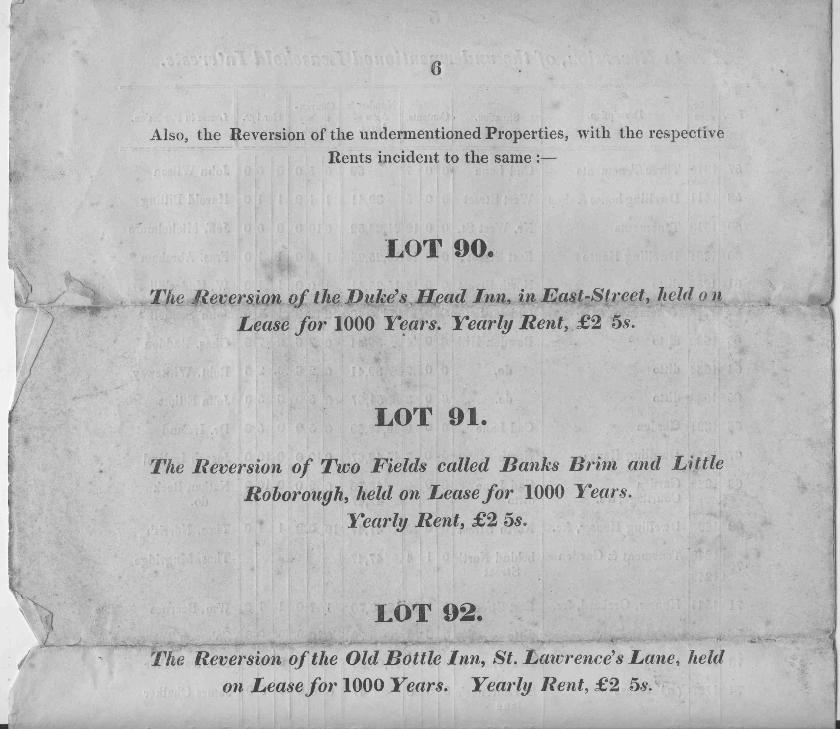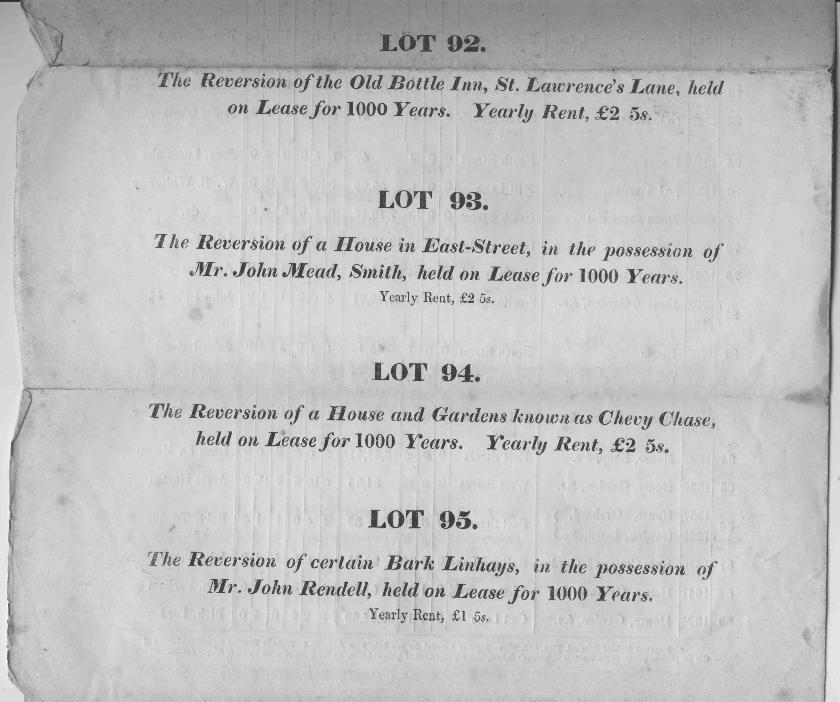 With very many thanks to Lerida Arnold
PCC wills

Until 1858 wills were proved in various church courts - where exactly depended on both the location of the properties and goods, where the person died and the value of the estate.
The highest court for the south of England was the Prerogative Court of the Archbishop of Canterbury - hence PCC wills.
Copies of PCC wills are kept at the National Archives -

http://www.nationalarchvies.gov.uk/ You can find full references on the website, and order copies online. Alternatively you can visit the archives and view the wills for free.
Ashburton PCC wills 1800-1858

Eleanor Soper, spinster, May 1800
Richard Eales, June 1801
James Spark, butcher, October 1801
Walter Palk, April 1802
John Eales, gentleman, October 1802
Ann Croad, widow, April 1804
Rebecca Tripe, November 1805
George Winsor, Janaury 1806
William Fabyan, gentleman, November 1807
Thomas Searle, soap boiler, October 1809
Mary Smerdon, spinster, June 1811
George Maye otherwise May, taylor, February 1812
William Sunter, gentleman, November 1813
Sally Adams, spinster, May 1814
Ann Laskey, widow, September 1814
Frances Winsor, widow, March 1815
Peter Fabyan, gentleman, August 1815
Joan Dolbeare, widow, July 1816
Susanna Wills, widow, May 1817
Susanna Winsor, spinster, August 1817
Mary Dunning, spinster, February 1818
Emblyn Kendall, spinster, February 1818
Solomon Tozer, gentleman, August 1819
William Bickford, gentleman, October 1819
James Langdon, gentleman, June 1821
Roger Maunder, cordwainer, November 1822
The Right Honourable Richard Barre Dunning Baron Ashburton, May 1823
Joospeh Sunter, July 1823
Molly otherwise Mary Palk, spinster, October 1823
Mary Caunter, widow, April 1824
John Higgins, leather factor, May 1824
Richard Soper, January 1825
Jonathan Griffin, gentleman, May 1838
William Bowden, victualler, January 1839
Mary Knowling, spinster, February 1839
Joanna Adams, widow, July 1840
Henry Gervis, April 1842
Susanna Young Winsor, spinster, June 1843
Sarah Grigg, widow, December 1843
James Hainworth, gentleman, May 1844
Peter Fabyan Sparke, gentleman, May 1844
Solomon Tozer, maltster, May 1844
Sarah Stoodly, spinster, July 1844
John Phillips, May 1845
Stephen Upton Yolland, gentleman, November 1845
George Casely, tailor, October 1846
Richard Perry, yeoman, February 1847
Robert Abraham, solicitor, April 1847
Rebecca Bawden, spinster, April 1847
William Ferris Honywill, schoolmaster, July 1850
Elizabeth Young, widow, September 1851
Phillippa Eales, spinster, December 1851
Jeffery Michelmore, gentleman, March 1852
Harriet Knowles, spinster, April 1852
Jospeh Gribble, gentleman, April 1853
Jasper Addems Amery, gentleman, May 1853
Sarah Douglas Edwards, widow, May 1854
William Eales, clerk, January 1855
Susanna Hannaford, widow, March 1855
Thomas Cousins, gentleman, June 1855
Elizabeth Furneaux, spinster, September 1856

Susanna Southcott Winsor, wife, October 1856
*******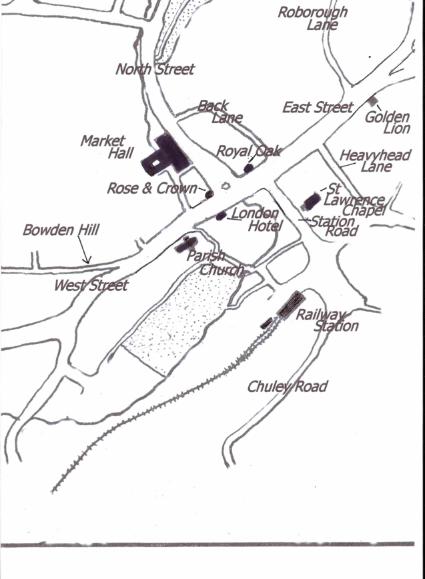 Left: Map of Ashburton, not to scale, circa 1899
Chuley Road is sometimes called Parish Road
Station Road is now St Lawrence Lane
Heavyhead Lane is now Woodland Road
Back Lane (or Cad Lane) is now Stapledon Lane
° The Bullring

********
1850s - A letter from home
In 1856 Sarah Honeywill sent a letter to her son William. She had written to him in March, on 'fare day', and now it was June and she hadn't heard anything from him. She is concerned, she says, that he may be unwell or has met with some misfortune – or perhaps has got married and finds 'it difficult to find time to write to your mother...'
Apparently William does at least write more than Charles – Sarah thinks he may be sorry for it in the end. Charles is probably another son – in August 1821 Charles John Honywill was baptised, the son of William Ferris Honywill and Sarah. The same parents baptised a son William Henry Honywill in May 1819.
William Ferris Honywill married Sarah Scagell in Ashburton in 1818.
https://familysearch.org
Some names mentioned in the letter:
Peter had been in a bad state of health having fallen from a horse two years previously, and had died, a Mrs Eliot witnessing his last moments.

Ann Buchers of Holne had also died, a sister to Jo Bowden's wife.

Charles Baker, a carpenter had died, as had John Saunders, 'haredresser.' (Both of these are probably those deaths registered in the June quarter of 1856, Newton Abbot district). One of these was 'Susan's unkle' but it is not clear which.
Baker died without making a will, so 'the old woman only comes in for her thirds John Ireland has sold all his property.'
She asks William if he has seen John Honeywill's second son, as his brother sent for him.
'Harrises' family all went to America, as did nurse Eals.
Aunt Coombes is mentioned.
'Yong wood' has been down from London and will stay if there is work. He has done up his mother's house.
Sarah Bowden the tailor's daughter got married and has got one child.
Smerdon the currior has come home after seventeen years. This might be John Smerdon, carrier. He is on the 1861 census for Ashburton, aged 62 and living with his wife Mary. http://www.freecen.org.uk/cgi/search.pl
'Mrs Legs Nises husband' is 'very poor'. Presumably this is Mrs Leg's (or Legg's) niece's husband.
Finally she asks whether there is likely to be 'ware' (war) in America, as reports say. This suggests that William is in America.
From a letter sold privately – not in my possession.
*******

'So we set out in the hard grey morning, leaving Ashburton by another outlet, a street sufficiently sordid, where the little river Yeo purls alongside the causeway, and disappears from the eyes of passengers to wash the back doors of the old quaint houses, and where the dingy women are ever going up and down steps with pitchers and kettles. We get beyond houses and bridge, and pass as usual between walls bristling with feathery ferns, evidently the invariable in the outskirts of this little town.'
The Intellectual Observer, vol 3, London, 1863, p323
*******


Rendell and Symons were about to sell freehold lands and houses, 'manor and chief rents' in July 1875. The advertisement gave the tithe map reference for each one:


Lot 1
682 - Whiteway's Field
683 - Hill Field
765 - Meadow
766 - Great Goosepool
794 - Little Goosepool
799 - Green Park
801 - Orchard
802 - Little Field
803 - Little Field
804 - Higher Headborough house and garden etc.

Lot 2
526 - Higher Field
544 - Middle Field
640 - Great Holne Field

Lot 3
807 - Mead
808 - House and Orchard
809 - 2 cottages and yard occupied by W H Eales and Samuel Raymond

Lot 4
903 - Late Sparkes
905 - part rentings

Lot 5
684 - Plot
686 - Workman's Field

Lot 6
944 - Little Sparnham

Lot 7
912 - Goosepool


Lot 8
1695 - Derrick's Mead

Lot 9
1657 - Foster's Park

Lot 10
917 - Part Perrings

Lot 11
781 - Lanes Sherwood
787 - Lanes Sherwood

Lot 12
1532 and 1533 - Dwelling house and garden in East Street, occupied by Mrs Chalker.

Lot 13
1357 - Three dwelling houses and garden in East Street, close to Derrick's Lane, occupied by Mssrs Richards, Caunter and Dodridge.

Lot 14
1346 - Dwelling house and coach house with garden at rear, East Street. Occupied by Mr Yeldham.

Lot 15
1231 - Dwelling house in West Street, occupied by Elisha Smerdon.

Lot 16
The manor rents

Lot 17
The borough rents


Western Morning News 7 July 1875 p1 col2
Exeter Flying Post 7 July 1875 p1 col3
The tithe map for Ashburton is available from http://www.devon.gov.uk/tithemaps.htm

*******


The Knoll/Knowle

In June 1867 Mabel Gwendoline Hughes was baptised at St Andrew's Church. Her parents were James Victor Hughes, a Major General in the army, and his wife Elizabeth Maude. The family lived at the Knoll.
Parish records
A copy of Mabel's baptism is listed in the British India Office births and baptisms, which suggests that James Victor's army career had Indian connections
http://search.findmypast.co.uk

Mr E Sawdye was selling furniture at the Knoll in March 1871, and a month later the house was up for let at £60. Set in an acre and 'lately occupied by General Hughes', the house had breakfast, dining and drawing rooms, a kitchen with pantry, scullery and larder, and 8 bedrooms. There was also a coach-house, stables and other outbuildings.
Western Times 17 March 1871, p8 col1
Western Times 6 April 1871, p1 col1

F Crowdy was living at the Knoll in 1872 - in June his wife gave birth to a daughter in Torquay.
A year later the house was being let again.
Western Times 14 June 1872, p5 col5
Western Morning News 9 August 1873, p1 col6

In 1876 a 'Fancy sale' was being held to pay off the debt of Widecombe Church. The sale was being held at the Knoll, by permission of J Robinson Esq. An omnibus from the town would take visitors to the Knoll from the town or the railway station for 6d, and it would cost 1s to get into the sale. Tea and coffee would be available from 4 o'clock, and there were to be games on the lawn.
Western Morning News 15 June 1876, p1 col7

By 1880 Mrs H M Firth was advertising for a housemaid and parlourmaid at the Knoll, to work for a small family.
Western Morning News 6 July 1880, p2 col1

Henry Mallaby Firth and family are at the Knoll in the 1891 census, although they are already calling it Knowle.
http://www.freecen.org.uk
Advertisement for staff, Western Morning News 10 February 1887, p2 col2

A letter addressed to H M Firth in 1894 calls the house Knowle.
See Attorneys, under Banks and Businesses, for more information.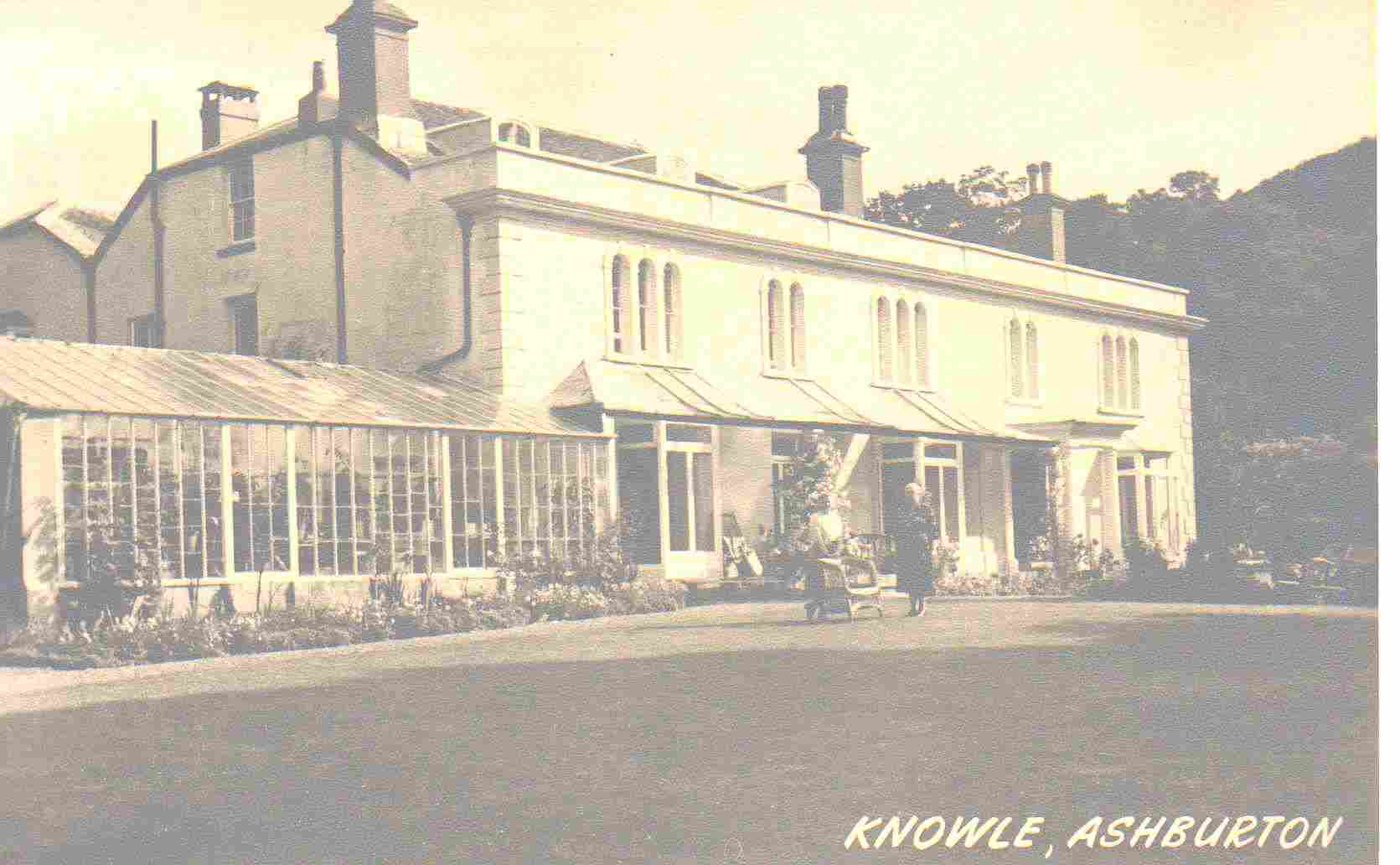 Above: Knowle
From my own collection


Knowle was up for auction in September 1931
Western Morning News 19 September 1931, p4 col4

*******


Some residents ('Head of house') of West Street in the 1891 census. It begins with The Vicarage and comes down the street on what is now the odd-numbered houses, ie the south side of the street.

Full details of all occupants can be found at http://www.freecen.org.uk

Wickham M Birch, Vicar - The Vicarage (now St Andrew's House)
George Hodge - Girls' High School (although given as the address,I believe this may actually be the address of where George Hodge works, not lives. I believe the Girls' High School is actually in East St)
William J Friendship
Philip Lee, Grocer
Jane Pethybridge
William Angel
Frederick Rogers
John Bickford, Bank Manager
Edward Cruse
Edward Sawdye, Surveyor and Land Agent
Emily Foaden - London Hotel = No. 11 West Street
William B Ward, Draper
William Osmond
Daniel O Evans, Dentist, chemist and druggist
Sarah M Satterly, Grocer
Elizabeth J Addems
Joseph R Cuddeford
John I Lamason, Brushmaker = No. 1 West St
Unoccupied

Edward Matthews, Publican licensed victualler - Duke's Head. West Street in 1891 census, now = No. 2 East Street.

Residents of West Street in the 1891 census in what is now even-numbered houses, ie the north side of the street.
There is a group of properties that begins this list that come before Bowden Hill - I assume that these are also on the north side of the street, at the very top, coming down.

Henry Horton
Francis Salter
Mary A Hicks
Ann Eggbeer
Henry G Mugridge
Then come Bowden Hill properties
John Full
Ann Elliott
William Brooks
William Sargent
George Furneaux
William McDowell
Richard Hannaford
Joseph Battershill
Back to West Street
Susan French
John Hannaford
Samuel White
Francis Robertson
Kezia Sampson
Mary A Daw
James Richards
Henry Popham
Susanna Barnes
Mary Parnell
Joseph F Baker
Richard Eggbeer
John H Foaden
John Eggbeer
Samuel Casley
Walter Gervis, MD and general practitioner (no street given)
William Maunder
William Williams
Mary Hyde
Mary A Bowden (no street given)
Annie Haddon (no street given)
Henry Williams (no street given)
Mary Widiery
James Denney - Exeter Inn
William H Battershill, Confectioner shop
Edwin Tucker, Seed merchant
Unoccupied
Susan Pearce
William Long
Harriet Bowden
William Endacott
Ann Halls
Philippa Elliott
Joseph Barnett
Amelia Foot
Fanny Mugridge
William Pengilly, Greengrocer
Mary W Conneybear
William Osborne, Jewellers shop
Section of properties in Kingsbridge Lane, then:
John Eales, Saddler
John Down, Grocer and provision dealer
Henry Foot
John Webber - Rose and Crown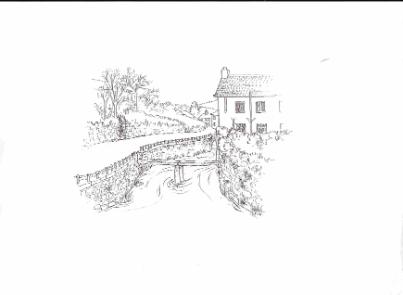 Left: Stone bridge over the River Ashburn, sometimes called the Yeo, at the top of North Street.
My thanks to Peggy Wakeham and Robert Wakeham for the drawing.
Some residents ('Head of house') of North Street in the 1891 census. It begins at the top of North St. and comes down the street on what is now the odd-numbered houses, ie the west side of the street. I have included occupations where it seems likely (to me) that the occupants were operating businesses from the premises.

Full details of all occupants can be found at http://www.freecen.org.uk
Beginning at Great Bridge (end of North St):
Susan Shevis (address not given)
William Mugridge, Crocaton
Thomas A Brooks, Crocaton, North St
William Found, Crocaton, North St

George Pomeroy, Crocaton, North St
Susan Luscombe
Mary J Bearne

John Thorn

Ann Johns
Louisa McDowell

Harriet Skinner, Innkeeper, Victoria Inn = No 77
Mary A Peacock (address not given)
Thomas Lawrie
Edward E Foot (address not given)
Mary Hext, Furniture broker
William Langworthy
Elizabeth Southcombe
Elizabeth J Shillbeer
Richard Warren
George Badcock

William Kingwill

Ann Thorne (address not given)
Ann M Headon (address not given)
Louisa J Knott

Emma Vickry (address not given)
Mary Clarke
James Catar (address not given)

Susan Warren

Mary A Beal
Chevelir Ryall
George Shillabeer

Mary A K Crute

George Leaman
William Pengilly
George East

George Andrews
William Daw, Miller and baker

Thomas Gilbert
Elizabeth Hannaford

Mary A Gilbert
George Howis
The following are at Cherry Chase:
Elizabeth A Bartlett

George Rowland
William Syms
Back to North St:
Edward J Culling
Thomas G Routly
Samuel Rosewarne

John Satterly
Albert W Knowling
Agnes Taylor

Mary E Adams
Earnest O Taylor (address not given)
William Winsor (address not given)
Alfred E Preston (address not given)
Frederick Beavis, Grocer
George French, Blacksmith
Abraham Peachey, Baker
Joseph Winsor, Innkeeper, Culloden Inn
William J Ellery
Ann Hayman
Amos Bickley
Emily Langdon
Charles Sargent
Frank Crannaford
William Jackman, Innkeeper
Ann Chalk
Elizabeth Tompkins
Henry Dobell, Cooper
At the Arch, North St:
Thomas Squires
Harriet A Bennett (no address given)
Mary A Trathan
Elizabeth J Steer
Sarah Kingdim
John Whiddon
Daniel B Eggbeer
Eliza Morris
Alfred Baker
Elizabeth J Skewis
Elizabeth Woodley
Ann Leaman
Eliza A German
Returning to North St:
James Edwards, Hotel keeper
Charlotte Smerdon, Farmer and butcher
William Horwell, Butcher
Frederick White, Glass and china dealer
William Andrew, Licenced Victualler, Commercial Inn = No 7
Angelina Westaway (address not given)
Elizabeth Wood, Innkeeper, Sun Inn. The next property is one elevation of the Rose and Crown Inn, listed under West St
Some residents ('Head of house') of North Street in the 1891 census. It begins the furthest away from the Bullring and then comes down the street on what is now the even-numbered houses, ie the east side of the street.

I have included occupations where it seems likely (to me) that the occupants were operating businesses from the premises.
Full details of all occupants can be found at http://www.freecen.org.uk

Richard B Luscombe
Thomas Trevathan
Mary A Richards
Elizabeth Caunter
Elizabeth Sheppherd
Lydia Warren
James Bowden
John Waye
Unoccupied, wood stores
Henry Gill
John A Bickford
Clara M James

John Trebble
Mary Richards
john Walker
Harriet Shillaber

Unoccupied
Aaron Grute
John Warren
James H Wills, Innkeeper, The Bay Horse = No 64

Mary G Pengilley
John Waldron
John Galliver
Nicholas French
William Coaker
Robert German
Mary Williams

Ellen Mortimore
William H Endacott
Eliza Payne

Eliza Walling
Joseph S Birch

John Whiddon
William Thorne, Shoemaker

Lucy Thorne
Henry Smith, Hairdresser
Silias Chalk

Harry V Foot, Tailor, grocer and newspaper reporter
William Eggbeer
Thomas Hannaford, Baker and confectioner

James Walker, Tudor Buildings*
Ann Thorne, Tudor Buildings*
Ann May, Tudor Buildings*

John Westaway, Tudor Buildings*
Elizabeth A Shillabeer, Tudor Buildings*

Francis Warren, Tudor Buildings*
Elizabeth Harn, Tudor Buildings*
Henry Veale, Tudor House, Grocer
William H Hutchings

Thomas Hill, Tailor and outfitter
Sarah Whiddon
William H Mann
Agnes W Huxham, Baker and grocer
William Disten, Ironmonger and plumber
Elizabeth J Hext

Samuel Wicks, Shoemaker
Adrain Hays, Jeweller
George Langler, Saddle and harness maker

Philip F Whiteway, Licensed Victular, The Town Arms = No 20
James Clymo, Draper
Elizabeth A Ware, Foales Court
John Hines, Foales Court
Elizabeth A Ford, Foales Court
William Bishop, Foales Court

Gospel Room, unoccupied
Gospel Hall and Gospel Room, unoccupied
Henry Pengilly, Foales Court
William H Huddy, Foales Court, Grocer

William Matthews, North St., Builder
Horace Boon, Plumber and painter
George Pitts, Butcher
Alfred M Harvey, Draper

Robert Foot
Osmond Lamason, Newsagent
Unoccupied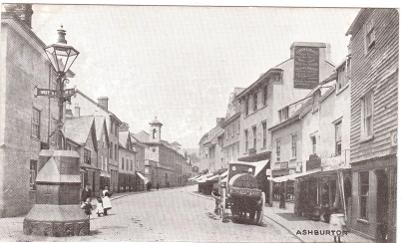 Above: North Street from the Bullring
From my own collection



* The Western Times reported in 1890 that old buildings in North Street -Tudor Buildings - had been demolished and and new buildings put up in their place.
Western Times 1 April 1890 p2 col6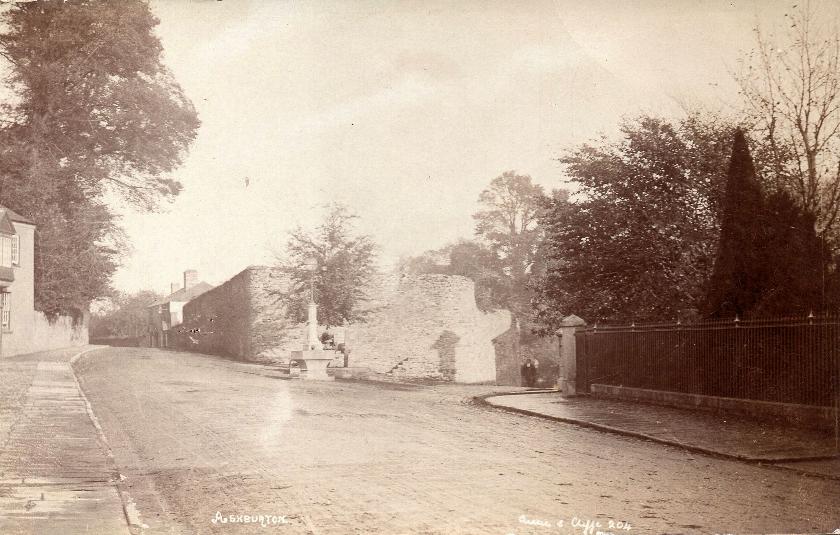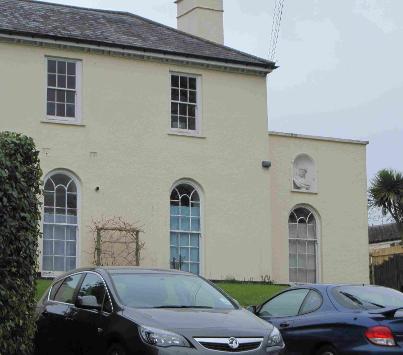 Above: The top of East Street. Date unknown but probably at the end of the 19th century. It is before the cannon was positioned close to the Bovey memorial in 1904 (see the Tucker family, under Individual families).
With many thanks to Kevin Joint

Left: The Hall - see 1891 census below
My own photograph circa 2016

Some residents ('Head of house') of East Street in the 1891 census. It begins the furthest away from the Bullring and then comes down the street on what is now the odd-numbered houses, ie the north side of the street.

I have included occupations where it seems likely (to me) that the occupants were operating businesses from the premises.
Full details of all occupants can be found at http://www.freecen.org.uk

Robert Tucker, Solicitor, Eastern Road, The Hall
Richard Ackerley, General Medical Practitioner, Alexandra House
Susan L Cockey
Marion Mortimer

Robert G Abraham
John Parnell Tucker, Maltster and seed merchant, Coley House
William H Hext

Jane F Caunter
Nicholas Pascoe
George W Morey
Richard Preston
Then Roborough Lane

Richard Edgecombe, Tailor and outfitter

Thomas Willcocks
George Eales, Glass House
Elizabeth Langworthy, Glass House
Mart Matthews, Glass House
Valentine Eales, Glass House

Sarah Knapman, Glass House
Elizabeth Browning, Glass House
Sarah Hawken, Glass House
William H Pope

Charles Hawken
Jemima Steer
Elizabeth V Knapman, Baker and confectioner
George Furneaux
Unoccupied

John P Foot, Bootmaker
Charlotte Holditch
William Bawden
John Hayman

John Hole
Elizabeth Ford
Unoccupied
William G White
John H Campion
Unoccupied

Charlotte King
Joseph Lowrey
John Knight
Sarah J Hamlyn
William Joint
Mary Tucker

George Shillabeer, Shoemaker
John M Baker, Blacksmith
John Wonnacott
Richard Merryfield
Henry Tall
James Yolland

William J Smith
Robert Ellis, Grocer
Alfred J Ellis, Boot and shoemaker
Building
James Trevron
Then comes Cad Lane, now Stapledon Lane

Back to East St
John Bowden, Tailor
Daniel Popplestone
George Beck, Chemist
Thomas T Clarke, Baker and C
Thomas P Bastow

John Gerry, Royal Oak
Family away visiting
Henry Giles, Bootmaker

Some residents ('Head of house') of East Street in the 1891 census. It begins the furthest away from the Bullring and then comes down the street on what is now the even-numbered houses, ie the south side of the street.

I have included occupations where it seems likely (to me) that the occupants were operating businesses from the premises.
Full details of all occupants can be found at http://www.freecen.org.uk
William Daw
Samuel Smerdon, Cousins Court
Emma Pearce, Cousins Court

George Brock, Cousins Court
Mary Ann Warren, Cousins Court
Francis Keat, Cousins Court
Hannah Shadgell, Cousins Court

Unoccupied, Cousins Court
Mary Webber
Andrew C Moorman, Congregational Minister
Mary Ann Yates

Robert H Eggbeer
Samuel Easterbrook
Ann Kingwill (from deeds = 74 East St. I have seen

Alan Lambourne's transcription of these deeds: thanks to

Alan and also to Rachel and Rob Manners)
Thomas Maunder, Butcher and farmer
James G Chalker
Susan Berry
Elizabeth Honywill
John W Lay
Edward J Sawdye, Auctioneer and hotel keeper, The

Golden Lion
John Jackamn, Golden Lion Tap
Frederick Loveys, Publican and licensed victualler,

Red Lion

William J Willis, Hannafords Court

Eliza Smerdon, Hannafords Court
Jane Whale, Hannafords Court
Bertha Potter, Hannafords Court
Maria Foot, Hannafords Court
Fanny Irish, Hannafords Court
Elizabeth Baker, Hannafords Court
Elizabeth Andrews, Hannafords Court
Grace Gimlet
Mark Nicks

Samuel Hannaford
Elizabeth Pope
Frances Johnston

Henry Tozer
John Wills
Charles R Halse, Butcher
Charles J Jeffery, Manager, Devon and Cornwall Bank

Richard Eales
Emma Luscombe
Thomas W Mann
Joseph Batten

Mary Smerdon, Butcher
Richard J Soper
Margaret Soper
Susan H Beck

Stephen Yolland, Butcher
Charles Yolland
James Skinner
Thomas Nicholls
Joseph Blampey

Sarh Matterface, Butcher
Thomas P Haughins
Lavington B Varder, Stationer and Printer
Charles Skinner, Draper

Samuel H Chalk, Shoemaker
Edwin W Johns, Town letter carrier and grocer
Margaret Hamlyn
Jessie Mann

Then comes Heavyhead Lane, now Woodland Road. But it seems likely to me that the properties above come down to the Bullring - in the 20th century Henry Bradford had a printing works with huge machines at 12 East Street. I would think that Lavington B Varder was also at those premises.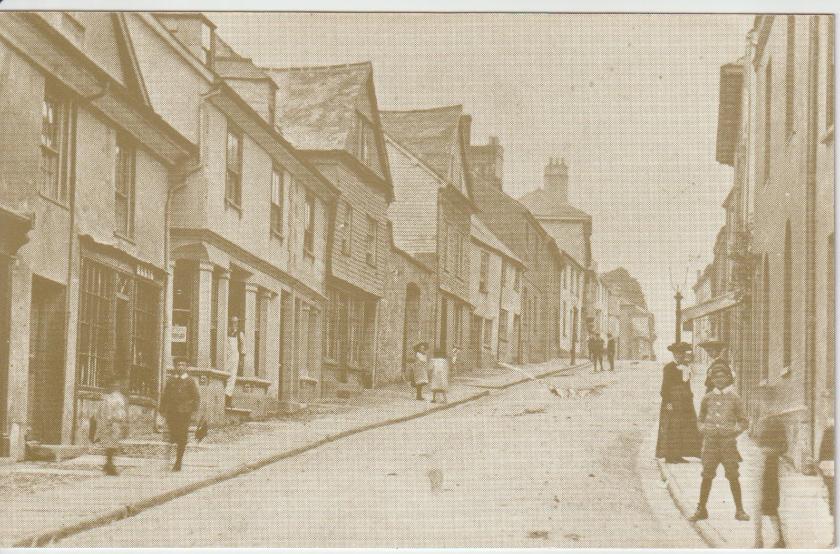 Above:
East St., circa 1890
From my own collection
Some residents ('Head of house') of St Lawrence Lane in the 1891 census. It comes down the street on what is now the odd-numbered houses, ie the east side of the street.

Full details of all occupants can be found at http://www.freecen.org.uk
Some residents ('Head of house') of St Lawrence Lane in the 1891 census. It comes down the street on what is now the even-numbered houses, ie the west side of the street, and starts immediately after Hazeldene, Chuley Road.
Full details of all occupants can be found at http://www.freecen.org.uk
William Knapman, Publican and baker, Golden Fleece (this was next door to the Grammar School, to the left as you looked at the buildings. See The Pubs and Inns of Ashburton, Pete Webb, 1995 Obelisk Publications)
Samuel H Jewell, Smith and farrier

Thomas Irish
John Endacott
Frederick Howis

Ann Harvey
unoccupied
Sarah Ball, Grocer

William Caunter
Thomas Easterbrook

William Steer, Omnibus proprietor
missing schedule
John B Brander
Frank W Chapman
Frederick Horner, Station View

John Chiswell
unoccupied Bay Tree House
James Potter
James Pugsley
unoccupied

George Thorne, Hotel keeper, Railway Hotel (later the Silent Whistle)

William Lear

Charlotte Taylor, Lodging house keeper
Thomas Pascoe, Ashburton Instit
Richard Hext, Yolland Hill Farm

Mary Ireland
Mary A Elliott
John F Eales
Annie E C Foot

William H Woolacott
Francis Oliver

Elizabeth H Bennett
Annie Mills
George Perkins
James Stancombe, Refreshment house keeper

John Eddy
W H Edgecombe, Postmaster, Post O
Amos Putt, Constitutional C

John Burston, Watchmaker and Jeweller

*******

Greylands
1881 The first Cottage Garden and Allotment Society show was held in a field known as Greylands. Owned by Henry Tozer, the field was near the Board Schools.

Western Times 12 August 1881 p7 col1

In the 1901 census Charles Fisher Hawken was a butler and boarding house keeper in East Street, working on his own account.

1901 census RG13, piece no. 2053, folio 56, p11

1901 Sawdye and Son were selling household furniture and poultry at Greylands. Mr C Hawken, who was leaving the premises, had given instructions for the sale.
Totnes Weekly Times 8th June 1901 p4 col3

The Rev H B Tillbrook had left the neighbourhood in 1908. Consequently furniture, paintings, carpets, books and outdoor effects were being sold at Greylands on the 9th March.
'The excellent house, garden, vinery, stable and coach house and orchard' were to be let

Exeter and Plymouth Gazette 28 February 1908, p2 col2

By January 1922 Greylands was a private hotel. It had a garage and 'every comfort', offering 'excellent cuisine' using produce from its own garden.
Western Morning News 25 January 1922 p1 col3

Ashburton High School for Girls was opening at Greylands in September 1930. The school had 'good grounds and playing fields in a healthy situation.'
Western Morning News 5 July 1930 p3 col5

See Greylands and the Wilderness Schools for more information on Greylands as a school.

*******
Extracts from the deeds of No. 15 Woodland Road

See extracts of later dates in the 1900s section - it is possible that the first Inland Revenue application is also from a later date, particularly as some properties are numbered.

Inland Revenue. Application for a certificate under section II of the Finance Act 1894.
Freehold shop and dwelling house No 17 East St.
Tenant - Cookson.
***
Cottage adjoining situate in Back Lane.
Tenant - Bartlett
***
Cottage in Back Lane
Tenant - Morrish
Store and loft over - store let to Gayton, and loft in hand
***
Stable let to Cornish
***
Large walled garden behind let to Morrish
***
Walled garden situate in Back Lane, aforesaid in hand
***
Store let to Cowley
***
Freehold cottage No 18 Back Lane
Tenant - Harding
***
Freehold cottage No 20 Back Lane
Tenant - Baker
***
Freehold cottage No 22 Back Lane
Tenant - Harvey
***
Freehold cottage situate in Woodland Road
Tenant - Margie
***
Bungalow cottage
Tenant - F Cook
***
Freehold cottage, Woodland Road
Tenant - J Shillabeer
***

10th June 1892. By his will of this date the said Alfred Merchant Harvey gave, devised and bequeathed all his real and personal estate of every description to his wife Lydia Harvey.

23rd December 1897 In consideration of £400....Thomas Samuel Hitchens Truran....conveyed unto Alfred Merchant Harvey: all those two messuages or dwelling-houses with the gardens, orchard, large workshop and premises in the rear thereof situate in Heavyhead Lane....formerly in the occupation of Albert Butland and John Campion but then of [blank]

All that one messuage tenement or dwelling house with an equal one half part of the garden and orchard behind situate in Heavyhead Lane....formerly in the occupation of Thomas Whitebeare his tenant or tenants afterwards of George Morris as tenant thereof. And also all that one messuage tenement or dwelling house wi.th the other half part of the said garden and orchard behind situate also in Heavyhead Lane....formerly in the possession of Charity Moore and afterwards of Robert Sims as tenant thereof....and to the use of the said Alfred Merchant Harvey

Transcript from my own collection